Hey Karl here with an update on the YouTube Live streams from last week.
Live Streams Update
The 1st stream went about as well as I expected….Not very well. I was really nervous and I broke the live link that was posted on here at the last minute. My whole reasoning for the Livestream was to show the processes in real time and not do too much footwork ahead of time.
On the first one I was planning on migrating from Marlin 1.1.6 to Marlin 1.1.8 but I had already done lol… So I ended up migrating to the bugfix branch which presented additional challenges. Overall it was successful and I hope I conveyed the process. I was able to get it to print but I ended up going back to 1.1.8 due to some error in the bugfix branch that caused weird jittery movement. I will in the future prepare more. 😀
Second was better but not without glitches. I started the stream and was talking for several minutes with no microphone until I realized. I stopped and started over and deleted the no audio one. On Stream 2 I intended to fix the one last bug that was bothering me on the Raiscube A8R. The A8R has a dual z setup and when they get out of sync it takes a few minutes to level it back out. I had an idea and took inspiration Prusa and its calibration process. The way the Prusa's ensure the z are always level is to raise the x gantry all the way to the top and crashes into the frame then back down. I tested to see if the A8R would touch the top frame but it didn't. I had a moment of revelation on the stream and added 2 binder clips to the rods on either side and it worked perfectly. I can leave them installed and I lose about 3mm of build height. To make this work I adjusted the start gcode in my slicer to home then raise all the way up which crashes both sides into the binder clips then home again.

G1

Z225

;

raise

the

x

axis

all

the

way

to

the

top

This will ensure if the left or right side drops It will go back to being level with the bed on the next print. The binder clips shouldn't bend and they are rigid enough to take the minor pressure without deforming like plastic. I'm sure there are multiple ways to achieve this same effect. This method should work on any printer that has a dual z and out of sync issue.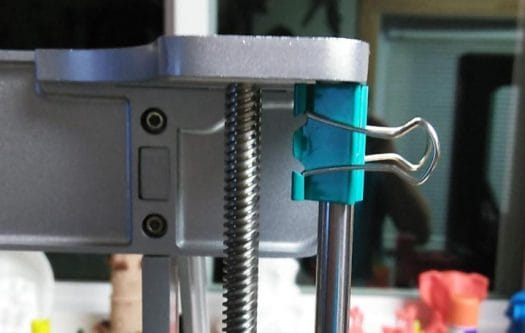 FYI Gearbest has a super deal on the Silver EU version for the Raiscube A8R for $188.00, US version is $329. If in some other country you should be able to just use a different power cord and ensure the power supply is set to the proper voltage. I can definitely suggest this printer but please be sure to read my review for the mods that I have done.
Next Up
I am not positive on what to do for my next stream this Wednesday @ 9:30 ET. If you have a preference let me know.
I have a couple 3D scanning topics, investigating Klipper firmware, and a cheap helping hand ($2us but will probably stick this in as an add-on to another stream). I have some more planned but waiting on some hardware. If you have any suggestions let me know.

Karl is a technology enthusiast that contributes reviews of TV boxes, 3D printers, and other gadgets for makers.