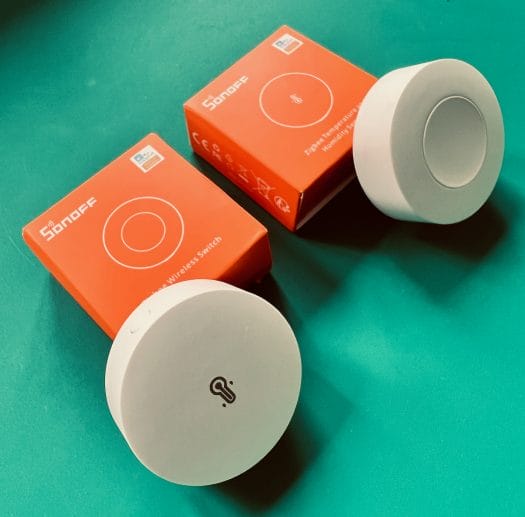 SONOFF launched their 1st gen Zigbee product about a few years ago, and SONOFF have finally started to upgrade their Zigbee devices, and we received two Zigbee 3.0 devices from SONOFF for review, namely the SNZB-01P wireless switch and the SNZB-02P temperature and humidity Sensor. In a nutshell, their appearance looks more modern, with a round shape compared to the rectangular design of the previous models. Importantly, they are sturdier than before, and the battery capacity has increased almost 2x. As we anticipated, they can be used with other Zigbee Hubs from different brands as well. The main application used with both devices is still, of course, eWeLink, which many people are familiar with (a Zigbee Bridge Hub/Bridge is required). However, this review will focus more on the popular app called Home Assistant, which is widely used globally.
SNZB-01P wireless switch
After trying it out for a while and comparing it with other wireless switches and push buttons such as Sonoff wireless switch Gen1 (rectangular shape), Xiaomi wireless switch (round shape), and Aqara wireless switch (rectangular shape with curved corners), we found that the SNZB-01P has been developed quite well to address the gap they have in Gen1. It is more robust and provides a solid click when pressed, which is an improvement compared to Gen1 which could be frustrating as it sometimes didn't respond to clicks immediately. This generation can be considered similar to the Aqara. Additionally, it comes with a magnetic base that allows easy attachment to metal surfaces without a significant increase in weight (27.8g vs. 25g).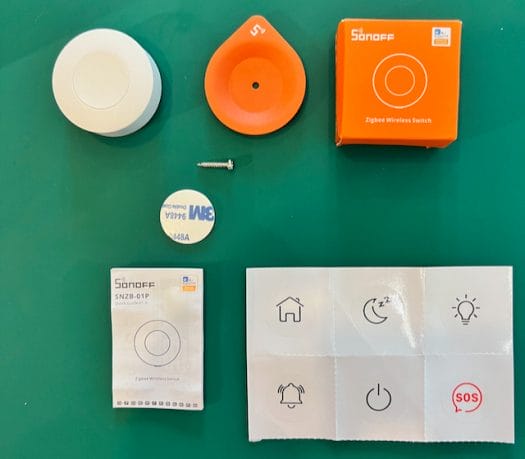 Unboxing
The switch itself, which has a small button on the side for pairing purposes and small LEDs at the edge
Wall-mounting adhesive tape (3M Adhesive)
Magnetic base (Orange Metal Plate)
Mounting screw
Small Manual
Various sign stickers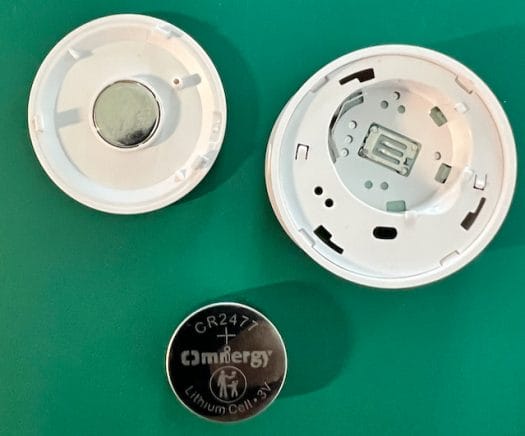 What is inside
CR2477 battery with a capacity of 1000 mAh
Back cover with an embedded magnet
Button body
Features
The features are quite similar to the previous generation but with adjustments to the appearance and efficiency
Custom Button Action: The switch allows three types of button presses – Single Click, Double Click, and Long Press. This enables various programmable functions through applications like eWeLink and Home Assistant
Low Battery Alert: For eWeLink users, you can get a low battery warning. In the case of Home Assistant users, there's an entity for battery status that users can write your automation on top of that
Smart Scene: The switch can interoperate with other devices in the eWeLink ecosystem through Scenes. For Home Assistant users, we can similarly achieve that with a built-in Automation / Script
Longer Battery Life: The switch uses a CR2477 lithium battery (1,000mAh), an upgrade from the previous generation that used a CR2450 lithium battery (620mAh). SONOFF claimed this offers 2.5 times better performance and lasts approximately 5 years based on a lab testing environment.
Cross-brand Compatibility: This Gen2 model can be used across different ecosystems, such as SmartThing Hub v3, Aeotec SmartHome Hub v3, or within the SONOFF/eWeLink ecosystem with SONOFF iHost, Zigbee Bridge/Pro, NSPanel, NSPanel Pro, Zigbee USB Dongle-P/E.
Use Cases
This switch can be used for various purposes, depending on the controlling software and, of course, your ideas. Here are some examples.
Single click: Turn on/off lights, Double Click: Turn on/off a fan, Long Press: Activate Siren / SOS
Simultaneous actions: Use multiple functions simultaneously, like pressing the button before leaving home to turn off lights, close curtains, unplug electrical devices, shut off water pumps, and check windows in one shot
Doorbell: Link up to the wireless switch to NSPanel or SONOFF Tx Ultimate to play sounds and flash its lights as an alert. eWeLink provides doorbell and alarm sounds to be used in such use cases (see video below to watch our demo)
SOS emergency button: Use as an emergency button to notify relevant parties through various channels such as sound, light, and mobile notifications. (again shown in the demo below)
Integration with Alexa: The button can be integrated into the Alexa system nicely
Physical Installation
The switch can be installed/mounted in three ways:
Use 3M Adhesive to stick the wireless switch directly, which makes it immovable
Use 3M Adhesive to stick the switch to a metal plate instead, making it more "portable" since we detach and reattach the plate as needed
Use a screw to attach the switch to a metal plate for a more secure installation.
Integration with Home Assistant
These are necessary steps.
Install a Zigbee USB Dongle (e.g., SONOFF Zigbee Dongle P/E) on the Home Assistant server
Install the ZHA Integration in Home Assistant
Under Home Assistant GUI, Go to Settings / Devices & Services / Zigbee Home Automation (ZHA)
Press and hold the small button on the SNZB-1P switch until the red light appears to initiate pairing
Click "Add Devices" then follow the steps to complete the registration
Capture the device ID and command for reference in creating automations later

Go to Developer Tools / Events and enter "zha_event" under "Listen to events"
Press the button once (Single Click) and observe the command "toggle"
Press the button twice quickly (Double Click) and observe the command "on"
Press and hold the button for about 3 seconds (Long Press) and observe the command "off"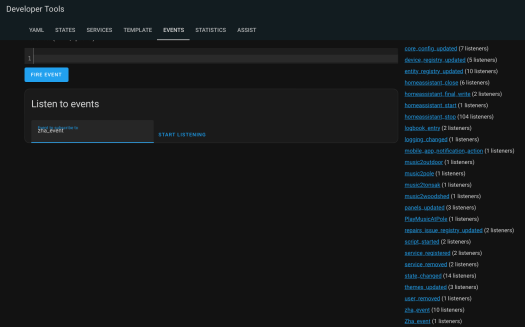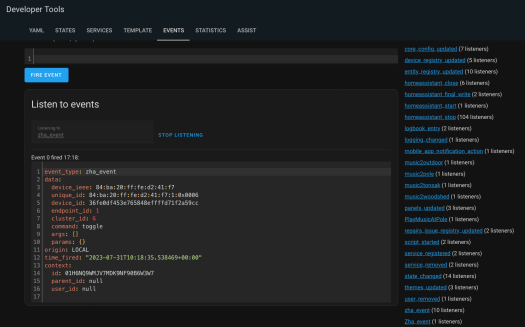 Create an automation then select "Manual Event" as the trigger type and set the event type to "zha_event"

In the event data, input the data from above, for example:


device_id

:

36fe0df453e765848effffd71f2a59cc

command

:

"toggle"

(

see

image

for

reference

)

Put your own action if the trigger is activated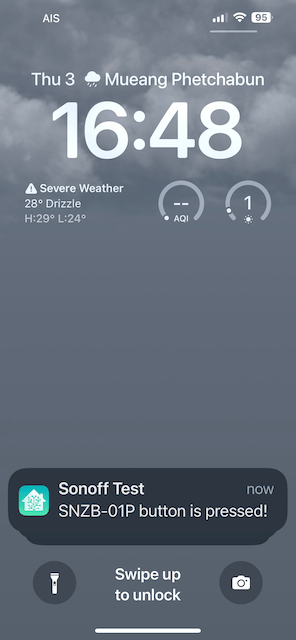 At this point, the process of checking which event occurs still requires going to Developer Tools and trying the button to see which command is associated with the event. This information is essential for referencing when creating automations. However, as of the review date, we have learned that Home Assistant has introduced the "Event Entity" feature in version 2023.8. This feature will eliminate the need to capture device IDs and commands in the Developer Tools. We have tested and found that this feature is currently only available for some devices and protocols, not yet for this switch. Hopefully, in the upcoming versions, it will work with more devices, including SNZB-01P. That would simplify the setup.
SNZB-02P temperature & humidity sensor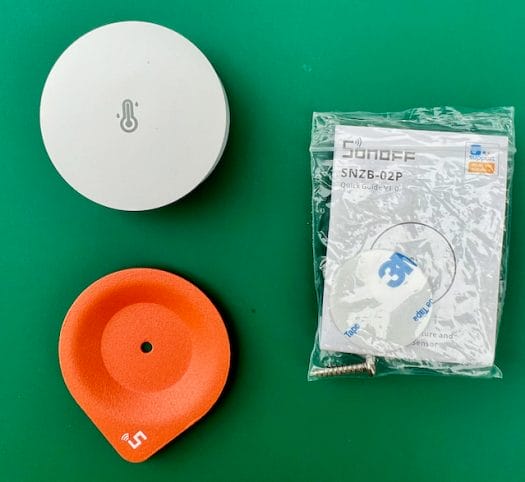 Next one is the temperature and humidity sensor. In this Gen2 version, the external appearance has been improved in line with the wireless switch tested earlier. If installed on the walls of a home, it will definitely blend in seamlessly due to its round and sleek design. It complements the SNZB-01P wireless switch well. SONOFF mentioned that the internal sensor is also upgraded to the new SHT40 model from Adafruit, which provides more accurate measurements compared to the previous generation. Based on our experience with standalone SHT sensors in other projects, this sensor is stable and responsive, providing reliable data as expected, hence, we expect similar behavior.
Features
Improved accuracy compared to the previous generation, with temperature accuracy at ±0.2°C/±0.4°F and humidity accuracy at ±2%RH
Works with Zigbee Hubs/Bridge from other brands like SmartThing Hub V3, Echo 4th Gen
Update data every 5 seconds
Smart Scene: Work with other devices in the eWeLink ecosystem. Similarly Automation/Script in Home Assistant
Stores historical data for up to 6 months (daily, monthly, and semi-annually) without any additional charges
Battery life can last up to 4 years. Battery capacity is improved from 620mAh (CR2450) to 1000mAh (CR2477)
Installation
The physical installation of the sensor is similar to the wireless switch mentioned earlier. There are three approaches: using 3M adhesive tape to stick it to the fall, attaching it to a metal plate fitted with 3M adhesive tape, and using a mounting screw. It provides various choices for users. We love the magnet approach, at least, it's easier battery replacement.
Integration with Home Assistant
We usually recommend checking the compatibility of Zigbee devices with Home Assistant before purchase on the Blakadder website as they test devices to confirm compatibility or the lack thereof. For example, the SONOFF SNZB-02P can work with Home Assistant through the ZHA or Zigbee2MQTT integration, just like SNZB-01P. This website is very up-to-date. You might see more integration and tested function in the future from here.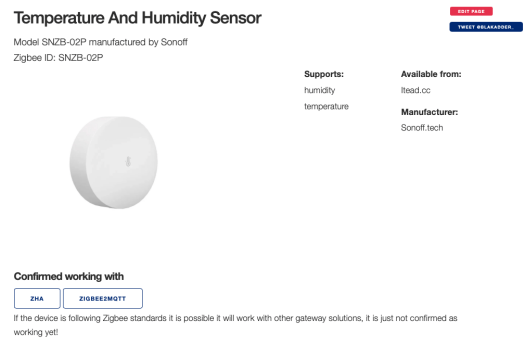 The registration process of the SNZB-02P temperature and humidity sensor in Home Assistant is very similar to the one for SNZB-01P. You can create various automations to leverage SNZB-02P. For example, you can use temperature or humidity as triggers for automations like turning on/off a fan when the temperature crosses a threshold or even activating your plant irrigation when the humidity level is lower than a specific threshold. You can write your own automation to notify when the battery level is low too.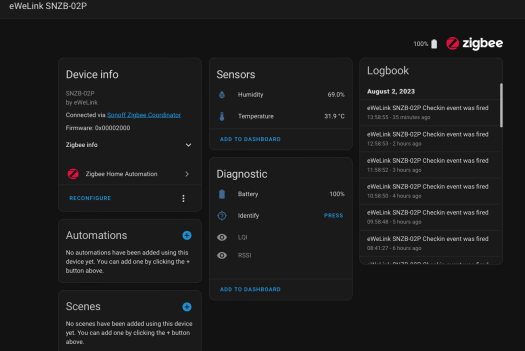 Conclusion
After testing out both SONOFF Zigbee Gen2 devices, namely the SNZB-01P wireless switch and the SNZB-02P temperature & humidity sensor, for a while, we think they are way better than the previous generation. They can match up with other brands in terms of appearance, durability, battery size, and installation. We have tested them with both the eWeLink app and Home Assistant, and the installation and usage were trouble-free.
Two things we especially liked are the round design that blends well with the wall, and the presence of the embedded magnets which makes installation easy and convenient, plus the SNZB-01P has a more solid button. The only minor inconvenience we found during the review, at least for Home Assistant users, is the process of checking the device ID and command of the wireless switch before setting up automations, which requires going to the Developer Tools (same to other brands too). However, an upcoming Home Assistant release with Event Entity (2023.8.x) should simplify this step further.
We'd like to thank SONOFF for sending the latest SNZB-01P wireless switch and the SNZB-02P temperature and humidity sensor for review. They can be purchased on the ITEAD shop for respectively $9.90 and $10.90 plus shipping (free for orders over $89). You could also get an additional 10% discount with coupon CNXSOFTSONOFF. In related news, ITEAD has organized a mid-year sale with discounts on various SONFF automation devices by up to 45%.

Computer Engineering who previously worked with multinational IT company, rich experience in IT infrastructure, has a passion on Internet Of Thing i.e., Smart Home, Smart Farm as well as interested on Sustainability such as renewable energy, organic farming