Wyse Announced Two Linux Thin clients: Z50S and Z50D
Wyse Technology announced that its fastest thin clients ever, the Z90D7 and Z90DW are now shipping at VMworld 2011. You can have a look at AMD Embedded G-Series mini-PC, motherboard and thin client for details about the devices. In addition, Wyse also introduced two new Linux-based members of its Z class family – the Wyse Z50S and Wyse Z50D. Both thin clients run Wyse Enhanced SUSE Linux Enterprise.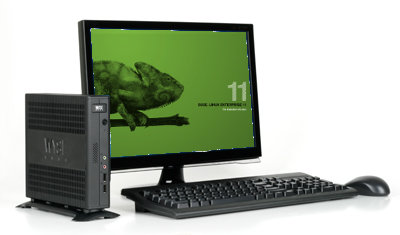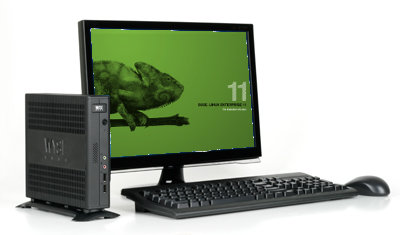 The press release also indicated that "the Z50 thin clients are built on the same exact advanced single and dual core processor hardware platform as the Wyse Z90 thin clients, the upcoming Linux-based Wyse Z50 promises more of the same industry leading power and capability on an enterprise-class Linux operating system".
Wyse did not provide further details but based on the statement above, we can probably safely assume that Z50S will use the single core AMD G-T52R and the Z50D will be powered by the dual core AMD G-T56N and have the same (or very similar) specifications as Z90D7 and Z90DW that is:
Processor:
AMD G-T52R 1.5GHz Processor with AMD Radeon™ HD 6310 Graphics OR
Dual core AMD G-T56N 1.6 GHz Processor with AMD Radeon™ HD 6310 Graphics
Memory:
2GB Flash / 1GB RAM
Expandable up to 32GB Flash / 4GB RAM
I/O peripheral support:
One DisplayPort (Optional DisplayPort to DVI-I adapter available, sold separately)
One DVI-I port, DVI to VGA (DB-15) adapter included
Six total USB ports:
Four USB 2.0 ports (two front, two rear)
Two SuperSpeed USB 3.0 ports on rear (backwards compatible with USB 2.0)
Enhanced USB Keyboard with Windows Keys (104 keys) and PS/2 mouse port
PS/2 Optical mouse includedFactory options:
Legacy connectivity – adds 2 serial ports, 1 parallel port and 1 PS/2 port
Networking:
10/100/1000 Gigabit EthernetFactory options:
Internal 802.11 A/B/G and dual-band N wireless
Bluetooth 2.1+ EDR
Fiber NIC network connectivity (available Q2 2011)
Display:
VESA monitor support with Display Data Control (DDC) for automatic setting of resolution and refresh rate
DisplayPort: 2560×[email protected]
DVI-I: 1920×[email protected]
Dual display: 1920×[email protected]
Audio:
Output: 1/8-inch mini jack, full 16 bit stereo, 48KHz sample rate, Digital audio out, internal mono speaker
Input: 1/8-inch mini jack, 8 bit stereo microphone