The Weightless Special Interest Group (SIG) has recently announced the world's first transceiver chip using the Weightless Specification and operating over white space spectrum. Neul Iceni chipset makes use of the entire TV white space spectrum to provide low power connectivity for M2M and IoT applications using the Weightless Standard.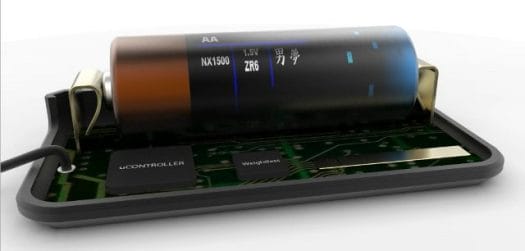 Weightless Standard Overview
Since this is the first time I write about the Weightless standard, let's see what it is and what will be used for. There has been a lot of talk about the Internet of Things (IoT) and machine to machine communication (M2M), but one of the limiting factor is currently the cost of technology (and networks?) to provide communication. That is where "white space" spectrum comes into play. A large spectrum was used by analog TV channels, and since many countries have now switched to digital TV, part of this spectrum is unallocated (hence the name "white space"). According to Wikipedia, in the US, analog television broadcasts, which operated between the 54 MHz and 806 MHz, ceased operating on June 12, 2009, and power TV stations were required to switch to digital transmission and operate only between 54 MHz and 698 MHz, freeing the spectrum above 698 MHz. In the US, regulations have changed to allow free (as in free beer) use of this spectrum, and regulatory changes are also in the process in other countries and regions around the world (Watch one of Charbax videos for details about expected regulations changes in different countries). So Weightless standard will use white spaces, but since machine traffic is very different compared to human traffic, a different communication standard also had to be defined with those key features:
Great flexibility in the data rate provided depending on the application, range and environment. From 16Mb/s for wireless broadband to 1kb/s for M2M.
Time division duplex (TDD) operation since it may be difficult to find a pair of white space channels with appropriate duplex separation in all areas.
Relatively long frame duration of the order of 2s so that when high spreading factors are used on the frame header it remains a small percentage of the overall frame duration.
Frequency hopping at the frame rate to minimize the impact of interference – both received and caused.
A design that minimizes costs and power consumption.
A broadband downlink using single carrier modulation within a 6-8MHz TV channel.
A narrowband uplink with 96 uplink channels per downlink channel to accommodate the lower terminal transmit power while maintaining a balanced link budget.
Highly efficient MAC-level protocols that result in small headers per transmission and hence little overhead even when the payload is only a few bytes long.]
The Weightless SIG expects that in a few years, you'll be able to get free M2M communications with:
A range > 10km
Battery life > 10 years
Chipset cost < $2
Weightless is a royalty-free open standard, and you can download the draft Weightless Specification (You'll need to become a member first. Registering as an "Observer" is free).
Neul Iceni Weightless Silicon
Since most of you probably never heard about Neul before (I hadn't), a short company introduction is needed. First, even though they've just announced a Weightless chipset, Neul is not a silicon company. Neul touts itself as a "Wireless Services and Solutions", and develops wireless network technology to enable the use of TV 'white space' spectrum, and manufactures radios that meet the FCC white space radio specification. So I understand they are a pure "white space" company, and to help push for adoption, they decided to design and release a silicon compliant with the draft version of Weightless standard. On their website, they have an even more aggressive price target than the one published on Weightless SIG website, as they expect to to go from a $5 BoM today to a $1 chipset by 2014, with battery life of 15 years for things like smart meters.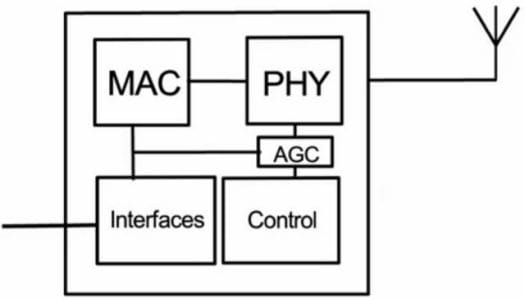 Neul 'Iceni' is a TV White Space transceiver chip, capable of tuning across the entire UHF TV white space spectrum (470 – 790MHz). This single chip solution is said to draw very little power to deliver secure and long range wireless, non-line-of-sight connectivity for both machine-to-machine (M2M) or Internet of Things (IoT), as well as for applications in wireless broadband.
Iceni provides the following key capabilities:
Operation over the entire TV white space frequency range, from 470MHz to 790MHz, and support for both 6 MHz and 8 MHz channel bandwidths.
Adaptive digital modulation schemes and error correction methods can be selected according to the trade-off between data rate and range required for a given application.
Encryption mechanisms ensure secure data transfer over the air.
Memory-mapped parallel bus interface and discrete interrupt lines can be used for waking the external application processor, such as an ARM Cortex M3, upon receipt of a relevant frame.
Programmable IOs are available for controlling the external RF front-end, such as a Transmit Power Amplifier.
Neul 'Iceni' samples are already available to select partners for testing and development of white space-enabled solutions. Currently, there's very little information about this chip, no product brief, and basically nothing on Neul website part from the press release.

Jean-Luc started CNX Software in 2010 as a part-time endeavor, before quitting his job as a software engineering manager, and starting to write daily news, and reviews full time later in 2011.