Bluetimes MX5 is an Android 4.2.2 set-top box powered by AMLogic AML8726-MX that costs around $70, or about $30 less than devices with similar hardware such as G-Box Midnight MX2 or Tronsmart Prometheus. AndroidPC.es got hold of one sample, also called 10moons D6, took some pictures and reviewed the devices for us.
Bluetimes MX5 Unboxing
The package contains the media player, an RF remote control and a power adapter, but no cables, which is one way to save on costs.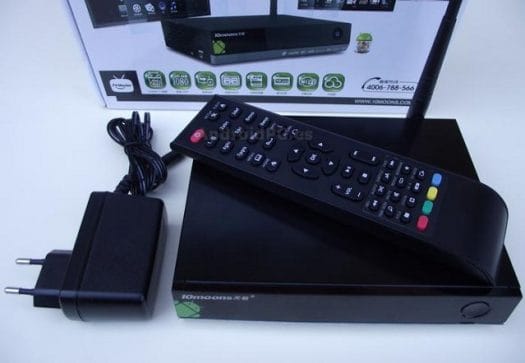 Looking at the rear panel of the device front left to right, we can see an external Wi-Fi antenna, the 5V power jack, one USB port, a composite RCA connector and stereo RCA output, an Ethernet RJ45 port, HDMI output, and SPDIF output.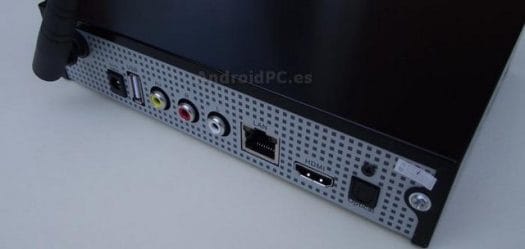 An SD card slot and another USB host port are located on the front panel.


So Bluetimes MX5 just has 2 USB ports, which is a bit less than the 3 to 4 USB ports found on the more expensive devices, but the rest of the connectors is about the same.
First Boot and First Impressions
The first time you boot you'll be asked to choose between several launcher including a Windows 8 (Metro Style) launcher. Since they did not have the latest firmware, they decided to download the latest version, and upgrade the firmware. There are no special icon in the status bar, and we can find the Home button, Back, Tasks List, and Screenshot buttons. However, the status bar is hidden automatically and the volume is controlled from the remote control, so extra Vol -/+ and Full Screen icons are not needed.
A lot of applications are pre-installed in this device including many Chinese apps which can't be uninstalled without rooting the firmware.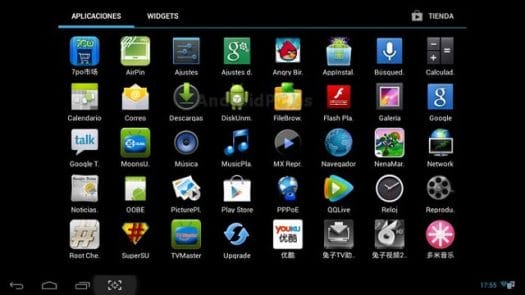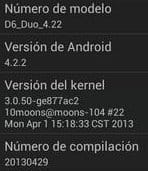 In the settings, "About" section, the device is called D6_Duo_4.22, and is said to run Android Jelly Bean 4.2.2 with Linux kernel 3.0.5 kernel. "Developer Options" menu is missing, but clicking 7 times on the Build Number field will make it appears. I tried this trick on G-Box Midnight MX2 as well, and it works. I suppose Google did this to avoid normal users accessing and playing around this menu. There's 1.58 GB available space on the 4GB flash. Android UI is 1280×720, but you can output HDMI to vairous 480, 576, 720 and 1080 modes. There's also composite output, but they did not try. The audio settings let you choose between PCM, SPDIF or HDMI pass-through like with other AMLogic boxes.
AndroidPC.es folks are quite impressed with the RF remote control, and mention you can easily navigation in Android, XBMC and the Play Store with this remote. It also allows you to power on or off the device, and adjust the volume.
Finally, they tested Wi-Fi and Ethernet performance and stability, and seemed satisfied with both. Videos below 20Mbps could play smoothly over Wi-Fi.
Bluetimes MX5 Benchmarks
They ran several common benchmark on the device.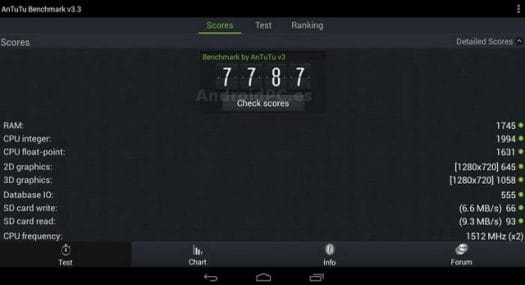 Antutu score is 7787, which is no surprise as it's about the same score I got with the Prometheus. Nenamark 2 benchmark was rendered at 35.3 fps,Epic citadel at 28.0 fps, and the device got 1191 pts with Vellamo HTML5 and 371 pts with Vellamo Metal benchmarks which are results consistent with other AML8726-MX based devices.
Video Playback
According to their tests, All videos from samplemedia.linaro.org can play perfectly:

H.264 codec / MP4 container (Big Buck Bunny), 720p/1080p – Audio/Video OK
MPEG2 codec / MPG container, 720p/1080p – Audio/Video OK
MPEG4 codec, AVI container 720p/1080p – Audio/Video OK
VC1 codec (WMV), 720p/1080p – Audio/Video OK
Real Media (RMVB) 720p RV8/RV9/RV10 – Video OK (No audio in test files)
WebM 480p/720p/1080p – Audio/Video OK.
Applications Tests
They played around with several apps installed from Google Play, and did not encounter issues, web browsing works fine even with flash websites, and YouTube has no problem playing 1080p videos.
Games such as Angry Birds could play fine, but some 3D games were not playable because a PS3 compatible controller could not be detected. However, they could play Ripdite 3D using Logitech Attack 3 Joystick.
Since the pre-installed XBMC version does not support hardware video decoding, they installed another version, and everything now works fine including several online video plugins.
Conclusion
Pros:

Quality / price ratio is very good, and the firmware is stable
External Wi-Fi antenna improves signal reception and performance
XBMC is very smooth
RF remote
Cons:
One or two extra USBs port would have been nice
Considering the price, they are pleasantly surprised with the device as it's very good value for money. Good XBMC support and the RF remote are the 2 key strength of this media player, and there seems to be frequency firmware updates for this device.
The device can be purchased on Aliexpress or Ebay.

Jean-Luc started CNX Software in 2010 as a part-time endeavor, before quitting his job as a software engineering manager, and starting to write daily news, and reviews full time later in 2011.