Syabas was a company designing set-top boxes such as Popcorn Hour Media Tank
that were relatively popular before the Android media player invasion. The company is now called Cloud Media, and they offer a tiny media player called FreeOTT that connects to their Apps Market and bring online video, Internet radio, social media and other streaming media to your television.
The device is free (as in free beer), as it's not actually available for sale to the general public, and the only ways to get it is to have your ISP or telecom provider set it to you, or win one from the regular giveaways organized by the company. I won one via a giveaway announced on their Facebook page, and I had just to pay $5 (via Paypal) for shipping.
The company does not provide detailed specifications for their device but we do know it's a Linux based media player powered by an ARM11 processor, with 256MB RAM and Flash, it supports 1080p video playback, as well as iOS streaming (AirPlay?), DLNA, and soon Miracast. That's pretty interesting because you could soon get a free Miracast adapter from the company providing your Internet connection.
Today, I'll take some pictures, show an unboxing video and a user interface demo, and give my overall feeling about the user experience. I won't test video playback as usual, because the device apparently only supports MPEG4, and local videos using other formats needs to be transcoded on the fly with a Plex server. Finally, I'll open the device to have a look at the hardware inside.
FreeOTT Unboxing
I've received the following package in an Hong Kong Post envelope.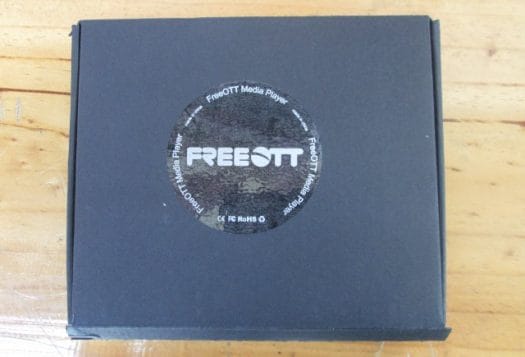 Let's open it to see what's inside.
From left to right, we've got a Quickstart Guide, an IR remote control, FreeOTT plater, a baterry, and a micro USB to USB cable for power. No audio/video cable, so you'll your own HDMI or AV cable. There's no power adapter either, but I can just use the USB power of my TV to use the device.
You can watch the unboxing video below for a closer look.

FreeOTT has HDMI and AV video output, a micro SB connector, an IR sensor, a recovery/reset button, and a micro SD card slot that can only be used for firmware recovery.
First Setup and First Impressions
You just need to connected the micro USB cable and a HDMI cable between FreeOTT and your TV, and you can get started. There's no usable USB port, so you can't connect a wireless dongle to use your own wireless USB/Keyboard or air mouse, and you have to use the remote. For the same reason, you can't connect USB mass storage either, so you can only watch online videos, or if you setup a server your own media over the LAN. The full boot takes well over a minute, which is a bit long.
During the first boot you should see the pop-up window below as you need to setup your device.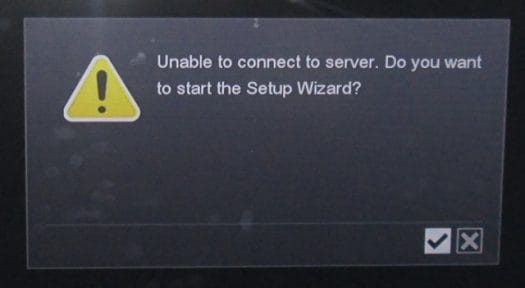 You'll be asked to select your language, configure Wi-Fi, select Fixed IP or DHCP, and configure the time and weather settings. The device does not know about Chiang Mai at all, and instead it asked me if I lived in Hanumangarh, India, or Hinunangan, Philippines. Searching for Bangkok did the trick.
Once I had done all that, it detected a new firmware. I accepted and it downloaded and installed the new firmware. This means OTA updates are working, which is definitely a plus. My settings were also kept during the update. Great! Finally, I could access the regular user interface.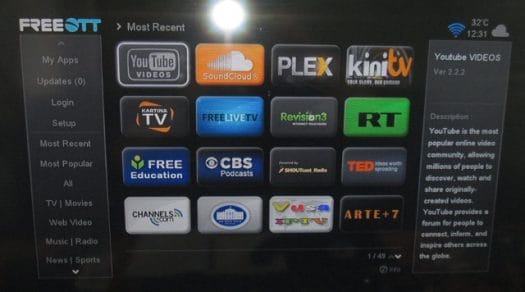 The user interface is designed in such as way (plenty of space on the side) that you'll never need to take care of overscan compensation. There's currently a list of 49 apps, and none of them are pre-installed, so clicking on one the first time will lead you to the installation menu. It will download and install the app. The process is pretty straightforward. Applications include online video streaming (CNN, Russia Today, Arte+,…), radio (e.g. Shoutcast), social networks (e.g. Twitter) and online pictures (e.g. Picassa). A Plex application is also available, but you need to setup a local (DLNA?) media server to use it, so I did not go further.
I've tried a few including Youtube, White House, Russia Today that works OK, but the Twitter would not be able to connect for some reasons. The interface feels very slow (about 5 seconds in the main menu), probably because it loads data from Cloud Media server. I really hate using an IR remote in Android, but FreeOTT user interface is perfectly suited for this type of input device.
I can't really test Wi-Fi performance because my Internet connection is not up to the task, and configuring local video playback for the device appears to be a pain (I just want to use SAMBA).
I've shot another short video to show FreeOTT user interface in action.

Inside FreeOTT
As promised let's have a look at the board.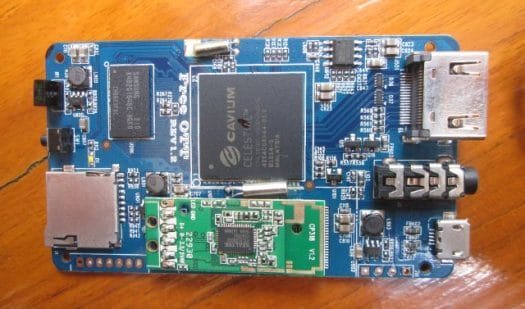 The board is powered with Cavium CELESTIAL CNC1800L (ARM1176JZF @ 648MHz + 2D GPU + VPU), and comes with 2 Gbit RAM (256MB Samsung K4B2G1646C), 256 MB Flash (Samsung K9F2G08U0C), and a CP318 Wi-Fi module based on Realtek RTL8188CUS. The Flash is just under the Wi-Fi module, so it's not visible on the picture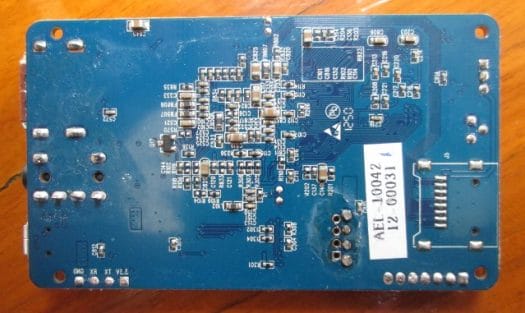 There's not much to see on the back of the PCB, except the "3.3V/Tx/Rx/GND" markings that certainly indicate J16 is an UART connector used to access the serial console.
Conclusion
I have to say I don't really like this device, because the user interface just feels too slow, and audio does not work with my TV, which makes it useless to me. People with faster Internet connection may have a better experience though, even though the processor is probably part of the overall sluggishness. Once firmware is upgraded to support Miracast, it should be the cheapest Miracast dongle available (It can't get cheaper than free, can it?), that is if you can get it.

Jean-Luc started CNX Software in 2010 as a part-time endeavor, before quitting his job as a software engineering manager, and starting to write daily news, and reviews full time later in 2011.