There are several ways to add wireless connectivity to your sensors, relays, motors, or other devices. Bluetooth, Zigbee and Wi-Fi can all do a good job for short ranges, and the Weigthless standard will eventually provide ranges up to 10km with ultra low power on free spectrum, but it is not available right now, and a good way to achieve longer ranges is to use cellular networks. SparqEE has designed a development kit called CELLv1.0 to add GSM and 3G connectivity to the Internet of things, including (optional) shields for Arduino and Raspberry Pi boards.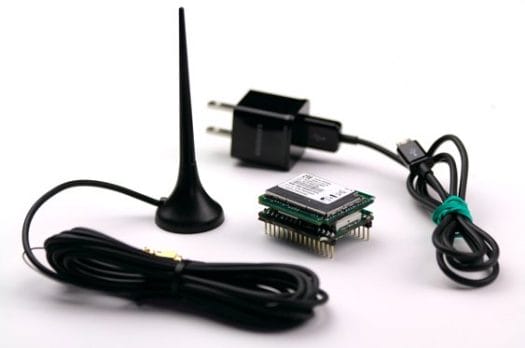 Here are some technical specifications for the kit:
Cellular Networks – WCDMA/HSDPA 2100/1900/900MHz, GSM/GPRS/EDGE 850/900/1800/1900MHz, 384Kbps, DL3.6Mbps HSDPA via ZTE modem
Protocols – Data (TCP/UDP), SMS ready
Serial interface – Serial (UART, From Cellular Board is 1.8V, From Jumper board is any voltage (ex. 3.3V, 5V))
USB – (power, USART, and modem)
Input Voltage – 3.7-5V (Jumper powered from included USB cable or header pins)
Power Consumption – <5mA standby, <75mA average working (w/o services), <500mA average working, max 2.3A
The kit shown above include 2 boards: cellular board and jumper board (pictured below), as well as an external antenna, and a power adapter and cable.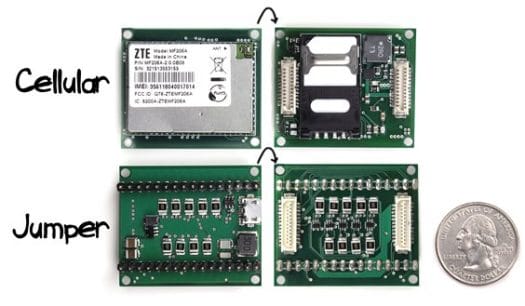 The jumper is mainly used for development, with a breadboard for example, in order to easily connect the cellular board, which can be used in standalone if you want you own project, or with the Arduino and Raspberry Pi shields. The cellular board is already certified (PTCRB), so I understand you won't need to do this again if you integrate the module in your own product(s), at least in the U.S.
Access to a free server will be provide to storage data and communicate with the module, but at this stage very little details have been provided about this part. I'd assume this is optional to go through that server.
Once the project is fully developed, the company will make the board open source hardware and release the schematics, Eagle files, designs, software, breakouts, etc…
You can pledge $79 on their kickstarter page for CELLv1.0 devkit, adding $10 if shipping outside the U.S, with delivery expected in November 2013. There are also other options you can get with developers' points (DEV Points):
Breadboard and 80 jumper wires (1 pt)
Power board – 3.3V and 5V lines, rated 3A each (1 pt)
Relay board – 3.3V and 5V, rated 2A, 220VDC/250VAC (1 pt)
Accelerometer board – Based on Analog Devices ADXL34 3-axis accelerometer (1 pt)
GPS board – With integrated antenna (2 pt)
Arduino shield (1 pt)
Raspberry Pi shield (1 pt)
With $89 you get CELLv1.0 devkit and 1 DEV point, and you can pledge $159 for 8 DEV points to CELLv1.0 kit and all add-ons listed above.
If you're not sure what you could do with this, they have some ideas including:
Arduino-enabled vehicle tracker with CELLv1.0 and the GPS module to track your car, and possibly remotely disable the engine if it has been stolen (The last part might not be legal though :p).
Remote controlled helicopter / quadcopter without the usual range limit, preferably with a camera.
Early Warning Systems using remote sensor networks to monitor bridges structure, wild fires in forests, etc…

Home automation in remote locations without "standard" Internet access.
SparqEE next project, a keychain tracker, will also be based on the cellular board found in CELLv1.0.
Beside the Kickstarter campaign, you'll eventually be able to find more info on SparqEE CELLv1.0 page, and you can now communicate with the developers via their Forums.

Jean-Luc started CNX Software in 2010 as a part-time endeavor, before quitting his job as a software engineering manager, and starting to write daily news, and reviews full time later in 2011.