Beelink A9 is an Android TV Box powered by Rockchip RK3188 SoC with 2GB RAM, and 8GB RAM (See full specs). The hardware is pretty standard, but the company released Android 4.4 SDK for the device, so when Beelink / Nexteon told me they wanted to send me one for review, I accepted. I won't test the Android SDK today, but I'll just show the pictures of the device, and run my usual series of tests for review. The shipped sample is not running Android 4.4 (beta), but Android 4.2.2.
Unboxing Pictures
I've received this Android media player in the no brand package below. I'm not sure if Beelink will sell directly to individuals, so you'll likely to received some different if you order Tronsmart A928 or Zero Devices Z6C which are based on the same platform.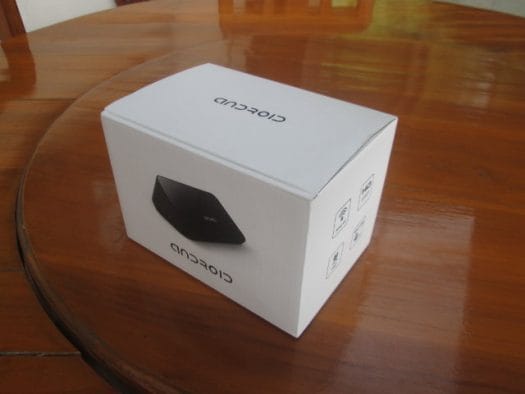 There are quite a few accessories in the package: The box itself, a small IR remote, 2x USB OTG to USB adapters, 2x micro USB to USB cables, a long HDMI cable, a 5V/2A power supply, and a user's manual in English and Chinese.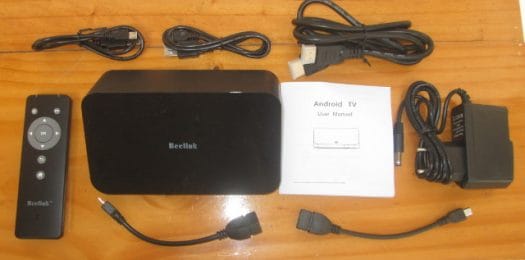 There's no much to see from the front of the device except the power button, and the glossy cover which acts like a dust magnet…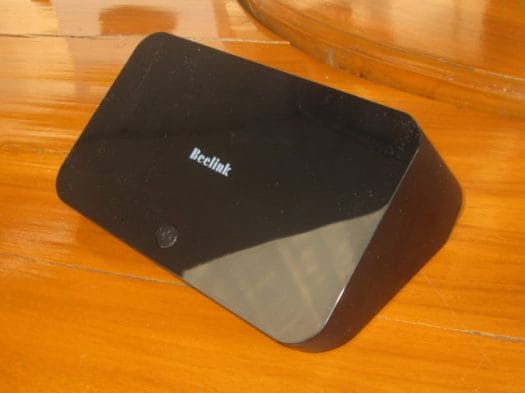 The back and sides of the device are more interesting as this is where all the ports are.


From left to right, we've got the power jack, an audio jack, S/PDIF optical output, Ethernet, HDMI, one USB port, and a USB OTG port at the back, and two more USB port and a micro SD slot on the side.
You can watch the unboxing video below if you please.

First Boot, Settings and First Impressions
Let's connect an HDMI cable, an Ethernet cable, some input device (RF dongle for Mele F10 air mouse), and the power supply to get started. I haven't use the IR remote during testing. It works OK, but as usual is not very practical with Android. Unlike most Android STB it won't start automatically, and you need to press on the power button for at least one second to boot the device. A dim blue light will lit the button, and you'll almost immediately see Google TV logo on your TV, followed by the Android animation, and within just over 30 seconds, you'll see the Android launcher.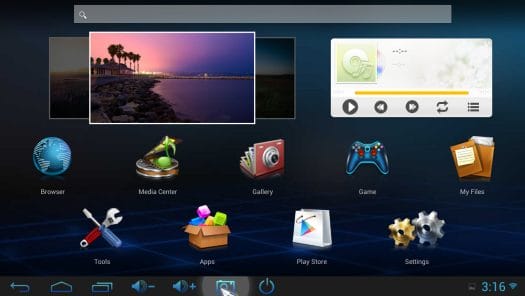 I really link this launcher as it look nice, you can see a slideshow of your pictures at the top left, and music controls are easily accessible. The only problem is that you won't be able to add your own App to the home screen, and will have to click on Apps to find them.
Within seconds, another screen popped up, as the device supports automatic OTA update.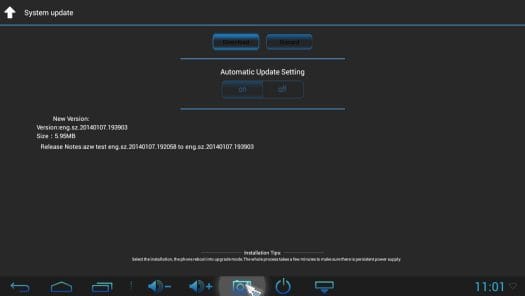 I'm not sure there are many changes (same date), but I accept the upgrade anyway, and after two reboot it was complete.
Lets' go through the settings menu. Wi-Fi, Bluetooth and Ethernet options are available for connectivity. I had no problem with Wi-Fi and Ethernet, but although Bluetooth is built-in, I was unable to enable Bluetooth at all. You can only use Wi-Fi or Ethernet at a time, not both. There's also the section for Data usage, as well as options to configure VPN, portable hotspot, and PPPoE, but I haven't tried any of these.
The Display menu will let you select the wall paper, sleep time, and font size, and if you want to adjust your screen video output, you'll need to go top the Screen section. There's a menu to adjust overscan (Screen Scale), an Output Interface selection with only HDMI, and HDMI mode to select 720×480@60, 720×576@50, 720p50, 720p60, 1080p50, or 1080p60. The UI itself is fixed to 1280×720 as usual.The "Sound Devices Manage" in the Sound section will be you select the following audio output: RK29_RT5631 (downsampling via HDMI), ROCKCHIP-SPDIF, RK29_RT5631 & ROCKCHIP-SPDIF, ROcKCHIP-SPDIF PASSTHROUGH, or RK29_RT5631 PASSTHROUGH. I still don't have an home theather system so I did not test S/PDIF pass-through, but I've got a new HDTV that comes with its own SW media player, so I though HDMI pass-through might just work, but I had no audio at all after selecting RK29_RT5631 PASSTHROUGH. Not sure if this is the TV limitations, or Beelink A9 issue.
The device has 8GB of NAND flash, and the storage is partitioned so that apps get 1.97GB (1.37GB available), and there's 3.95 GB for user's data, the rest being used by the system. Developer options are visible and enabled by default, with lots of different options, and the firmware is already rooted. Looking into the "About device" section shows the device model number is "A9″, and it's running Android 4.2.2 with Linux kernel 3.0.36+.
I could install all applications I tried via Google Play including ES File Explorer, Root checker, Antutu, Quadrant, Candy Crush, Raging thunder 2, etc… All Apps I tried could run just fine. The power buttons on the IR remote and the device itself, do not completely turn the unit off, but just put it into suspend mode.
Like with RK3188 based device, the firmware appears to be very stable, and I did not experience a single crash or hand, and it's run very smoothly.
Video Playback
XBMC Custom XAF is pre-installed with several add-ons (See pic) and the UI is rendered @ 60fps, but since this version of XBMC just calls MX Player, I've just used MX Player and ES File Explorer for video playback tests, since I find it more convenient. The videos used below were played from a SAMBA share in Ubuntu 13.10 via the Ethernet port of the device.
I started with the videos from samplemedia.linaro.org:
H.264 codec / MP4 container (Big Buck Bunny), 480p/720p/1080p – OK
MPEG2 codec / MPG container, 480p/720p/1080p – OK.
MPEG4 codec, AVI container 480p/720p/1080p – OK
VC1 codec (WMV), 480p/720p/1080p – OK
Real Media (RMVB) – Do not play (like it's loading forever)
WebM / VP8, 480p, 720p, 1080p – OK
High bitrate videos:
ED_HD.avi (1080p MPEG-4 – 10Mbps) – OK most of the time, but in some fast moving scene the video is choppy, and the audio cuts. There was also a massive audio/video sync issue.
big_buck_bunny_1080p_surround.avi (1080p H.264 – 12 Mbps) – OK
h264_1080p_hp_4.1_40mbps_birds.mkv (40 Mbps) – Mostly OK, but I did notice it buffered for a short while once in the middle of the video.
hddvd_demo_17.5Mbps_1080p_VC1.mkv (17.5Mbps) – OK
The device could decode all high-end audio codecs, but Ethernet appears to be weak on the device, and some buffering and audio cuts happened:
AC3 – OK
Dolby Digital 5.1 / Dolby Digital 7.1 – OK
TrueHD 5.1 & 7.1 – Decoding OK, but very long buffering during playback (2s playback, 10s buffering repeatedly)
DTS-MA – Decoding OK, but some short (<1s) buffering occurred during video playback.
DTS-HR – OK
I used the default RK29_RT5631 mode (audio downmixing) to playback those files. SPDIF and HDMI pass-through are also supposed to work in theory, but I don't have the equipment to test it.
I also played some other videos in different containers AVI, MKV, VOB, FLV and they could all play just fine. I could not notice any issues such as frame skipping. There was however one annoying issue when seeking while playing with MX Player just exiting.
So video and audio decoding performance is quite good, but it is limited by the mediocre performance of the Ethernet connection. Video @ 30Mbps will have trouble to play smoothly. Even ED_HD.avi @ 10Mbps could not play smoothly, but video are using VBR (Variable Bit Rate), and I don't know how to check the real-time bitrate with Android players.
Wi-Fi Performance
I've then connected the device via Wi-Fi router to test Wi-Fi performance. I transferred a 278 MB video files between SAMBA and the internal flash and repeated the test three times. On average, the transfer took 2:33 (1.81 MB/s), which is one of the fastest Android device I've tested, and is close to what you'd get with MK908, but still far from CS868. Beelink A9 features AP6330 module, but is significantly faster than T428 with the same module.
These are the results for my setup, and yours may vary considerably.
Rochchip WiFiDisplay app (Miracast) is also installed, but also it detected my phone (ThL W200 / MT6589T) correctly, I was unable to use Miracast a my phone kept trying to connect.
Miscellaneous Tests
Bluetooth
Built-in Bluetooth can not be enabled. External BT USB dongle us not recognized either.
External Storage
My USB flash drive was automatically recognized and mount, so I'd expect external USB hard drives to work too. I also inserted a microSD card in the device and it works fine.
USB Webcam
I tested two webcams. An old Logitech webcam was no recognized, but a noname webcam could be detected by the system.
Gaming
I've tested 3 games: Angry Birds Star Wars II Free, Candy Crush Saga, and Racing Thunder 2. They could all run fine, and be control with Mele F10 remote. As usual, the IR remote control can not be used for games. Bluetooth is not working at all, so no luck with getting sixaxis to work either. If you like to play with DroidMote, /dev/uinput is present so it should work.
Beelink A9 Benchmarks
Beelink A9 being yet another RK3188 box, I was not expecting much from the benchmarks, but I was wrong, as I learned something new.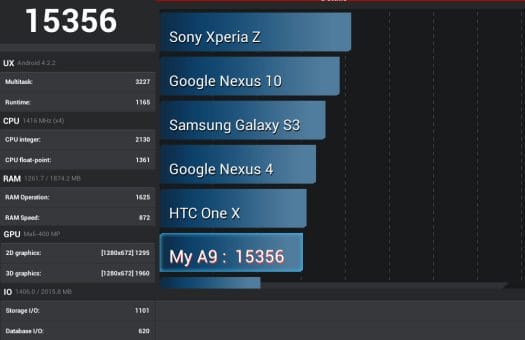 Android media players and mini PCs based on Rockchip RK3188 now get at least 17,000, and often 18,000 @ 1.6GHz without overclocking, but Beelink A9 only gets 15,356 points. A closer look show "CPU 1416Mhz (4x)", so for some reasons the CPU clock has been set to 1.4 GHz instead 1.6 GHz.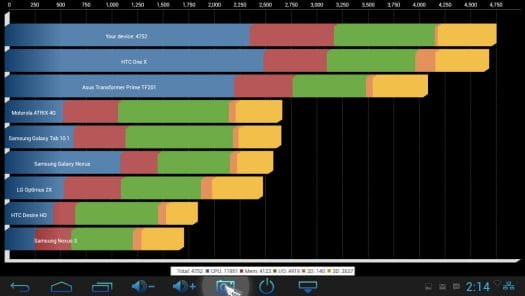 Quandrant results are also disappointing, and system information indicates the same 1.4 GHz frequency. What is going on? It tuns out, AndroidPC.es reported about RK3188-T this week-end, a low cost version of RK3188 that can be clocked at 1.4GHz, and you can get more information on Freaktab. Some manufacturers will just change RK3188 to RK3188-T in their devices to save a few bucks, but the device will still be promoted as RK3188. To be honest, the performance difference is not really noticeable, but it's a lie if they do so. That's perfectly OK if the manufacturer clearly announces it's using RK3188-T instead of RK3188. Radxa Rock is based on RK3188, but Radxa Rock Lite will probably feature RK3188-T instead. Anyway, it's likely Beelink A9 uses RK3188-T, at least the sample I used, let's open the box to find out.
Inside Beelink A9
Opening the device is very easy, as you just have to remove two screws, no plastic clips get in the way.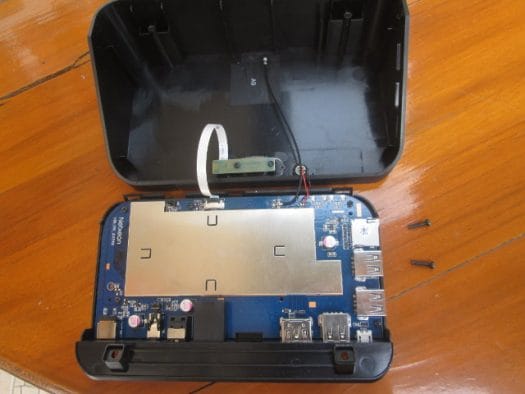 There a large shield on top of the board, so I had to remove 5 more screw to disassemble the board from the bottom of the enclosure, and lift some pads to remove the shield.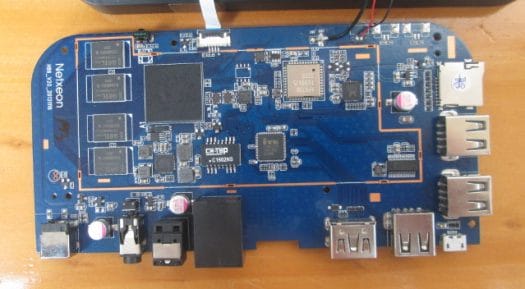 On the top of the board, we'll have all the connectors, four RAM chips, AP6330 Wi-Fi module, ITE IT66121FN HDMI transmitter, COTOP C1602NS for Ethernet, and a few others components. The Rockchip SoC is also there, but markings are not visible, so I can't confirm it's using RK3188-T, although benchmarks imply it does. The board name/version is Nexteon H86_V20_20131116.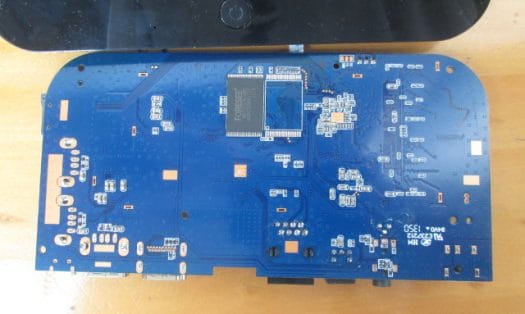 On the other side, we've got 8 GB flash, and space for another 8GB chip, as well as serial pins (GND, Tx, RX) at the top right close to the flat cable for the power button board.
Conclusion
The hardware and/or firmware still have some issues such as Bluetooth not working, and mediocre Ethernet performance, but apart from these two important issues, the firmware appears to be working nicely. Wi-Fi performance was very good for me, and most other features worked fine. It is currently unclear whether devices like Tronsmart A928 and Zero Devices Z6C will ship with Rockchip RK3188 or the slower RK3188-T at this stage, since both SoCs are pin-to-pin compatible.
Beelink A9 could be used as a development machine since the Android 4.4 SDK (beta) has been released, and UART pins and a USB OTG port are available, but I haven't tried the SDK yet, and people who tried the MK908 version reported it could not boot. So for development, I'd probably prefer Radxa Rock development board, even though Android 4.4 is not available yet, as the source code is available in a git repo, and not only a tarball, and you can get developer's support via Radxa google groups and IRC.
Tronsmart A928 running Android 4.2.2 is already available for $99.99 with a 2.4GHz air mouse, and Zero Devices Z6C will become available with a wireless game controller once Android 4.4 is stable enough.

Jean-Luc started CNX Software in 2010 as a part-time endeavor, before quitting his job as a software engineering manager, and starting to write daily news, and reviews full time later in 2011.