Huawei MediaQ M310 is an Android set-top box powered by HiSilicon K3V2 quad core SoC. AndroidPC.es have just written a review of the device in Spanish, and since it's one of the only media player based on this processor, which also include a Vivante GC4000 GPU, I'll translate some of the most interesting bits, but you can find many more pictures and screenshots on the original article.
MediaQ M310 Unboxing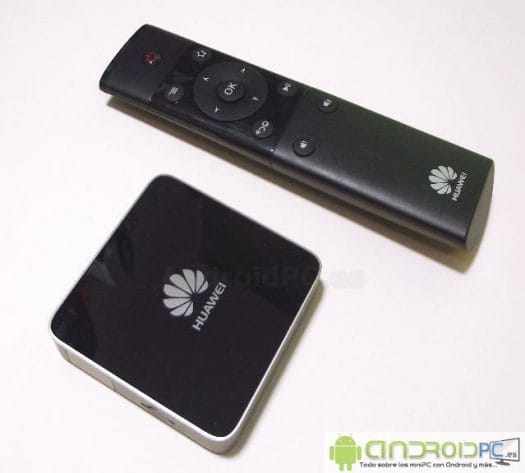 Let's remind us of the specifications first:
SoC – Hisilicon K3V2 Quad-core ARM Cortex A9 processor with Vivante GC4000 GPU
System Memory – 1GB RAM
Storage – 4GB Flash + microSD card slot
Video I/O – 1x HDMI In,1x HDMI Out
Audio I/O – HDMI, SPDIF, 3.5mm stereo jack, Mic mono
USB – 2x USB 2.0 (1 extension from Y cable) + 1x micro USB
Connectivity – 802.11 b/g/n 2.4G/5G 2×2MIMO, Bluetooth 4.0
Beside the device and the Bluetooth remote control shown above, the package also comes with a 5V/2A power adapter, an HDMI cable, and a user's manual written in Chinese. You can watch the unboxing video below for details.
System Setup
There are two versions of the firmware: Chinese, and international with several languages supported. The international version is much smaller than the Chinese versions (363.14 MB vs 510.80 MB), probably because they've remove some online TV app only working in China, and not quite as up-to date (21/11/2013 vs 27/1/2014). The international version however comes with Google Play, which is not present in the Chinese version. AndroidPC.es tested the international version.
With this firmware, the Bluetooth remote does not work although it does with the Chinese firmware. So they've connected a mouse and keyboard, setup Wi-Fi and download an app on their phone thanks to a QR code showed on the user interface.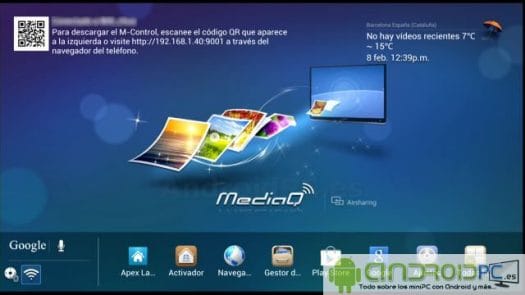 The device runs Android 4.1.2 with Linux kernel 3.0.8, and the interface has completed be customize so you won't be able to access the Android settings, and go to the device settings which still give access to most setup options:  System Information, Wi-Fi, Bluetooth, Display, Audio, USB, Storage, and more. Developer options are not available, and it does not look like the reviewer tried to enable them by clicking 7 times on the build version.
Audio & Video
You can either select 720p60 or 1080p60 for HDMI, and it support audio downsampling (PCM), and pass-through. They've tested DTS and AC3 5.1 with S/PDIF output and it worked fine, but 7.1 audio failed. It could be because the AV receiver they used, Pioneer VSX-527-K, simply does not support 7.1, or MediaQ M310 does not support it.
Video playback appears to be decent as all video samples from Linaro (H.264, MPEG2, MPEG4, VC1, VP8, RealVideo) could play from a USB flash drive or Wi-Fi. Some higher bitrate videos (1080p @ 40 Mbps, 4K2K @ 60Mbps) could not play smoothly from their USB stick. With their setup, file transfer performance was 11 MB/s for the USB flash drive, and 0.5MB/s for Wi-Fi. The later should actually not be enough to play 1080p video samples from Linaro. I notice the video test have been done via 802.11g, and the transfer with 802.11n, which could explain the oddity.
They have also tested XBMC, but there's no hardware acceleration for now. XBMC Custom XAF version which is using an external player, e.g. MX Player, should work just fine however. Skype could work fine, except they had to install it from an apk, as Google Play store said the device was incompatible.
There's also an HDMI input, but they do not appear to have tested it.
Huawei MediaQ M310 Benchmarks
Let's see what HiSilicon K3V2 and Vivante GC4000 are capable of.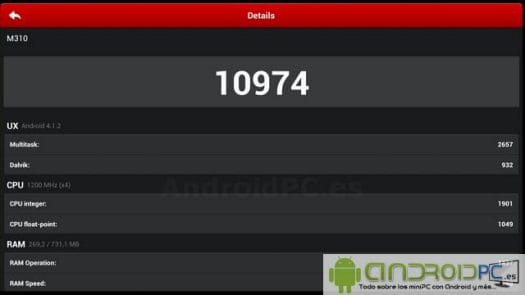 Compared to Rockchip RK3188-T score of 15,356 in Beelink A9, an Antutu score of 10974 is rather disappointing. Unfortunatly, AndroidPC screenshot does not show GPU score, but we can still compare some of the tests. I would have liked to add Antutu 4.x results for devices based on Freescale i.MX6 and AllWinner A31, but I don't have detailed scores for these.
Test
Rockchip RK3188-T
Beelink A9
HiSilicon K3V2
MediaQ M310
Multitask
3227
2657
Dalvik
1165
932
CPU integer
2130
1901
CPU float-point
1361
1049
RAM Operation
1625
1437
RAM Speed
872
699?
With regards to CPU performance, the scores are actually as expected because K3V2 is clocked at 1.2 GHz against 1.4GHz for RK3188-T.
The device gets 1063 points in Passmark Android, which places it between HTC Desire HD (Qualcomm 8255 dual core) and Samsung Galaxy S (Samsung Exynos 3110) performance which is pretty pathetic, and appears to be due to poor results in memory mark, and 2D graphics mark tests. These results appear to be really too low, and the device should be closer to Nvidia Tegra 3 used in Asus Transformer Prime in the charts below.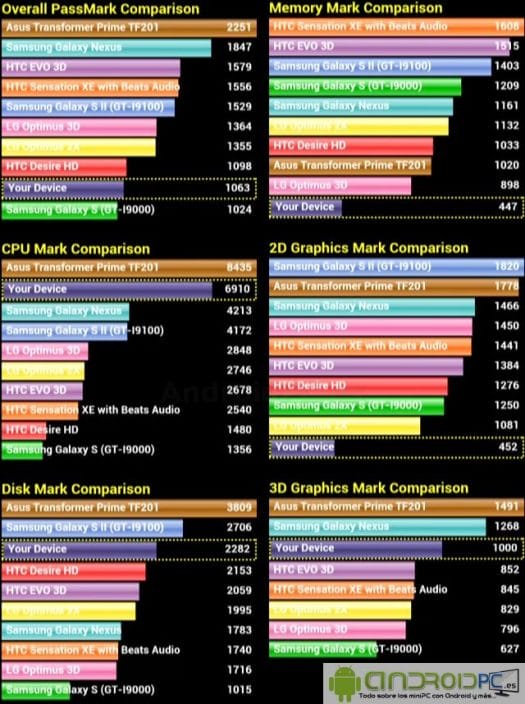 MediaQ M310 gets 3446 points in 3Dmark Ice Storm benchmark. If we compare this to the list of best Android mobile devices in Futuremark's website it's very close to Pipo S1 tablet (3448 pts, Rockchip RK3188 w Mali-400MP4), and not that far from Transformer Prime (3935 pts, Nvidia Tegra 3). It's still somewhat disappointing, as I was expecting Vivante GC4000 to outperform these older GPUs.
Conclusion
The guys at AndroidPC.es concludes with the pros and cons of the device:
Pros – Good finish of the product, the firmware works well, native 1080p resolution, HDMI input, easy firmware upgrade, and good video playback.
Cons – Poor Wi-Fi, Google Play incompatibilities, and firmware with too many customizations compared to stock Android. It would also add disappointing SoC performance.
If you are interested in purchasing Huawei MediaQ M310, you can do so for $129 on Aliexpress.

Jean-Luc started CNX Software in 2010 as a part-time endeavor, before quitting his job as a software engineering manager, and starting to write daily news, and reviews full time later in 2011.