Nvidia announced their latest Tegra applications processors at CES 2014 with the Tegra K1 32-bit and 64-bit ARM SoCs, as well as Tegra K1 MVC for automotive application. The 32-bit version comes with four Cortex A15 cores up to 2.3 GHz plus a companion core, and the 64-bit version with 2 ARMv8 cores (Cortex A53?) clocked up to 3 GHz. Both SoC features a 192-core Kepler GPU, and we've been shown some high-end graphics demo (OpenGL, OpenGL ES, OpenCL…) with in the reference tablet. Some charts has surface showing both 32- and 64-bit Tegra K1 scoring well over 40,000 and with an excellent 3D graphics score.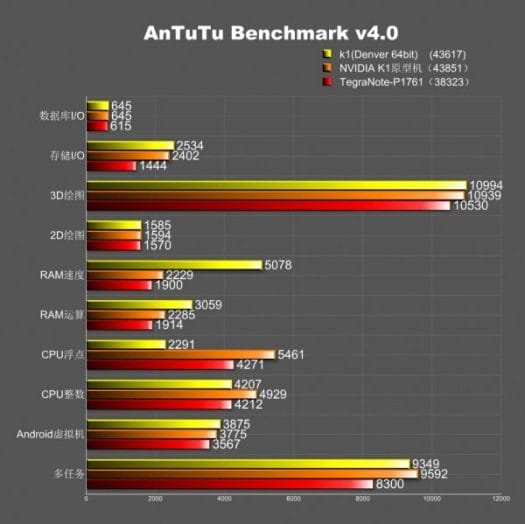 The benchmark was run in reference platform with 32-bit or 64-bit Tegra K1, as well as the Tegra Note P1761 tablet with a 32-bit quad core Tegra K1 processor apparently clocked at a lower frequency, and with a not-that-good flash. The dual core, 64-bit version of the Tegra K1 scored 43,617 points (@ 3 GHz), whereas the quad core, 32-bit version achieved 43,851 points in Antutu 4.0. The tablet however just got 38,323, which is still a pretty good, and possibly more relevant to what we've see in retail devices. The 64-bit reference platform runs Android 4.4.2 with Nvidia Tegra K1 ARMv8 dual core processor clocked between 510 MHz and 3,000 MHz, a display with 1920×1080 resolution, 2GB RAM and 32 GB RAM (Source screenshot).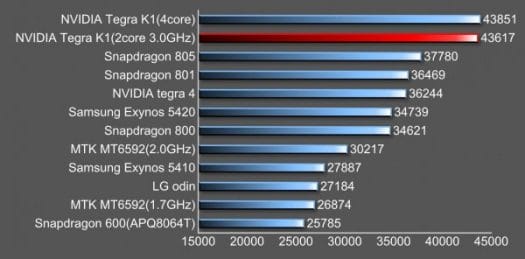 The chart above shows Tegra K1 clearly outperforming Qualcomm Snapdragon 801, which is the best processor available (almost) right now, as it is part of the Samsung Galaxy S5. Please note, I could not trace the origin of the different charts, and I just know it was posted on some Chinese website, and I do not know exactly which hardware was used to test each processors. This is important because benchmark results may be smaller in a smartphone or tablet, compared to a development board as you can't just put a huge heatsink in a mobile device. But the results are interesting nonetheless to get a rough idea of the likely performance.
I usually prefer more detailed comparisons, and Sam Mobile posted the benchmark for both the Qualcomm 801 (SM-G900R4) and Exynos 5422 (SM-G900H) version of the Galaxy S5. We only have the benchmark details for Exynos 5422 version which is compared to the Galaxy Note 3 in the chart below.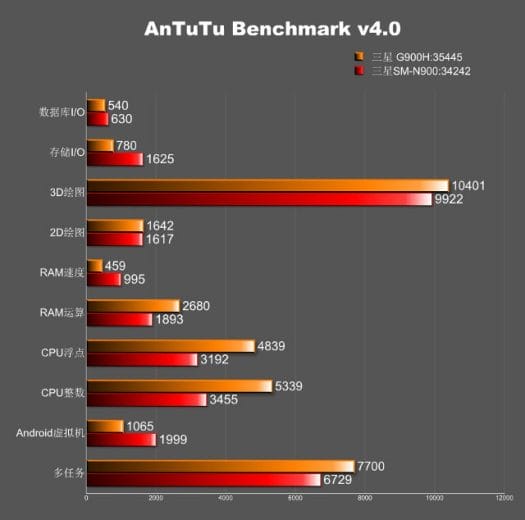 The summarize all this in a table.
| | | | | | | | | | | | |
| --- | --- | --- | --- | --- | --- | --- | --- | --- | --- | --- | --- |
| | Total | DB I/O | Storage I/O | 3D Graph. | 2D Graph. | RAM Speed | RAM Op. | CPU Float | CPU Integer | Dalvik | Multitask |
| Tegra K1 (2x ARMv8) | 43617 | 645 | 2534 | 10997 | 1585 | 5078 | 3059 | 2291 | 4207 | 3875 | 9349 |
| Tegra K1 (4x A15) | 43851 | 645 | 2402 | 10939 | 1594 | 2229 | 2285 | 5461 | 4929 | 3775 | 9592 |
| Exynos 5422 (4x A15, 4x A7) | 35445 | 540 | 780 | 10401 | 1642 | 459 | 2680 | 4839 | 5339 | 1065 | 7700 |
According to these results. A dual core ARMv8 processor will perform just as well as a quad core Cortex A15, except with tests relying on more cores (CPU tests). RAM performance is way better with a 64-bit processor as expected. The biggest surprise is that the ARM Mali-T628 in Exynos 5422 appears to be just as good as the Kepler GPU found in Tegra K1. The things that kill the Galaxy S5 is poor database I/O, RAM speed, and dalvik performance. For some reasons it does not score very well with multitasking despite having 8 cores. maybe the current big.LITTLE implementation and/or Antutu do not leverage the eight cores yet.
As mentioned above, the Tegra K1 scores have been done on a reference platform, and such scores may not be achieve on mobile devices due to heat dissipation issues. SemiAccurate has published several articles about Nvidia Tegra K1 saying the numbers released by the company were deceitful, and their latest article claims a 12V/5A (60 Watt) was used by Nvidia for their Tegra K1 demo at CES 2014, the only problem, if the picture is correct, is that it was for Tegra K1 MVC for automotive applications which certainly does not have the same power requirements as mobile devices. Even though, for now, the numbers looks promising, albeit not amazing, we'll have to wait and see actual retail hardware to get a proper idea of the performance and power consumption of Tegra K1.
Via PadHZ

Jean-Luc started CNX Software in 2010 as a part-time endeavor, before quitting his job as a software engineering manager, and starting to write daily news, and reviews full time later in 2011.