ITEAD Studio IBOX is an AllWinner A20 based mini PC currently running Android or Linux distributions currently featured on Indiegogo. I've already written about IBOX in a separate post, where you can get all the specifications, but the company has also sent me a unit (engineering sample) for review. Since the system is still in development, and it's mostly a development platform, I won't do a review with video testing, system performance, etc… as usual, but rather show the progress and current issues in terms of hardware and software, and I'll also mention documentation, and shortly try Android 4.2 (pre-installed) and the Debian 7.0 image released by the company.
IBOX Unboxing Pictures
I've received the device in a cartoon box containing the device itself and a 9V/2A power supply. If you are or become a backer on Indiegogo you'll also receive an add-on board providing access to a SATA connector,  serial console connector, and Arduino compatible headers. I haven't received this board, as it was not ready yet.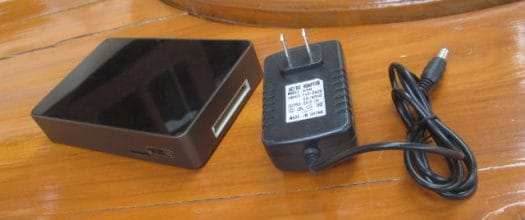 The front panel of the device features a microSD card slot, an LED (power), and an IR receiver. The rear panel comes with 4 USB boards (including one OTG port), an HDMI output, an optical S/PDIF output, an Ethernet port (10/100M), and a DC jack. On the left of the 4 USB port, you'll use notice a "U-boot" button to enter into FEL mode (I presume).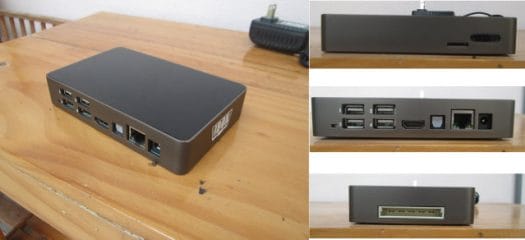 Finally, there's a 32-pin connector to connect add-on boards provided by the company, and your own custom boards. This connector gives access to several signals including SATA, USB, 4x UART, 1x SPI, 1x I2C, LCD, TVOUT, LINE IN, and power (5V, 3V3, VIN, GND). You can find the complete pinout here. If you prefer unboxing videos, I've filmed one too.
IBOX is mostly a development platform, and although it comes with an (aluminum) enclosure, it's been made to opened. You just need to remove 4 screws to take the PCB out. Taking it out in this sample was a little tricky, but the company told me they will slightly reduce the board size in the final version to make disassembly easier.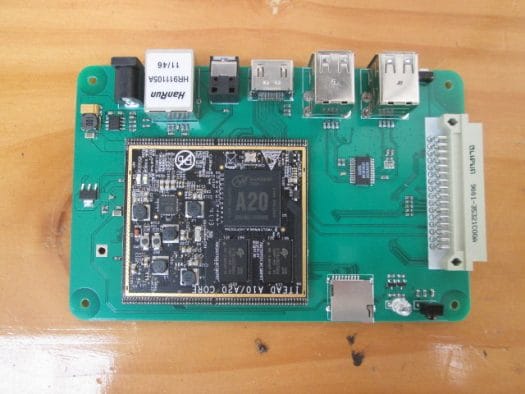 You can see the system is composed of baseboard and the company's A10/A20 CORE module that can be purchased separatly for your own designs. They are also working on A31 CORE module. If you want to make your own board to connect the 32-pin male socket on the right of the picture, they sell the female connector for $1.20. I've asked for a good way to remove the module from the baseboard, but they told it was OK to remove it, but it was "hard work". So I gave up on that idea…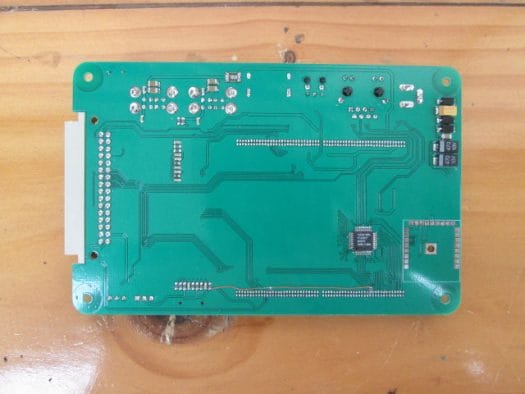 There's nothing much on the bottom of the board either. The baseboard design appears to be fairly simple with most complexity moves to the computer-on-module. You may notice the board has been reworked with two wires on the bottom of the picture, this will be fixed in the final version of the PCB. Please also note the two 10V / 470 uF capacitors on the right of the board, I'll mention them later in the post.
I'll update the post with high resolution picture of the add-on board, if/once the company sends photos.
First Boot with Android 4.2
The computer comes pre-loaded by Android 4.2.2 in the 4GB NAND flash. After connecting an Ethernet cable (no built-in Wi-Fi), and HDMI cable, a USB keyboard, an RF dongle for an air mouse, I connected the power supply to get started.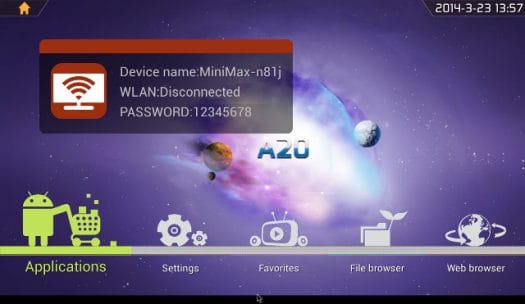 There are two Android images available for the board "Android TV A20" by ITEAD, abd "Android 4.2" by CubieTech, which means this board is apparently compatible with Cubieboard2, and if there are differences these are simply handled by AllWinner Fex files. This also means you can use most of Cubieboard2 resources to develop for this board.
Using this image, Wi-Fi is enabled by default, but since there's no Wi-Fi module, there's not network, so I had to go Settings->More (in Wireless & Network section), and enable Ethernet there, which worked fine. Google Play is installed in this image, and I could connect using my existing account, but 50% or so of application I've tried can't be installed because "this device isn't compatible with this version". So Antutu, Quadrant and Facebook could not be installed, and apps such as YouTube or Netflix could not be found in the search results in Google Play. This was a frequent error in the earlier HDMI TV stick, and just need some configuration changes in Android XML files. Other interesting tidbits are the kernel is 3.4.39, 480p/720p/1080p video output are supported (using 720p graphics), and audio pass-through may be supported.
I've also tried to connect a USB to TTL board via the 32-pin connector (pin 29 -> GND, and 9/10 Tx and TX), but it did not work. ITEAD told me they are looking into it. The system is usually pretty stable, but once as I ran ES Explorer to access CIFS/SAMBA shares, the Ethernet started to go on and off in cycle every 2 seconds or so, the Ethernet link was lost and recovered. So I checked my Ethernet connection and noticed the board was pretty hot. The CoM was at most at 57 C (normal), but the area around the two 10V capacitors got really hot, and I measured up to 88 C. This only happened once, and I was unable to reproduce the issue. I've informed the company, and hopefully it will be fixed with the final version.
For Android developers, the USB OTG port is the bottom right one (USB4), but I could not try it as I own the right type of cable.
Android & Linux Images
There are several images for IBOX that can boot from NAND or micro SD card as shown in the table below.
Basically, these are all images that were made for the Cubieboard2, except the two made by ITEAD: Android 4.2, and Debian 7.0. I've tried the Debian 7.0 image using this alternative link, as the link above did not work. If you are familiar with AllWinner development, or even Raspberry Pi the installation procedure is pretty standard.
In a Linux computer, after having inserted a micro SD card (replace SDX but you actual micro SD card device):


wget

https

:

//www.dropbox.com/s/3utl042z7d9za2a/IteaduinoPlus-A20-debian-xfce-0.1-2014-02-26.img.bz2

tar

xvf

IteaduinoPlus

-

A20

-

debian

-

xfce

-

0.1

-

2014

-

02

-

26.img.bz2

sudo

dd

if

=

IteaduinoPlus

-

A20

-

debian

-

xfce

-

0.1

-

2014

-

02

-

26.img

of

=

/

dev

/

sdX

<

code

>

<

code

>

ms

=

1M

In a Windows computer, download the file, extract it, and run Win32DiskImager to flash the 2GB image to the micro SD card.
Then insert the micro SD card into IBOX, connect the power, and after a little while you should be able to login with root/root, and open a few pre-installed applications.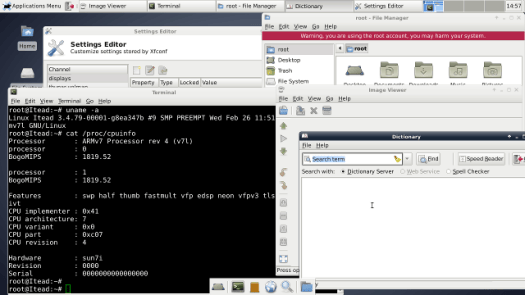 The system seems pretty responsive although I used a 4GB class 4 micro SD card. Tthe image is pretty minimal, as there's no web browser, no real office suite or graphics tools.  firmware may need some work and customization. I could install gimp and libreoffice, but somehow Firefox and Chromium do not seem to be available with Debian 7.0. I also changed /etc/apt/sources.list to server to my country (defaults to China) for much faster downloads.
Documentation and Support
Proper documentation and support are as much as important of the hardware itself for development platforms. ITEAD Studio is mainly a hardware company, and they seem to have already done a relatively decent job by releasing some hardware files for the board. You can get the schematics, PCB layout, and gerber files with the baseboard, the schematics (PDF only) for A20 CORE module, as well as the board mechanical files via their Indiegogo page. There;s also a short datasheet for A10/A20 CORE CPU module.
On the software side, there are multiple OS images provided by ITEAD and third parties. The kernel and bootloader are all based on linux-sunxi work, and the company also has designed "ITEAD OS & SDK" with an API to easily access low level functions such as UART, GPIOs, I2C, SPI, etc… You can visit their github repo, not updated that often, to see more details.
At this stage however, there's no Getting Started Guide, or User's Manual, but I've been told this will be released on the 10th of April. Most procedures could probably be derived from linux-sunxi's wiki. Support is available via IBOX / Iteaduini Plus forum, and some relevant articles sometimes pop up on the company's blog.
Conclusion
ITEAD Studio IBOX is still work in progress, but hardware looks mostly OK. The firmware images I've tested still need more work, but this is rather typical for new development board, and if the community grows around the hardware they improve over time. Since this hardware is compatible with Cubieboard2, software support should be just as good in both boards.
IBOX is not really for consumers who expect a working product out of box, and it's mainly interesting to developers, especially if you want to evaluation A20 CORE module for future product development. It can also be used as an AllWinner A20 development platform , in which case it competes with boards such as Cubieboard2 and Olimex' OLinuXino-A20 boards. It also compete with Iteaduino Plus from the same company, but with (AllWinner) A10 CORE CPU module.
If you are interested, you can get the board with aluminum enclosure as shown in this review plus the add-on board for $70 via Indiegogo.

Jean-Luc started CNX Software in 2010 as a part-time endeavor, before quitting his job as a software engineering manager, and starting to write daily news, and reviews full time later in 2011.