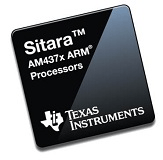 The first time I heard about Texas Instruments Sitara AM437x was via a TechNexion EDM-CT-AM437x system-on-module back in 2012, but Texas Instruments Sitara Cortex A9 processors development seems to have dragged a little longer than expected. Nevertheless, the company has now formally announced their Sitara AM437x ARM Cortex A9 SoC targeting automation, IoT gateways, and other industrial applications, and featuring four PRUs (Programmable Real-time Units), and support for dual camera for terminals with bar code scanning.
At launch there will be four AM437xprocessors: AM4376, AM4377, AM4378, and AM4379. The processors will all be based on a single Cortex A9 core  @ 800 to 1000 MHz with 64KB SRAM shared with 32KB data cache and 32KB programmable cache, 256 KB L2 and L3 caches, a 32-bit memory interface supporting LPDDR2, DDR3, and DDR3L, a 2-port Gigabit Ethernet switch , two USB 2.0 OTG + PHY and the following other interfaces:
Serial Ports – 6x UART, 5x SPI, 3x I2C, 2x McASP, 2x CAN, HDQ, QSPI
System – EDMA, Debug, Counter (SyncTimer32K), WDT, RTC, 3x eQEP, 3x eCAP, JTAG, 12x Timers, 6x PWM
Parallel – 3x MMC/SD/SDIO, GPIO, 2x Camera, 2×12-bit ADCs, NAND/NOR (16bit ECC)
Some interfaces (HDQ, McASP, eQEP..) seem specific to Texas Instruments, and if you'd like to get a short explanation of these, I've updated my technical glossary.
The main differences between the four SoCs are related to the presence of a PowerVR GPU and EtherCat support as shown in the table below.
AM4376
AM4377
AM4378
AM4379
Graphics
N/A
PowerVR SGX530
PRU-ICSS

4x 32-bit Programmable Real Time Unit (PRU)

4x 32-bit Programmable Real Time Unit (PRU) + EtherCAT slave support

4x 32-bit Programmable Real Time Unit (PRU)

4x 32-bit Programmable Real Time Unit (PRU) + EtherCAT slave support
Total power consumption will be less than one watt in active mode, about 5mW in deep sleep, and less than 0.03mW in RTC-only mode. AM437x processors are available in 17x17mm, 0.65mm VCA packages.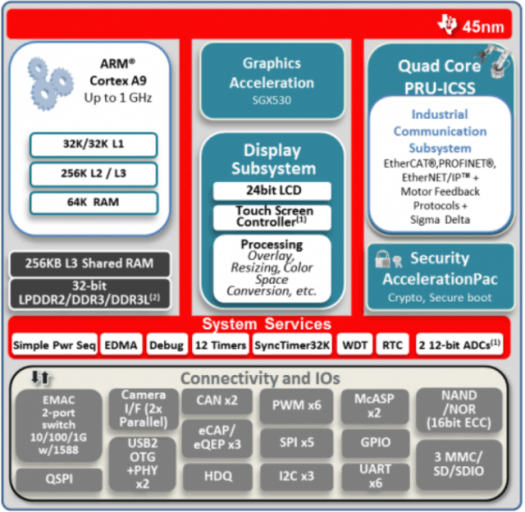 Texas Instruments already have a software development kit based on Linux 3.x mainline and with a GUI launcher, as well as graphics and other demos. Adeneo Embedded also announced a Windows Embedded Compact 7 (WEC7) BSP for AM437x processors, SYS/BIOS RTOS with support for real-time industrial protocols will be available in Q3 2014, Android 4.3 or greater support will be released by a third-party in the fall of 2014. Other various RTOS solutions by Mentor Graphicsm, QNX, Wind River, Green Hills Software and Ittiam are also planned, but no timeline has been provided.
Texas Instrument AM437x Evaluation and Development Kits
The company has already readied an evaluation module based on AM4378 with a 7″ touch screen.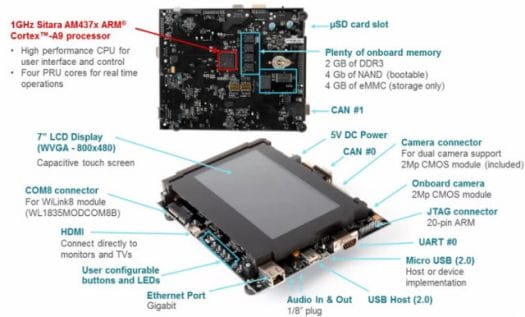 TMDXEVM437X Kit has the following key features:
Sitara AM4378 ARM Cortex-A9 Processor
System Memory – 2GB DDR3
Storage – On board 4GB NAND and 4GB eMMC memory, 1x Micro SD/MMC
Vido Output / Display – 7″ capacitive touch screen LCD, HDMI output
Audio – Audio in/out
Camera – 2 camera modules
Connectivity – 1x Gigabit Ethernet
USB – 1x USB2.0 OTG, 1x USB 2.0 host
Other I/O – 1x UART, 2x CAN, 1x JTAG
Misc – Connector for Wilink8 (Wi+Fi + Bluetooth module)
Power – TPS65218 Power management IC
The development kit currently supports the Linux SDK, and sells for $599. You can find more information on AM437x evaluation modules page. Two other evaluation modules are schedule for later this year: TMDXIDK437X Industrial Development Kit based on AM4379 with 1 GB RAM, and no display but with industrial protocols support thanks to SYS/BIOS RTOS (Q3 2014 – $329), and TMDXSK437X based on AM4378 with 1GB RAM, a 4.3″ capacitive touchscreen (Q4 2014 for less than $300). Eventually, I suspect there may also be a low cost platform for hobbyists… Beaglebone Green anyone?
You can watch the introduction video below for an overview about TI Sitara AM437x SoCs, evaluation modules, and software solutions.
LinuxGizmos reports Sitara AM437x processors will start sampling later this month, mass production is expected to begin Q4 2014, and pricing will be around $15 per unit for 1k orders. You can find more information on Texas Instruments' Sitara AM437x page, as well as TI Wiki.

Jean-Luc started CNX Software in 2010 as a part-time endeavor, before quitting his job as a software engineering manager, and starting to write daily news, and reviews full time later in 2011.