Software-Defined Radios (SDR) are neat little devices that capture radio signals which are then filtered and decoded by software on your PC or embedded system. The currently used radio spectrum is extremely wide from 3 to 30Hz for submarine communication up to 30 to 300+ GHz or more for applications such as amateur radio or radio astronomy. So the price of hardware needed for SDRs varies greatly depending on the frequency range supported, bandwidth, and other technical parameters. Hobbyists can use "low cost" ($300 – $400) FPGA SDR boards such as bladeRF or HackRF, or go ultra-cheap with $20+ RTL-SDR USB TV tuners. I've been informed there's a development kit sold under the name "100KHz-1.7GHz Full Band UV HF RTL-SDR USB Tuner Receiver DIY Kit" based on the latter, but with extra components, on various sites such as Buyincoins, Ebay, Aliexpress, etc.. for just $33 to $45.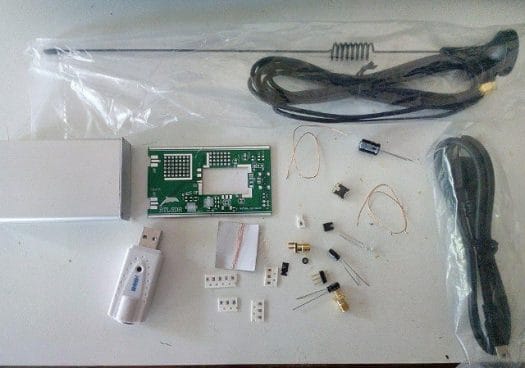 The problem with many Chinese sellers is that they sell development kits without any documentation, and think people will just magically find out how to use them… The picture above shows all parts included with the kit: capacitors, resistors, jumpers, headers, the USB TV tuner, an extra board, some antennas, and a white box. I first I was scratching my head thinking "how do these fit together?".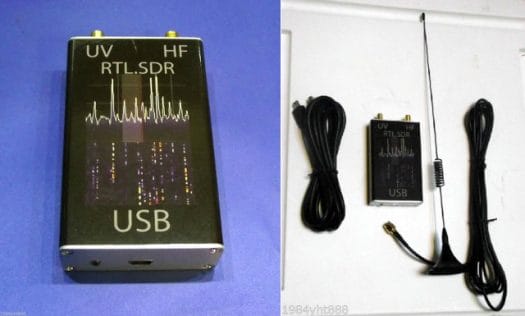 But another eBay seller seems to provide the same kit (TBC), but pre-assembled, for $55, and the pictures give a clear understanding of how it all fits together. I'd assume this is made to improve the sensitivity or increase the range of the reception, compared to a USB TV dongle-only solution. They also provide some links to Youku videos showing capture at 14.270MHz and for AM radio, as well as links to Windows/Linux RTL-SDR applications that can be used with that device based on Realtek RTL8232U + R820T.
Looking a bit further, I found an RTL-SDR Google+ community where they also noticed the disassembled kit. Some documentation is said to be available in a document called "电视棒 套件的安装.doc", but all links are now dead, except maybe a Google Translate version in English or German. But all is not lost, as somebody posted assembly and soldering instructions online for the kit for something that looks very similar called BA5SBA. The post of also written in Chinese, but Google Translate and the pictures should help. The USB dongle is not used directly, but you have to take out the board inside and solder it as a "module" in the opening found in the board provided with the kit.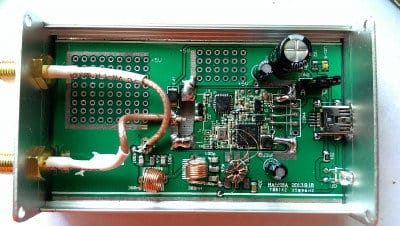 Finally, we've got the assembly instructions for the kit, as well as links to software that should support it, so it could be an interesting kit to play with for those interested in SDR.
Thanks to onebir for the tip.

Jean-Luc started CNX Software in 2010 as a part-time endeavor, before quitting his job as a software engineering manager, and starting to write daily news, and reviews full time later in 2011.