The vast majority of Android TV sticks only provide Wi-Fi to connect to the Internet, but Jesurun T034 is one of the rare TV stick that also features an Ethernet interface, and a Gigabit one at that. I've already listed specifications and uploaded pictures of the device, so today it's time for a review. I've reviewed so many Rockchip RK3288 devices in the past, so I won't write my usual full review, but I will focus on network connectivity, internal storage performance, stability / temperature measurements, as I've found high temperature to be problematic in another RK3288 TV stick, and I'll quickly show the launcher, test the remote with the extension cable, and run Antutu 5.3 benchmark.
Jesurun T034 User Interface and Remote Control
I've connected the IR extension cable, an Ethernet cable, the RF dongle for Mele F10 Deluxe to the USB port, and the RF dongle for Tronsmart Mars G01 wireless gamepad to the micro USB port of the device via a USB OTG adapter (not included with T034), as well as the power adapter. This is what it looks like on my messy desk.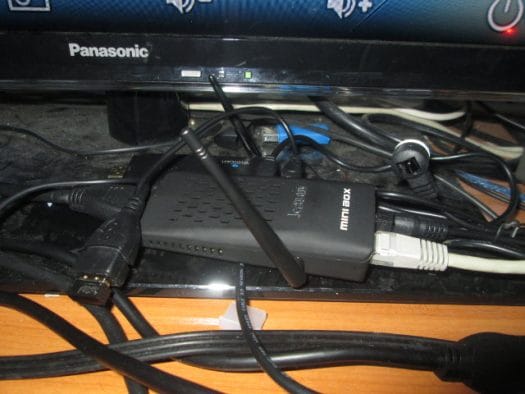 The IR extension cable is on the right of the picture, and you can stick it something thanks to the 3M tape on the back of the IR receiver. I've inserted two AAA batteries in the remote, walked about 5 meters away, and it works as expected.
Boot time is ultra fast, and T034 boot is about 20 seconds, matching the quickest booting Android TV boxes on the market. The user interface is imply the stock Android home screen, with a 1920×1080 resolution.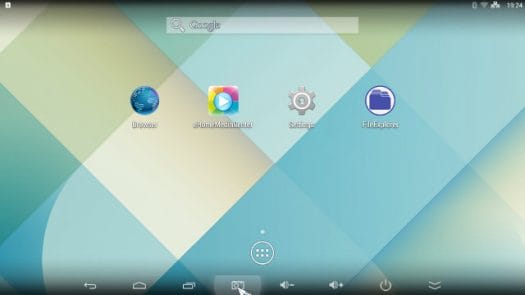 The system feels fast, just like other RK3288 devices, and I had no problem installing few app I needed from Google Play.
Temperature Measurement and Stability
Based on my previous reviews, I've seen devices getting really hot, and sometimes choking when playing Riptide GP2, and some devices also failed to play an entire movie in XBMC. So I've tried both, and also added temperature measurements while idles and right after Antutu benchmark completes. I measure the maximum temperature with an IR thermometer scanning both the both and bottom of the case.
Temperature
Top
Bottom
Idle (7-hour)
45 °C
50 °C
Antutu 5.3
64 °C
72 °C
Riptide GP2 (15 minutes)
75 °C
80 °C
Full movie (after 1 hour)
60 °C
60 °C
So it gets hot, but not that much more than full-sized TV boxes, and it never got hot enough to actually reboot itself, so I found Jesurun T034 to be pretty stable, despite its small form factor.
XBMC 13.0-ALPHA12 (Compiled: August 22 2014) is pre-installed with this firmware, so that's the one I used, but for Rockchip RK3288, it's probably better to use the SPMC apk I tried in my Open Hour Chameleon review. At first, I planned to watch a new movie (AVI/Xvid/AC3) but the frame rate was only 15 fps instead of 24 fps, so I skipped, and later I played my usual test movie (H.264) which played find for almost one hour, until it suddenly stopped. However, I could click again to resume the movie where it stopped.
Networking and Storage Performance
I had to test Ethernet since it's the key selling point of this device compared to its competitors, and I also tested Wi-Fi, in case some people want to use it as an access point or server using the "Portable Hotspot" function in Android, and with Linux.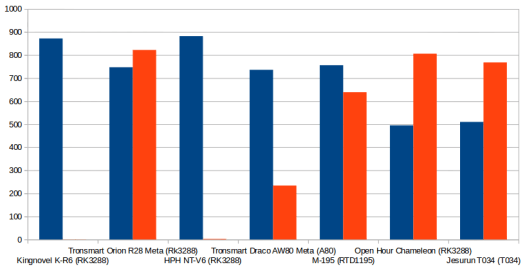 I've measured the raw Ethernet performance with iPerf, and the result is about the same as Open Hour Chameleon, and with 510 Mbps and 768 Mbps in either directions, Gigabit is working fnie, although it's not optimal, but it's good enough for USB 2.0 storage devices that you may attach to the stick.
iperf log:

--

--

--

--

--

--

--

--

--

--

--

--

--

--

--

--

--

--

--

--

--

--

--

--

--

--

--

--

--

--

Server

listening

on

TCP

port

5001

TCP

window

size

:

85.3

KByte

(

default

)

--

--

--

--

--

--

--

--

--

--

--

--

--

--

--

--

--

--

--

--

--

--

--

--

--

--

--

--

--

--

[

 

4

]

local

192.168.0.104

port

5001

connected

with

192.168.0.107

port

54166

--

--

--

--

--

--

--

--

--

--

--

--

--

--

--

--

--

--

--

--

--

--

--

--

--

--

--

--

--

--

Client

connecting

to

192.168.0.107

,

TCP

port

5001

TCP

window

size

:

 

153

KByte

(

default

)

--

--

--

--

--

--

--

--

--

--

--

--

--

--

--

--

--

--

--

--

--

--

--

--

--

--

--

--

--

--

[

 

6

]

local

192.168.0.104

port

35021

connected

with

192.168.0.107

port

5001

[

ID

]

Interval

      

Transfer

    

Bandwidth

[

 

6

]

 

0.0

-

60.0

sec

 

3.57

GBytes

  

510

Mbits

/

sec

[

 

4

]

 

0.0

-

60.0

sec

 

5.37

GBytes

  

768

Mbits

/

sec

Unfortunately, Wi-Fi performance is not that good, although still usable to browse the web, and play 1080p YouTube videos for example, as least in my environment.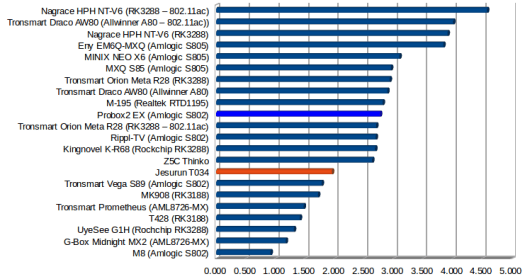 The test used ES File Explorer to transfer a file between the internal flash and a SAMBA share.
A speedy internal flash is important for fast boot and app loading times which are affected by read speed, and a poor write speed may affect overall system performance, for example while installing apps.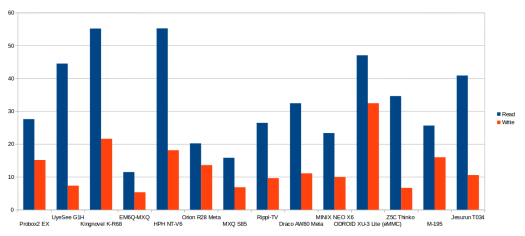 As expected from the boot time I got previously, the eMMC read speed is avery good (40 MB/s), and the write speed is not too bad at 10.50 MB/s, which strangely is higher than on Samsung eMMC specs (6MB/s). Tested with A1 SD benchmark app.
Jesurun T034 Antutu Benchmark
Finally, I've run Antutu 5.3 to check out if the CPU frequency and system performance was lowered in order to improve the stability of the stick..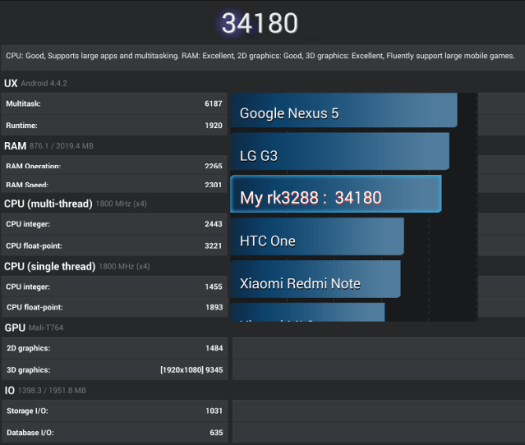 The score is 34,180 points which is only slightly lower than the usual 35,000 to 38,000 points I got with full-sized RK3288 media players.
The conclusion of this mini review is that T034 gets a little hot, but it does not seem to affect stability, Gigabit Ethernet works well, but Wi-Fi is the weakest for my recent reviews, and Rockchip RK3288 is still clocked @ 1.8 GHz providing a good Antutu score, despite the smaller form factor.
Jesurun T034 was provided to me by GearBest, which sells it for $79.98 with JT034CN coupon code (Valid until Dec 31, 2014). It can also be purchased on DealExtreme, or GeekBuying. Few sellers use the name "Jesurun T034″, but if you look for MK802 V instead, or just T034, which should be exactly the same hardware, you'll find it on Aliexpress, and Tinydeals.

Jean-Luc started CNX Software in 2010 as a part-time endeavor, before quitting his job as a software engineering manager, and starting to write daily news, and reviews full time later in 2011.