Zero Devices Z5C Think is one of the rare HDMI TV sitck powered by Rockchip RK3288 quad core Cortex A12/A17 processor available on the market. I've already take a few pictures of the device and internals, so today I'll focus on testing the firmware, and performance of this thin and nice looking TV stick.
First Boot, Settings and First Impressions
There was a time when HDMI stick were powered by much slower, but power efficient processor based on Cortex A5 cores. One of these was CX-01 mini PC, and they could be powered by the USB port of the TV without problems. Now the processor are much more powerful, so normally you can't power the device directly from the TV, but since I've seen people claim it was possible to drive RK3288 stick directly from the USB port of some TVs, I gave it a try, connected the stick to my Panasonic TV via the HDMI cable extension, as the two HDMI ports on my TV are too close, connected the micro USB to USB cable to my TV, and the power LED turned on, but the screen would stay black, and the TV display the message "Overcurrent error on USB device occured. Please remove the USB device and switch off the TV by mains power switch".
So that did not work out, but it was expected, and it's not a problem with the stick, just that the TV can't handle device with high power requirements.
So instead I used the power supply, and added a RF dongle for the Mele F10 Deluxe air mouse. Boot time is one of the best on the market so far, as it takes just 25 seconds between the time connecting the power supply, and getting to the Android Home Screen.
But the very first time, you'll get through a wizard that let you select simplified Chinese, English or Others languages, scale your display for overscan compensation, and configure Wi-Fi. Unfortunately the first time, it did not find any Wi-Fi access point, so I went to Android Settings to check, and there was no MAC address either, probably meaning the Wi-Fi module was not detected. But everything got back to normal after a reboot, and Wi-Fi worked just fine.
Let's have a look at the e Android settings. The Wireless & Networks sections comes with Wi-Fi, Bluetooth, Ethernet (for external USB dongle), and Data Usage menus, as well as a "More" section with VPN and Portable Hotspot. The Display settings mainly include font size adjustment, overscan compensation menu, and HDMI resolution selection between 9 modes: 1080p 24/25/30/50/60Hz, 720p 50/60, 720x576p-50 or 720x480p-60. Options for 4K output will be display if you own a 4K UHD TV. You can select the "Sound Output Device" in the "Sound Devices Manager" either "Default Output", "Spdif Passthough" (which is not available on the stick), and "HDMI Bitstream" (HDMI pass-through).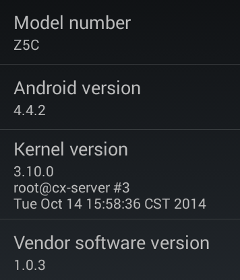 The 8GB eMMC is partitioned into two partitions: a 0.95 GB "Internal Storage" partition for apps with 658 MB free, and a 8 GB (black magic yet again) "NAND FLASH" partition for data, with about 5.20 GB available space.
The "About Z5C Thinko" section reports the model number is Z5C, and it's running Android 4.4.2 on top of Linux 3.10.0, and the vendor software version is 1.0.3. There's also a System updates menu, that appears to properly connect to a server, but no new firmware was available at the time of the review.
Google Play works pretty well, and I could install apps such as ES File Explorer, Antutu, Beach Buggy Blitz, CPU-Z, etc…, with the only incompatible apps I've noticed being Vidonn Smartband app (as usual), and Real Racing 3. I've also installed Riptide GP2 through Amazon AppStore. However, I quickly ran out of space because of the sub 1GB app partition.
There's no power button, and not proper power handling with this stick. Pressing the power button on the status bar will come up with a power off menu, but all it will do it reboot the device. Pressing the power button on Mele F10 Deluxe will simply blink the screen for one second, but it's probably a remote key handling issue, which I've seen on another device, so after a fix, standby should be supported. But there's probably nothing to be done to support power off, since it's probably the way the hardware has been designed.
One of the biggest problems with Z5C Thinko is that it gets really hot, and sometimes hot enough to have the chip reboot itself. After Antutu, I could measure between 55 to 90°C, with the temperature especially hot on top of the Rockchip SoC, and close to the HDMI connector, since that's where the heatsink spans. The maximum temperature I got was 118°C. During idle time (i.e. in the home screen), the temperature is between 45 to 55°C, and in Kodi user interface it goes up to about 70°C. I'd like to point out the temperature varies a lot (-/+ 20°C on one given spot), probably because of the ventilation holes. So sometimes my IR thermometer may point to the plastic case, but sometimes I might measure the temperature directly from the heatsink, at least that's my theory.
As long as you don't perform demanding tasks, the firmware is mostly stable and smooth, but there are also various bugs, as I had to reboot to get Wi-Fi and Bluetooth work, USB storage connection may not be reliable, and because of the high temperature, it's basically impossible to play 3D games, and even playing videos for over one hour may cause reboots. The tiny app partition is also annoying, but it's something that's easily fixable with a firmware update.
Video Playback
Kodi alpha 14 was pre-installed in the stick,. and it even let me know I should update, but since I don't know whether the XBMC/Kodi version installed as been customized or not, I've tried using that version. Normally I play video from a SAMBA share, but for some reasons Kodi did not manage to find my computer, as it happened frequently in my previous review. So I switched to using my USB hard drive. I tried to connect it via the micro USB OTG port with the OTG adapter, but it was not recognized, and I tried a USB flash drive, but same problem. So instead I attached a USB hub to the single USB host port of the Android dongle, and my hard drive LED went on, but at first I could not see any partition in Kodi or ES File Explorer. I rebooted, and it worked, but since relatively unstable. So instead I installed SPMC from Google Play, and … it did not anything in the Video menu. So I ended playing videos from a SAMBA share using ES File Explorer and MX Player:
I played 1080p videos samples from samplemedia.linaro.org, and one extra 1080p H.265/HEVC videos:
H.264 codec / MP4 container (Big Buck Bunny) – OK
MPEG2 codec / MPG container – It's playing, but not very smooth.
MPEG4 codec, AVI container – OK
VC1 codec (WMV) – OK
WebM / VP8 – OK
H.265 codec / MPEG TS container – OK
Some higher bitrate videos had troubles to play because I was over Wi-Fi:
ED_HD.avi

– OK, no problem even in fast moving scenes
big_buck_bunny_1080p_surround.avi (1080p H.264 – 12 Mbps) – Playing OK, but buffering often
h264_1080p_hp_4.1_40mbps_birds.mkv (40 Mbps) – Playing OK, but buffering often
hddvd_demo_17.5Mbps_1080p_VC1.mkv (17.5Mbps) – Playing OK, but buffering often
Please note that most Android media player won't be able to play these files smoothly over Wi-Fi + SAMBA, so the results are not really surprising.
High definition audio codec could play (downsampled) in MX Player, but since some of these are high bitrate I had buffering and audio cut issues:
AC3 – OK
Dolby Digital 5.1 / Dolby Digital 7.1 – OK (5.1), audio cuts and buffering (7.1)
TrueHD 5.1 & 7.1 – Black screen only
DTS-MA and DTS-HR – Audio cuts and buffering
I tried to play Sintel-Bluray ISO, but it would load forever in MX Player.
4K video playback is about the same as with other RK328 boxes in MX Player, i.e. not that good:
HD.Club-4K-Chimei-inn-60mbps.mp4 – Frequent audio cut, and video in slow motion. It's a 60 Mbps video so it can't be realistically be played over Wi-Fi

.
sintel-2010-4k.mkv – Severe decoding issues with heavily distorted image
Beauty_3840x2160_120fps_420_8bit_HEVC_MP4.mp4 (H.265) – OK (H/W decode)
Bosphorus_3840x2160_120fps_420_8bit_HEVC_MP4.mp4 (H.265) – OK (H/W decode)
Jockey_3840x2160_120fps_420_8bit_HEVC_TS.ts (H.265) – Slow motion
phfx_4KHD_VP9TestFootage.webm (VP9) – Slow motion (maybe 1 to 3 fps)
This morning I tried again Kodi with SAMBA, and it worked for some reasons, so I tried the 4K videos in Kodi as well:
HD.Club-4K-Chimei-inn-60mbps.mp4 – First time black screen only, second try: plays but with many skipped frames, and then buffering.

sintel-2010-4k.mkv – Buffering a lot becasue bitrate is too high for Wi-Fi, but when video plays it's not smooth either with many dropped and skipped frames.
Beauty_3840x2160_120fps_420_8bit_HEVC_MP4.mp4 (H.265) – OK
Bosphorus_3840x2160_120fps_420_8bit_HEVC_MP4.mp4 (H.265) – OK
Jockey_3840x2160_120fps_420_8bit_HEVC_TS.ts (H.265) – OK.
phfx_4KHD_VP9TestFootage.webm (VP9) – Kodi reports it plays at 8 to 10 fps, but it feels even slower than that. All four core at at 100% CPU usage.
I skipped the usual AVI, MKV, FLV, VOB, FLV and MP4 videos testing, but I still did play a 2-hour video (1080p / mkv / h.264) to test stability. The video did not feel very smooth, so I enabled Kodi debug overlay by pressing the 'o' key, and I regularly saw dropped and skipped frames, and the frame rate oscillated between 10 to 26 fps for that 24 fps video. Nevertheless, when I play the 2-hour video, I usually go to do something else, coming to check a few times, and after about one hour, I noticed I got back to the Android home screen. I did not connect the stick to my UPS, and I thought I heard a "micro" power failure (1 or 2 seconds), so I tried again, but it did play for one hour or so, and suddenly I saw the black, and shortly after the boot logo. So I rushed to scan the dongle with my infrared thermometer, and I go an amazing maximum temperature of 118 °C!
So proper video playback does not seem possible yet on Rockchip RK3288, and the small form factor even amplifies the issues, as it can't play a full movie, at least at my room temperature (28 °C).
Links to various video samples used in this review and be found in "Where to get video, audio and images samples" post and comments.
Network Performance (Wi-Fi)
I'm transferring a 278 MB between SAMBA and the internal flash, and vice versa, for three times in ES File Explorer to get an idea of the Wi-Fi performance, and at 2.62 MB/s on average, the performance is decent, but not clearly outstanding. The good thing is that there was very little variation between the tests, so performance is not that great, but it's reliable.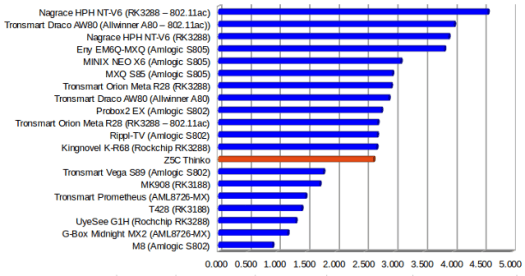 Miscellaneous Tests
Bluetooth
Sixaxis Compatibility Checker indicated the driver in Z5C can handle Sony PS3 controller, but when I used my controller clone, I got the message "Fake controller detected, attempting workaround", but it just got stuck there.
Right after, sixaxis test, I tried to enable Bluetooth in the Android settings, but it did not work. A reboot fixed that, and I guess is the Sixaxis app may have caused troubles with Bluetooth. I could then pair my phone with Z5c, and transfer pictures.
I install the APK for my Vidonn X5 fitness tracker in order to test Bluetooth Smart (BLE). The smart band could be detected, and the dongle retrieve data from it successfully.
Storage
Both a micro SD card and USB flash drive formatted with FAT32 could be mounted and accessed.
Using my USB 3.0 hard drive was more problematic, as at times, it would just umount itself, or even not be recognized at all. But when it worked, it could detect all four partitions, but only mount the FAT32 and NTFS partition.
| | | |
| --- | --- | --- |
| File System | Read | Write |
| NTFS | OK | OK |
| EXT-4 | Not mounted | Not mounted |
| FAT32 | OK | OK |
| BTRFS | Not mounted | Not mounted |
Due to stability issues, and I believe people are less likely to connect a USB hard drive to their stick than a full box, I skipped USB / NTFS benchmark, but still used A1 SD Bench to check the Samsung eMMC performance.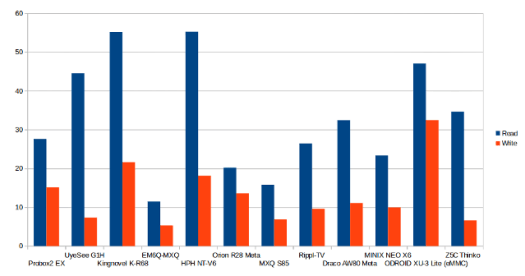 The eMMC flash has very good read speed (34.26 MB/s), but the write speed (6..62 MB/s) is not quite as good. Strangely, it's still faster than the 6MB/s listed in Samsung eMMC product brief. The fast read speed explained the quick boot time (25s), but I did not notice slowdowns due to the write speed.
Gaming
Candy Crush Saga, Beach Buggy Blitz, and Riptide GP2 were the three games used for testing. No problem with Candy Crush Sag, as expected. I played the two racing games with Tronsmart Mars G01 wireless gamepad, which works just fine as usual. Beach Buggy Blitz was ultra-smooth with maxed out graphics settings, but I decided to try to play a few races, and check the temperature with that games. At the second race, the stick rebooted automatically, and I measured up to 105 °C, and I was quite surprised, as it was the first time (I played games, before I played videos) I got a temperature over 100 °C with an Android gadget. I decided to let the stick cool down for about 2 minutes, which I reckon is way too short, before "playing" Riptide GP2. As you may gues,s I did not end-up playing very long, as the device rebooted very soon, and I measured a maximum temperature of 110 °C.
Z5C Thinko Benchmarks
I expected the CPU frequency to be lower in a tiny HDMI adapter, compared to the easier to cool down full size TV box, so I ran CPU-Z to check the information, and the maximum CPU frequency is still 1.8 GHz, which at least partially explained the very high temperature I got.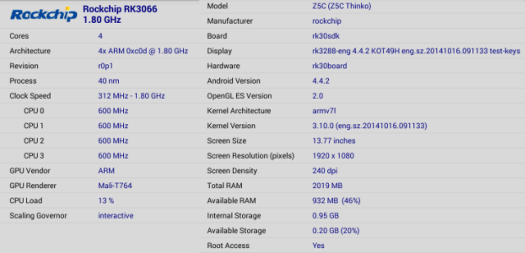 The CPU is still detected as a Rockchip RK3066 with eight Cortex A12 core clocked between 312 MHz and 1.8 GHz, so it seems CPU-Z developers are not that interested in keeping up to date with Chinese SoCs by Allwinner or Rockchip.The total memory is correctly reported as 2019 MB, and internal storage has 0.95 GB because the app only included the first partition.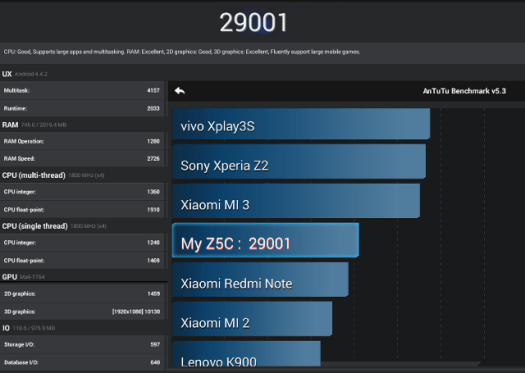 Antutu 5.3 score is quite lower than other Rockchip RK3288 devices. Z5C Thinko gets 29,001 points, whereas TV boxes such as Tronsmart Orion R28 Meta get around 37,000 points. If we look into the details of the scores, Z5C takes a hit with UX, RAM, and CPU tests, but the GPU performance is exactly the same. Storage I/O is also weaker probably because of the slower eMMC write speed. So a more aggressive governor must have been implemented, or the 1.8GHz frequency reported by CPU-Z and Antutu is incorrect.
Conclusion
Zero Devices Z5C Thinko is small, looks great, and comes with a powerful Rockchip RK3288 processor. But unfortunately, there are just oo many problem with the firmware right now, include potential unreliable USB hard drive support, poor video playback (mostly common to other RK3288 devices), and most importantly high temperature issues, which makes 3D gaming, continuous video playback, and other tasks that may require a sustained load currently impossible, as the stick will just reboot to "save" itself.
PRO:
Fast new processor
Gook looking, thin, and small. One of the rare TV sticks based on Rockchip RK3288 processor
Fast boot (25 seconds)
4K and H.265/HEVC support (although it needs improvement)
Video Output – 1080p support 24, 25 ,30 , 50 and 60 Hz output. 4K @ 60Hz should be supported (not tested).
Support for OTA update (server detected, but not tested since no new firmware was available at the time)
Bluetooth features seems to all work (File transfer, BLE, and maybe Sixaxis)
CONS:
Gets extremely hot (I measured up to 118 °C), leading to reboot, and it might affect the useful life of the device.
No power button, or proper power off handling, which can lead to data loss.
Many issues with video playback including dropped/skipped frames, and it failed the 2-hour movie playback, because of issue #1 (temperature).
3D games are unplayable due to temperature issues
Potential USB hard drive issue (unreliable)
USB OTG adapter does not seem to work, at least with USB mass storage devices.
At first boot, Wi-Fi module was not detected. Fixed after reboot, and the problem did not occur again.
The internal storage partition is only 0.95 GB, and it can be full after installing a few apps.
So at this stage, Z5C Thinko can probably only be used reliably as a portable mini PC to browse the web, check emails, and interact in social networks. But they've got some serious work to do when it comes to video playback, USB support, 3D gaming, and overall bug fixing. The temperature issue may only be fixable by lowering the CPU frequency to 1.2 or 1.4 GHz, and for 3D gaming the GPU may also have to be clocked down, but then you'll end up with a much less powerful platform than existing RK3288 solutions.
Zero Devices Z5C Thinko can be purchased for $94.99 on Asiapads including shipping. The company also offers a USB + Ethernet Hub for an extra $5.

Jean-Luc started CNX Software in 2010 as a part-time endeavor, before quitting his job as a software engineering manager, and starting to write daily news, and reviews full time later in 2011.