Sunchip CX-S806 is my third Android media player based on Amlogic S812 processor, after Eny Technology EM8S (which I haven't received yet, because the firmware is not really ready yet), and MINIX NEO X8-H Plus with a stable firmware, but some disappointment with regards to peripherals performance (eMMC, Ethernet,…), and poor support for H.265 / 4K videos in XBMC/Kodi, at least for now, since I'm sure they'll work out the video issue with subsequent firmware / Kodi releases. CX-S806 has lower specs compared to NEO X8-H Plus, and does not come with an air mouse, but it costs about half of the MINIX box, so we'll have to see how it performs. For now, I simply post pictures of the device and the internal board, since I've already posted CX-S806 specifications previously.
CX-S806 Unboxing
Sunchip sent me the box via DHL, and I received it in the black and gold package below.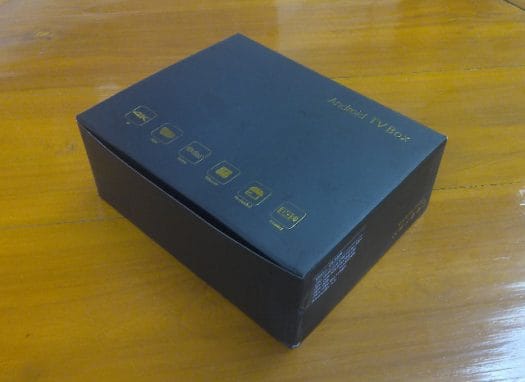 The box comes with a 5V/3A power supply, an IR remote control (2x AAA batteries required), an HDMI cable, and user's manual in English.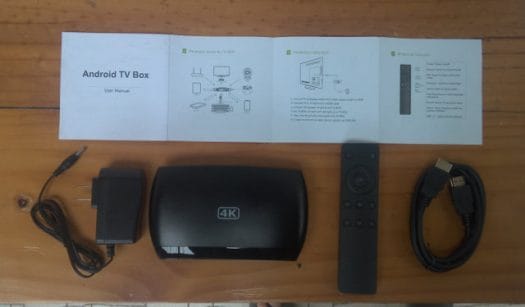 The box looks pretty nice, and all ports are at the back with a reset pin holes, three USB 2.0 ports including one OTG port, optical S/PDIF, AV and HDMI output, a Fast Ethernet RJ45 port, and the power jack.

We can't see anything at the front, but it's a semi transparent plastic hiding the IR receiver and a power LED.
Unboxing video:
CX-S806 Board Pictures
There's large rounded sticky rubber band the bottom of the case, but there's nothing under, so everything is held together with clips. At first I tried to open the box by popping the clip from the back of the case, and I could start to open it, but it would not come off completely, the gap between the black plastic case and the semi-transparent plastic at the front was basically inexistent, so I got stuck thiking glue may be involved, and I asked Sunchip who kindly provided some pictures explaining how to open the box, including the one just below.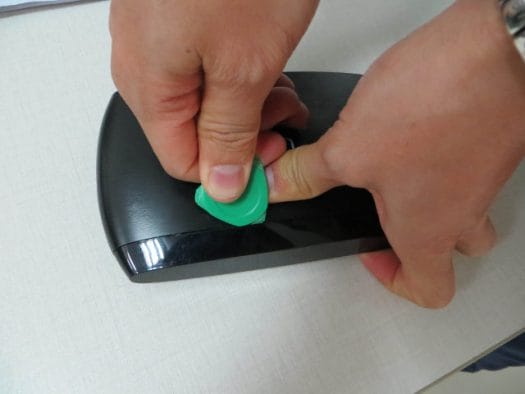 Once I knew how to get started, I managed to open it with my disassembly toolkit. The tiny triangular green tool was not tiny and strong enough, so I used the scalpel like tool to take out the front panel, and separated the rest of the enclosure with the other green tool.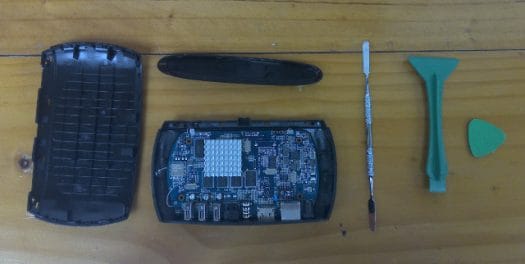 There's a bit less cooling elements than in other Amlogic S8x1 boxes with just a heatsink on top of Amlogic S812, so I'll have to keep an eye on the temperature.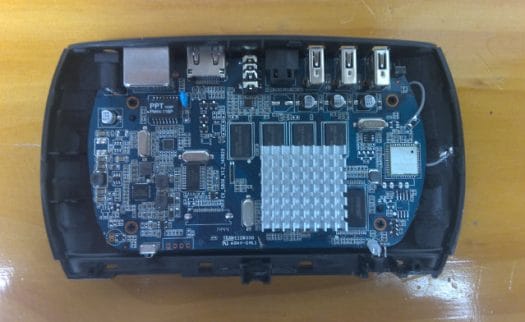 The board is named CX_S806_V1.2_140825. The wireless module (for Wi-Fi and Bluetooth) is AP6210. Four Samsung K4B4G1646D-BCK0 DDR3-1600chips are used for the 2GB RAM, and a FORESEE NCEFES78 eMMC flash for the 8GB internal storage. You'll also notice four pins on the right of the IR sensor which should be for serial console access.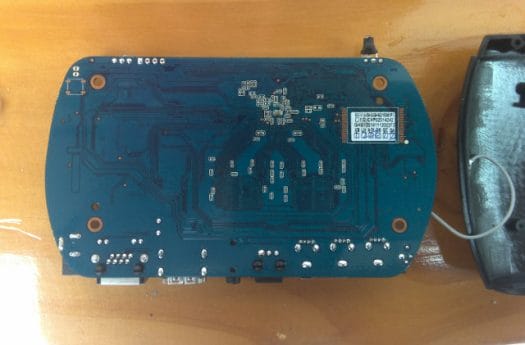 I had to remove four screws to have a look at the back, but there's not much to see here, except a sticker with the board key specifications, and QC status, located just on top of solder pads for another flash chip.
Sunchip is the company that designs and manufacture all CX-??? media players and TV sticks, and their board is also found in some other brands, so if you want to purchase in large quantities, you could contact them via CX-S806 product page (Contact link is on top).  Individuals can purchase the box for $80 on Amazon US, Ebay, GeekBuying, as well as Aliexpress.
Disclaimer: Although this post is not sponsored, Sunchip has recently become a sponsor for CNX Software.

Jean-Luc started CNX Software in 2010 as a part-time endeavor, before quitting his job as a software engineering manager, and starting to write daily news, and reviews full time later in 2011.