I've already reviewed one Android media player based on Amlogic S812 processor with MINIX NEO X8-H Plus. Today, I'm going to have a look at another S812 TV box, namely CX-S806, with lower specs, and less support, but that sells for half price compared to the MINIX device. I've already published pictures of CX-S806 media player and board, so today I'll focus on testing the performance and features of the device.
First Boot, Settings and First Impressions
The package include a simple IR remote control, so I inserted two AAA batteries to give it a try, and it seemed to work OK, but as usual I switched to use Mele F10 Deluxe air mouse for the rest of the review. Since I've connected Ethernet and HDMI cables, a USB hard drive, a USB webcam, and a USB hub with two RF dongles for the air mouse and wireless gamepad, and a USB flash drive. The box will start automatically as you connect the power, which had to be expected since there's no power button. The boot takes 1 minutes and 29 seconds with all devices attached, no a speed daemon, but still faster than MINIX NEO X8-H Plus which takes nearly 2 minutes to boot when all devices are connected. So it seems Amlogic S812 are not optimized to boot fast like Rockchip RK3288 media boxes.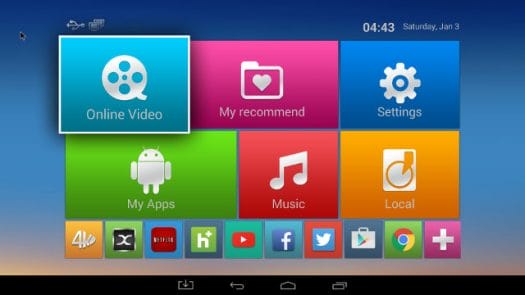 The media player features the usual metro-style MediaBox launcher. The main difference is that apps like Netflix and Hulu Plus are pre-installed, and have a shortcut in the main screen. I have not tested these since I don't have an account with them. Other noticeable pre-installed apps include Flash Player, Plex and Quikcoffice among others. The resolution was correctly automatically detected and set to 1080p, and the user interface resolution is 1920×1080.
The Settings menu is also typical of Amlogic box with four sub-sections: Network, Display, Advanced and Other:
Network – Enable and configure Wi-Fi or Ethernet
Display:

Automatic or manual HDMI resolution: 480p/i @ 60 Hz, 576p/i @ 50 Hz, 720p @ 50/60 Hz, 1080i @ 50/60 Hz, 1080p @ 24/50/60 Hz, or 4k2k 24/25/30Hz/smpte
Hide or Show status bar
Display Position
Start screen Saver (Never, 4, 8 or 12 minutes)

Advanced:

Miracast
Remote Control (For Rockchip/MINIX remote app)
Google TV Remote (for Google TV remote app)
CEC Control
Screen Orientation settings
No Output to USB Audio
Digital Audio Output (Auto, PCM, S/PDIF pass-through, or HDMI pass-through)

Other – System Update: Local file or OTA (No connection to server), Backup; "More Settings": redirects to standard Android Settings.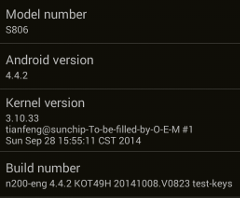 There's a single 5.26 GB partition in the 8GB eMMC flash, and at the end of my testing, I had 1.99 GB free space. In the "About MediaBox" section in the standard Android settings, the model number is "S806″ , and the system runs Android 4.4.2 on top of Linux kernel 3.10.33. You'll also notice the email string in the Kernel version reads "tianfeng@sunchip-To-be-filled-by-O-E-M #1", as Sunchip is a manufacturers, so they don't sell to end users, which also explains why OTA is not working. They told me the OTA function can be enable with their customer's OTA servers.  I noticed GeekBuying provided an updated firmware for CX-S806, so I asked Sunchip is I could use that one, especially since the firmware in my box is dated from October 2014, and they told me it's only for AP6330 version, and since I have the AP6210 version I didn't need to upgrade. CX-S806 model with Amlogic S802 processor will be phased out. The firmware is rooted with supersu installed.
Google Play Store worked relatively well, although I had to install Vidonn smart band app and Antutu Video Tester with their apk, and they were reported as "Incompatible with my device". I also download and installed Amazon AppStore in order to get the "free app of the day" Riptide GP2.
The device only supports stand by mode with the remote control, there's no way to cleanly power off the device. A long press on the remote control power button will still go into standby. After Antutu 5.5 benchmark (excluding 3D graphics test which fails), the max. temperatures were 46°C and 51°C on respectively the top and bottom of the case, and after 5 races in Riptide GP2, the max. measured temperatures went up to 47°C and 52°C.
CX-S806 firmware is stable, and smooth, and I did not experience any slowdowns, freezes, or hang-ups while using it. Boot time is a little slow however. (1 minute 30 seconds with several USB devices attached).
Video Playback
XBMC 13.1 (built-in June 2014) is pre-installed in the box, so that's what I used, as I never known if a company made modifications to the source code, but as we'll see below, it miht be a good idea to install Kodi 14 instead. XBMC user interface renders at around 60 fps @ 1920×1080, somehow much faster than the 35 fps reported by XBMC 13.3 in MINIX NEO X8-H Plus. I had no problems connecting to SAMBA shares in Ubuntu 14.04 in either XBMC or ES File Explorer. Most videos have been tested with XBMC over Ethernet, but I also switched to "4K MoviePlayer" app to play some 4K videos, and MX Player for audio codecs.
Videos samples from samplemedia.linaro.org, plus some H.265/HEVC videos (Elecard), and a low resolution VP9 video:
H.264 codec / MP4 container (Big Buck Bunny), 480p/720p/1080p – OK
MPEG2 codec / MPG container, 480p/720p/1080p – XBMC will exit/crash
MPEG4 codec, AVI container 480p/720p/1080p – OK
VC1 codec (WMV), 480p/720p/1080p – OK
Real Media (RMVB), 720p / 5Mbps – RV8, RV9, and RV10 – OK, but could be smoother.
WebM / VP8 – XBMC will exit/crash
H.265 codec / MPEG TS container (360p/720p/1080p) – Audio only, and the 1080p video makes XBMC exit/crash.
WebM / VP9 (no audio in video) – Does not play at all (Stays in XBMC UI).
I also played some higher bitrate videos:
ED_HD.avi

– audio only
big_buck_bunny_1080p_surround.avi (1080p H.264 – 12 Mbps) – OK.
h264_1080p_hp_4.1_40mbps_birds.mkv (40 Mbps) – OK
hddvd_demo_17.5Mbps_1080p_VC1.mkv (17.5Mbps) – Plays at 15 fps instead of 29.970, and XBMC also reports skipped frames.
Jellyfish-120

-Mbps.mkv

(120 Mbps video without audio) – OK (using USB drive)
High definition audio codecs below has been tested in XBMC and MX Player using PCM output, because currently XBMC is using audio software decode, while MX Player is trying to use HW decode by default:
Video
PCM Output
XBMC
PCM Output
MX Player
HDMI Pass-through
XBMC
SPDIF Pass-through
XBMC
AC3 / Dolby Digital 5.1
Crash XBMC (VOB file)
OK
Not tested, since I don't own an AV Receiver. If you want me to test pass-through for these audio format, you can consider donating below. I plan to buy Onkyo TX-NR636 which supports all codec tested here and costs 25,000 to 30,000 Baht locally ($760 to $900 US), Suggestions for cheaper options are welcomed.[wp_paypal_payment]
E-AC-3 / Dolby Digital+ 5.1
OK, but videos plays at 17 to 24 fps
OK
Dolby Digital+ 7.1
OK
Blackscreen, and app not reponsive
TrueHD 5.1
OK
No audio, slow video (S/W decode)
TrueHD 7.1
OK
No audio, slow video (S/W decode)
DTS HD Master
OK
No audio
DTS HD High Resolution
OK
No audio
Blu-ray ISO are supported. Tested with Sintel-Bluray.iso. 1080i MPEG2 videos (GridHD.mpg & Pastel1080i25HD.mpg) could also play, but GridHD video seemed to blink during playback.
4K videos playback is not working very well in XBMC, especially since H.265/HEVC is not supported:
HD.Club-4K-Chimei-inn-60mbps.mp4 – OK

sintel-2010-4k.mkv – OK.
Beauty_3840x2160_120fps_420_8bit_HEVC_MP4.mp4 (H.265) – Does not even start (stays in XBMC UI)
Bosphorus_3840x2160_120fps_420_8bit_HEVC_MP4.mp4 (H.265) – Does not even start (stays in XBMC UI)
Jockey_3840x2160_120fps_420_8bit_HEVC_TS.ts (H.265) –  Does not even start (stays in XBMC UI)
MHD_2013_2160p_ShowReel_R_9000f_24fps_RMN_QP23_10b.mkv (10-bit HEVC) – Does not even start (stays in XBMC UI)
phfx_4KHD_VP9TestFootage.webm (VP9) – Does not even start (stays in XBMC UI)

BT.2020.20140602.ts

(Rec.2020 compliant video) – Audio only
4K MoviePlayer app included in the firmware performs better, except with new Bt.2020 format, 10-bit HEVC, and VP9 videos:
HD.Club-4K-Chimei-inn-60mbps.mp4 – OK

sintel-2010-4k.mkv – OK
Beauty_3840x2160_120fps_420_8bit_HEVC_MP4.mp4 (H.265) – OK
Bosphorus_3840x2160_120fps_420_8bit_HEVC_MP4.mp4 (H.265) – OK
Jockey_3840x2160_120fps_420_8bit_HEVC_TS.ts (H.265) –  OK
MHD_2013_2160p_ShowReel_R_9000f_24fps_RMN_QP23_10b.mkv (10-bit HEVC) – Shows a complete mess with some picture from the previous video, and the current video mixed, and more like a slideshow of still images rather than videos.
phfx_4KHD_VP9TestFootage.webm (VP9) – "Not supported media"

BT.2020.20140602.ts

(Rec.2020 compliant video) – Black screen
3D video testing results are about the same as for the MINIX device:
bbb_sunflower_1080p_60fps_stereo_abl.mp4 (1080p Over/Under) – OK, but XBMC reports it playing at 50 fps instead of 60 fps.
bbb_sunflower_2160p_60fps_stereo_abl.mp4 (2160p Over/Under) – Audio only
Turbo_Film-DreamWorks_trailer_VO_3D.mp4 (1080p SBS) – OK
Please note that My Panasonic TV is not a 3D TV according to the specs, so I can only check if video decoding is working.
Most AVI, MKV, FLV, VOB, and MP4 videos could play without A/V sync issues, or noticeable frame dropped. Strangely even a VOB/IFO video (MPEG-2) played fine, while MPEG-2 videos from Linaro made the system crash, so it might a container issue, rather than a codec issue. Some FLV videos would also make XBMC exit/crash.
I also played a full 1080p movie (1h50 / MKV / 3GB) to test stability. At first, I was a little too optimistic, and I did that over Wi-Fi, but unfortunately the movie stopped after 51 minutes due to a "connection timeout". I started again with Ethernet, and the movie could play fully. XBMC reported nearly 14,000 frames were skipped during playback, but I found the video was rather smooth, when I checked it out.
Links to various video samples used in this review and be found in "Where to get video, audio and images samples" post and comments.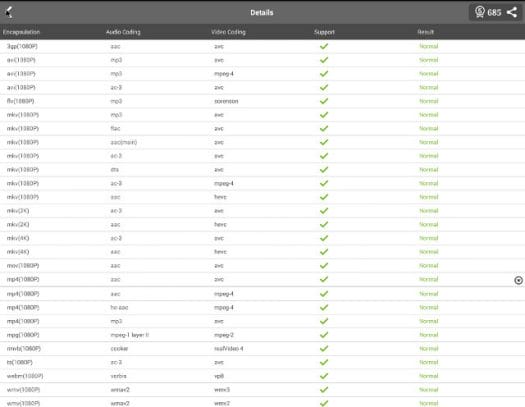 Antutu Video Tester could play all files, and gave 675 points to the device. That compares to 263 points for Open Hour Chameleon (RK3288), and 631 points with Infocus CS1 Allwinner A83T tablet, with the best devices scoring just over 700 points.
Network Performance (Wi-Fi and Ethernet)
Networking is one part of the specs where CX-S806 is much weaker than MINIX NEO X8-H Plus as it comes with Fast Ethernet + 2.4GHz 802.11n Wi-Fi, while the latter features Gigabit Ethernet and 802.11ac Wi-Fi. To test performance, I transfer a 278 MB file between a SAMBA share (Ubuntu 14.04) and the internal flash using ES File Explorer, repeating the test three times, and averaging results. CX-S806 averages 2.76 MB/s (22.08 Mbps) with 802.11n, right in the middle of the pack.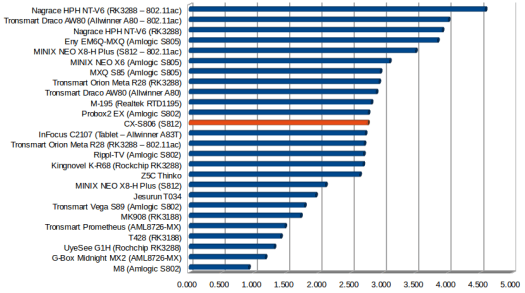 I've done the same test transferring the file over Ethernet, and the performance is one of the best of the 10/100M platforms.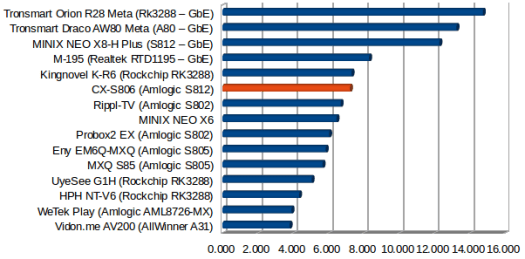 I've also checked the raw Ethernet performance with  iPerf app using "iperf -t 60 -c 192.168.0.104 -d" command line: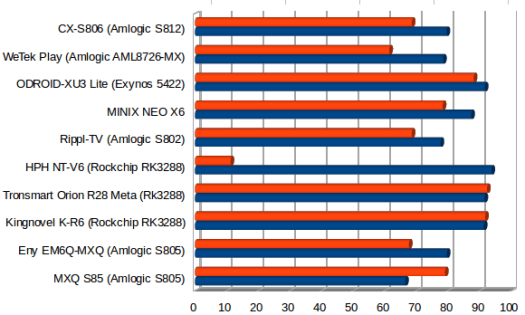 And here, it seems Ethernet is a weak point in Amlogic SoCs, as none can reach the level of performance of RK3288 (when it works) or Exynos 5422.
iperf output:

--

--

--

--

--

--

--

--

--

--

--

--

--

--

--

--

--

--

--

--

--

--

--

--

--

--

--

--

--

--

Client

connecting

to

192.168.0.111

,

TCP

port

5001

TCP

window

size

:

 

136

KByte

(

default

)

--

--

--

--

--

--

--

--

--

--

--

--

--

--

--

--

--

--

--

--

--

--

--

--

--

--

--

--

--

--

[

 

6

]

local

192.168.0.104

port

37479

connected

with

192.168.0.111

port

5001

[

ID

]

Interval

      

Transfer

    

Bandwidth

[

 

4

]

 

0.0

-

60.0

sec

  

569

MBytes

 

79.6

Mbits

/

sec

[

 

6

]

 

0.0

-

60.0

sec

  

491

MBytes

 

68.6

Mbits

/

sec
Miscellaneous Tests
Bluetooth
Just like MINIX NEO X8-H Plus, CX-S806 is advertised as "bluedroid″, and I had no problem pairing the device with ThL W200 smartphone, and transferred pictures over Bluetooth.
I could use mmy PS3 wireless gamepad clone with Sixaxis Compatibility Checker by following these instructions.
Vidonn X5 activity tracker was used to test Bluetooth Low Energy )Bluetooth Smart), and Vidonn smartb and could could the device, but for some reasons it could not retrieve data afterwards, and showed the message "No bracelet connected".
Storage
There's no (micro) SD slot in this device, but a USB flash drive formatted with FAT32 could be recognized and mounted by the system. NTFS and FAT32 partitions on my USB 3.0 hard drive could be mounted and accessed, but no the other file systems.
| | | |
| --- | --- | --- |
| File System | Read | Write |
| NTFS | OK | OK |
| EXT-4 | Not mounted | Not mounted |
| FAT32 | OK | OK |
| BTRFS | Not mounted | Not mounted |
A1 SD Bench was used to test storage performance in Android. The first time I run the test I only got a read speed of 11.42 MB/s, and a write speed of 8.92 MB/s for the NTFS partition in my USB hard drive (mounted in /storage/external_storage/sda1). That's an extremely low score, and since I noticed a decreased in performance in my updated WeTek Play review, I decided to run the hard drive through a disk check and defragmentation in a Windows netbook. I did not expect much difference, since I only use this hard drive for reviews, seldom writing data, except to test write support and SAMBA to USB storage performance, and run A1 SD Bench. But somehow, I got a massive performance boost with 24.50 MB/s read speed, and 27.57 MB/s write speed. So it's quite possible some of my latest reviews (WeTek Play 2nd Review, MINIX NEO X8-H Plus, …) under-reported USB NTFS performance.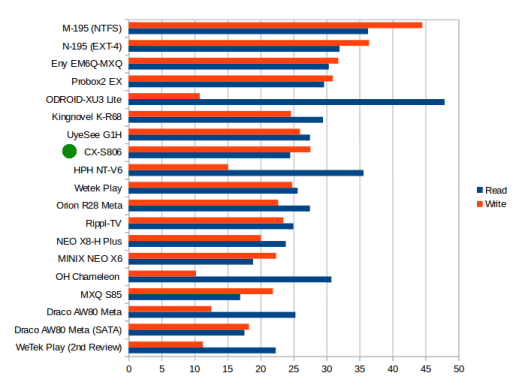 The 8GB eMMC flash in the device achieves 24.47 MB/s (read) and 12.57 MB/s (write), which places the box slightly below average.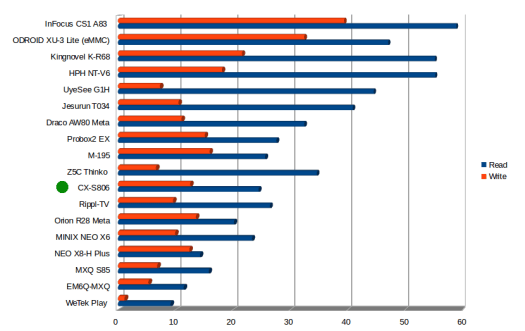 USB Webcam
Skype was pre-installed, and I installed Google Hangouts from the play store. Both app worked pretty well, the Echo service audio was rather clear, video worked, and I could even send a video message, something that often makes other boxes crash. Hangouts worked well too.
Gaming
Candy Crush Saga, Beach Buggy Racing, and Riptide GP2 were used to test gaming performance.  I played Candy Crush Sage with MeLe F10 air mouse, no problem here. Tronsmart Mars G01 wireless gamepad was automatically recognized by both Beach Buggy Racing  and Riptide GP2, but if I set the resolution to the highest level, the games were not particularly smooth. Changing the settings for a smoother framerate made the gaming experience much more enjoyable.  Riptide GP2 did not have the freeze issues found in some other Amlogic devices It could be because of better firmware, or because Riptide GP2 developers fixed a bug.
CX-S806 (S812) Benchmarks
I started to run CPU-Z again to compare it to what I got with MINIX NEO X8-H Plus.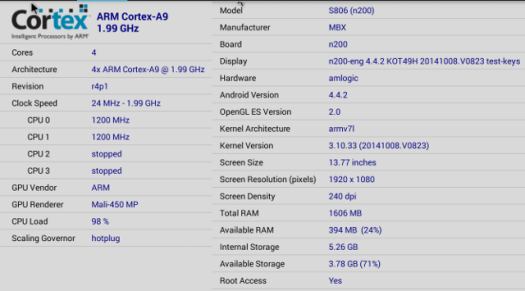 The app reports the same processor with four ARM Cortex A9 cores clocked between 24 MHz and 1.99 GHz coupled with a Mali-450MP GPU. The model is S806 (n200), the resolution 1920×1080 (240dpi) and the system has 1,606 MB RAM available to Android with 5.26 GB internal storage. Interestingly, n200 is the same code as MINIX NEO X8-H Plus.
Antutu 5.5 fails to complete, stopping at the 3D graphics test, so I only got a partial Antutu score of 22,369 points. If the 3D graphics score had been the same as for the MINIX device (9,296), the total score would have been 31,665.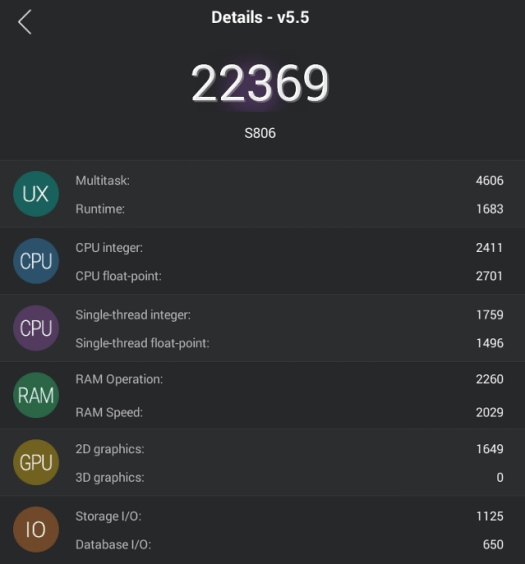 The media player got virtually equal scores in Vellamo 3.1 for Metal Benchmark (766) and Browser benchmark (1789), but for some reasons, it only achieved 1253 points in the Multicore against over 1,800 for the MINIX device. Go figure…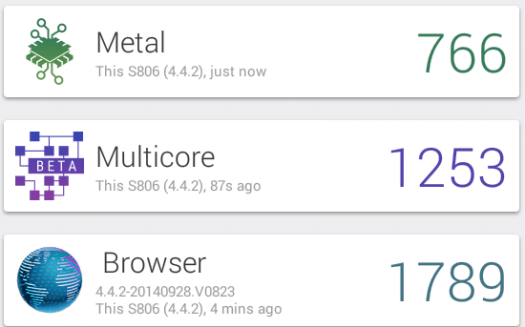 Conclusion
CX-S806 media player mostly does the job, and its firmware is stable. Performance of storage, Wi-Fi and Ethernet are all average, but the results match the relatively low price of the device, and I could not really find any really weak point. Amlogic S812 SoC is also good enough for most tasks, except some 3D games with max graphics settings. As with so many other platforms, you may have to juggle between two media players app with XBMC for most videos, and 4K MediaPlayer for 4K videos, especially H.265 videos. The XBMC version installed in the device (XBMC 13.1) is quite buggy too, but replacing it with Kodi 14 or SPMC might improve things.
PRO:
Firmware is stable, and fast.
Video Output – Supports 1080p24/50/60 (but not 25/30 Hz), and 4K2K up to 30Hz/SMPTE
3D games play without issues (Although you may have to decrease 3D rendering quality for a smoother experience)
H.264 / HEVC 4K video playback with 4K MoviePlayer app
High Antutu Video Tester score (685).
USB webcam works well with Skype and Google Hangouts
CONS:
XBMC 13.1 installed in the device is buggy (Some MPEG-2, VP8 and FLV videos make the system crash)
H.265 / HEVC not supported in XBMC
No real power off, only standby on/off is possible.
Boot time could be faster. 1 minute 30 seconds with several USB devices connected.
Bluetooth Low Energy (BLE) may not work reliably.
The lack of OTA firmware update server would have made it to the CONS too, if Sunchip (who provided the box for review) was not a manufacturer, and sold directly to end users. Instead the company relies on their customer to setup the update servers. There's also an unofficial OpenELEC image for the device.
You can contact Sunchip via their CX-S806 product page (Contact link is on top), if you plan to purchase in quantities.  Individuals can purchase the box for $80 on Amazon US, Ebay, GeekBuying, as well as Aliexpress. The model might be slightly different depending on sellers, as CX-S806 may come with AP6210 wireless module (2.4 GHz 802.11n Wi-Fi) as in this review, or AP6330 module (2.4GHz/5GHz Wi-Fi). Sometimes you'll get 1GB RAM, while other times 2GB RAM, and older models with S802 processor may still be sold, so make sure you check the specs carefully wherever you purchase the box.
Disclaimer: Although this post is not sponsored, Sunchip is currently a sponsor of CNX Software.

Jean-Luc started CNX Software in 2010 as a part-time endeavor, before quitting his job as a software engineering manager, and starting to write daily news, and reviews full time later in 2011.