Vidon Box is an Allwinner A31s based TV box made by Vidon.me, a Diamond sponsor for Kodi entertainment center. I've already listed specs, subscriber services, and uploaded pictures in the unboxing post, so it's time for a review. Since Allwinner A31s has been around for a while, I've decided to write a shorter review.
First Boot, Setup, and First Impressions
Since the box provides some services with a subscription, with a free 1-year top-up card included, you'll probably want to register an account on Vidon.me first, as it's needed to activate all services in the box as shown on the back of the top-up card. After the optional Subscription is $14.99 per year, and it's only needed if you need features like Blu-ray navigation, or audio pass-through.

The simple remote included does the job if you only use the box for settings and XBMC, but otherwise you'll need an air mouse, or wireless keyboard. Just make sure you remove the plastic under the battery to make it work. I've connected all required cables, and a bunch if USB devices, and for the very first boot you go through a wizard to set the language, configure the display  (720/1080p/i video output and screen scale), the network (Wi-Fi or Ethernet), the time, audio output (HDMI or S/PDIF, and disable/enable pass-through), check for firmware update, and login with you Vidon.me username and password7vagywbpojka. There was a new firmware for the device, and although the download for the 322MB firmware (SDK 1.2)  took over 2 hours, the process went smoothly, but at next start-up, it went through the wizard again, and  it detected yet another update, smaller (50.96MB) and called VMC (maybe standing for Vidon.me XBMC?). Subsequent boots take about 45 seconds.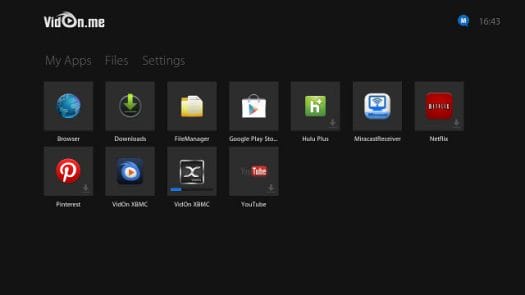 They've revamped the user interface they had in Vidon.me AV200, and black/white/grey home screen shows the list of app directly. There's also an option to autostart XBMC. The apps with a grey down arrow are not installed yet, you need to click on them, and they will be downloaded and installed.
If you want to check all settings available, I've recorded the Android screen with all options in the video below.
Power handling is all good, as you can enter/exit standby, and power on/off cleanly with the remote control. Temperature after Anautu was 38 C on both side of the device, but the shiny metallic enclosure may have interfered with my IR thermometer, as the temperature felt higher with my hand.
The system performs nicely most of the time, but if you are installing apps, you'd better wait, as it becomes hardly usable. Google Play works fine for me. Stability is good, but I had one system freeze in XBMC once while playing a 3D video.
Video Playback
XBMC 13.2 is pre-installed, and there;s are actually two versions of Vidon XBMC installed which is really confusing. I just tried a few videos over Ethernet + USB or SAMBA:
1080p H.264 – OK
1080p MPEG-2 – OK
2160p H.264 – Slow motion
1080p Bluray (Sintel) – OK
1080p Over/Under 3D Video – First time: system hang, power cycle required. Second try: Plays like in slow motion.
I've also run Antutu Video Tester, and Vidon Box got an average score with 490 points. Not quite as good as devices with more recent Allwinner processor (e.g. A80/A83T).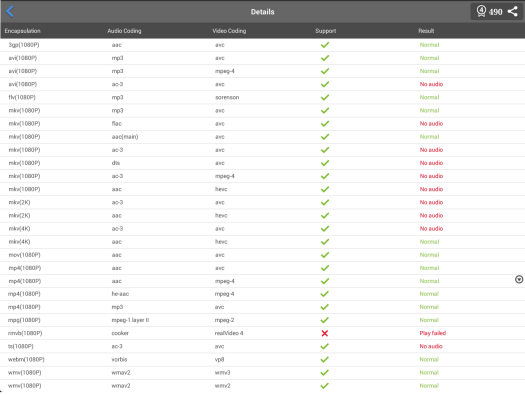 Network Performance (Wi-Fi and Ethernet)
Network performance over Wi-Fi is tested by transferring a 278 MB file using ES File Explorer to a SAMBA server, and vice versa. Results: 3.09 MB/s average transfer speed, which places it in the top of the 802.11n device in terms of Wi-Fi performance.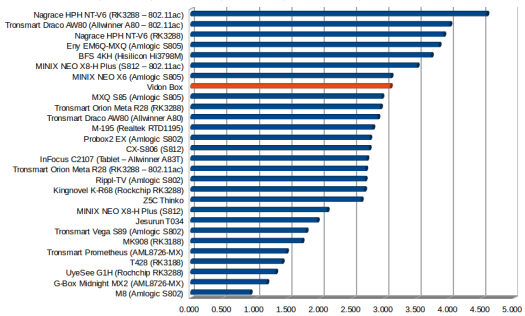 I did the same with Ethernet, and the speed is a bit slow, but as well see below, this tests is affected by the internal flash read speed.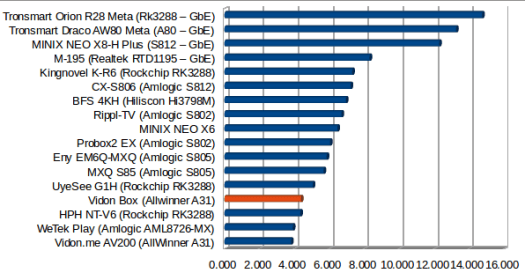 Raw Ethernet performance with iperf show good performance in one direction, but problem to handle full duplex at full speed.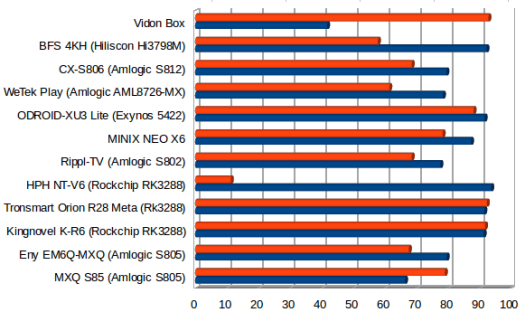 iperf output:

Client

connecting

to

192.168.0.102

,

TCP

port

5001

TCP

window

size

:

 

136

KByte

(

default

)

--

--

--

--

--

--

--

--

--

--

--

--

--

--

--

--

--

--

--

--

--

--

--

--

--

--

--

--

--

--

[

 

6

]

local

192.168.0.104

port

34423

connected

with

192.168.0.102

port

5001

[

ID

]

Interval

      

Transfer

    

Bandwidth

[

 

6

]

 

0.0

-

60.0

sec

  

299

MBytes

 

41.8

Mbits

/

sec

[

 

4

]

 

0.0

-

60.1

sec

  

665

MBytes

 

92.9

Mbits

/

sec
Storage
Following comments from a reader, I've replaced the FAT32 partition in my USB 3.0 hard drive by exFAT, especially since I've already testing FAT32 with a (micro) SD card and/or USB flash drive. So now I have 4 partitions with NTFS, EXT-4, FAT32, and BTRFS in the drive.
File System
Read
Write
NTFS
OK
OK
EXT-4
Not supported
exFAT
OK
 OK
BTRFS
Not supported
FAT32
OK
OK
I tested read and write performance for USB NTFS and the internal storage using A1 SD Bench app.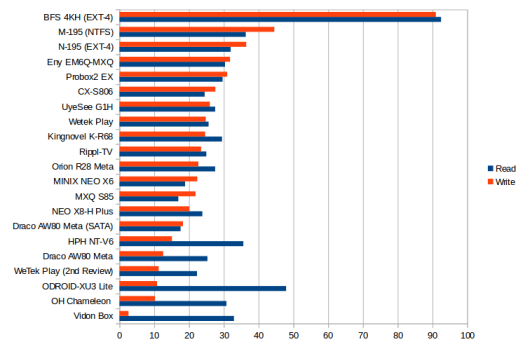 Despite a decent read performance via USB (32.92 MB/s), Vidon Box is the wort performing device with USB device because of a dismissal write performance (2.59 MB/s). I also ran the test with the exFAT partition in case the culprit was the NTFS partition, but it's not much better: 26.57 MB/s and 3.38 MB/s, so something is very wrong here.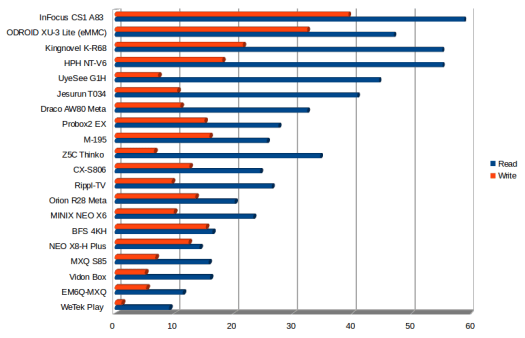 The internal storage performance also places it with other low end device, and the poor write performance also explains why the device is not really usable while installed apps.
Gaming
I've tested one game (Beach Buggy Racing) and graphics performance is OK, but it's very unpleasant to play because Tronsmart Mars G01 gamepad can connect, but it's unusable (no reaction, and it's the first time it happens), so I had to use the Mele F10 Deluxe air mouse to play.
VidOn.me AV200 Benchmark
I've only run Antutu 5.6 benchmark, and with a score of 15,591 points is roughly where a quad cortex Cortex A7 device should be.
Conclusion
VidOn Box is a good looking device that runs OK, with excellent Wi-Fi, and only quickly tested video playback, and H.265, MPEG-2 and Bluray are Ok in XBMC, but 3D videos and 4K videos somehow do not work, even though Allwinner A31(s) is supposed to support the latter at least. Wi-Fi is one of the best, Ethernet average, but storage is really poor when it comes to write speed both for internal storage, and especially USB storage.
Let's summarize the PROS and CONS
PROS

Stable firmware (although I got one freeze in XBMC once)
Eye pleasing elliptic design with metallic enclosure
Excellent Wi-Fi performance
Proper power handling with standby and power on/off from the remote control
OTA firmware and XBMC upgrades
Future firmware upgrades promise Mobile Transfer, Photo Backup, Mobile Access, and more.

CONS

Their XBMC version requires registration and login to VidOn.me
4K hardware video decoding, and 3D stereoscopic videos are not supported, at least in XBMC
The flash is partitioned with a 1GB app partition, and a ~4GB data partition, which may lead to issues install many apps.
The processor is somewhat slow by today's standard, but it's not really an issue if all you do is video playback
Very poor write speed to USB mass storage (~3 to 4 MB/s)
Relatively slow internal storage
1280×720 user interface
Wireless gamepad (like Mars G01) are not supported
Standard features like audio pass-through and Blu-ray navigation require a $14.99 annual subscription fee.
Vidon Box can either be purchased directly on Vidon.me for $69.99 including shipping and one free year of membership, or via other websites such as GeekBuying and Aliexpress. After one year, membership costs $14.99 per year, or $1.99 per month, and is optional for most features.

Jean-Luc started CNX Software in 2010 as a part-time endeavor, before quitting his job as a software engineering manager, and starting to write daily news, and reviews full time later in 2011.