One of the key changes between HDMI 1.4 and HDMI 2.0 is support for up to 4K @ 60Hz instead of just 4K @ 30Hz, and at first, I thought an HDMI 2.0 capable device would be compatible with HDMI 2.0 TV, and it did not need to look into details. I was wrong.
There's a nice table in Wikipedia that explains the main differences between HDMI 1.4 and HDMI 2.0 and older versions.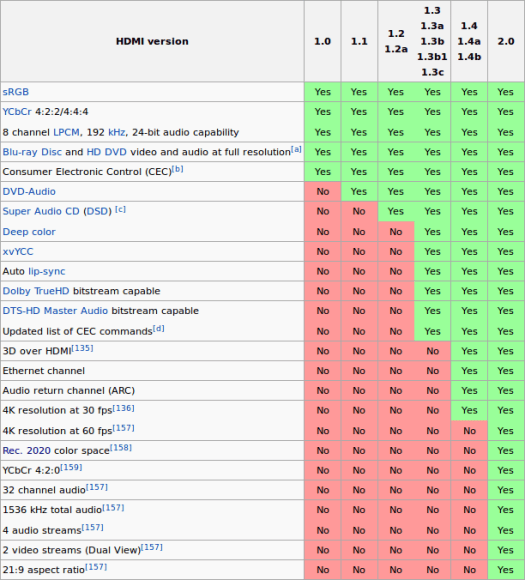 Other features include YCbCr 4:2:0 (That's the important bit), Rec. 2020 color space, 32 channel audio, 21:9 aspect ratio, and more. By the way, there's no such thing as an HDMI 2.0 cable (Source: straight from the horse's mouth), so if you have a cable that support 4K30, it will work with 4K60 as well.
Does HDMI 2.0 require new cables?

No, HDMI 2.0 features will work with existing HDMI cables. Higher bandwidth features, such as 4K@50/60 (2160p) video formats, will require existing High Speed HDMI cables (Category 2 cables).
Now let's have a look at HDMI 2.0 capabilities of my TV (LG 42UB820T) against higher end model like UB850T.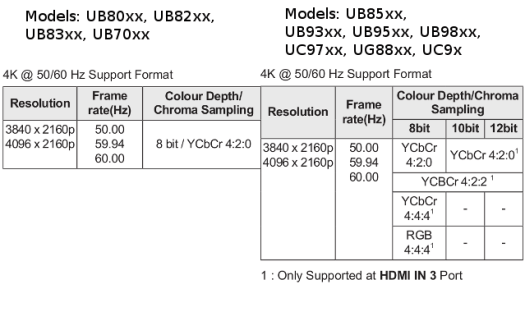 All models supports 3840 x2160p and 4096 x 2160p @ 50, 59.94, or 60 Hz, and 8-bit color depth, and YCbCr 4:2:0 chroma sampling. But the higher models' HDMI 3 port also supports 10-bit and 12-bit color depth, as well as other variations of chroma sampling up to YCbCr 4:4:4 or RGB 4:4:4. That means those higher-end TVs can deliver more realistic colors via that HDMI port. But there should not be compatibility issues, right? It's just about quality? Wrong again.
I've just found that Rockchip RK3288 processor allegedly does not support YCbCr 4:2:0, and only TVs with 10-bit color depth and YCbCr 4:4:4 or RGB 4:4:4 are supported. Extract from Open Hour Chameleon FAQ:
HDMI is 2.0 full version? or draft 8bit 4:2:0?
RK3288 only support RGB444/YUV444 4K60p (60Hz). 4K 60p driver is in beta at this moment, we will include in the firmware when it is ready.
Supported TV with 4K 60p Settings?
Here is a list of TV tested with 4K 60p settings so far:
– Samsung HU7000
– Panasonic TH-50AX800
– LG UB8500
– LG 49UB8800
– LG 55UB8800When set to 4K60p (60Hz), make sure the TV HDMI port support RGB444/YUV444 with Deep Color turn on. For example, LG UB8500 4K60p (60Hz) is tested working with Open Hour Chameleon with Deep Color turn on in HDMI Port 3. HDMI Port 1 and 2 in LG UB8500 only support YUV420 for 60Hz which is not supported by RK3288.
There you go… An HDMI 2.0 capable media player may not be compatible with a HDMI 2.0 capable TV. I have no idea whether this is only an issue with Rockchip RK3288, or if this problem is likely to occur with other platforms, despite YCbCr 4:2:0 being listed as a feature of HDMI 2.0.

Jean-Luc started CNX Software in 2010 as a part-time endeavor, before quitting his job as a software engineering manager, and starting to write daily news, and reviews full time later in 2011.