After several people often asked me about audio pass-through, and 4K video support on mini PCs, with some suggesting adding a donation button to my website, I decided to start a crowdfunding campaign to raise funds for an AV Receiver and a 4K TV by asking for donations and selling some samples I used for review. Thanks to the great help of my readers, I managed to get enough money to buy LG 42UB820T on Lazada for 19,610 Baht including shipping (~$600) via 10% coupon I got in a newsletter, as well Onkyo TX-NR636 7.2 channel receiver in a local shop in Chiang Mai (Sahapanich). I'm still waiting for the speakers, so I'll start by reviewing the TV. This model is sold as 42UB820V in Europe, and 42UB8200 in Hong Kong and probably other markets.
I spent a lot of time studying about 4K TV and AV receiver features, and even speakers, and also learned about online shopping in Thailand, and some of the key lessons include:
Don't overestimate sellers technical knowledges of products. Many times they don't really know the details of the products they sell. The seller told me the current TV I wanted to buy did not support HDMI 2.0, and I had to purchase a more expensive model….
Even the manufacturer site may be wrong, as the Thai website listed 42UB820T as only providing 3 HDMI 1.4 input.
Read the user's manual to make sure. This is where I learned all three HDMI ports supported HDMI 2.0 (2160p @ 60 Hz)
Online shipping in Thailand: Lazada (Paypal accepted) and Cdiscount seems to have very good deals online, and priceza.com can be used to compare prices on online shops in Thailand. HomePro also has an online shop called directtoshop, and this is where I purchased Pioneer S-11 speakers.
LG has a service center in Chiang Mai, while Onkyo and other AV receiver manufacturers do not, which is why I purchased the TV online (1-year warranty), and the AV Receiver in a local shop (3-year warranty).
You can get a complete 4K 60Hz (HDCP 2.2) / 7.2 audio home theater system for about 50,000 Baht (~$1,500 US)
But let's go back to the TV. I'll unbox it first, explain about the first time setup, go through the user interface, and test it as a media player.
LG 42UB820T 4K TV Pictures
Lazada sent the TV via TNT courier, and I received it within a couple of days in the large box below.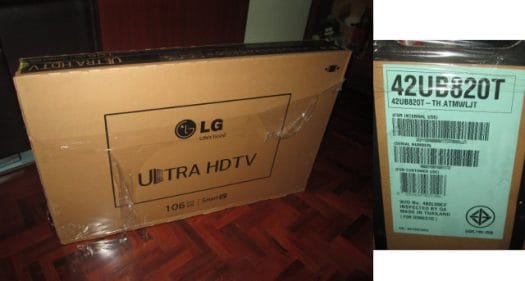 Before getting to the TV itself, let's check out all the accessories provided with the television.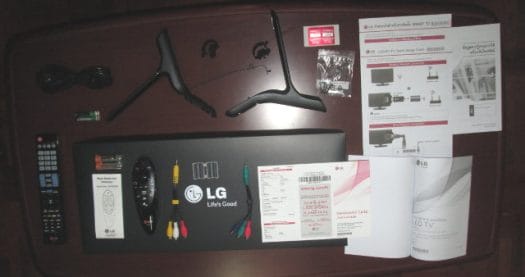 That's the list from left to right, top to bottom:
Power cord
2x Stand bases + 4 screws
2x cable management bits, and a cable holder
Smart TV Quick Start Guide (One in English, one in Thai)
IR remote control with 2x AAA batteries
Magic remote (AN-MR500) with 2x AA batteries, and multi-lingual (and pretty much useless) remote user's manual
Component and composite gender cables
Ferrite core for Ethernet cable
Warranty card
Owner's manual in Thai and English
Models that support 3D (e.g. UB830) should also come with one or more pairs of cinema 3D glasses. The Quick Setup Guide, User Guide, and Owner's Manual can also be downloaded online.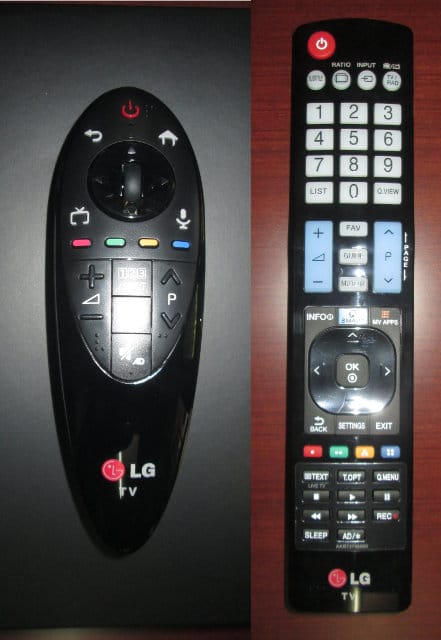 The IR remote has more buttons, but 99% of the time I'm just using the magic remote, and it's just great to use, and I'm used to playing with such remote with the Mele F10 models. The key difference is that to enabled the mouse pointer, you just need to shake the remote, and after a while or when using the arrow keys it will revert to remote mode. I give high marks to this remote control, and it also features a microphone for voice input.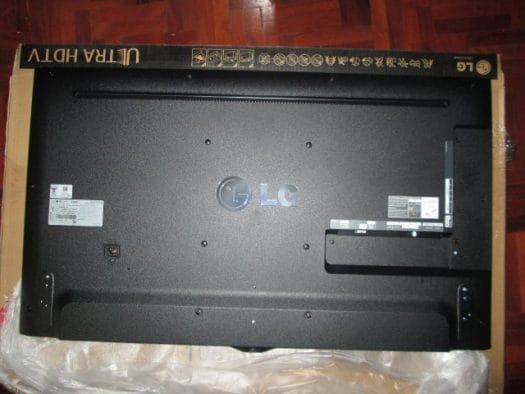 That's the back panel of the TV, where you'll find the connectors, mounting points for the bases, 200×200 mm VESA mount, and at the bottom in the middle a Joystick button.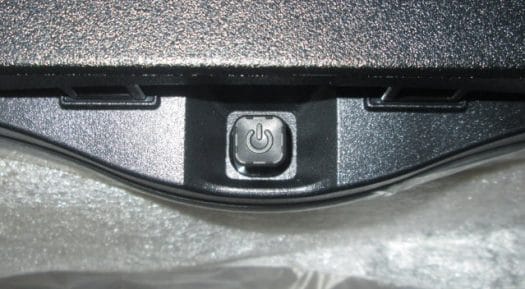 It's used to turn on/off the TV, adjust the volume, change channels, and access settings, but unless your remote is broken, you don't really need to use it at all. Some remote control and "intelligent" sensors are also located in that zone.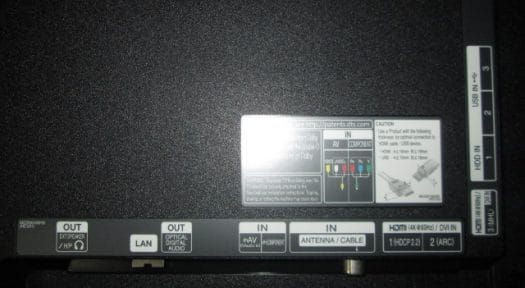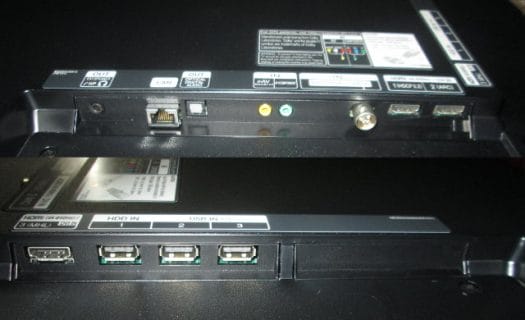 The TV has plenty of connectors:
3.5mm audio jack for external speakers or headphones
An Ethernet port
S/PDIF out to connect to an AV receiver
Composite and component ports
TV antenna connector (The TV support Analog TV, Digital TV (DVB-T2) and radio)
3x HDMI 2.0 / DVI input ports all supporting 2160p @ 60 Hz:

HDMI 1 – Supports HDCP 2.2
HDMI 2 – Supports Audio Return Channel (ARC) and SIMPLINK
HDMI 3 – Supports MHL. The manual also says "HDMI3 is only 4K 50Hz / 60 Hz", and you need to use HDMI1 or HDMI2 for 2160p @ 24 or 30Hz

3x USB 2.0 host ports, which USB 1 being reserved for external USB hard drive (maybe it can drive more current?)
Setting Up LG 42UB820T UHD Television
First, you'll need to attach the two stand bases with 4 screws. That's easy. Alternatively you could purchase wall mount brackets (LSW240B, MSW240, or other 200×200 VESA brackets) to mount the TV against the wall.
I placed the TV on a small furniture, and connected some HDMI cables, Ethernet, and the power cable. You'll also probably want to wind the ferrite core around your Ethernet cable to reduce electromagnetic interference. After a few seconds, you'll be greeted with a Welcome Screen asking you to press the wheel/OK button on the magic remote control.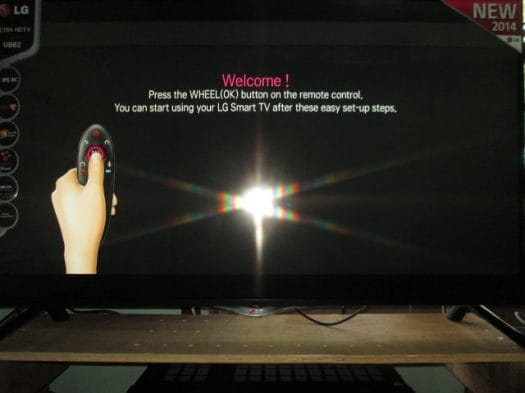 From here you just need to follow the wizard in order to:
Select the language
Select the country (Australia, India, Indonesia, Malaysia, Myanmar, New Zealand, Philippines, Singapore, Sri Lanka, Thailand, or Vietnam)
Select the environment: Home or Store
Accept General Terms, and Additional Services conditions. Interestingly all in Thai language, despite selecting English.
Configure the Network: Wired (Ethernet) or Wireless (Wi-Fi)
Scan channels for Digital TV, Radio, and Analog TV. The TV signal is pretty poor in my room, and my Indoor antenna only allowed to be catch Analog TV channels.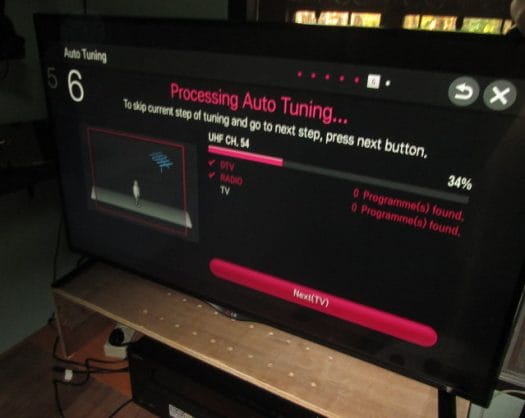 Once this is done the setup is complete, and you'll be asked to go through a mini tutorial to learn how to use the magic remote control.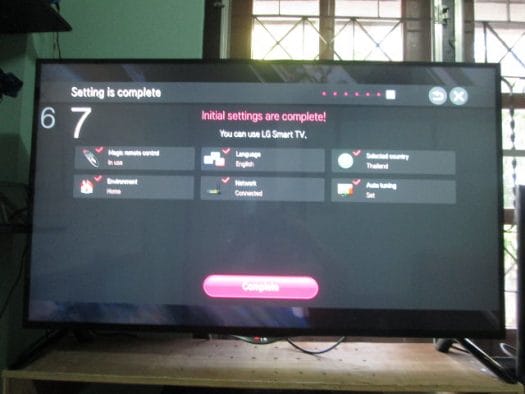 Soon after completion of the settings, a windows pop to upgrade the firmware, so I went ahead, and testing everything with the new firmware.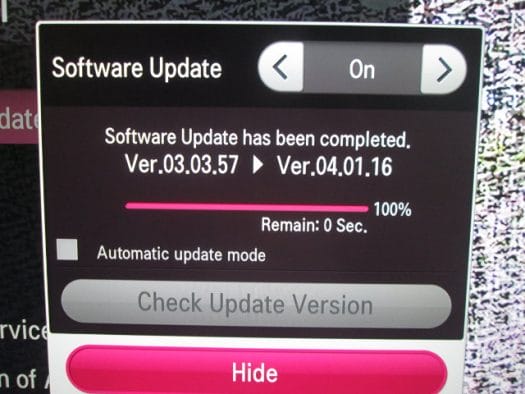 You're now ready to have some fun.
LG 4K Ultra HD TV User Interface (NetCast 4.5)
I understand LG has two user interfaces for its TVs: NetCast gets used in entry level TVs, and WebOS in higher models. Since I bought an inexpensive model (for a 4K TV), my model features NetCast 4.5. Pressing the home button starts the interface.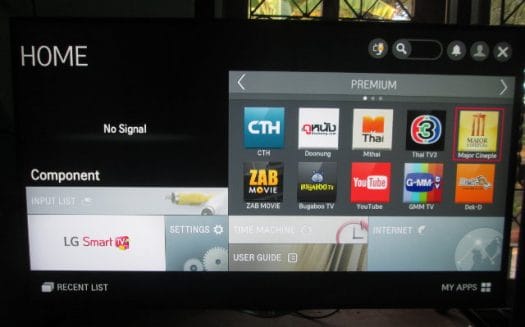 The top left section shows the current input (Antenna, AV, Component, or HDMI 1,2 or 3). The right part of the screen has some country specific "Premium" apps, LG Smart World app including an app store for free and paid apps, and SmartShare to access media from internal storage, a USB hard drive or flash drive, LG smartphone,  or PC using the SmartShare programme. The company also provides a download Link to Plex server in that page fro Windows and Mac, so if they haven't modified anything it might also be possible to use Linux distributions. I have not tried to connect to PC, and only use the USB hard drive to test video playback from the TV.
Other settings include the Input List to select video input, and audio output.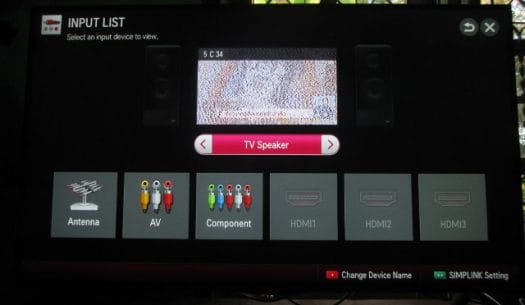 Video inputs include the antenna, composite, component, and the three HDMI input ports, while audio output options are as follows: TV Speaker, external Speaker/HDMI ARC), or LG Sound Sync (Optical). Time machine is the PVR function for the LG TV, and it works for analog and digital TV, but unfortunately HDMI input recording is not supported. I tried at both 2160p and 1080p with an Android TV box, but either the option is grayed out, or if you press the Record key on the IR remote, the TV clearly reports it's an "Unsupported function in HDMI input". The INTERNET icon will launch a web browser where you can either use a software keyboard or voice input and browse the web very much like in a PC. I invite you to check all this, as well as the full Settings, and a quick look at the user guide in the video below.

The TV box I connected is Zidoo X9 which supports 2160p up to 30Hz, and it worked fine with the TV. Just make sure, you press the "Ratio" button on the IR remote control and select "Just Scan" or the sides of the user interface will be cut due to overscan. I've also been told that since the TV only supports 8-bit / YCbCr 4:2:0, and not 10-bit RBG/YUV 4:4:4, so some HDMI 2.0 TV boxes may not work at 4K60 apparently due to limitations of some processors like Rockchip RK3288 that does not support YUV420 video output.
Image quality is very good, and even at 1080p I find the image looks significantly better and sharper than what I get with my Panasonic TH-L39EM6T Full HD television. So there must be other improvements beside just the higher resolution.
I'll also just add a side-note here, as 42″ might be quite small for an Ultra HD television, as according to this chart, the human eye may not be able to distinguish the difference compared to 1080p further than 5 feet (about 1.5 meters).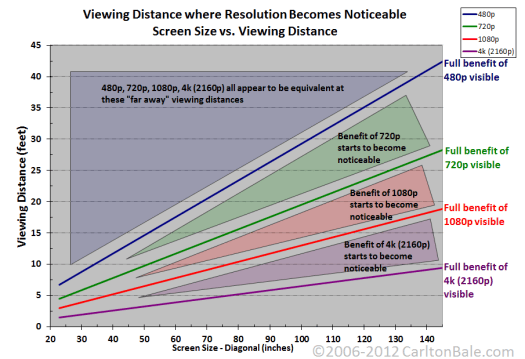 So you should really try to get one of the larger models if your budget allows it, unless you use the TV for testing (as I do), or as a computer monitor.
LG 42UB820T Video Playback Capabilities
I've gone through my usual list of video to evaluate video playback capabilities using the TV software (SmartShare) by playing videos from the NTFS partition of a USB hard drive.
Videos samples from samplemedia.linaro.org, plus some H.265/HEVC videos (Elecard), and a low resolution VP9 video:
H.264 codec / MP4 container (Big Buck Bunny), 480p/720p/1080p – OK
MPEG2 codec / MPG container, 480p/720p/1080p – OK
MPEG4 codec, AVI container 480p/720p/1080p – OK
VC1 codec (WMV), 480p/720p/1080p – OK
Real Media (RMVB), 720p / 5Mbps – RV8, RV9, and RV10 – OK
WebM / VP8 – The software will filter out .webm file extension
H.265 codec / MPEG TS container (360p/720p/1080p) – File type not supported
WebM / VP9 (no audio in video) – The software will filter out .webm file extension
Some higher bitrate videos:
ED_HD.avi

– File type not supported
big_buck_bunny_1080p_surround.avi (1080p H.264 – 12 Mbps) – OK.
h264_1080p_hp_4.1_40mbps_birds.mkv (40 Mbps) – OK
hddvd_demo_17.5Mbps_1080p_VC1.mkv (17.5Mbps) – OK
Jellyfish-120

-Mbps.mkv

(120 Mbps video without audio) – OK
I've also played high definition audio codecs to check the SmartShare can down-mix them to its speakers:
AC3 / Dolby Digital 5.1 – OK
E-AC-3 / Dolby Digital+ 5.1 – OK
Dolby Digital+ 7.1 – "Audio format not supported"
TrueHD 5.1 – Loading animation shows forever (I needed to go into standby to recover)
TrueHD 7.1 – Loading animation shows forever (I needed to go into standby to recover)
DTS HD Master – No audio
DTS HD High Resolution – No audio
So you'll definitely need to connect your TV to an AV receiver if you want to play these files. Since S/PDIF does not support TrueHD or DTS-HD, you'd probably have to use HDMI 2 with an ARC capable receiver.
I could not play Bluray ISO since .iso file extension is filtered out. 1080i MPEG2 videos (GridHD.mpg & Pastel1080i25HD.mpg) could also play just fine.
4K video playback however is not too bad:
HD.Club-4K-Chimei-inn-60mbps.mp4 – OK
sintel-2010-4k.mkv – "This file type is not supported"
Beauty_3840x2160_120fps_420_8bit_HEVC_MP4.mp4 (H.265) – OK
Bosphorus_3840x2160_120fps_420_8bit_HEVC_MP4.mp4 (H.265) – OK
Jockey_3840x2160_120fps_420_8bit_HEVC_TS.ts (H.265) – OK
MHD_2013_2160p_ShowReel_R_9000f_24fps_RMN_QP23_10b.mkv (10-bit HEVC) – OK (First time ever, I can play this video)
phfx_4KHD_VP9TestFootage.webm (VP9) – .webm, files are not shown

BT.2020.20140602.ts

(Rec.2020 compliant video) – "This file type is not supported"
Despite the TV not supporting 3D, I've also tried some 3D videos as the 3D model (xxUG830T) should have the same software:
bbb_sunflower_1080p_60fps_stereo_abl.mp4 (1080p Over/Under) – OK
bbb_sunflower_2160p_60fps_stereo_abl.mp4 (2160p Over/Under) – "This file type is not supported"
Turbo_Film-DreamWorks_trailer_VO_3D.mp4 (1080p SBS) – OK
The TV software is usable, but most people may still prefer using an external TV box for video playback, and access to more apps. But overall, I'm pretty happy with the TV so far, with the main concern being the lack of (10-bit) RGB/YUV444 support via HDMI which could cause compatibility at 4K60 with HDMI 2.0 devices, but for that (and 3D) you'd need to look at models UB850T/V or greater. I know I have not covered everything, so let me know if you have further questions about the TV in the comments section.
Update:  I've loaded a 4K test pattern on the TV, and taken a close up picture as a reference when I test 4K TV boxes. Here's the picture from my camera, and further zoomed below to verify one pixel indeed corresponds to one dot as it should be for a 4K display.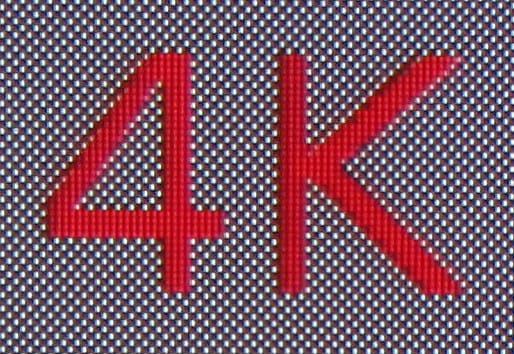 You can compare this to the picture taken from another 4K TV with a Rockchip RK3288 based device outputting 2160p, but rendering at 1080p as shown by the four pixels required to render one dot.

Jean-Luc started CNX Software in 2010 as a part-time endeavor, before quitting his job as a software engineering manager, and starting to write daily news, and reviews full time later in 2011.