I've already tested Kodi 14.1 on MeLE PCG03 running Windows 8.1, with the Intel Atom Z3735F device performing greatly for 1080p videos, working DTS and Dolby pass-through (no HD Audio though) and automatic frame rate switching working at all frequencies I tested. Later I installed Lubuntu 15.04 on the mini PC, and I had planned to test Kodi 14.x in Linux to compare the performance in Windows 8.1. Unfortunately, I did not manage to mak HDMI audio, nor the audio jack work in Linux, so instead I purchased a cheap USB sound card from DealExtreme for around $2 US, and connected a pair of USB powered speakers to enable audio output.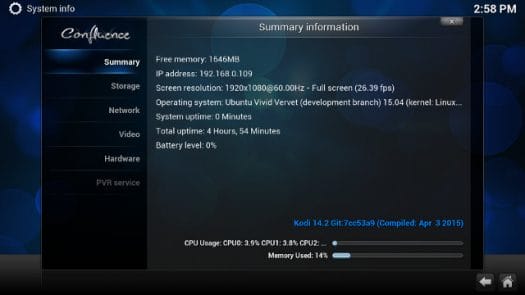 The USB sound card performs pretty well, and out of the 80 or so videos I used for testing, only one had some saturation issues likely due to the sound card itself. I installed Kodi 14.2 using the recommended instructions for Ubuntu:

sudo

add

-

apt

-

repository

ppa

:

team

-

xbmc

/

ppa

sudo

apt

-

get

install

kodi

The refresh rate indicated in the System Information section oscillates around 30 fps, or a bit lower than the ~45 fps I got in Windows 8.1.
Unless otherwise noted, all videos has been played from a SAMBA share over an Ethernet connection. My findings should also be applicable to other Intel Atom Z3735F / Z3736F based mini PCs such as MeegoPad T01, PiPo X7, or MINIX NEO Z64 provided you've also booted a Linux distribution on the devices. The only potential difference is thermal management, where devices that dissipate heat better may be able to sustain a constant frame rate for a longe period of time, especially for 60 fps videos. That's also one of the reason you may want to switch from Windows 8.1 to Linux, as reported by one reader with Pipo X7, but personally I have not noticed slowdown on MeLE PCG03 for any videos.
The computer was connected to LG 42UB820T 4K Ultra HD television via HDMI, but the resolution was set to 1920×1080, the maximum supported by the hardware.
I've first played videos samples from samplemedia.linaro.org, some H.265/HEVC videos (Elecard), and a low resolution VP9 video:
H.264 codec / MP4 container (Big Buck Bunny), 480p/720p/1080p – OK
MPEG2 codec / MPG container, 480p/720p/1080p – OK. But Kodi reports decoding at 24 fps, instead of the video native 25 fps.
MPEG4 codec, AVI container 480p/720p/1080p – OK, but the live framerate is around 24fps instead of 25 fps.
VC1 codec (WMV), 480p/720p/1080p – OK
Real Media (RMVB), 720p / 5Mbps – RV8, RV9, and RV10 – OK
WebM / VP8 – OK
H.265 codec / MPEG TS container – 360p, 720p and 1080p – OK
WebM / VP9 (no audio in video) – OK
Linux seems to perform a bit better than Windows 8.1, especially as it can handle 720p and 1080p H.265 / HEVC video with were hardly watchable in videos. Real Media framerate is also more constant, but MPEG4 is not set at exactly to 25 fps like in Windows, something that's not really noticeable to me.
Time for some higher bitrate videos:
ED_HD.avi – OK
big_buck_bunny_1080p_surround.avi (1080p H.264 – 12 Mbps) – OK.
h264_1080p_hp_4.1_40mbps_birds.mkv (40 Mbps) – OK
hddvd_demo_17.5Mbps_1080p_VC1.mkv (17.5Mbps) – Most of the time OK, but plays at 18 to 24 fps instead of 29.970 fps
Jellyfish-120

-Mbps.mkv

(120 Mbps video without audio) – OK (using USB hard drive)
HDDVD video plays better in Windows 8.1 here as it could achieve a stable 24 fps.
High definition audio codecs below have only been tested using PCM downsampling, simply because HDMI audio is not working, and there's no S/PDIF output. I'll update the post with HDMI audio pass-through with Onkyo TX-NR636 AV receiver, once a software fix can be applied for HDMI audio.

Video's Audio Codec
PCM Output
HDMI Pass-through
SPDIF Pass-through
AC3 / Dolby Digital 5.1
OK
Not tested
No S/PDIF Output on MeLE PCG03
E-AC-3 / Dolby Digital+ 5.1
OK
Not tested
Dolby Digital+ 7.1
OK
Not tested
TrueHD 5.1
Audio cuts and slow mo at the end
Not tested
Audio Formats Not Supported over S/PDIF
TrueHD 7.1
OK
Not tested
DTS HD Master
OK
Not tested
DTS HD High Resolution
Slow motion video
Not tested
While Kodi 14.1 in Windows 8.1 had no problems at all with all videos using PCM downsampling, Kodi 14.2 Linux struggled to play all videos perfectly.
Sintel-Bluray.iso could play fine, so unencrypted Bluray ISO are supported. My two 1080i MPEG2 videos (GridHD.mpg & Pastel1080i25HD.mpg) could also play, but GridHD.mpg image sparkled (correct word here?). I've also been asked to test 10-bit H.264 1080p videos, but I could only find a 10-bit H.264 720p video sample ([Commie] Steins;Gate – NCED [BD 720p AAC] [10bit] [C706859E].mkv) which played flawlessly.
4K video output is not supported by the hardware, however the Atom processor can decode some 4K videos (e.g. H.264 codec), but newer H.265 and VP9 codec can't be handled at that resolution:
HD.Club-4K-Chimei-inn-60mbps.mp4 – Plays, but not so smooth (18 fps instead of 29.97 fps)

sintel-2010-4k.mkv – OK
Beauty_3840x2160_120fps_420_8bit_HEVC_MP4.mp4 (H.265) – Kodi reports ~12 fps, but feels even slower
Bosphorus_3840x2160_120fps_420_8bit_HEVC_MP4.mp4 (H.265) – Kodi reports ~12 fps, but feels even slower
Jockey_3840x2160_120fps_420_8bit_HEVC_TS.ts (H.265) – Won't play at all (stays in XBMC UI)
MHD_2013_2160p_ShowReel_R_9000f_24fps_RMN_QP23_10b.mkv (10-bit HEVC) – Slow motion: 9 to 12 fps instead of 24 fps.
phfx_4KHD_VP9TestFootage.webm (VP9) – Plays at about 13 fps.

BT.2020.20140602.ts

(Rec.2020 compliant video) – Won't play at all (stays in XBMC UI)
Performance is quite similar between Ubuntu 15.04 and Windows 8.1, except for the "Chimei" video which played well in Windows, but not so smoothly in Linux.
Despite my TV not supporting 3D, I've also played some 3D videos to check video decoding capabilities:
bbb_sunflower_1080p_60fps_stereo_abl.mp4 (1080p Over/Under) – 25 fps instead of 60 fps, and audio cuts.
bbb_sunflower_2160p_60fps_stereo_abl.mp4 (2160p Over/Under) – Plays at about 8 fps, and frequent audio cuts.
Turbo_Film-DreamWorks_trailer_VO_3D.mp4 (1080p SBS) – OK
Disappointment here for Kodi Linux, as in Windows the 1080p over/under video could play fine at 60 fps. The other two videos have about the same results.
All my AVI, MKV, FLV, VOB, IFO and MP4 videos could play smoothly, and without A/V sync issues. However, while in Windows I had a very stable live framerate reported in Kodi debug overlay, it was fluctuating a bit more in Linux. I'm not entirely sure if it is just the way the frame rate is reported, or if there are real differences between the two, as videos seemed smooth in Linux too.
In Windows 8.1, I was also to play a full 1080p movie (1h50 / MKV / 3GB), with Kodi reporting only 1 skipped frame over the whole movie, instead of the usual 14,000 or so skipped frames in Android. Kodi 14.2 in Ubuntu was also very good with that regards as only 2 skipped frame where reported… in my second try. The first try ended up after just over 30 minutes as the complete system froze, requiring a hard reboot. PCG03 froze another time as Kodi was idle, but maybe it's because I'm using Ubuntu 15.04 Development Branch…
Finally I tested automatic frame rate switching with some motion bars video at different frame rates. First, I went to Settings->Video, changed the Settings level to Advanced, and set Adjust display refresh rate to match video to On start/stop. The results I got are exactly the same as in Windows 8.1, and this feature works very well. The "Video Output" is what shows when I press the Info button on the remote control of my TV:
23.976 fps video -> Video Output: 1080p24
24 fps video -> Video Output: 1080p24
25 fps video -> Video Output: 1080p50
30 fps video -> Video Output: 1080p60
50 fps video -> Video Output: 1080p50
59.94 fps video -> Video Output: 1080p60
60 fps video -> Video Output: 1080p60
Kodi 14.x performance in Windows 8.1 and Linux (Ubuntu) is quite similar in MeLE PCG03, but it looks like the GUI is rendered at a higher framerate in Windows, and the live framerate reported in Kodi debug overlay is more stable for most videos in Windows too. I've also had some stability issues in Linux with two system hangs, and two of the videos I use for audio codec testing did not play very smoothly. One advantage in Linux, or maybe Kodi 14.2, is that H.265 up to 1080p plays smoothly, something that was not feasible in Kodi 14.1 in Windows 8.1 when I tried last January.
If you want to experiment yourself, you can download the video samples used for my reviews. Mostly check the links in comments section.

Jean-Luc started CNX Software in 2010 as a part-time endeavor, before quitting his job as a software engineering manager, and starting to write daily news, and reviews full time later in 2011.