Popcorn Hour VTEN a Linux based media player powered by Sigma Designs SMP8757 ARM Cortex A9 processor. Contrary to the many Android TV boxes I tested in the last few years, the device is dedicated to media playback, even though it has an App Store with 59 apps including YouTube, Facebook, and Twitter. I've already taken a few pictures of the device and board, so today, I'll go through the user interface, quickly test the app store, go through my library of video test files, and check if HDMI audio pass-through is indeed working.
Popcorn Hour VTEN User Interface
I've connected VTEN to an Ethernet Gigabit switch, the HDMI port to Onkyo TX-NR636 AV receiver which itself is connected to LG 42UB820T 4K UHD TV, and the 5V/3A power supply. Pressing the On/Off switch at the back of the player will start it, and the boot takes just under one minute.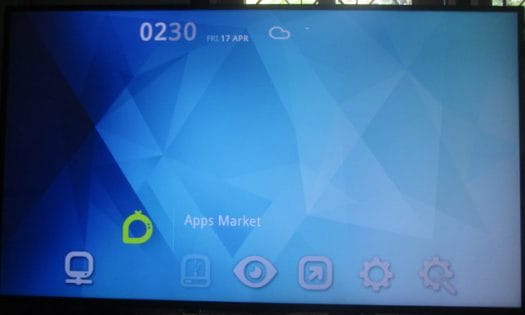 The user interface (1280×720 resolution) is quite simple, not necessarily a disadvantage for a media player, with the date, time and weather (if applicable) on the top, as well as icons on the bottom namely: Apps Market, Local Media, Recently Played, Shortcut, Setup, Setup Wizard, and Network Media.
I assume most people will simply ignore the Apps Market. It's quite slow to navigate, and only features 59 apps to date, including YouTube, Facebook and Twitter app. However, if you don't have another device to watch YouTube on your TV, you may still consider using it.
The Setup Wizard will allow you select your language, configure the network, and set the time and your location for weather. The Setup is fairly complete with preferences, personalization options (e.g. wallpaper, icon and text colors…), audio options with downmix / pass-through selection for most codecs including PCM, DTS and AC3 (Dolby),  video options including resolution up to 1080p60 or 4K 30Hz, default zoom, aspect ratio, 3D output, and so on. You can also configure the network (IP / Proxy), manage network shares (SAMBA / NFS), configure parental control, set BD/Audio CD options, and upgrade the firmware.
The first time I booted the box, I quickly got a pop-up windows asking me if I wanted to upgrade the firmware. I went through the process, which downloaded the firmware and install it without any issues.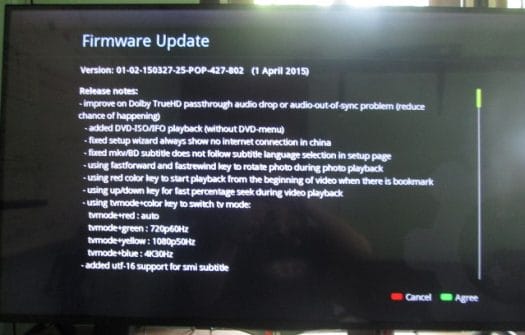 I used this "1 April 2015" firmware for the complete review.
Local Media and Network Media allows you to respectively play files from USB or eSATA drive, or SAMBA or NFS shares. I did all testing from a SAMBA share, but while a USB flash drive was recognized, a Seagate USB hard drive with multiple partitions (NTFS / EXT-4 / exFAT / BTRFS) was simply ignored by the player. I could not test eSATA since I do not have any compatible drive. Finally, "Shortcut" is used for quick access to directories in Local Media or Network Media apps.
The best way to have a complete look at the user interface is to watch the video below, where I also test HDMI pass-through with DTS-HD MA 7.1 and Dolby TrueHD 7.1 videos, as well as 4K videos with H.264 and 10-bit HEVC / H.265.

Video Playback and Audio Pass-through Testing
I played my library of video test files from a SAMBA share running in an Ubuntu 14.04 computer with the Network Media app. The system had no issues finding my workgroups, and the PCs on the local network. The only inconvenience is that I had to input the username and password with the software keyboard using the remote control, but I guess that's OK since it should be a one time thing.
I've started with some video samples from samplemedia.linaro.org, plus H.265 videos by Elecard, and a low resolution VP9 video:
H.264 codec / MP4 container (Big Buck Bunny), 480p/720p/1080p – OK
MPEG2 codec / MPG container, 480p/720p/1080p – OK.
MPEG4 codec, AVI container 480p/720p/1080p – OK
VC1 codec (WMV), 480p/720p/1080p – OK
Real Media (RMVB), 720p / 5Mbps – RV8, RV9, and RV10 – Failed. Network Media app reports "No content found".  .rmvb files are probably filtered out
WebM / VP8 – Failed. Network Media app reports "No file listed", as .webm files are filtered out
H.265 codec / MPEG TS container – 360p, 720p and 1080p – OK
WebM / VP9 (no audio in video) – Failed. Network Media app reports "No content found". (webm file)
All files play very well, expect VP8/VP9 and RealMedia because the file extensions are supported, and did not show in the player.
Let's move to some higher bitrate videos:
ED_HD.avi

– Audio only.
big_buck_bunny_1080p_surround.avi (1080p H.264 – 12 Mbps) – OK.
h264_1080p_hp_4.1_40mbps_birds.mkv (40 Mbps) – OK
hddvd_demo_17.5Mbps_1080p_VC1.mkv (17.5Mbps) – Plays, but could be smoother (Most players have troubles playing this file smoothly).
Jellyfish-120

-Mbps.mkv

(120 Mbps video without audio) – OK
The Jellyfish video played fine over the Gigabit Ethernet connection, which is good news, however, I've seen some buffering with some other lower bitrate videos, so I wonder is Ethernet is 100% stable all of the time (TBC).
Most Android media player don't support HD Audio pass-through via HDMI with codecs like DTS-HD or Dolby TrueHD, but Sigma Designs solution have been supporting HDMI audio pass-through for years. So I've check using Onkyo TX-NR636 AV receiver via HDMI and optical S/PDIF, and I've also made sure to check whether downmix is working for all tested codec.
Here are the settings I used for HDMI audio pass-through.
And the results of my tests:
Video's Audio Codec
HDMI downmix
HDMI Pass-through
optical SPDIF Pass-through
AC3 / Dolby Digital 5.1
OK
OK
OK
E-AC-3 / Dolby Digital+ 5.1
OK
OK
OK
Dolby Digital+ 7.1
OK
OK
Audio Formats Not Supported over S/PDIF
Dolby TrueHD 5.1
No Audio
OK
Dolby TrueHD 7.1
No Audio
OK
DTS-HD Master
OK
OK
DTS-HD High Resolution
OK
OK
So HDMI audio pass-through worked perfectly for me, and VTEN is the first device I've tested that support DTS-HD and TrueHD pass-through with 7.1 channels. However, if you don't own an AV receiver, but still want to play video with Dolby TrueHD audio, you're out of the luck, at least with this firmware version.  The first line of the release notes of the firmware reads "Improve on Dolby TrueHD pass-through audio drop or audio-out-of-sync problems (reduce chance of happening)", but I encountered this bug a few times during testing. The only solution is currently to stop the video, and resume where you stopped.
Sintel-Bluray.iso (unencrypted Bluray ISO) could play fine, as well as two 1080i MPEG2 videos (GridHD.mpg & Pastel1080i25HD.mpg). However, I could only get audio with Hi10p H.264 videos:
[Commie] Steins;Gate – NCED [BD 720p AAC] [10bit] [C706859E].mkv – Audio only / black screen. Shows 1,000 fps in Info overlay.
[1080p][16_REF_L5.1][mp3_2.0]Suzumiya Haruhi no Shoushitsu BD OP.mkv – Audio only / black screen. Lots of buffering despite low bitrate.
VTEN supports 4K output up to 2160p 30Hz via HDMI 1.4 output, so I tested a few 4K videos with relative success:
HD.Club-4K-Chimei-inn-60mbps.mp4 – OK

sintel-2010-4k.mkv – OK
Beauty_3840x2160_120fps_420_8bit_HEVC_MP4.mp4 (H.265) – OK (Appears cleaner than on other platforms, not white dots on black)
Bosphorus_3840x2160_120fps_420_8bit_HEVC_MP4.mp4 (H.265) – OK
Jockey_3840x2160_120fps_420_8bit_HEVC_TS.ts (H.265) – OK
MHD_2013_2160p_ShowReel_R_9000f_24fps_RMN_QP23_10b.mkv (10-bit HEVC) – OK, but seeking is not working.
phfx_4KHD_VP9TestFootage.webm (VP9) – Not listed in Network Media app

BT.2020.20140602.ts

(Rec.2020 compliant video) – WBlack screen and no audio
tears_of_steel_4k_H264_24fps.mov – OK
big_buck_bunny_4k_H264_30fps.mp4 – OK
big_buck_bunny_4k_H264_60fps.mp4 – Plays OK (up to 30 fps), but I've noticed audio and video are out of sync
Overall 4K video playback is one of the best I've experienced so far. I've also check videos and pictures are not somehow downscaled but playing a 4K video test pattern, and taking a close up, as I did for 6 other ARM based 4K players.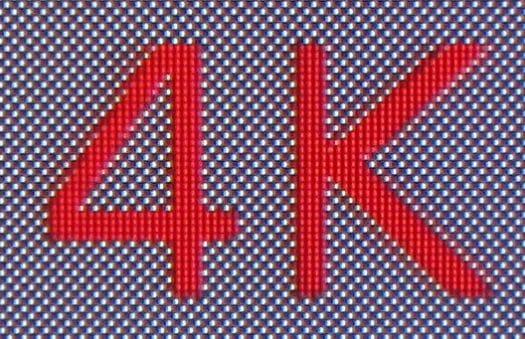 The 4K video looks very sharp, and we can clearly see black and white pixels of the pattern video.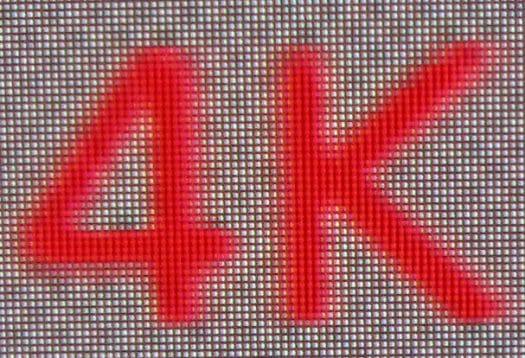 But jpg or png pictures are not quite as clear, so they must have been software decoded to the 720p frame buffer, instead of being rendered on an hardware scaler @ 4K resolution.
The latest Popcorn Hour model supports 3D videos, and despite my TV not supporting 3D, I've also checked 3D decoding capability of the platform:
bbb_sunflower_1080p_60fps_stereo_abl.mp4 (1080p Over/Under) – OK
bbb_sunflower_2160p_60fps_stereo_abl.mp4 (2160p Over/Under) – Black screen, audio only
Turbo_Film-DreamWorks_trailer_VO_3D.mp4 (1080p SBS) – OK
I've never manage to play the 2160p 3D video on any video, as it must require two 2160p hardware video decoders capable of decoding the top and bottom videos in the file.
Several AVI, MKV, IFO and MP4 videos (720p/1080p) could play smoothly, and without A/V sync issues. I had a bit less luck with FLV videos as only about 50% would work. One made the app restart, and I had a black screen and no audio for many of them. I also played a full 1080p movie (1h50 / MKV / 3GB) with any troubles. The box does not really get hot, and the maximum temperature I measured with an IR thermometer was 41 C.
You can checkout my "video samples" post for links to sample videos, especially the comments section.
Conclusion
Popcorn Hour VTEN is a pretty decent 4K media player, and it's actually one of the best 4K and H.265 device I've tested so far, as well as the only one that supports both DTS-HD Master / High Resolution, and Dolby TrueHD HDMI audio pass-through. The player is also using the same high quality metal enclosure as in Open Hour Chameleon which ensure a relatively cool operation.
That's not to say there aren't any issues or limitations. For example, the device could not recognize any partitions on my hard drive (NTFS/ EXT-4 / exFAT / BTRFS), some video containers format are filtered out like webm and rmvb, and I had trouble playing several FLV videos, as well as Hi10p videos, and a black screen was all I got. I've also come across several bugs, such as losing audio after seeking or using trick mode while playing videos with HDMI audio pass-through enabled (Not reproducible with all files), and in one case I had video and audio were out of sync. Hopefully, Cloud Media will work through all these issues over time, and make VTEN an even better device.
Price may also be an hindrance, as I've noticed Chromeboxes seems popular Kodi devices, and an Asus Chromebox M004U costs just $159.99 in the US with features similar to what VTEN is capable of, except for H.265/HEVC video decoding, and 4K video output and decoding.
Popcorn Hour VTEN can be purchased on Cloud Media website for $169 + shipping, and WP-160N wireless USB adapter (802.11n) is also offered for $11.90.  You can also find both on eBay for the same price.

Jean-Luc started CNX Software in 2010 as a part-time endeavor, before quitting his job as a software engineering manager, and starting to write daily news, and reviews full time later in 2011.