Kingnovel R8 is one of the many Rockchip RK3368 based TV boxes on the market, and since I've already provided the specs, as well as pictures of the device and board, I'll carry on with the review today. While I'm usually testing video playback in Kodi, I've only spent a short time with Kodi 15.2 on this box, and instead switched to VLC (aka VideoLAN), an another open source media player, and my favorite program to watch videos in my Ubuntu computer. Of course, I've also tested most hardware features and performance of the device.
First Boot, and First Impressions
Since I like to test worst case scenarios, I also make sure I use all the ports of the devices, and connected a USB hard drive, USB RF dongles, USB webcam, and relevant cables to the device before powering it up. Once you connect the power, I recommend you have some tea while waiting for the boot to complete, as it will usually take around 2 minutes and 20 seconds.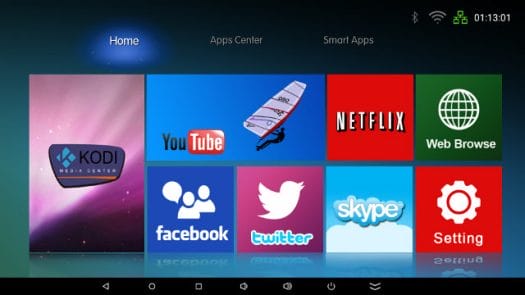 The launched is called Carbon Metro and includes Kodi, YouTube, Facebook, Twitter, Skype, Netflix, a Web Browser and a link to "Setting".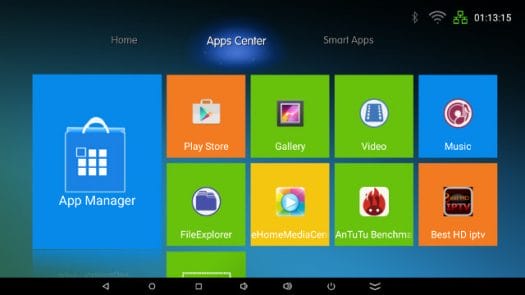 There's also an Apps Center, which would have been better called "Favorites", as you can add and remove shortcuts as needed…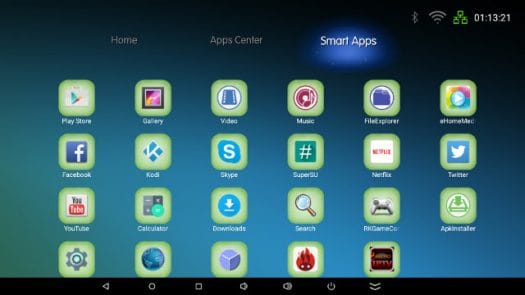 … as well as "Smart Apps" which simply lists all installed app, in some random order…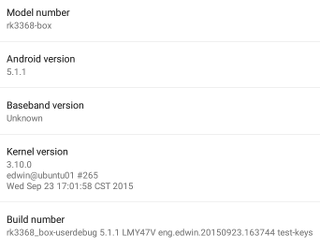 I'm not going through the whole settings today, as they look exactly like the ones in Zidoo X6 Pro up to the "Ehernet" typo, except printing is also enabled. The 8GB partition has been partitioned in to a 2.91GB "internal storage" partition with 1.89 GB free, and a 2.88GB "NAND flash" partition. I could not see any major issues with settings, and I could change video output to 2160p60 with the user interface resolution fixed at 1920×1080, and I had no problem with Ethernet and WiFi connection to my router.
The About device section only shows a generic "rk3368-box" model name with Android 5.1.1 on top of Linux 3.10.0.
I've added two AAA battery to the remote control, and I have to say the remote is pretty nice to use (for an IR remote) thanks to its compact size and fits well into my hand, and I tested up to 10 meter without issues. Having said that I only used it a few minutes, and switched to an air mouse instead which is much more convenient in Android.
I could install all apps I needed for the review from Google Play store or Amazon Underground, after side-loading the latter.
Power control is mostly implemented correctly with standby and power off working fine. A short press on the remote power button will go into standby, and a long press will pop-up a menu asking you to confirm you want to power off the device. Once in power off mode, you can use the remote control to turn it back on. However, power measurements showed some flaws:
Power off – 0 Watt
Standby – 0.4 Watt
Idle – 2.4 ~ 3.2 Watts
Power off + HDD – 2.1 Watt (HDD light still on)
Standby + HDD – 1.2 Watt (HDD light does turn off)
Idle + HDD – 5.0 ~ 5.4 Watts
So as long as you don't connect any USB devices all is fine, but if you leave your USB hard drive attached is will still be powered on in power on, although it's completely turned off in standby mode. When I connect all USB devices used for review, the power off consumption goes up to 3.1 Watts.
One good news is that the box temperature stays in control, and the Rockchip processor does not massively throttle like in Zidoo X6 Pro. The maximum temperature on the top and bottom of the device was respectively 41°C and 54°C after Antutu benchmark, and 42°C and 57°C after playing Riptide GP2 for 15 minutes.
The firmware does not seem to have massive bugs and never frozen, but Android would very often show the messages "Carbon Metro is not responding" or "Unfortunately Carbon Metro has stopped", either because of poor implementation of the launcher itself, or more likely, the very slow NAND flash used R8 TV box. Switching from an app to Android home screen by pressing the home button on the remote will normally take 5 seconds, and apps don't start very fast either, and sometimes the system feels rather sluggish. So unfortunately the first impressions were not very good mostly due to very slow boot time, launcher issues, and overall sluggishness.
Video Playback
A Quick Look at Kodi
Even though I'm going to focus on VideoLAN in this review, I've still had a look at Kodi. I was somewhat impressed than Kodi 15.2 is pre-installed, as the firmware is a few weeks old, and many still used Kodi 14.2.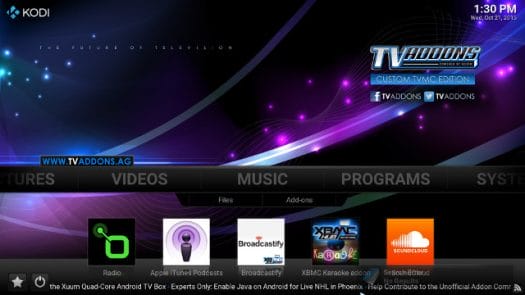 Kodi is also pre-loaded with TVAddons which I previously tried, provides lots of pirated content, and is despised by Kodi's developers.
Firstly, I went to Kodi settings to enabled Dolby and DTS pass-through, and automatic frame rate switching, as well as the Android settings to set audio output to HDMI pass-through. Then I played three videos in Kodi via Onkyo TX-NR636 AV receiver, all of which are in theory supported by RK3368 processor:
bbb_sunflower_1080p_60fps_normal.mp4 (H.264 @ 1080p60 + AC3) – Video OK, and the AV receiver showed "Dolby D 5.1", but it sometimes switched to "Unknown" and audio was cut for less than one second, before resuming audio and "Dolby D 5.1" output.

HD.Club-4K-Chimei-inn-60mbps.mp4

(4K H.264 @ 30fps + AAC) – The video was not very smooth.
Fifa_WorldCup2014_Uruguay-Colombia_4K-x265.mp4 (4K, H.265, 60 fps + AC3) – The video was not smooth, and audio played fine (Dolby D 5.1) was a while before continuously making a "machine gun" like noise.
Finally, I'm very happy not too have gone through the torture that would have been to run a full video playback test with Kodi on this firmware. You'll probably want to find another version of Kodi maybe from Google Play, or the version recently released by Zidoo which has been specifically optimized for RK3368.
VLC
If you are interested in the open source nature of VLC for Android, and want to check it out yourself you can follow the instructions to get the code and build VLC. The app is available in Google Play, but there are two versions:
VLC for Android beta – Version 1.0.0 last updated on December 9, 2014 with 50 to 100 millions installs.
VLC for Android – Version 1.6.6 last updated on October 23, 2015 (But I tested version 1.6.0 released October 16, 2015) with 10 to 50 millions installs
If you only look at the app title, you may have thought the beta version has the latest developments, but checking the details clearly shows the beta version is not updated anymore, so you'll want to install VLC for Android, which is exactly what I did.
The first boot might slow as the app will scan for media files on your system, especially if you have connected an hard drive with lots of videos or/and pictures, and since this happens in the foreground, you'll have to be patient. Unfortunately after a while the app would just exit without any crash log files (vlc_logcat_<…>.log) in the root of my "internal SD card". That problem is reproducible 100% of the time, maybe because I have two many files, or maybe because I have multiple partitions with the same directory structure (double files), and somehow that confuses the app. Since I normally play videos over SAMBA, I just disconnect the hard drive, and the app started normally, but then I found out that SAMBA is not supported by the app in VLC Android FAQ. You should be able to work around that by mounting the network shares with another app, but instead I just copied the sample videos in a USB flash drive, and after the scan I could see all my videos. Yeah!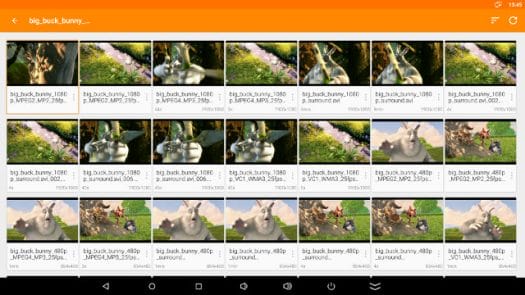 The videos are grouped by filename, and all Big Buck Bunny videos were in one single "group". This looks nice, but for testing purpose it's much easier for me to get a file list.
It works, but the user interface is clearly optimized for phones, as a lot of space is unused.
All good so I started by playing 1080p video samples found in samplemedia.linaro.org, but unfortunately I only got a black screen (without mouse pointer or volume display possible) with audio playing fine. So I went to the settings and following some recommendations from the Android FAQ.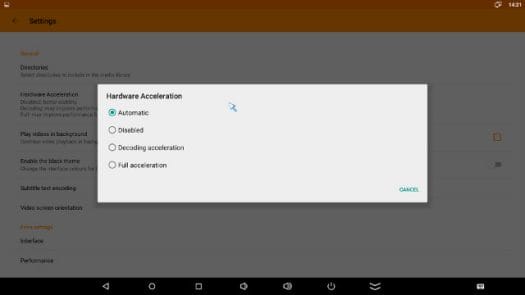 The settings page shown above have various option for subtitle, video orientation, background video playback and so on, but I went into the hardware acceleration menu and try all four options, and only "disabled" worked for me. Please note that you may have to quit and restart the app for it to work.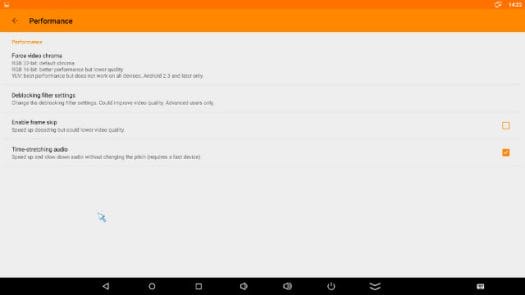 Then I went into the Performance section, and forced video chroma to YUV as it's supposed to provide the best performance, and it also worked on the device.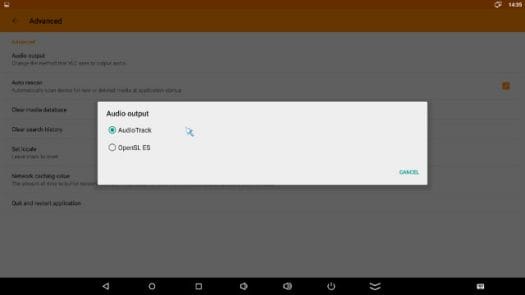 Finally, I had a look into the advanced options, and check the audio output which allowed selection between AudioTrack and OpenSL ES. I simply kept the default settings.
Based on these settings, here are the results for Linaro's 1080p video samples, plus a low resolution VP9 sample, and Elecard H.265 videos:
H.264 codec / MP4 container (Big Buck Bunny) – Not 100% smooth
MPEG2 codec / MPG container – Pretty good, but I did notice some frame "flashes" 2 or 3 times (Like a white frame or older frame is shown during playback)
MPEG4 codec, AVI container – OK, but I did notice some frame "flashes" 2 or 3 times
VC1 codec (WMV) – Not perfectly smooth
Real Media (RMVB) (720p / 5Mbps) – Artifacts, and video freezes before the end
WebM / VP8 – Most of the time the video plays fine, but some frame flashes occurred
H.265 codec / MPEG TS container – Black screen and audio
WebM / VP9 (no audio in video) – Artifacts
Even saying that it's not very good is an euphemism. VLC developer did say that the program may not work on all platform, and Rockchip RK3368 is one of these. Nevertheless, I still enabled HDMI audio pass-through in Android settings to see if HD audio would be passed through to my AV receiver:
AC3 / Dolby Digital 5.1 (VOB file) – VLC reported that a "Serious error occurred and VLC had to close"
E-AC-3 / Dolby Digital+ 5.1 – PCM 2.0 only
Dolby Digital+ 7.1 – PCM 2.0 only
TrueHD 5.1 – PCM 2.0 only, and the video was not smooth
TrueHD 7.1 – PCM 2.0 only
Dolby Atmos 7.1 – the receiver showed PCM 2.0, but the audio felt like some extra-terrestrial life form was trying to enter in contact with me…
DTS HD Master – PCM 2.0 only
DTS HD High Resolution – PCM 2.0 only.
So with hindsights, it was not such a good idea to run VLC on an Android TV box, as the app is probably optimized to run on the most popular phones or mobile SoCs like Qualcomm, Samsung, or Mediatek.
Antutu Video Tester 3.0
I installed Antutu Video Tester 3.0 manually and the results were in line with other RK3368 mini PCs with a score of 516 points.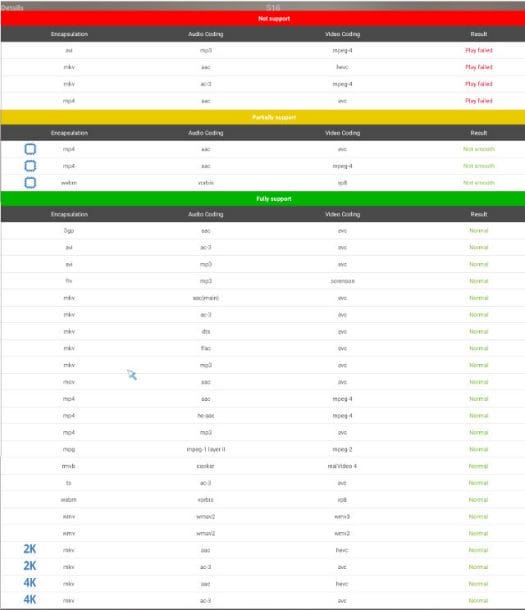 Network Performance (Wi-Fi and Ethernet)
I've transfer a 278MB file between the internal flash and a SAMBA share to test WiFi performance. Kingnovel R8 has one of the weakest WiFi performance I've tested so averaging 1.24 MB/s, and in the second test the transfer stalled a few times. Had it not stalled performance would have been higher, but not much, probably around 1.5 MB/s.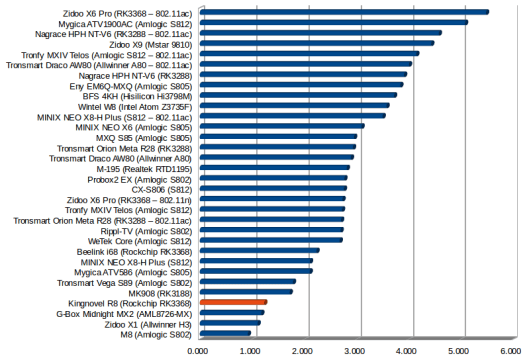 I did the same test for Gigabit Ethernet, but with a larger 885 MB file, and the file was transferred at 10 MB/s. This is slower than most devices with Gigabit Ethernet device, but as we'll see later the bottleneck should be the slow NAND flash, just like in WeTek Core TV box.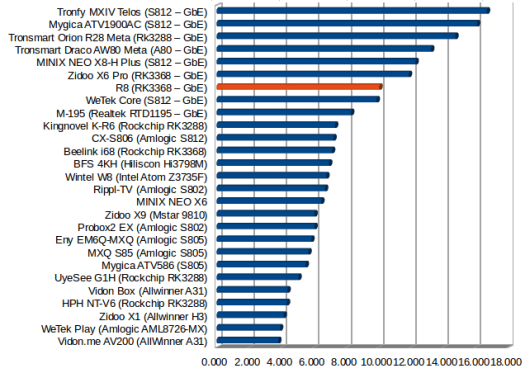 So I've also tested dual duplex raw performance for one minute using "iperf -t 60 -c 192.168.0.104 -d" command line, and the performance is OK at around 600 Mbps in both directions.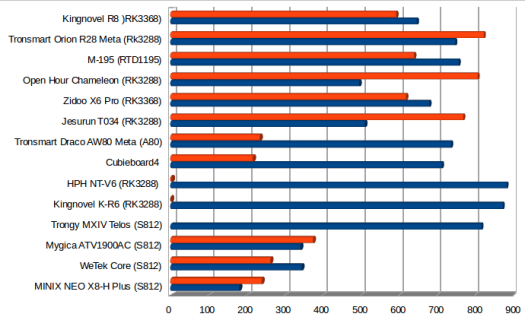 iperf output:

Client

connecting

to

192.168.0.111

,

TCP

port

5001

TCP

window

size

:

 

272

KByte

(

default

)

--

--

--

--

--

--

--

--

--

--

--

--

--

--

--

--

--

--

--

--

--

--

--

--

--

--

--

--

--

--

[

 

6

]

local

192.168.0.104

port

45441

connected

with

192.168.0.111

port

5001

[

ID

]

Interval

      

Transfer

    

Bandwidth

[

 

6

]

 

0.0

-

60.0

sec

 

4.52

GBytes

  

646

Mbits

/

sec

[

 

4

]

 

0.0

-

60.0

sec

 

4.14

GBytes

  

592

Mbits

/

sec
Miscellaneous Tests
Bluetooth
I've tested Bluetooth transferring photos using Iocean M6572 smartphone, and a Bluetooth audio headset. Both worked.
Storage
A micro SD card formatted with FAT32, as well as NTFS &, EXT-4 partitions in my USB hard drive could be access in read/write mode, but not exFAT nor BTRFS.
| | | |
| --- | --- | --- |
| File System | Read | Write |
| NTFS | OK | OK |
| EXT-4 | OK | OK |
| exFAT | Not mounted | Not mounted |
| BTRFS | Not mounted | Not mounted |
| FAT32 | OK | OK |
A1 SD Bench results for the 2 partitions on the USB 3.0 hard drive:
NTFS (/mnt/usb_storage/USB_DISK4/USB3_NTFS) – Read: 23.92 MB/s , Write: 16.75 MB/s
EXT-4 (/mnt/usb_storage/USB_DISK4/udisk1) – Read: 25.18 MB/s, Write: 17.28 MB/s
Performance is acceptable for a USB 2.0 connection, but write speed should be optimized.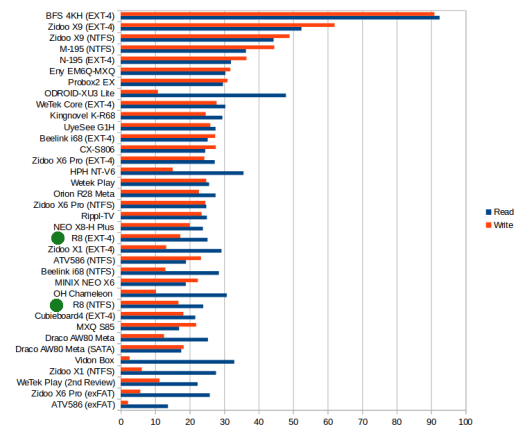 The internal storage felt slow at boot time and during usage with some apps, including the launcher, often becoming irresponsive. A1SD benchmark confirmed the impressions,  as the flash could only achieve 14.02 MB/s reads, and 4.85 MB/s writes.
Some other products like WeTek Play and WeTek Core also have slow internal storage, but somehow they've managed to setup their firmware in a way that it does not affect the user experience much.
Gaming
Candy Crush Saga worked without issues as in most devices, and Riptide GP2 was quite smooth, and remains very much playable after changing the graphics settings to the "highest resolution".
Kingnovel R8 Benchmarks
If you still thought RK3368 would be clocked @ 1.5 GHz as advertised, that's the third device were CPU-Z shows it clocked @ 1.20 GHz maximum. The board model is simply rk3368_box.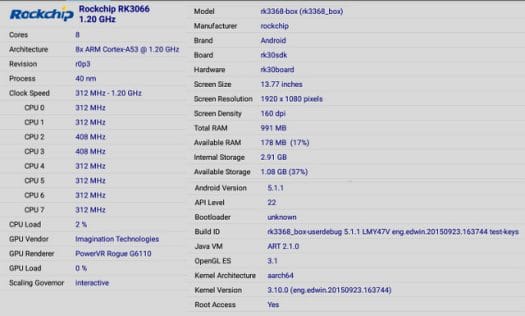 I've only run Antutu 5.7.3 benchmark this time, and R8 achieved 31,609 points, a bit below to the 34,101 points  I got with Beelink i68, but still well above the ~25,000 points in Zidoo X6 Pro which throttles a lot. (Note that X6 Pro will also get ~34,000 points if you run Antutu right after booting, but the score will decrease if your run Antutu after using the box for a while, and once I even managed to bring the score down to around 11,000 points after playing a 4K H.265 videos at 60 fps for one hour).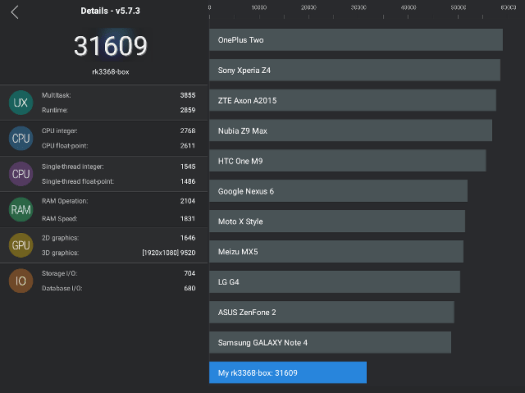 Conclusion
This time I've got a two parts conclusion: one for VLC on TV boxes, one for Kingnovel R8 specifically.
VLC on TV Boxes (powered by Rockchip RK3368 processor)
VLC for Android has been installed on tens of millions of devices, and the app has a pretty good rating of 4.3 out of 5. However, it's quite likely developers are focusing their efforts on popular smartphones and tablets powered by Qualcomm, Samsung and Mediatek processors, as my VLC experience on Kingnovel R8 TV box was very poor without hardware acceleration support, and software decoding struggling with 1080p videos. I could not connect to network shares either, but all these potential issues are pointed out in the FAQ.
Since VLC is my favorite player in Linux, I was hoping for more, but unfortunately it should be avoided in (Rockchip) TV Box. That does not mean VLC won't run well on any TV boxes, as the app supports Android TV operating system, and an earlier preview version had been tried on Nexus Player.
Kingnovel R8
Sadly Kindnovel R8 is yet another disappointing TV box both due to firmware (e.g. sluggish launcher), and hardware issues (e.g. slow NAND flash). I've compiled some of the pros and the cons for the device.
PROS
Android 5.1 firmware with Kodi 15.2
HDMI 2.0 video output works up to 2160p60 Hz
Good Ethernet performance
Proper power handling with standby & power off but one caveat: USB power is not turned off in power off mode.
I did not notice any overheating issues
The IR remote is nice and small with a good range (>10 meters)
3D games played fairly well
CONS
NAND flash is slow, and the firmware may feel slow at times with "app unresponsive" messages popping up from time to time, especially the launcher. This also explains a 2 minutes 20 seconds boot time (when USB devices are attached to the device)
It takes 5 seconds to go from the current app to the home screen
Kodi 15.2 did not well with the three videos I tried: Neither 4K H.264 @ 30fps and 4K H.265 @ 60 were smooth, and HDMI audio pass-through was not reliable (Audio cuts while playing). Kodi may also be quite slow to exit at times as in many other devices, and that version is pre-loaded with TVaddons (piracy issues).
WiFi performance is one of the worst I experienced in TV boxes
USB power is not turned off in power off mode (but it is in standby mode)
The issues might be eventually fixed, and if you are a distributor you may either request Kingnovel to improve the firmware responsiveness, or ask them to provide a faster flash device.
I'd like to thanks Kingnovel for providing the sample for review, which can be ordered in quantities from the company, see R8 product page. While I would not recommend it, individuals can purchase "R8 TV box" on GeekBuying, Ebay, Banggood, or Aliexpress with prices starting at around $76, but the hardware in the device may be slightly different than the one reviewed (e.g. 2GB vs 1GB RAM), and the provided IR remote control is different.

Jean-Luc started CNX Software in 2010 as a part-time endeavor, before quitting his job as a software engineering manager, and starting to write daily news, and reviews full time later in 2011.