In theory, Allwinner H3 is supposed to be a better alternative to Amlogic S805 processor thanks to more powerful Cortex A7 cores, and support for 4K video output and playback, while Amlogic S805 only features four Cortex A5 cores, and support H.265 up to 1080p60 only. Zidoo X1 is one of the TV boxes recently released with H3 processor. If you've not read my two previous posts yet, you may want to check out Zidoo X1 specifications, as well as the unboxing and tear-down post. In this post, I'll focus on testing performance, stability, and video playback capabilities with Kodi.
First Boot, Settings and First Impressions
I've connected an Ethernet cable, an HDMI cable, a USB hard drive, and a USB hub with a USB webcam, an two RF dongles for an air mouse and a wireless gamepad.  The box will boot automatically as you connect the power adapter. Boot takes just under one minute, which is fairly normal for a low end box.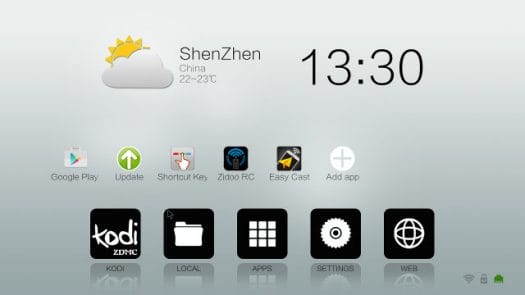 The Home Screen is divided in three zones with weather and time information at the top, shortcuts in the middle (Google Play, Firmware Update, Shortcut key for remote, Zidoo RC, Easy Cast by default), as well as icon for Kodi (ZDMC), Local file browser, apps, settings, and a web browser. There are also three icons on the bottom right to indicate WiFi,  Ethernet, and/or USB connections. The user interface is 720p by default, but Zidoo also provide a 1080p kernel. However, considering Allwinner H3 has a Mali-400MP2 GPU, sticking with a 720p framebuffer is probably a better idea.
The settings icon redirect to the usual Android Settings interface with some customizations for TV boxes. The main options include:
Wireless & Networks – Wi-Fi and Ethernet configuration, Data usage for Wi-Fi and Ethernet, and "More" section for Tethering & portable hotspot and VPN
Device

Sound – Enable Pass Through option, and Audio output mode selection for AUDIO_CODEC, AUDIO_HDMI, or AUDIO_SPDIF. Since there's an option for pass-through, I don't really understand what AUDIO_CODEC means here
Display – HDMI CEC; HDMI output mode: 720p50/60, 1080p24/50/60, or 4K30; and "Screen percent"
Storage – Single 4.77GB partition with around 4GB free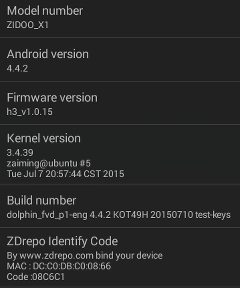 I had no problems connecting with Wi-Fi and Ethernet. I set HDMI output to 4K 30Hz successfully, but it would also revert to 720p 50Hz upon reboot. Byt default the screen scale is not set to 100%, so if you have a TV underscans by default, you should go to "Screen percent" menu to adjust it to 100%. I could not see options for composite output, but maybe these will appear if the box is not connected via HDMI.
The "About device" section shows the model number is indeed ZIDOO_X1, and Android 4.4.2 runs on top of Linux 3.4.39. The firmware version is h3_v1.0.15, but despite Zidoo releasing v1.0.16 a few days ago, it was not available via the Update application at the time of testing, so I kept running firmware 1.0.15, especially people complained about stability issues in the latest firmware… Firmware v1.0.15 was rooted on my device.
You'll also find "ZDrepo Identify Code" mentioned in the about device section, as well as the website www.zdrepo.com, which seems to be used to manage Kodi add-ons, but I have not investigated further.
For those of you who want to check all settings options, and find out more about Easy Cast (not related to EZCast), Zidoo RC, and Shortcut apps, I've recorded a walk-through video of Zidoo X1 user interface using Zidoo X9 video recorder.
When I first used the device, I started controlling it with the IR remote control, which required two AAA batteries, and within ZIUI (Zidoo UI) and Kodi it's working pretty well. The IR learning function worked for me too, as I could record my TV remote control volume, power and video input keys. However, I quickly switched to MeLe F10 Deluxe air mouse, since it's just better to use such input device to input text and control the mouse pointer on Android TV boxes.
The Google Play Store is pre-installed, and mostly works as expected. Some apps won't install of hardware requirements (GPS, Bluetooth, SMS…), or country limitations.  However, I'm not sure why my "device was not compatible with this version" for EZCast and Google+ apps.
Power control is implemented properly. A short press on the power key of the remote control will pop-up a menu allowing you to select between Power off, Standby, or Reboot, and all three are working as expected. A long press on the power key will turn off the device. You can use the IR remote control to power on the device, even when it's in power off mode. However, if you use an air mouse, power on won't work as the IR code is different, but standby mode will work.
Zidoo X1 gets a little warmer than MXQ S85, as the temperature reached 43°C and 55°C (max) on the top and bottom of the enclosure after running Antutu. I skipped my usual Riptide GP2 temperature and stability test, as playing the game amounts to torture on this platform.
I was expecting the user interface to feel sluggish with the Mali-400MP2 GPU, but the interface was surprisingly smooth, and my initial impression was that the firmware was stable and well optimized for the platform. ZIUI (Zidoo UI) also looks pretty nice to me.
Video Playback with Kodi
Unfortunately these positive first impressions quickly changed to massive disappointment once I started playing videos in Kodi 14.2, called ZDMC (Zidoo MC) in the device, as even some H.264 videos failed to play smoothly. Unless otherwise stated, all videos were played from a SAMBA share in an Ubuntu 14.04 computer with Zidoo X1 connected via Ethernet.
I started with video samples from samplemedia.linaro.org, Elecard H.265/HEVC samples, and a low resolution VP9 video:
H.264 codec / MP4 container (Big Buck Bunny) – 480p: OK; 720p/1080p/1080p60: Some micro pauses every 1 or 2 seconds due to skipped and dropped frames
MPEG2 codec / MPG container –  480p: OK; 720p/1080p: Some micro pauses every 1 or 2 seconds due to skipped and dropped frames
MPEG4 codec, AVI container 480p/720p/1080p – OK
VC1 codec (WMV) – 480p: OK – 720p/1080p – audio only
Real Media (RMVB), 720p / 5Mbps – Software decode @ ~14 fps, so not very smooth.
WebM / VP8 – OK
H.265 codec / MPEG TS container (360p/720p/1080p) – 360p: OK. 720p would play at 15fps (24fps video) with some severe audio/video sync issues. 1080p would play in slow motions with frequent audio cuts.
WebM / VP9 (no audio in video) – OK
I think it's the first time, I've been sent a box that can't play 1080p H.264 properly, and only MPEG4 and VP8 videos could play fine.
But let's just assume we were unlucky with the first sample, and let's move onto some higher bitrate videos:
ED_HD.avi

– Audio only
big_buck_bunny_1080p_surround.avi (1080p H.264 – 12 Mbps) – OK.
h264_1080p_hp_4.1_40mbps_birds.mkv (40 Mbps) – OK
hddvd_demo_17.5Mbps_1080p_VC1.mkv (17.5Mbps) – audio only
Jellyfish-120

-Mbps.mkv

(120 Mbps video without audio) – OK, played from USB hard drive
Some H.264 videos can play OK, so it should only be some that have problems.
HD audio codecs have been tested down-mixed to PCM using Kodi and TvdVideo app (pre-installed), and audio pass-through has been tested with Onkyo TX-NR636 using HDMI pass-through with BD/DVD input. AC3 and DTS pass-through were enabled in Kodi, and Pass-Through in Android's Sound settings.
Video
PCM Output
Kodi
PCM Output
TvdVideo
HDMI Pass-through
Kodi
AC3 / Dolby Digital 5.1
Audio OK, but the image will freeze right before the end of the video
OK
OK, except for video freeze
E-AC-3 / Dolby Digital+ 5.1
Audio OK, but image will freeze
OK
OK, except for video freeze
Dolby Digital+ 7.1
Audio OK, but image will freeze
OK
Stereo audio
TrueHD 5.1
OK
OK
Stereo audio
TrueHD 7.1
OK
OK
Stereo audio
DTS HD Master
OK
OK
DTS 5.1
DTS HD High Resolution
OK
OK
DTS 5.1
Pass-through is not really working in Kodi, except for AC3 and E-AC-3.
Sintel-Bluray.iso could play smoothly, so unencrypted Blu-ray ISO are supported. 1080i MPEG2 videos (GridHD.mpg & Pastel1080i25HD.mpg) could also play fine, albeit with Kodi reporting 15 fps playbacks, but this was not a problem visually, as these samples are mostly showing static images… Results with two Hi10p H.264 videos were interesting as audio would play, but the image would freeze at the very beginning, yet the various subtitles would show correctly.
4K video decoding is one of the main selling point of Zidoo X1 (and Allwinner H3), but unfortunately, the whole experience with Kodi was an unmitigated disaster:
HD.Club-4K-Chimei-inn-60mbps.mp4 – Does not play smoothly: ~15 to 23fps for a 30 fps video

sintel-2010-4k.mkv – Starts to play at 15 fps, and then after a while the image freezes, but audio carries on normally.
Beauty_3840x2160_120fps_420_8bit_HEVC_MP4.mp4 (H.265) –  Looks like it's playing at 1 to 2 fps
Bosphorus_3840x2160_120fps_420_8bit_HEVC_MP4.mp4 (H.265) – Looks like it's playing at 1 to 2 fps
Jockey_3840x2160_120fps_420_8bit_HEVC_TS.ts (H.265) – Won't play, the system stays in Kodi file browser.
MHD_2013_2160p_ShowReel_R_9000f_24fps_RMN_QP23_10b.mkv (10-bit HEVC) – Won't play, the system stays in Kodi file browser.
phfx_4KHD_VP9TestFootage.webm (VP9) – Plays at 1 to 2 fps

BT.2020.20140602.ts

(Rec.2020 compliant video) – Won't play, the system stays in Kodi file browser
big_buck_bunny_4k_H264_30fps.mp4 – Not smooth, audio/video sync issues, and after a while the image will freeze
big_buck_bunny_4k_H264_60fps.mp4 – Image will freeze at the start of the video, but audio still plays.
This was really depressing, so I tried in TvdVideo app again:
HD.Club-4K-Chimei-inn-60mbps.mp4 – OK

sintel-2010-4k.mkv – OK
Beauty_3840x2160_120fps_420_8bit_HEVC_MP4.mp4 (H.265) –  OK
Bosphorus_3840x2160_120fps_420_8bit_HEVC_MP4.mp4 (H.265) – OK
Jockey_3840x2160_120fps_420_8bit_HEVC_TS.ts (H.265) – OK
MHD_2013_2160p_ShowReel_R_9000f_24fps_RMN_QP23_10b.mkv (10-bit HEVC) – "Not supported"
phfx_4KHD_VP9TestFootage.webm (VP9) – "Not supported"

BT.2020.20140602.ts

(Rec.2020 compliant video) – "Not supported"
big_buck_bunny_4k_H264_30fps.mp4 – OK
big_buck_bunny_4k_H264_60fps.mp4 – Image will freeze at the start of the video, but audio still plays.
So that's much better, and the system only fails to play the more complex videos.
My LG 42UB820T television does not support 3D, but it's still interesting to find out whether platforms can decode stereoscopic 3D videos:
bbb_sunflower_1080p_60fps_stereo_abl.mp4 (1080p Over/Under) – Audio only, first image shown
bbb_sunflower_2160p_60fps_stereo_abl.mp4 (2160p Over/Under) – Won't play (and hard power cycle was required)
Turbo_Film-DreamWorks_trailer_VO_3D.mp4 (1080p SBS) – Plays with many micro pauses every 1 or 2 seconds
I've played several AVI, MKV, IFO and MP4 videos (720p/1080p) and usually XViD, DiVX, and VOD video fine, but H.264 videos are a mixed bag, with videos using "avc1" codec all suffering from very short pauses likely due to dropped and skipped frames. Most FLV videos played, but some only had audio with black screen, and playing these required a reboot to get a working system again.
Automatic Frame Rate switching is enabled by default, but Kodi is setup to ask each time it starts a video, and when playing a 4K video @ 30 fps, the system will automatically switch to 1080p60, instead of staying at 4K30. So I disabled it. Another annoyance is the lack of Zoom option in Kodi to adjust the aspect ratio, and instead the menu will just show 3D settings. This should be fixable, but changing some options, e.g. selection of decoding method (ZDCodec, Stagefright…),  but it's what I got by default.
A full 1080p movie (1h50 / MKV / 3GB) could play without interruption, but unfortunately it was unwatchable due to dropped and skipped frames, and audio/video sync issues. At the end of the video, Kodi reported 15,000 dropped frames, and 60,000 skipped frames.
Usually, I'd also run Antutu Video Tester, but unfortunately after downloading around 120 MB of video data, the app refused to download the remaining 50MB, even after several trials on different days, and always reported "Network Connection is unavailable". I'm not sure why that is as the app, now at version 3.0, could download the test videos, and run the test, while at the same time, I had no connection problem with other apps installed on Zidoo X1, with either Wi-Fi or Ethernet.
Network Performance (Wi-Fi and Ethernet)
In order to test network performance, I transfer a 278 MB file between a SAMBA share and the internal flash, and vice versa, repeating the test three times with ES File Explorer. Wi-Fi transfer speed is very poor @ 1.1 MB/s on average,  making Zidoo X1 one of the worst performer ever, at least with my setup.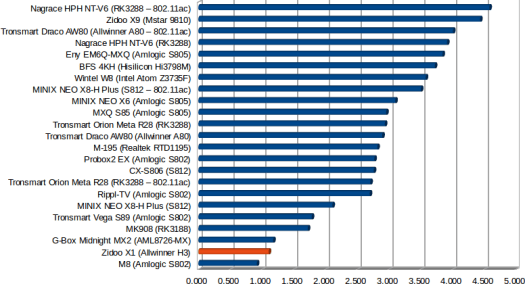 Ethernet is not really good either, but at least it's usable for streaming most videos @ 4.1 MB/s on average. The poor performance for this test may however be due to the slow NAND flash write speed, as it's much faster from NAND flash to SAMBA (6MB/s).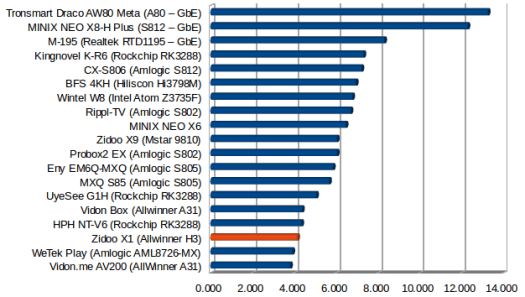 iperf seems to confirm this theory, as running iPerf app using "iperf -t 60 -c 192.168.0.104 -d" command line yields 92.7 Mbps in one direction, and 53.5 Mbps in the other. Not the best device, but in line with most competitors.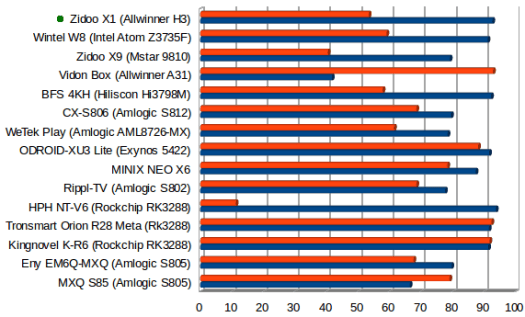 iperf output:

Client

connecting

to

192.168.0.105

,

TCP

port

5001

TCP

window

size

:

  

136

KByte

(

default

)

--

--

--

--

--

--

--

--

--

--

--

--

--

--

--

--

--

--

--

--

--

--

--

--

--

--

--

--

--

--

[

  

6

]

local

192.168.0.104

port

40475

connected

with

192.168.0.105

port

5001

[

ID

]

Interval      

Transfer    

Bandwidth

[

  

6

]

  

0.0

-

60.1

sec

  

383

MBytes

  

53.5

Mbits

/

sec

[

  

4

]

  

0.0

-

60.1

sec

  

664

MBytes

  

92.7

Mbits

/

sec
Miscellaneous Tests
Bluetooth
There's no Bluetooth built-in Zidoo X1. Firmware 1.0.16 is supposed to support USB Bluetooth dongles, but I have not tried.
Storage
Both FAT32 formatted micro SD card and USB flash drive could be mounted by the system.
File systems support is pretty good as NTFS, EXT-4 and EXFAT partition on a Seagate USB 3.0 hard drive could be mounted and accessed, with only BTRFS failing to mount.
| | | |
| --- | --- | --- |
| File System | Read | Write |
| NTFS | OK | OK |
| EXT-4 | OK | OK |
| exFAT | OK | OK |
| BTRFS | Not mounted | Not mounted |
| FAT32 | OK | OK |
I ran A1 SD Bench on the three partitions, with rather disappointing results, even considering transfers take place over a USB 2.0 port:
NTFS (/mnt/storage/storage01) – Read: 27.64 MB/s , Write: 6.13 MB/s
EXT-4 (/mnt/storage/storage02) – Read: 29.22 MB/s, Write: 13.18 MB/s
exFAT (/mnt/storage/storage03) – Read: 25.49 MB/s, Write: 3.37 MB/s
So if you own this box, you may consider using a hard drive formatted with EXT-4 for better performance.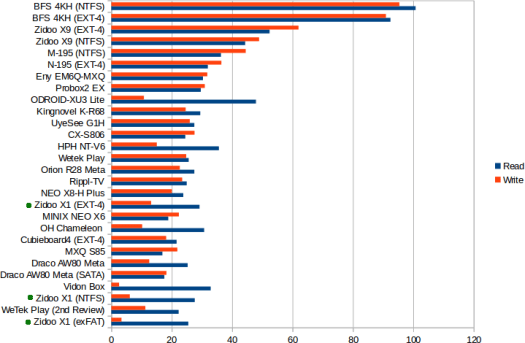 Low cost device often come with NAND flash instead of eMMC, and that's also the case for the latest Zidoo media player, with rather underwhelming performance (Read: 15.71 Mb/s; Write: 3.31 MB/s), although it does not really seem to affect overall system performance that much.
USB Webcam
Skype worked just fine on the device, with both the Skype Call Test Service (audio) working, and a normal call, although the image of the other party was zoomed in, so you may have to ask the other party to move back a little.
Google Hangouts installed OK, but it would just get stuck at the "Signing in" stage when I start the application.
Gaming
Allwinner H3 with its Mali-400MP2 GPU was never going to be a great gaming device, but i still tried Candy Crush Saga, Beach Buggy Blitz, and Riptide GP2.
Candy Crush Saga ran just fine, and I controlled the game with the air mouse. I then switched to Tronsmart Mars G01 wireless gamepad to play Beach Buggy Blitz and Riptide GP2. The latter is playable with default settings, also not really enjoyable, but Riptide GP2 is hard to play with default settings, strangely set to high quality, as the frame rate is just to low. If I change all graphics settings to disable or low, it becomes more playable, but I would still not like to play a long time with this hardware…
Zidoo X1 (Allwinner H3) Benchmarks
It's the first Allwinner H3 platform that I've tested, so I've run CPU-Z, before going through the benchmarks.
So the app is confused and thinks Allwinner H3 is a quad core Allwinner A23 processor, probably because the processor is not yet in CPU-Z database, and it's also a sun8i platform.  Having said that it correctly detected a Mali-400MP GPU and  quad core Cortex A7 processor, but instead of being clocked at 1.5 GHz as in marketing documents, it appears to run at 1.2 GHz max.
The model is ZIDOO_X1 with the codename dophin_fvd_p1, the resolution is 1280×720, there's 1GB of RAM and 4.77GB of storage accessible to the end user.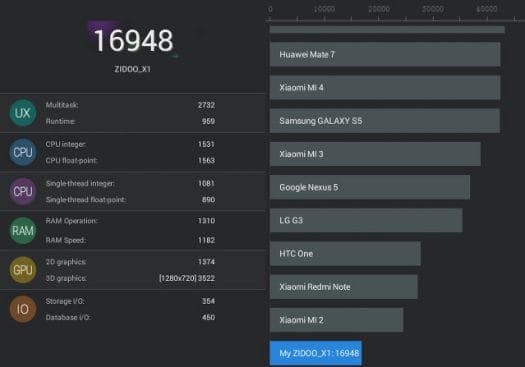 Zidoo X1 gets 16,948 points in Antutu 5.7, which compares to 16,448 points for MXQ S85, so both platform have similar overall performance. Please note that MXQ S85 features a 1920×1080 user interface instead of the 1280×720 in Zidoo device. The Mali-450MP4 GPU in the Amlogic S805 TV box being significantly more powerful than the Mali-400MP2 GPU in the Allwinner H3 based device.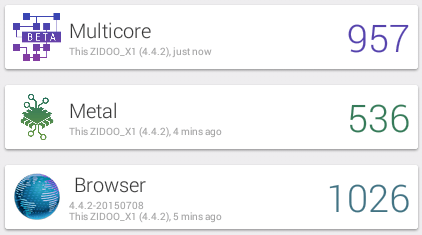 Vellamo scores are pretty much the same between H3 and S805.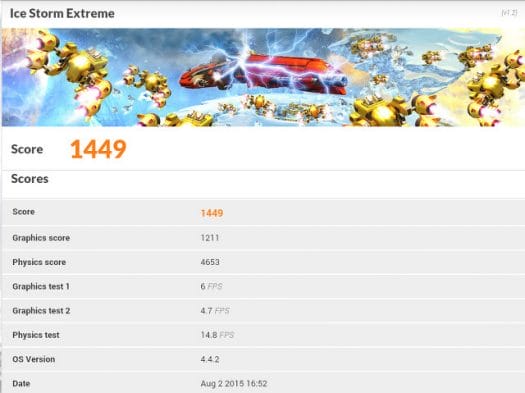 But MXQ S85 got 2,300+ points in 3DMark' Ice Storm Extreme @ 1080p against 1,449 points for Zidoo X1 @ 720p, which confirms the relative GPU weakness of Allwinner H3 SoC.
Conclusion
The underlying firmware of Zidoo X1 appears to be stable and responsive, but there are still a few bugs, and the real downside is Kodi implementation, which is the worst i've see so far, and it really feels like Zidoo released their X1 a little too early. That said based on my Zidoo X9 experience, the developers are really committed to fixing user's bugs, and release firmware upgrade regularly. But this time, they've got a lot of work on their hands.
PROS:
Base firmware stable and responsive
Eye pleasing user interface. They actually have two others (ZIUI Tile and Frisbee)
4K video playback up to 30Hz, and HEVC/H.265 codec support with TvdVideo app (but not Kodi)
OTA firmware upgrade
Original and innovative enclosure design
Proper implementation of Power On/Off and Standby
Skype is working fine with USB UVC camera
File systems support: NTFS, EXT-3, exFAT and FAT32
CONS:
Kodi has so many issues it's hard to list them all:

4K video not playing properly.
Videos with H.265, H.264, VC1, MPEG2.. codecs may fail to play smoothly
Image may freeze during playback
Automatic frame rate switching may switch to 1080p60 for a 4K30 video
HDMI pass-through only working for AC3
Playing an unsupported video, may require a reboot or hard power cycle
and so on…

Poor Wi-Fi performance, underwhelming Ethernet performance
Slow NAND flash, and relatively slow USB mass storage performance
GPU is an older Mali-400MP2, and not really suitable for 3D games, even though the GPU is said to be clocked @ 700 MHz
So hopefully Zidoo and Allwinner are hard at work improving their Kodi implementation, and in a few months, the box will be a decent device for video playback.
If you are a reseller or distributors, you can contact Zidoo directly if you are interested in purchasing the box in quantities. Individuals should really wait (unless you don't care about Kodi) before purchasing that box, but if you'd like to give it a try anyway you can find it for $59.99 on GeekBuying, as well as Amazon US, and  Aliexpress.

Jean-Luc started CNX Software in 2010 as a part-time endeavor, before quitting his job as a software engineering manager, and starting to write daily news, and reviews full time later in 2011.