After No.1 D3 and SMA-Q smartwatches, Makibes F68, or just F68, is my third attempt at reviewing a smartwatch, and on paper it matches all of my main requirements namely always-on display, fitness tracking with heart rate monitor, one week of battery life, and IP67 ingress protection rating to have some waterproofness. I've already taken pictures of the device, so today I'll go through the user interface on the watch, and Android app, and report my experience after using the watch for over 10 days.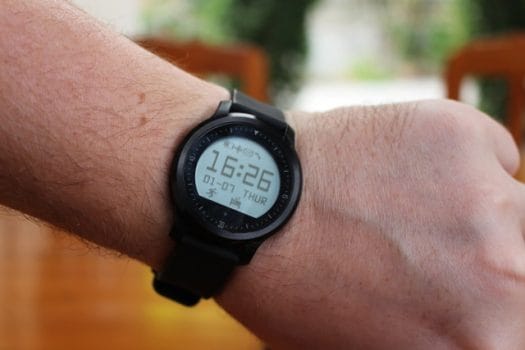 The watch has an e-Paper display with decent viewing angles, and very good readability during the day, however at night, you'll need to find the light switch or use a torchlight, as the watch does not have backlight at all, and it's unreadable. There's actually no buttons at all and everything is controlled via the touchscreen, and/or the app available for Android or iOS. The imain menu of the interface can be accessed by swiping up or down, with the options within one menu are accessed by swiping right to left.

I'd normally like to have time, date and step count displayed on the main watch face, but there's clearly no space once all features are enabled on F68. The top line has up to 5 icons for: battery level, Bluetooth connection status, SMS notification ON, phone notification ON, and alarm. The center of the screen shows the time, date and day of the week, while the bottom part has up to four icons to indicate whether the  pedometer, sedentary reminder, sleep monitoring, and heart rate monitor are enabled.
The time and date are set automatically when connecting the watch to your smartphone, but you can also swipe horizontally to manually set the date and time.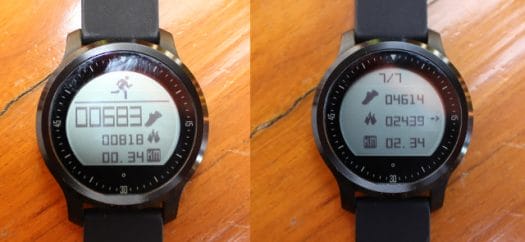 If we swipe down once, there's usually a lock screen (which I disabled), before we can access the pedometer, with the top "Running man" icon use to disable or enable the feature. This screen shows the step count, estimated calories burnt and distance for the current day. You can swipe to the right to access the data from the last seven days. When you swipe up back to the time, it's quite easy to disable the pedometer by mistake, so make sure it is still enabled by checking out the bottom left icon is on.
The step does not seem to be very accurate, and get widely variable results days after days. For example after a 9 kilometer run, the step count only increased just over 4000 steps, or about 2.20 meters per step, which is clearly impossible with the way I run… If you are in the pedometer mode, you can usually see the count going up in real-time, but there are time when it will not move at all. So I guess a firmware update might be needed here…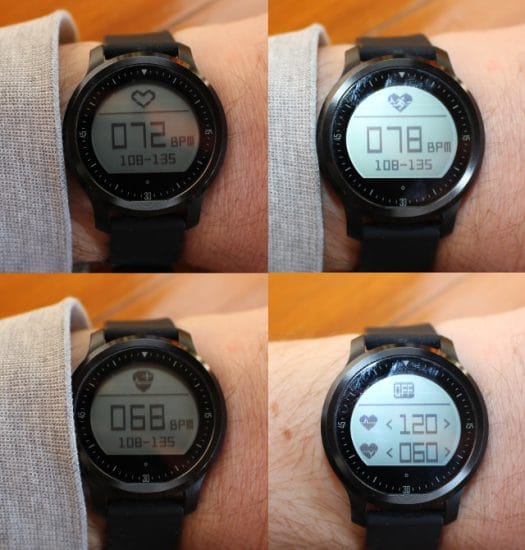 One more menu down we access the heart rate monitor. An empty heart means it is turned off, a "running man" icon means the HRM is enabled in sports mode, and another icon is for "healthy heart rate" mode. I can see the green LED is on in sports mode, but not always in the other mode, so maybe it's measuring continuously in sports mode, and only sometimes in the other one. You can also swipe right to enable hear rate alerts with minimum and maximum values.
I have not tried this, because in the same 9km run, I had troubles with reliability again. At the beginning, the watch showed plausible values (150 to 160 bpm), but after a few minutes it dropped to the 80 bpm range as I was still running, and it lasted for about 15 to 20 minutes, before going up to around 150 bpm. Having said that I'm also enabled "All day HRM" in the Android app, which takes measurements every few minutes , and the data appears to be plausible with low heart rate when I sleep, slightly higher when I get and do about my daily business, and higher when doing some more demanding activities. So I'm not sure what happened during the run, maybe the sweat or position of the watch.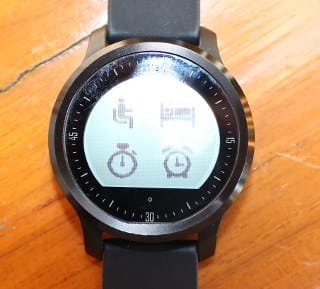 Going down in the interface once more, we can see four icon for sedentary alert, sleep monitoring, stopwatch, and alarm.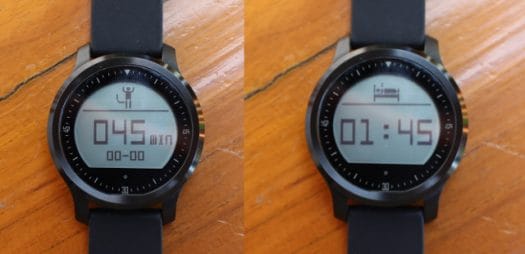 The sedentary reminder  can be enabled/disabled with the top icon, and the options allows for a delay of 30 minutes and up by 15 minutes increments. However, it was never triggered when I tried it… I don't find sleep monitoring very useful, but I still tried it once night, and it showed the sleep time correctly from midnight.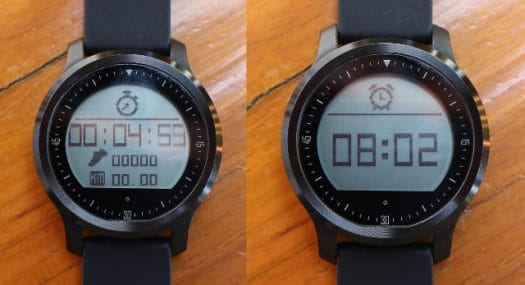 The stopwatch works, but you can only start it and stop it. There's no intermediate time like on standard watches. The alarm can be set from the watch or the smartphone app, and vibrates when the time is up.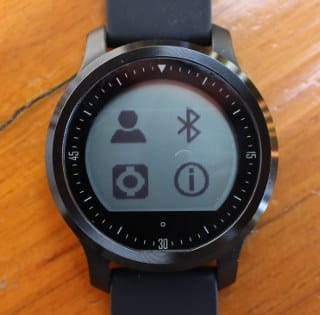 The next menu shows icon for user data, Bluetooth, system, and info.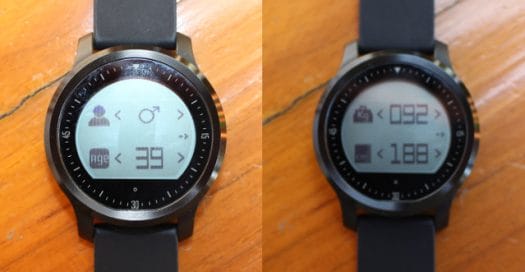 The user settings let you configure gender, age, weight, and height, but it's something much easily done from the mobile app.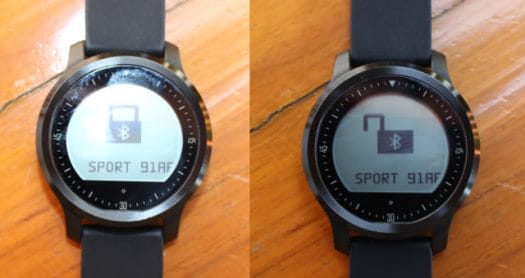 You can manually turn on or off Bluetooth. If the lock is closed, Bluetooth is turned off, if it is opened it it turned on. You can also see the Bluetooth ID at the bottom of the screen e.g. SPORT 91AF.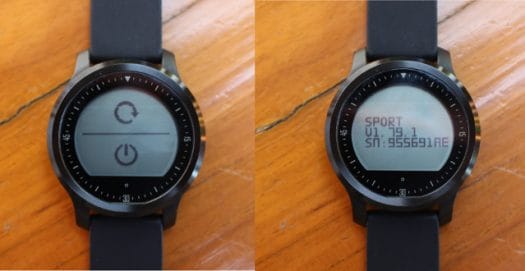 The system menu will let you reset to factory settings, or power off the watch, while the information will show the firmware version and serial number, in my case the firmware was SPORT v1.79.1.
I have not taken pictures for the notifications but they basically work and you see it in the review video further below. The information is quite basic as only an envelop icon is shown for SMS, and a phone icon and caller ID when you receive a call. You can't take any action from the watch, but at least you are information when your smartphone get an SMS or phone call. It also support QQ, WeChat, Facebook and Twitter, but I did not really try those.
Which brings me to the mobile app called HPlus Watch and available for Android and iOS.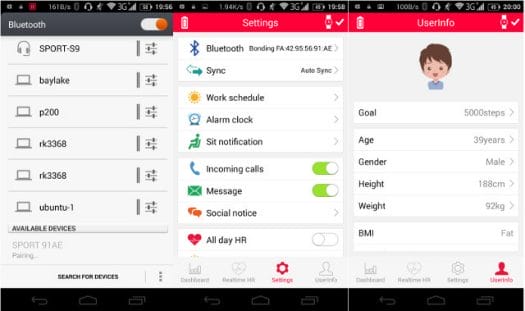 After enabling Bluetooth in the watch and your smartphone, you'll want to pair it with your phone. It will show as SPORT XXXX as shown in the watch, and I had no problem to connect. One you have installed the app, you can input your goal, and data, and the app will calculate your BMI. I did so, and the app told that I was … Fat! (what? impossible, this is clearly a bug :)).
You can also configure a few alarms with a work schedule where you can set the time and date of the week for specific actions such asgetting up, exercise, reading, watching a ball game… , as well as another alarm clock. I did not try the work schedule, but as previously mentioned the alarm is working, and the watch vibrates when the time is up.
I also enabled incoming calls and message notifications, as well as Facebook notifications in "Social notice" menu. I mostly receive Facebook Page Manager notifications, and they never showed on the watch, but maybe it's only working for Facebook app.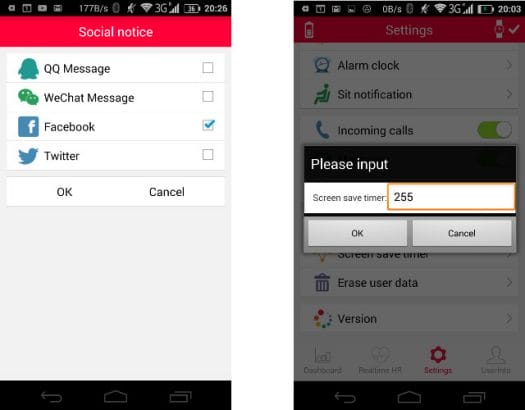 I've also enabled All day HR to have the watch monitor my hear rate all day, and it seemed to work, and did not seem to affect the battery life much. If you don't like the lock screen you can disable it by settings "Screen saver timer" to 255.
If you want to check your data you can go to the dashboard to see a chart with your step count and heart rate for the current day, as well as number for the estimated distance and total calories.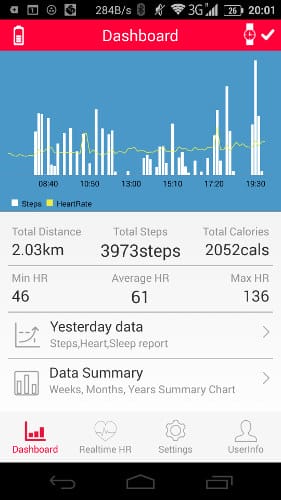 Yesterday data is rather useless, and I challenge you not to laugh when you read the associated text.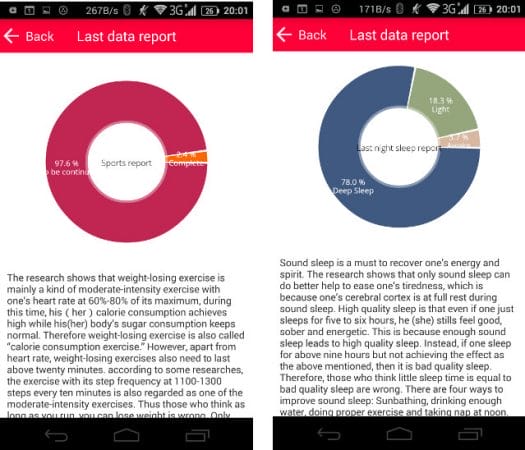 The data summary with weekly and monthly charts is a little more interesting, but we cannot access the detailed chart for a given day.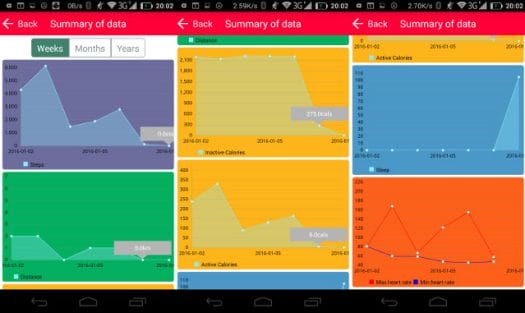 Real-time HR will show a chart of your heart rate for the last few hours, but you'll have to make sure Bluetooth is connected, as it will look like the right side of the chart.
Finally, I'll have a few words about the waterproofness and battery life of the watch, and I have to say I'm very pleased with the former, and relatively satisfied with the latter. I wore the watch while taking showers, and spent 15 minutes swimming and playing in a swimming pool (although you are not exactly supposed to do that with IP67 devices), and there was no issue with humidity going into the watch at all. However, one downside is that the touchscreen display is active, and the user interface can be changed because of the flow of water. For example, I managed to factory reset the watch once while taking a shower, and that's the reason why you may want to keep the lock screen on. In my opinion, a touchscreen display is not really ideal for a sports watch, and button would be preferable, and even if you don't swim, you may run early morning or in the evening, and condensation will form on the face making the touchscreen hard to use for example if you want to switch between pedometer and HRM interface.
The battery is supposed to last one week on a charge, but with Bluetooth on most of the time ,and the pedometer activated I could get 3 to 4 days on a charge, usually 4 days, or even a little more. Charging is also convenient with the magnetic dock, and quite fast, as a full charge takes around 45 minutes.
Video Review
Conclusion
F68 smartwatch has a limited number of features, but does much of what it's supposed to do reasonably well, however I found the step count and heart rate monitor to provide unreliable data, appearing to work well at time, but then providing clearly bogus data.
PROS:
Always-on e-Paper display, readable under sunlight
Good Bluetooth connectivity, i.e. no problem with Bluetooth as with SMA-Q
Decent battery life (around 4 days)
SMS and calls notifications working OK.
Most features work as advertised
Waterproof (IP67). Tested under shower, and swimming. The latter is not guaranteed with IP67 however
HPlus watch app is not too bad
Cost effective (~$30)
CONS
No backlight for night use
Pedometer and heart rate monitor do not seem to work reliably all the time.
Touchscreen display is active under water, and the flow can change your settings.
Notification support is basic, only icon for SMS, icon + caller ID for phone calls, and few social networks supported.
No way to access details of data outside of the current day, e.g. fitness chart for yesterday, or other days.
So if they could just improve the pedometer and HRM reliability it would be quite a decent device, although not perfect because of the lack of backlight for night reading, and the choice to go with a touchscreen display for a sports watch.
I'd like to thanks GearBest for provide Makibes F68 sports smart watch for review, and they sell it
for $34.89
in blue, orange, or black. You could also shop on
GeekBuying
, and
eBay
for roughly the same price.

Jean-Luc started CNX Software in 2010 as a part-time endeavor, before quitting his job as a software engineering manager, and starting to write daily news, and reviews full time later in 2011.