Ugoos AM1 is yet another TV box based on Amlogic S905. I've already published specifications and uploaded some pictures of the nice looking cyan box and its board, so today I'll report on my experience after actually playing with the device, where I mostly focused on known problems found on other S905 mini PCs, and some extra features added to Ugoos firmware.
First Boot, Settings, and First Impressions
I filled all three USB ports with a USB webcam, a USB hard drive, and a USB hub with RF dongles for MINIX NEO A2 Lite air mouse,  Tronsmart Mars G01 wireless gamepad, and a USB keyboard (convenient for screenshots), and connected Ethernet, HDMI and power cables. A boot will usually take around 30 seconds.
Before going through the user interface, I'll mention that OTA firmware upgrade worked very well, and it was one of the first thing I did before the review. Ugoos firmware version used for review is 0.0.3 as shown in the screenshot below.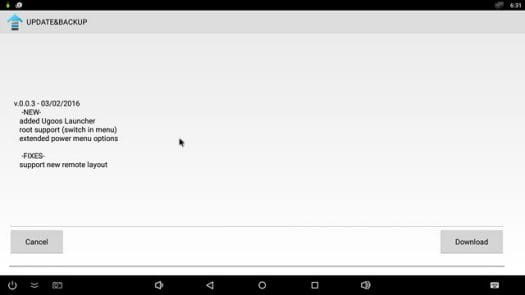 The UPDATE&BACKUP app will download the update, reboot the device, perform the update and you're done. The first boot you'll be asked to choose between UgoosLauncher, or Launcher3.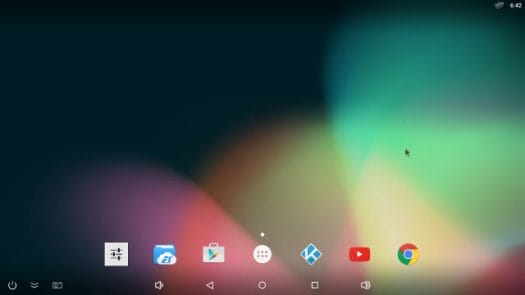 Launcher3 looks basically like stock Android launcher.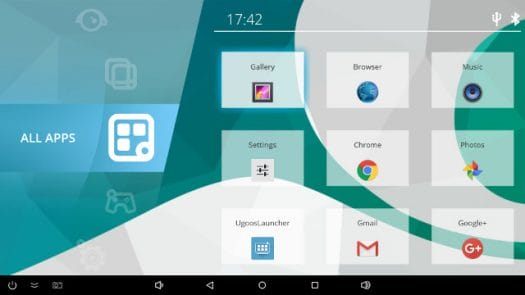 UgoosLauncher has been designed internally, is more suitable for a TV experience, and is available on all recent Ugoos devices including Ugoos UT4, where the latest firmware includes the launcher. The menu selection on the right includes folder for apps called "Internet", "IPTV", "MEDIA", "OTHER", "ALL APPS", "GAMES", "TOOLS", and "SETTINGS" as well as an "OPTIONS" section to customize the launcher with the number of rows and columns, color, time time, and wallpaper. I found adjusting the rows and columns did not work so well, as icons are cut a little when selecting 4×4.. Apps are automatically assigned to a folder, for example Antutu could be found in "Tools", and YouTube or Kodi in "Media". Sadly there does not seem to be a way to customize which apps you want in a particular folder. [Update: you can move apps between category by long pressing on an app, and the following menu appears to let you open, move, select category or delete an app.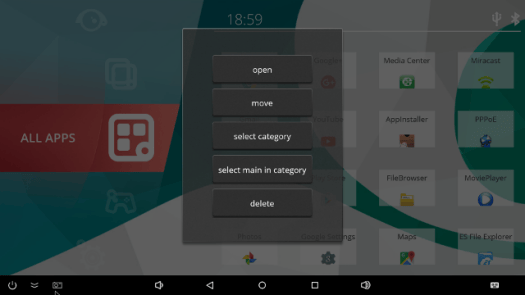 Note that a long press with my air mouse in remote mote (using arrows key + OK) would only launch the application, but if I switch to air mouse mode, and long press an app with the mouse cursor it works.]
I'm also not a fan of listing apps by chronological order, which Ugoos Launcher does, as it makes more difficult to find the app you need, and switching between the main selections is not as fast as I'd like, as I needed to wait for one second, before switching between "ALL APPS" and "GAMES" for example.
As with other Amlogic S905 TV boxes, the user interface resolution is set to 1920×1080. Settings are basically the same as on the other devices too, so I invite you to check MINI MX review for more details about settings option. There's however one difference: Ugoos settings.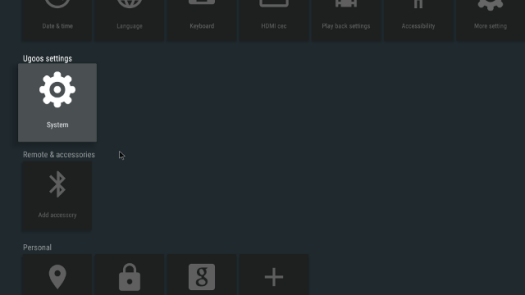 You can probably expect Ugoos to add more goodies overtime as they push firmware updates out, but for now, there's just an option to enable root or disable root access, which can be very convenient, since some apps require root, while others will refuse to run on a rooted device. Unrooting will require a reboot of the TV box.
You can have a better look at Ugoos Launcher and Ugoos specific settings in the video below.
The system set my TV to 1080p50 the first time, but I could set this to 2160p 60Hz in the settings. Unfortunately, like with most other S905 devices, AM1 won't always keep the settings after a reboot.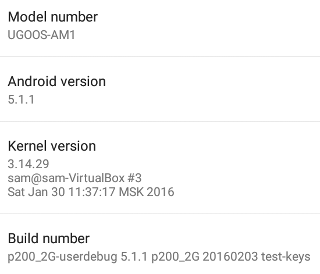 If we visit Android settings' About MediaBox section, we'll find the model number is UGOOS-AM1, which runs Android 5.1.1 on top of Linux 3.14.29.
The firmware also comes with a unified storage partition that gives the user 11.87GB out of the 16GB eMMC flash, with 6.57GB at the end of the review after installing apps, and copying some large files to the flash, so there should be plenty of space to fulfill the requirements of most users.
The HDMI CEC issue I have been having with Amlogic S905 and Onkyo TX-NR636 AV receiver was still there, so I could not enable HDMI-CEC, and all I got was the "This remote device does not support CEC" message.
I had no issues with Google Play Store, except for HPlus Watch app required for Makibes F68 smartwatch, but it's likely because the app requires telephony support for handling call and SMS notifications. I also side-loaded Amazon Underground in order to install the free version of Riptide GP2. However, as I wanted to use YouTube, I was asked to install an update to Google Play Services, and Google service started to crash very often (like every 10 seconds), making the system usable, so I decided to uninstall the Updates and the system worked fine again, even if that means I could not use apps such as YouTube, or Google Hangouts. So that's something the company will have to fix in next firmware.
The firmware may have been rushed before Chinese New Year, as another side-effect of the firmware update is that the included IR remote was unusable, with the power key lowering the volume, and most keys having no effect. I guess that's the "support for new remote layout" part that caused problem. It's not clear right now whether the company decided to ship a different remote with new models, or simply made a mistake with the firmware. [Update: they are now using a different remote control than the one sent to the first reviewers/users]
That also means that the only way to control power is to use the power icon on the status bar. Clicking on the icon will show a menu with Power off, Sleep, Reboot, and Reboot recovery options. All four worked fine, but since the remote is not working with that firmware, or the remote I used was only send to a few reviewers or beta testers, the only way to power on the media player is to disconnect and reconnect the power supply. I'm sure a solution will quickly be found after Chinese New Year holidays.
Temperature was under control at all times with the maximum top and bottom covers' temperatures being respectively 39°C and 46°C after Antutu 6.0, and 41°C and 53 °C after over 15 minutes playing Riptide GP2, without any noticeable performance difference over time.
I also measured power consumption in three modes with or without USB hard drive:
Power off – 2.0 Watts
Sleep – 1.2 Watt
Idle – 3.1 Watts
Power off + HDD – 4.1 Watts
Sleep + HDD – 3.3 Watts
Idle + HDD – 5.4 Watts
There are two problems here: 1. Power off power consumption is higher than in sleep mode, and 2. the USB port is not properly turned off in power off mode.
I also had an other issue on my device. The USB port close to the SD card slot would not work at all with either my USB hard drive or RF dongles. The firmware should have fixed this as one comment on Ugoos blog explained:
Some users had problems with OTG usb port that turns to a slave mode and doesn't work with airmouses and pads. Now we add automatic slave/active mode for this USB port.
But it did not, unless I have another issue.
While the firmware is very responsive, and stable, there are currently too many issues to have satisfying experience, including the remote messed-up key mapping, a USB port not working, and issues with the latest version of Google Play services. I'm hopeful all those three critical issues will be fixed in upcoming firmware updates.
Video Playback in in Kodi 16.0
Kodi's trademark policy is that if you distribute a modified binary, you can't use Kodi in your application name. The rule is not followed by the vast maority of companies, but for example that's why MINIX is called their port XBMC for MINIX, and WeTek will change the name of their "Kodi" app to something else. And at first when I went to Google Play in order to install apps, I noticed that Kodi was detected as installed, which would truly have been a first.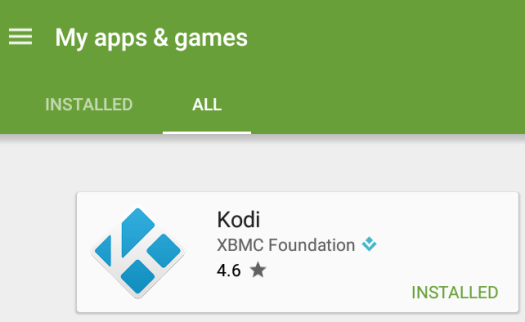 However the latest version of Kodi in Google Play is Kodi 15.2 released on October 2015, and the company installed a version of Kodi 16.0 Beta 4, modified or not, built on December 13, 2015. So we can't trust the Google Play store to report the "truth" about this details.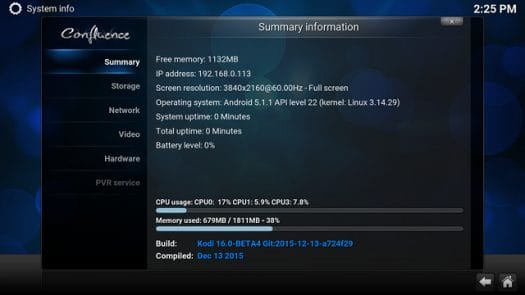 I've tested Kodi many times on Amlogic S905 platform, so I'll shorten the list of tested videos just like in G9C review. I've played all videos from a SAMBA share over a Gigabit Ethernet connection unless otherwise stated.
Playing 1080p Linaro media samples and 720p RealMedia samples went relatively smoothly:
H.264 codec / MP4 container (Big Buck Bunny) – 1080p – OK
MPEG2 codec / MPG container –  1080p – OK
MPEG4 codec, AVI container 1080p – OK, but I got a black screen until the user interface was activated
VC1 codec (WMV) – 1080p – OK
Real Media (RMVB), 720p / 5Mbps – OK
WebM / VP8 – OK
H.265 codec / MPEG TS container (1080p) – OK
WebM / VP9 (no audio in video) – OK
The black screen issue I had with the MPEG4 video above actually occurs randomly, and is not related to any particular video codec or video. Sometimes, a video will just start black with the audio playing, and the only way to see it is to trigger Kodi's OSD, by pressing 'O' to trigger the live log, or the arrow keys to activate the trick mode and settings overlay. Anything that triggers the UI will do.
I followed up with some videos with various bitrates:
hddvd_demo_17.5Mbps_1080p_VC1.mkv (17.5Mbps) – Could be smoother (but unrelated to network).
h264_1080p_hp_4.1_40mbps_birds.mkv (40 Mbps) – OK
Jellyfish-120

-Mbps.mkv

(120 Mbps video without audio) – Could be smoother, but likely because Amlogic S905 cannot handle 100+ Mbps videos very well
HDMI audio pass-through only worked for Dolby Digital 5.1 and DTS 5.1, and for some reasons videos were all played zoomed in:
AC3 / Dolby Digital 5.1 – Dolby D 5.1, but with some audio cuts; video zoomed in
E-AC-3 / Dolby Digital+ 5.1 – Audio OK (Dolby D 5.1); video zoomed in
Dolby Digital+ 7.1 – PCM 2.0 only; video zoomed in
TrueHD 5.1 – PCM 2.0 only; video zoomed in
TrueHD 7.1 – PCM 2.0 only; video zoomed in
Dolby Atmos 7.1 – PCM 2.0 only; video zoomed in
DTS HD Master – DTS 5.1 only with some audio cuts; video zoomed in
DTS HD High Resolution – DTS 5.1 only with some audio cuts; no video, as the system stays in Kodi's file browser.
That part did not work exactly well, and since Ugoos AM1 is not based on Amlogic S905-H, DTS and Dolby down-mixing is not supported outside of Kodi.
4K videos playback was also a mixed experience:
HD.Club-4K-Chimei-inn-60mbps.mp4 – Plays with a micro pause every second or so.

big_buck_bunny_4k_H264_30fps.mp4 – OK
Ducks Take Off [2160p a 243 Mbps].mkv (H.264) – Lots of buffering, and when the video is not smooth when it plays.
暗流涌动-4K.mp4 (10-bit H.264 @ 119 Mbps) – Massive artifacts, mostly green screen
Beauty_3840x2160_120fps_420_8bit_HEVC_MP4.mp4 (H.265) –  OK
Samsung_UHD_Dubai_10-bit_HEVC_51.4Mbps.ts (10-bit HEVC / MPEG-4 AAC) – Stays in Kodi's file browser for nearly 20 seconds, and then starts to play fine.

BT.2020.20140602.ts

(

Rec.2020

compliant video) – OK, after a long buffering at the beginning.
Fifa_WorldCup2014_Uruguay-Colombia_4K-x265.mp4 (4K, H.265, 60 fps) – OK
Astra-11479_V_22000-Canal+ UHD Demo 42.6 Mbps

bitrate.ts

(10-bit H.265 from DVB-S2 stream) – Plays fine until the image is stuck after a while. Typical of older Amlogic S905 SoC revisions found in boxes shipped so far.
I've added 暗流涌动-4K.mp4 to my list of file, as 10-bit H.264 is said to be supported by newer platforms such as Rockchip RK3229.
I played a full ~2-hour 1080p movie over SAMBA to test reliability, and it could play smoothly and until the end.
Finally, I also checked whether automatic frame rate switching would work, and it did not even after enabling HDMI self-adaptation in Android settings and setting "Adjusting display refresh rate" to "On start/stop" in Kodi settings.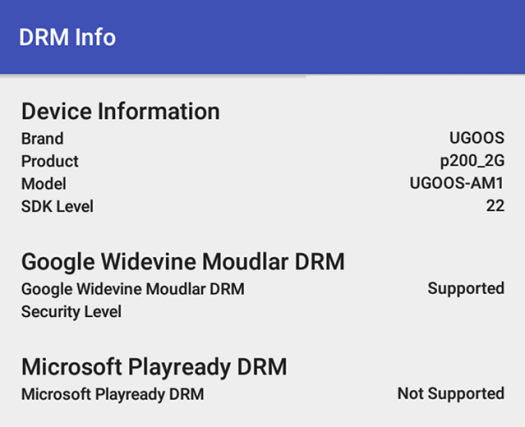 DRM info app indicated that Google Widewine DRM is enabled. The security level is blank, but it's likely to be Level 3 for SD playback.
You can find links to video samples I use for reviews in my "video samples" post, and comments section.
Network Performance
Ugoos AM1 could transfer a 289 MB from a SAMBA over WiFi to the internal flash @ 3.18 MB/s on average with 802.11n @ 2.4 GHz, and 4.34 MB/s using an 802.11ac connection.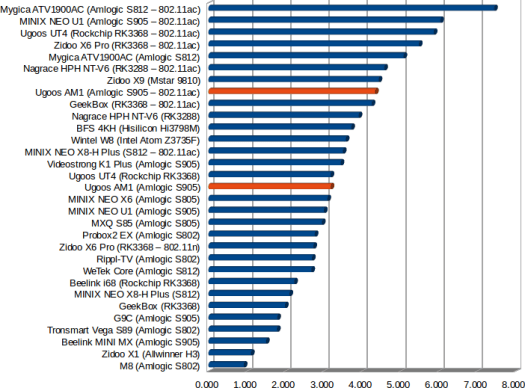 802.11n performance was slightly above average, and 802.11ac performance slightly below average, and both appeared to be stable and with satisfactory performance.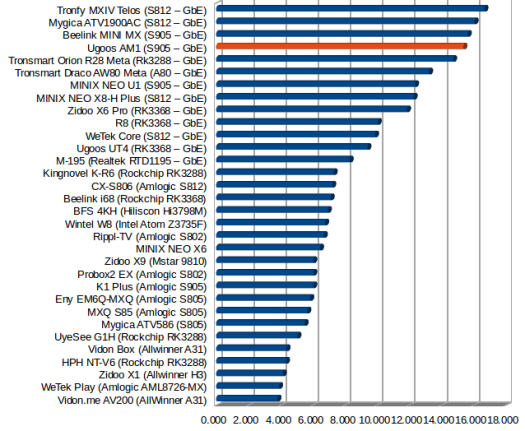 I repeated the same test, using ES File Explorer, and a large file, and on average the system could transfer a file @ 15.39 MB/s in both direction, making it one of the top performer in this test. however, please note that one of the transfers completely stalled, so I had to repeat the test again.
Since transferring a file over Gigabit Ethernet may be highly influenced by the eMMC flash write performance, I normally also run a full duplex iperf test, but AM1's Ethernet connection just failed whenever I ran test, and very quickly, i.e. within 2 seconds. After the test I could still see a Gigabit Ethernet link on my Gigabit switch, but Android would indicate no Ethernet connection, and the only solution I found was to reboot the device. So it looks like while Ethernet usually performs well, there may also be some reliability issues.
Storage
The NTFS and exFAT partitions on a Seagate USB hard drive, and the FAT32 partition could be mounted. However, the infamous 10MB free space bug found in Amlogic Lollipop SDK dies hard, and I could still not copy large files to those partitions, nor run A1 SD Benchmark.
| | | |
| --- | --- | --- |
| File System | Read | Write |
| NTFS | OK | No (10 MB free space) |
| EXT-4 | Not mounted | Not mounted |
| exFAT | OK | No (10 MB free space) |
| BTRFS | Not mounted | Not mounted |
| FAT32 | OK | OK |
Internal storage has both decent read and write speeds @ respectively 38.05 MB/s and 14.16MB/s according to A1 SD Benchmark, and it surely helps making the firmware run smoothly.
Bluetooth
I had no issues pairing my phone to the device, and transfer some pictures, that is until I actually checked the pictures, all of which seemed to have been corrupted during the transfer with some lines shifted and color changes.  I'm not sure what may have caused this. I had a Bluetooth smart watch connected to my phone the first time, so I disconnected it first, and re-tried, but the results was just the same, as you can see from the image below.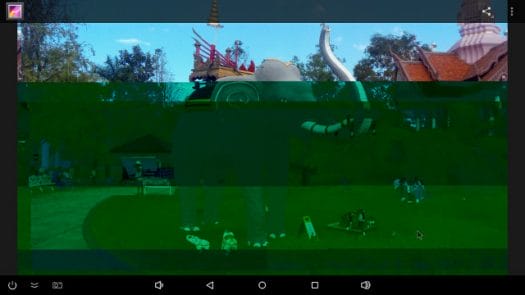 The root options in Ugoos settings is really convenient, and I could configure Sixaxis Controller app to use my PS3 Bluetooth gamepad clone with the device. I also tested Bluetooth Low Energy successfully with F68 smartwatch and its HPlus Watch app, as well as a Bluetoot headeset which I used to watch a music video on YouTube.
Gaming Performance
Since I've tested 3D graphics on several Amlogic S905 platforms already, I focused my testing on how good the system would maintain 3D graphics performance, by playing about 15 minutes with Riptide GP2. I set the graphics settings to the maximum, and the game did not crash like on some other Amlogic  mini PCs, and the game was very playable all the time. So that's one of the positives for Ugoos AM1.
Ugoos AM1 Benchmarks
CPU-Z did not detect anything unusual, and UGOOS-AM1 appears to be a p200_2G platform, just like MINIX NEO U1, which is something you want to keep in mind if you want to try alternative firmwares.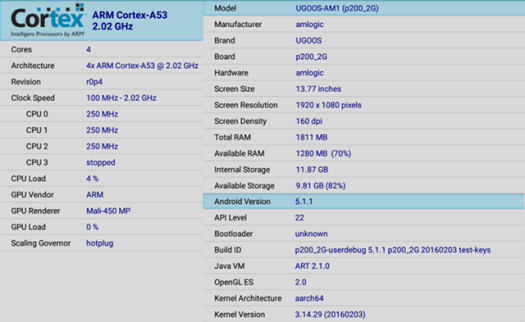 I just run Antutu 6.0.1 performance to make sure the result was as expected, and Ugoos AM1 achieved 35,068 points, which remains  comparable to the 36,741 points for Tronsmart Vega S95 Telos, but a bit short of MINIX NEO U1's 38,032 points, with the latter most probably greatly helped by its ultra fast eMMC flash.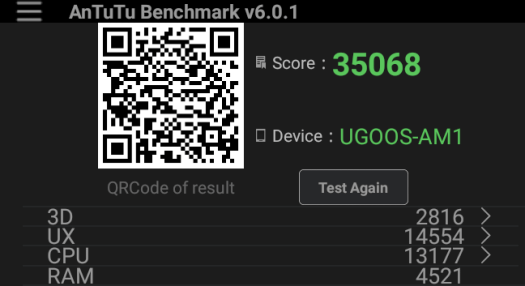 You can get AM1 results details here.
Conclusion
While Ugoos AM1 has a good hardware base with above average storage, WiFi and Ethernet performance, as well as a responsive firmware, there's still some work to be done, as the firmware has some rather embarrassing bugs with the remote control not working with the latest firmware, and one of the USB ports does seem to work, and the pre-installed version of Kodi has disappointing video and audio capabilities. The saving grace here is that I expect Ugoos to get on updating the firmware and fixing bugs over time.
PROS
Responsive Android 5.1 firmware
Video Output – HDMI 2.0 up to 2160p with support for 24, 25, 30, 50, and 60 Hz refresh rates
Pretty good network performance both with WiFi and Ethernet
Relatively fast internal storage read and write speed leading to fast boot time, and load time, and virtually no slowdowns
Root can easily be enabled/disabled in the settings
Performance is high and constant overtime, as tested with Riptide GP2.
Ugoos commitment to provide firmware upgrades
Widevine DRM support (likely Level 3 only)
CONS
The remote control is not working at all with the latest firmware (They've changed the actual remote control, and I had the old model)

One of the USB port is also not working at all, and this could be a firmware issue TBC.
Kodi has various bugs random black screens, some videos playing zoomed in, and some videos that should play well are not. Audio pass-through is also not working in a satisfying manner, limited to DTS and Dolby 5.1 with audio cuts, and complete lack of support for TrueHD and DTS HD
The latest Google Play services will always crash, and if the latest version is not installed, Google Apps like YouTube won't run.
Power off power consumption is higher than sleep power consumption, and USB is not turned off in power off mode.
10 MB free space bug on some USB device is still not fixed
Potential Ethernet instability under high traffic
Images get corrupted during Bluetooth transfer (Unsure of cause yet).
If you'd rather wait for the most critical issues to be fixed before purchasing the device, I'd recommend you to follow Ugoos Blog, where they post news about new firmware updates.
I'd like to thanks Ugoos for sending a review sample. and distributors or sellers wanting to purchase in quantities may contact the company via AM1 product page. Ugoos AM1 is now also available for sale on e-retailers such as Aliexpress for $89.90 with free shipping, GeekBuying for $87.99, ChinaVasion for $74.62 + shipping, or GearBest for $88.74.

Jean-Luc started CNX Software in 2010 as a part-time endeavor, before quitting his job as a software engineering manager, and starting to write daily news, and reviews full time later in 2011.