Last year the FCC rules issues new rules that would prevent installing OpenWRT, DDWRT, or other firmware, but it went viral, and finally the commission launched a consultation with the community which ended by the FCC issued a statement "Clearing the Air on Wi-Fi Software Updates" last November, making the rules more accurate saying that the rules were now "narrowly-focused on modifications that would take a device out of compliance".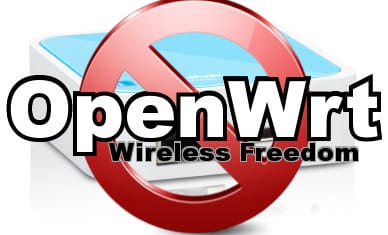 However, one person named Adam recently tried to downgrade his firmware on a TP-LINK router, and the conversion now published on BattleMesh mailing list, makes it clear that the battle for "firmware freedom" may not be over:
Adam: downgrading does not work

I get an 18005 error upon attempting to downgrade. I want to know if this is because of the FCC's rules regarding broadcast strength and DFS control. Has TP-Link complied with these rules and locked down its firmware and if so, for what models I need to know if I am going to continue purchasing devices from you.

Camille09 (Tplink): wait one moment please

Thanks for your waiting, right now only these products has limitation on firmware: Archer C7 V2, Archer C1900 V1, Touch P5 V1, Archer C2600 V1, Archer C3200 V1, Archer C2 V1, Archer C5 V2, Archer C8 V1 ,Archer C9 V1, TL-WR841N V11, TL-WDR3500 V1, TL-WR940N V3.0, TL-WR1043ND V3.0, TL-WR710N(USA), TL-WR841N V9.0 and all products will also limit firmware in the future.

Adam: Wow. Thank you. I'm impressed with your digging And this limitation is due to FCC rule clarifications in 2015? And not some other reason

Camille09: Right, due to FCC

Adam: Thank you very much. Can you explain why the WDR3600 appears to be locked down? Is it possible that your list is not totally updated? And do you have a method or avenue that people who wish to use other firmware have?

Camille09: Yes, wdr3600 as dual band wifi router, is also locked down. And there is no other way to use other firmware. Sorry for that Adam

Adam: Thank you very much, Camille. You've been very helpful
So basically, if you purchase any new TP-LINK router, and probably from any company that sells to the US, it will be locked down now or in the near future, as the companies did not bother to have separate upgradeable and FCC locked-down firmware upgrade process, and AFAIK there's no obvious way to change the firmware. Also, if you update your old router with a new firmware it may be locked down. On the other hand, some people have been buying a few TP-LINK routers recently, and had no such issues, possibly because they were loaded with an older unlocked firmware. There are many discussions about that very issue on BattleMesh mailing list, and while I have not gone through them all, one of the post discusses an action plan to fix *WRT and FCC. All of this is very much work in progress, so we'll have to see how it ends up.
You can also visit savewifi.org to find out more, and possibly help get this getting resolved with the FCC.
Via Slashdot

Jean-Luc started CNX Software in 2010 as a part-time endeavor, before quitting his job as a software engineering manager, and starting to write daily news, and reviews full time later in 2011.