Silicon Labs has introduced three new Wireless SoC families with Blue Gecko for Bluetooth Smart, Mighty Gecko for Thread & Zigbee, and Flex Gecko for proprietary 2.4 GHz protocols. All three families provides up to 19.5 dBm output power & hardware cryptography, and are pin-to-pin and software compatible.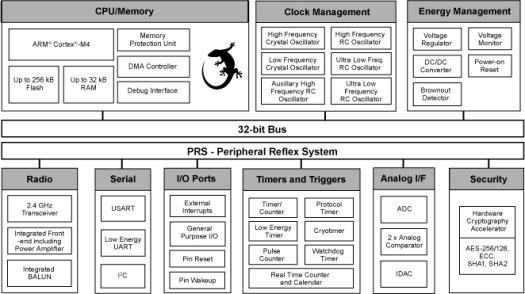 SiLabs Wireless Gecko SoC highlights:
MCU Core – ARM Cortex-M4 @ 40 MHz with FPU, up to 256 KB flash, and up to 32KB SRAM. Mighty Gecko also adds a DSP
Peripherals

AES256/128 Hardware Crypto Accelerator
ADC (12-bit, 1 Msps, 286 µA)
Current DAC (4-bit, Current Source or Sink)
2x Analog Comparator
Low Energy UART
2x USART (UART, SPI, IrDA, I2S)
I2C (Address recognition down to EM3)
Timers : RTCC, LE Timer & Pulse Counter
12-channel Peripheral Reflex System
Up to 31 GPIO

EFR32BG Blue Gecko Family

Bluetooth Smart (Bluetooth Low Energy or "BLE") 4.2 specification as well as proprietary wireless protocols
Supported by Silicon Labs' Bluetooth Smart software stack and BGScript scripting language
Packages – QFN48 (7 mm x 7 mm), QFN32 (5 mm x 5 mm), WLCSP (3.3 mm x 3.2 mm)

EFR32MG Mighty Gecko Family

Multiprotocol SoC solution for low-power 802.15.4 mesh networking
Supports Silicon Labs' ZigBee PRO software stack for ZigBee applications and Silicon Labs' pre-certified Thread protocol stack for IP-based mesh networks
Gives developers the flexibility to select the optimal protocol (ZigBee, Thread, Bluetooth Smart or proprietary) for their IoT applications
Packages – QFN48 (7 mm x 7 mm), QFN32 (5 mm x 5 mm)

EFR32FG Flex Gecko Family

Supports popular proprietary protocol options for diverse applications including M2M links, building automation, security and electronic shelf labels.
Features Silicon Labs' radio abstraction interface layer (RAIL) software easing the complexity of proprietary wireless development by simplifying radio configuration
Packages – QFN48 (7 mm x 7 mm), QFN32 (5 mm x 5 mm)
The Wireless Gecko SoC portfolio is supported by Simplicity Studio development platform including AppBuilder, to configure wireless applications, Desktop Network Analyzer for debugging, and Energy Profiler for profiling energy consumption. The IDE works on Windows, Linux, and Mac OS X.
The company also provided the table below to help customer choose the best 2.4GHz protocol for their application.
Bluetooth Smart
ZigBee
Thread
Proprietary
Network Topology
P2P, Star
Mesh
Mesh
P2P, Star, Mesh
Network Size
2 ~ 10
150 ~ 250
150 ~ 250
Custom
Line-of-Sight Range
375 m
585 m
585 m
585 m (2.4 GHz)
Data Rate
1 Mbps
250 kbps
250 kbps
Custom
IP Support
Yes
No
Yes
No
Low Energy
Yes
Yes
Yes
Yes
Application Examples
Wearables
Fitness/Health
Home Automation
Lighting
Home Automation
Lighting
Smart Metering
Industrial Automation
Home Automation
Lighting
Smart Metering
Industrial Automation
Home Automation
Electronic Shelf Labels
Asset Tracking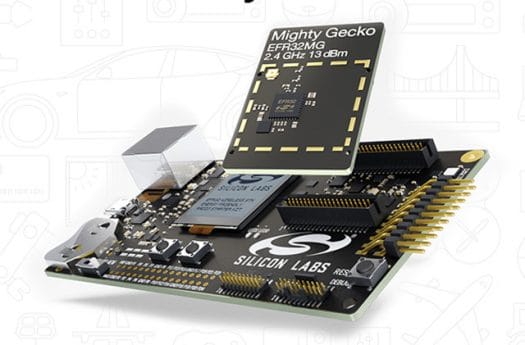 Three development starter kits are available for the Blue, Mighty and Flex Gecko SoCs:
$99 EFR32 Blue Gecko Bluetooth Smart SoC Wireless Starter Kit (SLWSTK6020A) with mainboard, EFR32BG 2.4 GHz radio board (+10.5 dBm), 1x USB A to USB mini-B cable, 1x CR2032 battery, and a EFR32BG Get Started Card
$229 Flex Gecko Starter Kit (SLWSTK6066A) with 2x Wireless starter kit mainboards, 2x EFR32FG 2.4 GHz radio boards (+19.5 dBm), 2x USB A to USB mini-B cables, 2x CR2032 batteries, 2x AA Battery holders, and a EFR32FG Get Started Card
$499 EFR32 Mighty Gecko Starter Kit (SLWSTK6000A) with 3x Wireless starter kit mainboards, 3 x EFR32MG 2.4 GHz 19.5 dBm radio board, 3 x EFR32MG 2.4 GHz 13 dBm radio boards, an AA Battery board (supports running +19.5 from battery), and an integrated debug and packet trace
Wireless Gecko engineering samples are available now in QFN32 and QFN48 packages, with mass production scheduled for Q2 2016. Pricing starts at $2.11 per unit for 100,000-unit quantities for Mighty Gecko SoCs, $2.06 for Flex Gecko SoCs, and $0.99 for Blue Gecko SoCs. More details can be found on SiLabs Wireless Gecko product page.
Via EETimes

Jean-Luc started CNX Software in 2010 as a part-time endeavor, before quitting his job as a software engineering manager, and starting to write daily news, and reviews full time later in 2011.