CNXSoft has already taken some pictures of Eny EM95 Amlogic S905 TV box, so I'll take over from here as I received my ENY EM95 today and I was excited. I have not got a new Android device in a while.
First Impressions
I opened it up to find a tiny box that has a display on it. Seems interesting. While booting it says boot and the rest of the time it shows the time in 24 hour format and a few other indicators that I didn't find particularly useful. In the retail box is the device remote and HDMI cable and power supply. I noticed no micro or mini USB port to flash firmware. I don't have a type A to type A cable so will need to pick one up. I was working from home today so I was able to open immediately and play with it for a few hours. I have only had the stick form factor up until now other than my NVIDIA SHIELD so it was kind of nice to get a remote….I thought. But I immediately put it to the side and connected my Logitech K400. No keyboard layout files so only basic functions with my keyboards right now. I'll add later at least it got me by. Definitely need an air mouse or touchpad with Android.
Fired up Kodi 15.2 that was preloaded (not sure at this point if it is standard or some special build) but immediately bombarded with a ton of add-on updates so I went and worked for 30 min on my day job. I went in and added my collection on my NAS drive. It went off without a hitch and played all my files. Ohh and I only have it hooked up to a monitor with a DVI in so only get video (720p). I pulled out a Jabra Link 510 Bluetooth speakerphone and worked as expected.  All my normal 1080p test vids played without a problem.  I even added my videos from my video camera which up until now only my Shield would play stutter free. (On a side note I went back and tested on s805 device and videos from my HD camera play now) Even my Tvheadend recordings played well.  They are uncompressed mpeg2. About 6 gig an hour. I was using wireless delivered from an AP about 2 feet away. I decided to test by connecting to my AP in the living room about 35' away and it wasn't able to maintain these higher bitrate movies. I went back and checked my video camera videos as well and wireless wasn't able to keep up. Regular H.264 streams at 1 gig an hour played fine. Only thing that I couldn't get working was live TV with Tvheadend on built in Kodi. I will try again later after I clear Kodi back to a clean slate. (I went back and Tvheadend is broke in the built in Kodi.)
One thing I noticed is that it is super aggressive on killing background processes. Just to go from Kodi to settings and change Wi-Fi settings, Kodi would restart.
It is rooted (yay)
Specs
Eny EM95 specifications:
SoC –  Amlogic S905 quad core ARM Cortex-A53 @ up to 2.0GHz with quad core Mali-450MP GPU up to 750MHz
System Memory – 1GB DDR3 (Option: 2GB)
Storage – 8GB NAND flash (Option: 16GB) + SD card slot
Video Output – HDMI 2.0 up to 4K @ 60Hz with support for CEC and HDCP 2.2 , AV output
Video Codecs – H.264, H.265, HD AVC/VC-1, HD MPEG1/2/4, RM/RMVB, Xvid/DivX 3/4/5/6, RealVideo 8/9/10 up to 4K resolutions
Audio – HDMI, AV, optical S/PDIF
Connectivity – 10/100M Ethernet (Optional Gigabit Ethernet), Wi-Fi @ 2.4GHz, Bluetooth 4.0
USB – 3x USB 2.0 host ports
Misc- Power LED, LED display on front panel
Power Supply –  DC 5V/2A
Updating and Testing
I updated to SD card version that is labeled EM95_20160121.rar. I struggled to update following the instructions provided. When you update by SD card you copy a few files to an SD card. One of them tells recovery what to do. I had to remove this and do it by hand just a few menu options and a few minutes later it was updated.
I ended up making a Type A to Type A cable to flash img firmware. I sacrificed 2 USB cables, cut them and connected the corresponding colors. I did leave the red power disconnected which was fine at first. Later I ended up making a mistake and bricking the device. I disconnected power in the middle of a flash. Ugh…. but after several hours and using different methods with SD cards I took the cable apart and connected the red and I was able to flash again with Amlogic's img burning tool. The familiar windows notification was a blessing when I heard it. I would call this box unbrickable. Even with a homemade cable I had no problems flashing and had no corruption.
To flash load the img in the burning tool and press start. Connect the USB cable which will power the box on then immediately connect the supplied power adapter.
Video
This thing plays everything that I tried that I had trouble with initially on previous boxes. My testing was done from a NAS drive. Not a very good one it doesn't give massive throughput. I max out at 17 MB/s to a PC over wire. When trying to super high bitrate movies Wi-Fi wasn't sufficient. I had to connect at gig speeds to play. After initial buffer Tears of Steel played without a hitch.
I ended up removing the Kodi that came on the box and installing 16.0 from the play store.
| | | |
| --- | --- | --- |
| | Kodi 16.0 | MX Player |
| big_buck_bunny_1080p_H264_AAC_25fps_7200K_short.MP4 | ok | ok |
| big_buck_bunny_1080p_MPEG2_MP2_25fps_6600K_short.MPG | ok | ok |
| big_buck_bunny_1080p_MPEG4_MP3_25fps_7600K_short.AVI | ok | ok |
| big_buck_bunny_1080p_VC1_WMA3_25fps_8600K_short.WMV | ok | ok |
| big_buck_bunny_1080p_VP8_VORBIS_25fps_7800K_short.WebM | ok | Stutters |
| Ducks Take Off [2160p a 243 Mbps].mkv | Doesn't play | OK but network can't keep up stutters |
| jellyfish-120-mbps-4k-uhd-hevc-10bit.mkv | almost plays | Almost Perfect. Perfect from external SD |
| Samsung_UHD_Dubai.ts | ok | Locks up after a few seconds |
| tears_of_steel_4k_H264_24fps.mov | ok | Locks up after a few seconds |
| tears_of_steel_1080p_H264_24fps.mov | ok | ok |
| 140626_4k_hm130_4s_sao_dbf_qp27.265.mpeg | Doesn't play | ok |
| 140803_4k_hm130_4s_sao_dbf_qp27.265.mpeg | Doesn't play | ok |
**Movies delivered from NAS Drive via Gig network.
Audio pass-through and S/PDIF were difficult for me to test. I had never really played with it so I had to do a lot of research. I had to look up manuals for my TV and receiver and it should work. I had relatively good luck with S/PDIF directly to my receiver. I was able to get DTS working with a tick/thump periodically coming out the speakers while using Kodi. In MX player it works. But I really wanted to connect my TV to my receiver via S/PDIF then plug HDMI from the box so all i have to do is turn on my receiver and don't have to go into settings.  The only thing that works is 2 channel audio, DTS gives me static out the speakers.  I am OK with prologic but I know a lot of people want DTS.
Peripherals
My Logitech webcam worked as expected, as well as a USB thumb drive, and all my keyboards: K400, RII knockoff, C120 (not pictured below…remote of choice at our house and wife was using it while taking the picture). The USB hard drive has the 10 MB issue. The 10 MB issue is where external hard drives look like they have only 10 MB of free space and you can only read from them. It is present in all s905 boxes. I also tried my Dell touchscreen monitor but it didn't work. It requires quanta hid drivers to be turned on. I am really surprised they don't add this to the kernel because it is a popular touchscreen interface.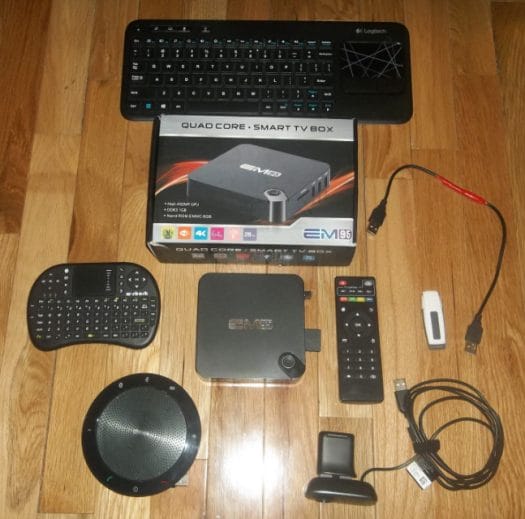 Benchmarks
I have to admit I am not a big benchmark person. They can give you a good idea of how devices perform but prefer a more subjective approach. It boots in about 30 seconds, and I got about 36k on the newest Antutu.
| | | | |
| --- | --- | --- | --- |
| Scenario | Size in MB | sec | MBytes/sec |
| From NAS to Internal SD over Wi-Fi | 1575.246 | 669 | 2.354628 |
| From NAS to Internal SD over gig Ethernet | 1575.246 | 191 | 8.247361 |
| From NAS to External SD over gig Ethernet | 1575.246 | 146 | 10.78936 |
| From Internal SD to External SD | 1575.246 | 146 | 10.78936 |
| From External SD to Internal SD | 1575.246 | 191 | 8.247361 |
Apps
Results for several apps:
Kodi 16.0 OK
Netflix Only SD
Team Viewer Quick Support with remote viewing OK
Asphalt 8 OK
Riptide GP 2 OK
YouTube 1080 OK
Google Play Movies Playback isn't supported on this device
Crackle OK
Hulu OK
Plex OK
Modding
So there are some what I call issues with the rom…too much bloat…Kodi loads all these add-ons, no navigation bar, or menu bar. KL files missing. KL files are keyboard layout files that map all the buttons on keyboards. All the special functions including play, pause, volume up and down, Home etc . Aggressive background app killer. Most of these are present on these android devices and not just this one. I am accustomed to cleaning them up.
After loading I installed ES File Explorer, Google Now Launcher, System App Remover root and cleaned all the apps that I didn't want/need. Added my keyboard layout files for my hid devices and after researching deleted /system/etc/allowbackgroundapp.list….I was poking around the file system and after experiencing the hostile background app killer googled the file name….some evil genius on 4pda deleted the file and it did the exact opposite what I thought it would do and now background apps persist….I thought initially I was going to have to add all my apps to this.
I also loathed the lack of a navigation bar and status bar so I took systemui.apk from another rom…modified it and added qemu.hw.mainkeys=1 to build.prop
Now I have a proper android build..Nice and clean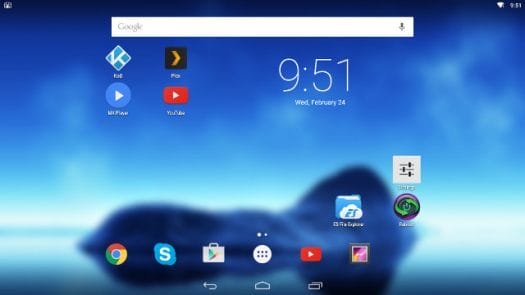 Wrap Up and 4K
I am really pleased with the device. It played every 1080p video that I threw at it. Overall the system works and performs well. It gets a little laggy occasionally but only when doing a lot. Chrome is probably the worst. I believe all this can be sorted out in the coming months. For as short a time s905 has been on the market it is doing well. Amlogic is addressing issues quickly and ENY is patching their img. I would really like to try a box with 2 gig of memory to see if that needs to be the new minimum. Now for 4K…..Sure it can play 4K content…..but where do you get it…Netflix…nope not going to happen. Amazon….nope not going to happen. There are a few others but I doubt they will work on these kinds of devices. Only option I found was torrents but who wants to do that. If in the market for an inexpensive box I would suggest this over an s805 any day. Everything is faster and the cost difference is not much. Gig Ethernet and faster NAND are worth the couple extra bucks difference. But if your only purpose is to consume 4K content I would look at another device.
Distributors and resellers can contact Eny for requests or purchasing in quantities via EM95 product page. Individuals can purchase the device on Aliexpress for $52 and up including shipping.
This is my first review ever…I used the box for about a month…if you have any additional things you would like for me to test let me know in the comments below and I will be glad to do it.

Karl is a technology enthusiast that contributes reviews of TV boxes, 3D printers, and other gadgets for makers.