We've already taken Xiaomi Mi Box 3 Enhanced TV box apart in the unboxing and teardown post, and after changing the language to English, seen the performance is excellent thanks Mediatek MT8693 hexa-core processor, so I've done further experiments and tests with the device, and will report my findings in this review.
Settings and Power Handling and Consumption
Mibox 3 Enhanced boots reasonably fast I can get to the user interface within 30 seconds. We've already the main GITV user interface in previous posts, but I had not gone through the settings yet.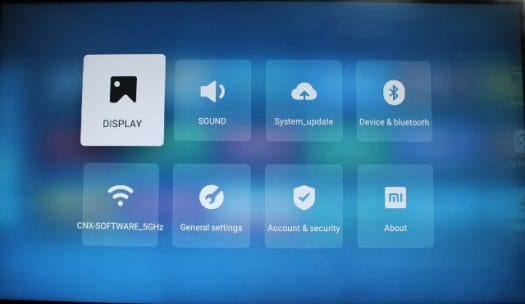 There are eight main sections:
Display

Resolution settings – 3840×2160 @ 60/50/SMPTE24/30/24 Hz, 1080p @ 60/50 Hz, 720p @ 60/50 Hz,
Scale and position – For overscan adjustment

Sound

Button sounds – On/Off
Sony/Philips Digital Interface Format – PCM/Raw data (actually used for HDMI audio pass-through)

System_update – MIUI TV firmware OTA update
Device & Bluetooth – Bluetooh device management with list of discovered or/and paired devices
Connectivity – WiFi , PPPoE, Connectivity and speed testing, and "Captive portable check"
General settings

Parental control – On/off
Keyboard – Baidu input or Mi Input (Better go to Android settings using Shafa market to set yhat to English AOSP)
Device name
Location (only for China)
CEC control (On/off)
Factory reset
Screensaver – Off, 2 to 12 minutes timers, gallery…
Go to sleep after – 15, 30, 60, 90, 120 minutes or never
Storage (Chinese language about U-disk) – On or off

Account & security – Mi account, Unknown sources (apk installation), Android log, and some other settings in Chinese
About – Various info about the device such as WiFi and Bluetooth addresses, IP address, Model, legal info and so on.
OTA ipdate is working fine, as I updated mine to MIUI TV 1.4.6 before changing the language, and I could also set video output up to 3840×2160 @ 60 Hz using LG 42UB820T UHD television.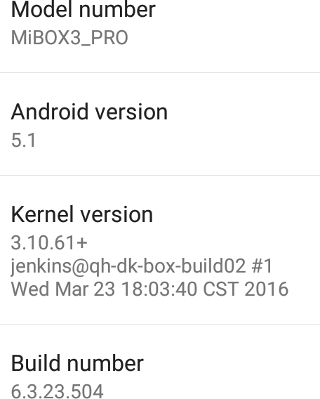 We can also find a bit more information by going to the Android settings through Shafa market, which you need to install to change the language to English. Fir the Home section usually allows you to install another launcher and switch to it by default, but Xiaomi must have changed how this works as even after installing SPMC (launcher version), and Ugoos TV launcher, I could not switch to them, although there were listed in the Home menu.
One good thing is that there's a single (unified) storage partition for both apps and data with 5.37 GB total space, and at the end of the review I still had 2.03 GB available after install all apps.
The "About phone" section shows MiBOX3_PRO is running Android 5.1 on top of Linux 3.10.61+. The firmware is not rooted, but I managed to root it using 360 root apk. You just need to install the app, and run it, and it will root your device. It's quite possible it's also trying to install some junk at the same time, but you can always remove it later.
Google Play Store is not installed either, since the product is destined for mainland China, and they don't really use it there. I tried various instructions to install it, but all failed, and for some reasons I ended up losing the ability to take screenshots via the USB keyboard, screencap -p command line produces garbage, and other screenshot apps failed to run. I could still install Amazon Underground, and then install some apps from there, as well as sideloading some apks for testing. Not ideal, but it works.
The included Bluetooth remote works well, and has good range as I tested up to 10 meters without issues. However, I  used an air mouse for most of the time, since it's necessary for many apps.
The remote control can be used to reboot or put the device into standby., but there's no power off options. Power consumption is a bit on the high side:
Standby / sleep – 3.2  Watts
Idle – 4.0 to 4.2 Watts
Standby/sleep + USB hard drive – 6.2 to 6.4 Watts
Idle + USB hard drive – 7.3 to 8.0 Watts
The number are quite high, and I waited a few minutes before noting the measurements to make sure there wasn't any background tasks affecting the results.
The heatsink and fan do their job well, and the temperature was always around 43 C during testing on top and bottom of the case as measured with an IR thermometer. I could seldom hear the fan, and I only got noisy during reboot, when it starts spinning really fan for a few seconds.
The firmware and system is indeed fast, and reliable, but you have to do a lot of hacking around to make it more user-friendly outside of China.
Kodi 16 (SPMC 16.1.2) on Mi Box 3 Enhanced
Mi Box 3 Enhanced, and previous Mi Box devices, are mostly designed to stream series and movies to Chinese users, and I've quickly tried that part. It works for Chinese content, but some movies and all foreign content appears to be blocked due to location restrictions, and some content requires payment.  I watched some free content, and I was surprised about the lack of buffering and good quality (HD). If you have troubles with buffering, you can also easily select SD resolution with lower bandwidth requirements. But again this is basically only for Chinese (Mandarin) speakers.
So in order to test video playback, I installed SPMC 16.2.1 (launcher) apk. I was not expecting much since I did not think Mediatek media processors were officially supported by Kodi, but we'll see below the results are not fantastic, but not too bad either, maybe because of some earlier work with Amazon Fire TV 2015 Box based on Mediatek MT8173 processor.
I played the videos over a SAMBA share using an 802.11ac WiFi connection, since the box hasn't got any Ethernet port. In case of issues related to buffering, I repeated the test using an USB hard drive (HDD).
1080p Linaro media samples and Elecard H.265 sample:
H.264 codec / MP4 container (Big Buck Bunny) – 1080p – OK
MPEG2 codec / MPG container – 1080p – OK
MPEG4 codec, AVI container 1080p – OK
VC1 codec (WMV) – 1080p – OK
Real Media (RMVB), 720p / 5Mbps – OK (Software decode)
WebM / VP8 1080p – OK
H.265 codec / MPEG TS container (1080p) – OK
Automatic frame rate switching does not work, even when enabled in Kodi.
Next some video with various bitrates:
ED_HD.avi

(MPEG-4, 10 Mbps) – OK (software decode)
big_buck_bunny_1080p_surround.avi (1080p H.264 – 12 Mbps) – OK
h264_1080p_hp_4.1_40mbps_birds.mkv (40 Mbps) – OK
hddvd_demo_17.5Mbps_1080p_VC1.mkv (17.5Mbps) – Not perfectly smooth
Jellyfish-120

-Mbps.mkv

(120 Mbps video without audio) – Net: Slow motion, HDD: OK
Then I tested multi-channel audio format using PCM or Raw output with Onkyo TX-NR636 A/V receiver. The videos have quite a high bitrate, so I had to switch to HDD for several samples to avoid slow motion playback or/and buffering.
| | | |
| --- | --- | --- |
| Audio Codec used in Video | PCM Output | HDMI Pass-through |
| AC3 / Dolby Digital 5.1 | Audio OK, but video with many green and read horizontal lines | Audio OK, but video with many green and read horizontal lines |
| E-AC-3 / Dolby Digital+ 5.1 | OK | OK |
| Dolby Digital+ 7.1 | OK | OK |
| TrueHD 5.1 | OK | No audio (PCM 2.0) |
| TrueHD 7.1 | OK | No audio (PCM 2.0) |
| Dolby Atmos 7.1 | OK | No audio (PCM 2.0) |
| DTS HD Master | OK | DTS 5.1 |
| DTS HD High Resolution | OK | DTS 5.1 |
| DTS:X | OK | DTS 5.1 |
So not the ideal device if you own a 7.2 A/V receiver. If you own a 5.1 A/V receiver, you can still transcode TrueHD audio to Dolby D 5.1 with the corresponding options in SPMC.
4K video was a mixed bag:
HD.Club-4K-Chimei-inn-60mbps.mp4 – Not smooth at all after a while

sintel-2010-4k.mkv – Net: Not smooth for the first 20 seconds or so, and after OK. HDD: OK
Beauty_3840x2160_120fps_420_8bit_HEVC_MP4.mp4 (H.265) –  OK
Bosphorus_3840x2160_120fps_420_8bit_HEVC_MP4.mp4 (H.265) – OK
Jockey_3840x2160_120fps_420_8bit_HEVC_TS.ts (H.265) – OK
MHD_2013_2160p_ShowReel_R_9000f_24fps_RMN_QP23_10b.mkv (10-bit HEVC) – OK
phfx_4KHD_VP9TestFootage.webm (VP9) – 4 to 5 fps

BT.2020.20140602.ts

(

Rec.2020

compliant video; 36 Mbps) – Net: Some audio cuts, and dropped frames. HDD: OK
big_buck_bunny_4k_H264_30fps.mp4 – OK
big_buck_bunny_4k_H264_60fps.mp4 – Not smooth and massive audio delay
Fifa_WorldCup2014_Uruguay-Colombia_4K-x265.mp4 (4K, H.265, 60 fps) – OK
Samsung_UHD_Dubai_10-bit_HEVC_51.4Mbps.ts (10-bit HEVC / MPEG-4 AAC) – Network: Audio only works for about 2 seconds. HDD: OK
Astra-11479_V_22000-Canal+ UHD Demo 42.6 Mbps

bitrate.ts

(10-bit H.265 from DVB-S2 stream) –  Not smooth, several artifacts.
暗流涌动-4K.mp4 (10-bit H.264; 120 Mbps) – Not smooth, massive artifacts, and audio cuts.
Ducks Take Off [2160p a 243 Mbps].mkv (4K H.264 @ 30 fps; 243 Mbps; no audio) – HDD: Slow motion maybe 4 to 5 fps.
Sintel-Bluray.iso  played well, but for some reasons, amat.iso played with some "frame jumps" as a the video would jump back 1 second or so from time to time.
My two hi10p anime video samples, namely [Commie] Steins;Gate – NCED [BD 720p AAC] [10bit] [C706859E].mkv and [1080p][16_REF_L5.1][mp3_2.0]Suzumiya Haruhi no Shoushitsu BD OP.mkv could play flawlessly with audio, smooth video, and subtitles. The trick is that SPMC defaults to software decoding, and Mediatek MT8693 processor is fast enough to handle these.
I played some 3D videos with the caveat that my TV does not support 3D, but my A/V receiver does show a 3D icon when MVC video are played in 3D:
bbb_sunflower_1080p_60fps_stereo_abl.mp4 (1080p Over/Under) – Not perfectly smooth
bbb_sunflower_2160p_60fps_stereo_abl.mp4 (2160p Over/Under) – Artifacts, and not smooth at all (software decode)
Turbo_Film-DreamWorks_trailer_VO_3D.mp4 (1080p SBS) – OK
3D

-full-MVC.mkv

(Full-frame packed MVC 3D MKV) – 2D mode only (no 3D icon shown on Onkyo receiver), and not smooth at all.
ISO-full3D

-sample.iso

(Full-frame packed MVC 3D ISO) – 2D mode only (no 3D icon shown on Onkyo receiver)
I played a bunch of other videos including DiVX, Xvid, FLV, MKV, H.264, VOB/IFO, MP4, etc.. and they could all play, except for some FLV videos that would just show a black screen with audio.
Mi Box 3 got has respectable 972 points in Antutu Video Tester 3.0.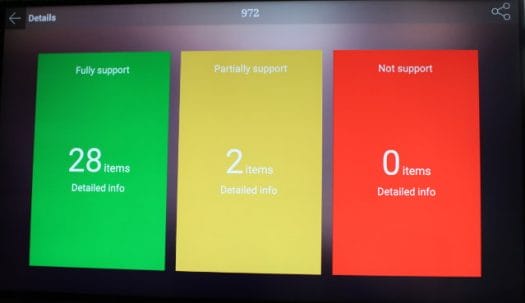 Finally DRM info shows Wideviwe version 1.0 Level 3 is supported with unprotected HDCP.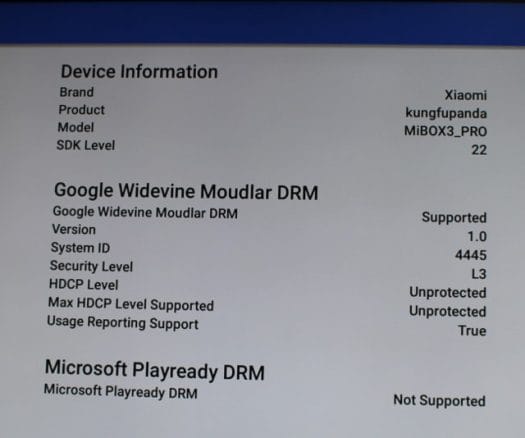 WiFi Performance
Since the device does not have an Ethernet port, it's better to connect to an AC router for optimal performance. I've done so and it the usual test transfer a 278 MB over SAMBA using ES File Explorer several times, and WiFi 802.11ac performance is outstanding with 11.2 MB/s on average, clearly above the competition, at least with my setup.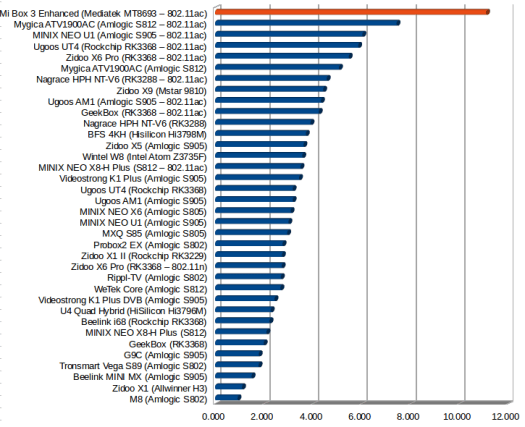 Miscellaneous Tests
Bluetooth
Since the system is sold with a Bluetooth remote control, Bluetooth connectivity is obviously working. I could transfer pictures from my smartphone to the box, and could pair to Makibes F68 smartwatch in the settings. However, HPlus Watch, the smartwatch app, failed to find the watch. Mi Box 3 could not find my Bluetooth headset either.
Storage
NTFS and exFAT paritions on my USB hard drive could be mounted successfully, but I did have to wait a few minutes to see the exFAT partition in ES File Explorer. the exFAT partition was also read-only due to permission issues.
| | | |
| --- | --- | --- |
| File System | Read | Write |
| NTFS | OK | OK |
| EXT-4 | Not Mounted | Not mounted |
| exFAT | OK | permission issues |
| BTRFS | Not mounted | Not mounted |
| FAT32 | OK | OK |
So I only ran A1 SD bench to check the throughput for NTFS partition (/storage/usbotg/usbotg-sda1), and the results were decent for a USB 2.0 port with 32.28 MB/s and 21.79 MB/s read and write speeds.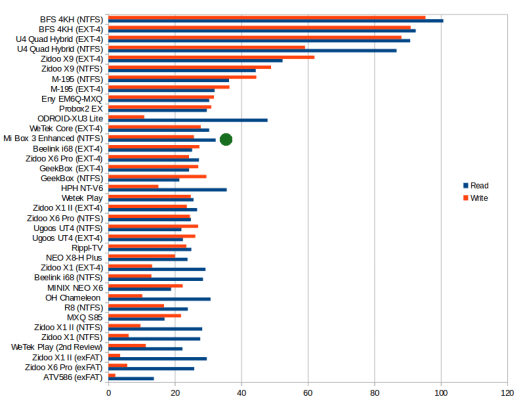 The internal storage is very fast with 90.42 MB/s read speed and 25.75 MB/s write speed.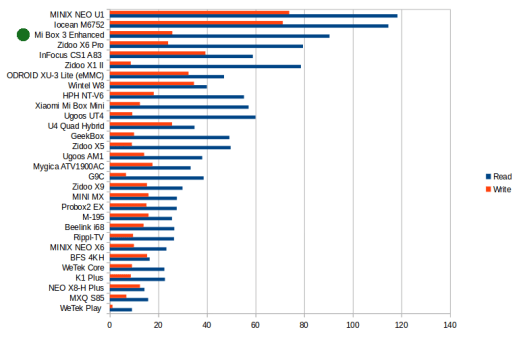 Gaming
As we've seen with Mi Box 3 Enhanced Benchmarks, and contrary to other device I've tested, 3D graphics performance is impacted by video output, despite the frame buffer resolution being always set to 1920×1080, probably because of a bug in the firmware. So it's important to make sure the video output is set to 1920×1080 before playing games in this device, and not 3840×2160 since the resolution is limited to 1920×1080, and 4K video output will impact graphics performance.
So I've done all my gamings test at 1920×1080 @ 60 H. I played Candy Crush Saga with an air mouse, and no surprise here, it went all smoothly. Then I switch to Tronsmart Mars G01 wireless gamepad to play both Beach Buggy Racing and Riptide GP2 for about 15 minutes each, and the games were much smoother than on any other Android TV boxes I've recently reviewed, and at least for Riptide GP2 better looking, probably because of some extra GPU capabilities.
Conclusion
Xiaomi Mi Box 3 Enhanced has an amazing performance with regards to WiFi, internal storage, CPU and GPU performance thanks to Mediatek MT8693 Cortex A72 processor, and other selected components. I could feel performance is clearly above the rest of Android TV boxes I tested, and for $80, you truly get an amazing performance per dollar. The main downside however, is that it has been design for the Chinese market, so you have some modding to do to get a more pleasurable experience, some of which I did not manage such as installing the Google Play Store and changing the default Launcher. Video playback with Kodi is not too bad, but not quite matching the performance of MINIX NEO U1 for example, and audio pass-through is limited to 5.1 channels. So it may not be the best as a media player, but it could be very good as an Android mini PC once/if a community firmware is released.
PROS
Stable and ultra fast firmware
Likely the fastest Android TV box that you can buy for less than $80 thanks to Mediatek MT8693 2x Cortex A72, 4x Cortex A53 processor. See benchmarks for details.
Very good internal storage performance leading to fast app loading time, and zero slowdowns
Fastest 802.11ac WiFi I've ever seen
Very 3D graphics performance with high frame rate, and better looking games (with 1080p video output)
Video Output – HDMI 2.0 up to 2160p 60Hz; 24/25/30/50/60 Hz refresh rates supported

Kodi is working decently,  5.1 channel pass-through support, and high Antutu Video Tester score (972 points)

Widewine Level 3 DRM supported
OTA firmware working (but it might not be something you want here).
CONS
Chinese user interface only, but you can change the language if needed.
No Google Play Store, and installing it on the device is non trivial.
Not obvious way to change the Launcher
Lack of Ethernet port
No power off mode (only standby/sleep), and relatively high sleep/standby power consumption (4 watts to 6 watts)
Some issues with Bluetooth to connect to my smartwatch and Bluetooth headset
HD audio codec (DTS HD, Dolby TrueHD) are not supported for HDMI pass-through
3D MV videos are not supported
If you want to try to install the Play Store or hack the firmware in other ways, you could also try checking this out on Xiaomi Mi Box forums in English, but you'll obviously get more support on some Chinese forums.
I'd like to thanks GearBest for giving me the opportunity to review Xiaomi Mi Box 3 Enhanced, and if you are interested, you could purchase it from their store for $79.99 including shipping. It's also available for about $85 on GeekBuying, and Aliexpress.

Jean-Luc started CNX Software in 2010 as a part-time endeavor, before quitting his job as a software engineering manager, and starting to write daily news, and reviews full time later in 2011.