VR SKY CX-V3 is an Android virtual reality headset powered by Allwinner H8vr processor and featuring a 1080p display. I had read VR requires 2K or 4K displays to be useful, but since that's my very first VR headset, if we don't count the a Google Cardboard clone as one, I did not mind testing one with a 1920×1080 display, and it ended up being an interesting learning experience.
I've already shown the hardware with the various buttons, touch interfaces and lenses in the headset, as well as accessories like the charger and headphone in the first part of the review, so today, I'll go through the interfaces, what works, and mention the issues I had with the device.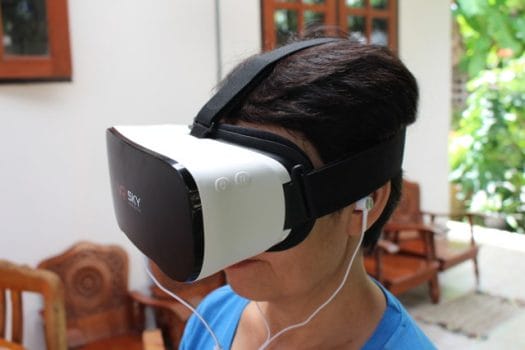 If you've never used a virtual reality headset before, you'll definitely want to read the user manual, which for once is written in proper English, both for entertainment value, and learn how to actually use it. They must have been inspired from other VR headset manuals, as the health and safety warnings have a North American touch to them.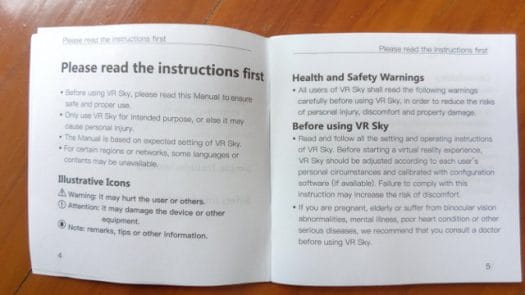 You are even suggested to consult your doctor if you are pregnant, elderly, or suffer from a list of various diseases. Other pages mentions convulsions occurring for one in 4000 persons, and all sort of potential for injuries. It almost makes you regret your purchase, and give second thoughts about actually using the device.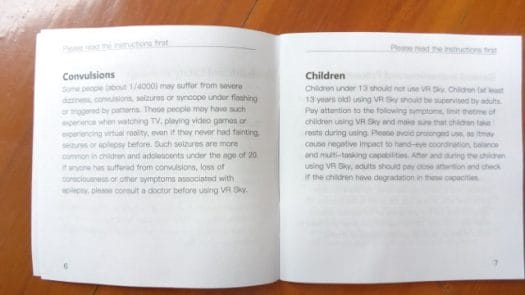 Childern under 13 years old should not use the headset without adult supervision, and avoid prolonged use. I totally agree with the latter though, but it's not really comfortable to use for extended period of times due to head and eye strains. There are about ten pages about potential hazards and health issues.
The manual also explicitly warns that:
When you are wearing glasses, do not wear VR Sky. Doing so may lead to facial injuries. If you need vision correction lenses, it is recommended, it is recommended that you wear contact lenses using VR Sky.
My myopia is too strong to use the headset without correction, and since I'm not going to wear contact lenses, I called the warning "BS", and tried using it with my glasses.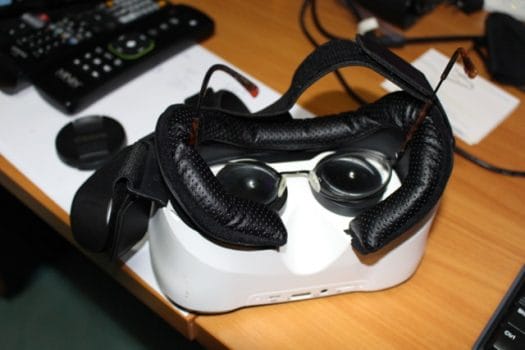 I had no particular issues doing so, but obviously it's tight, and how well it fits will depend on your glasses' dimensions. The headset does not push the glasses down, so there's no added pressure on the nose, as long as you set the head straps properly.
After having charge the headset with the provided charger, or any 5V phone charger, it's time to press the power button to get started. The boot should complete in less than one minute, and you will be in Nibiru 360 degree user interface.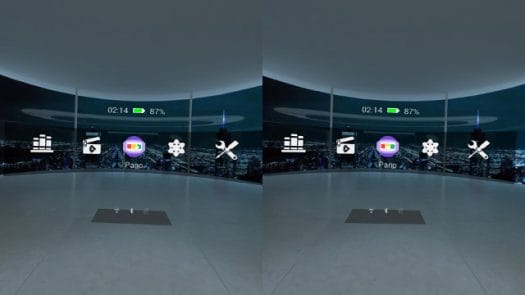 Since we have a 1920×1080 display, you'll have one 960×1080 image in each eye, which explains the look of the screenshot above. You are located in a room with sofa, tables and lights on the back, and large windows with night view on the city, and you can move head left and right and up and down will allow you to navigate in the menu with five icons: Apps, Theater, Pano, Photos, and Tools. Theater app will put you in an actual theater and stream from a list of 2D or 3D videos, and Pano app (shown below) will do something similar but for 360 & VR videos, and requires you to download videos before playing. All preinstalled apps worked well, but content is not really exciting, as those are only demo videos.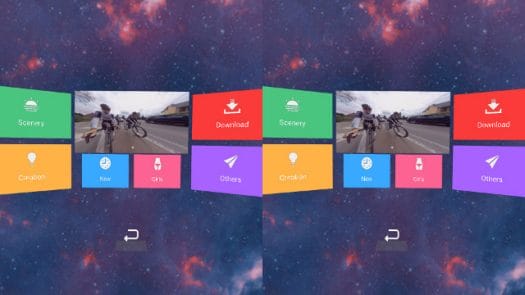 Before going a bit more through the user interface and apps, let's get familiar with the user inputs on the headset.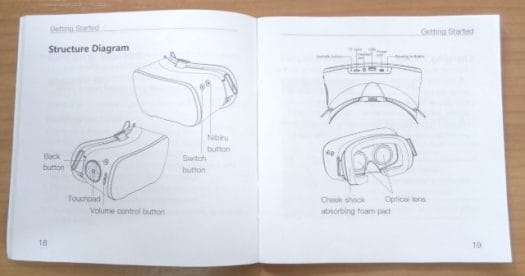 On the left side of the headset, we have the switch button (power on/off & standby), and the Nibiru button used to enable/disable the mouse pointer, brightness adjustment, switch to VR mode (aka 3D mode), and close the app.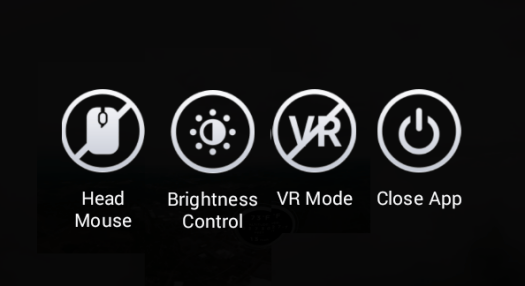 On the right side, we'll find the touchpad, similar to a D-Pad with OK button in the center, and used browsing menu left <-> right, and up <-> down, the back button, as well as the volume buttons.
Nibiru main user interface always have a selection dot, so you don't need to enable "head mouse" mouse, but in many apps you'll need to enable the mouse pointer and control it with head movement.
In order to do anything useful with the headset, you'll need to configure WiFi first. To do so, enter Tools->Settings menu, and select WiFi.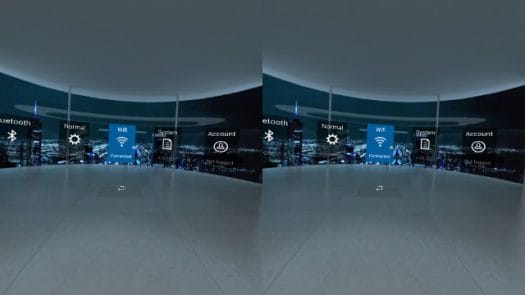 It should list available access point, and you can input the password using the software keyboard using both head movement, and the center of the touchpad to validate each character.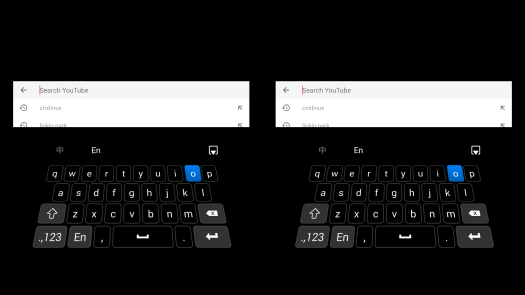 I had no problem connecting to WiFI. The first time it's quite fun to type text that way, but it's quite slow, and very soon it will become frustrating. So I connected a USB keyboard instead, and look though the opening around the nose, or lifting the headset, in order to type. That's where using a smartphone + VR headset kit proves more convenient than all-in-one solutions, as first setup and app installation is much easier that way. In theory voice search would help, but Google Search app could not hear me at all through the provided headset which appears to include a microphone.
I went to the list of app, start Google Play Store, logged in with my credentials, and went to my PC on play.google.com to installs to "Allwinner Eagle" device, which is how SKY VR CX-V3 is recognized.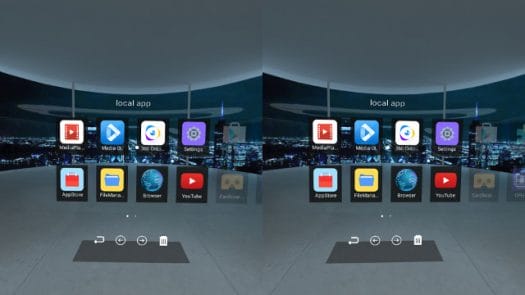 It worked quite well as I could install Cardboard, a few other virtual reality apps, Asus File Manager to copy files to/from my computer, Kodi 16.1, CPU-Z, and Antutu, but no Antutu 3D.
CX-V3 kit is also supposed to supported OTA firmware update, and when I click on "Check online", it's telling it has add a file to the download queue, but after one day, I still did no get a new firmware. Maybe I missed something here.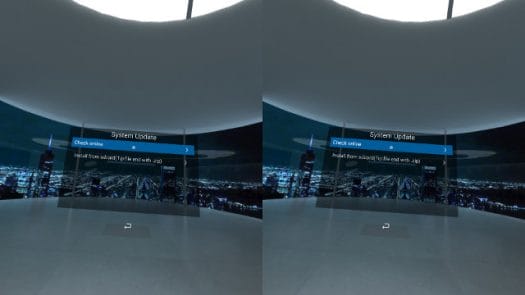 So I used the default firmware for review: Nibiru 2.00.001 apparently released on June 14, 2016. The model number is VR0061.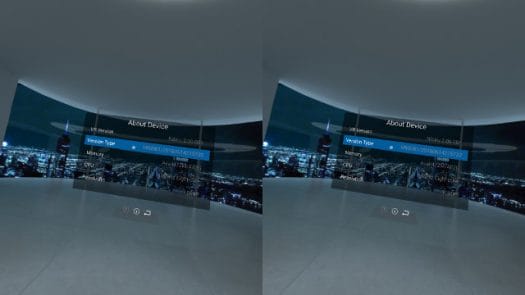 Let's play with Google Cardboard app now, which had no problem detecting my VR kitas Nibiru OSVR0061.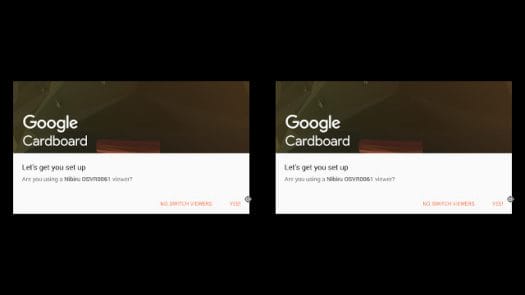 But then I would see two nearly identical mirror images in each eye with a bar in the middle. That's where you need to press the Nibiru button and enable VR mode in order to enter 3D mode. The only problem is that if I keep my two eyes opened the results will show an overlapped image, and that's when I discovered a big problem with that headset: fixed IPD (Inter-pupil distance) allegedly set to 64mm, which means it can't be calibrated. I asked somebody else to try, and they said it worked just fine for them. We measured the distance between the center of each pupil to be 65mm for me, and 60 mm for the other person. So when you purchase a virtual reality headset make sure it supports "adjustable IPD", or it may not work properly with virtual reality applications. This won't be a problem to navigate the menus, watch 360 degree videos, or even 2D videos. Some 3D/VR video play just fine, while others will exhibit the same issue.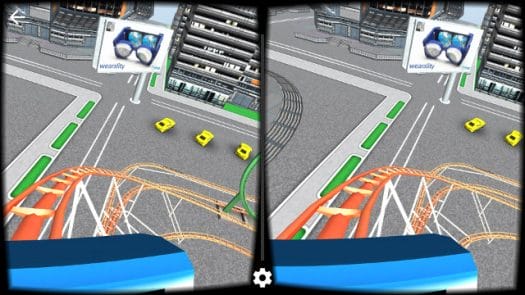 I tried again with another Virtual Reality app from the Google Play store, namely, VR Roller Coaster, and I had the same issue.
So I can't use VR applications due the space between my eyes being too bad, but I surely can play 360° Videos in YouTube. Except I could not do that either. The cardboard icon normally shown in 360° Videos in my smartphone (as shown below) could not be seen in the YouTube app running in the virtual reality headset.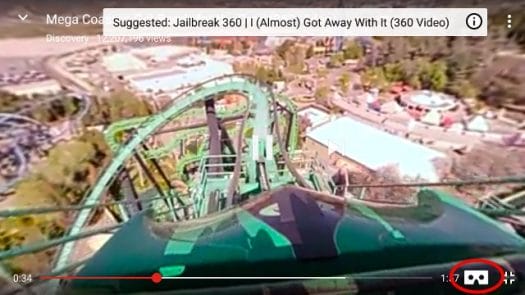 That means I would see all pixels of the video in a rectangle, so pretty much useless.
I could also install Kodi, and play 2D videos without issues, except they all look like SD resolution to due the display. I tried some 3D videos stereoscopic videos (under/over and side-by-side) and 3D MVC videos, but It did not work even after enabling 3D support in the app. I think this type of device is not suitable for this type of videos. I'm here to learn, if you know do let me know what kind of 3D video I could use…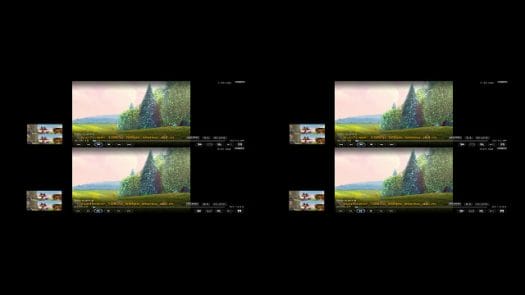 Finally, in the name of science, I side-loaded two apps for people old enough to drive without being accompanied, and while the apps could run, and I could navigate through the list of videos, both would crash when starting streaming…
I'll complete this review by showing some of the information returned by CPU-Z app.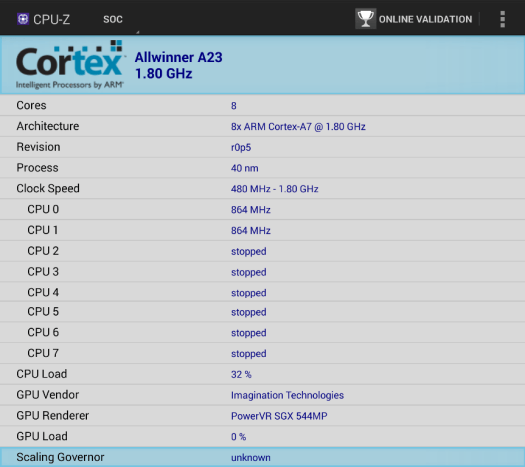 Allwinner octa-core processor up to 1.8 GHz with PowerVR SGX544MP GPU…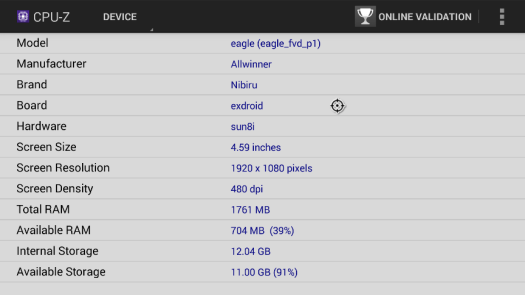 The model is called Eagle (eagle_fvd_p1) as reported in Google Play store, the brand is Nibiru, the resolution 1920×1080, and there's 1761MB RAM in total, and 12.04GB storage available to the user.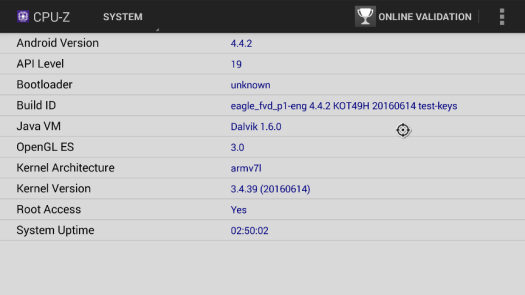 The package clearly states CX-V3 is running Android 5.1, but CPU-Z disagrees as it is instead reporting Android 4.4.2 running on top of Linux 3.4.39 kernel. The device is rooted. I have not been able to find the developer settings, and could not enable adb. [Update: adb over WiFi is not working, but it's enabled over the micro USB port. You can also access Android settings & developer options by clicking several times on "VR Version" row in "About Device" section of Nibiru interface]
While in Nibiru interface you have 960×1080 pixel in each eye, non-VR apps like CPU-Z will be shown using 864×486 per eye.
I'd like to thank GearBest for sending a Android VR headset for review, and in case you are interested in the device, they sell it for 117.74$ with coupon LHSKY. VR SKY CX-V3 Android VR Headset can also be bought on DealExtreme, eBay, Aliexpress, and GeekBuying for various prices.

Jean-Luc started CNX Software in 2010 as a part-time endeavor, before quitting his job as a software engineering manager, and starting to write daily news, and reviews full time later in 2011.