Freescale and then NXP have been talking about i.MX8 processors for several years, and this spring unveiled i.MX 8 Multisensory Enablement Kit without giving much details about the processor except it would include both Cortex A72 & A53 cores. But NXP put out a press release yesterday about "Multisensory Automotive eCockpit Platform to Advance Multimedia Experiences in Future Cars" which appears to be the same news but with different words, except the content of the PR has more interesting bits such as:
The new family, which is based on up to six 64-bit ARMv8-A technology processor cores and includes a HiFi 4 DSP, LPDDR4 and DDR4 memory support as well as dual Gigabit Ethernet with audio video bridging (AVB) capability, is designed to advance automotive dashboard graphics such as instrument clusters, infotainment visuals, heads-up displays, rear-seat screens and more. Capable of driving four HD screens with independent content or a 4K screen, the new devices introduced today include:

i.MX 8QuadMax which integrates two ARM Cortex®-A72 cores, four Cortex-A53 cores, two Cortex-M4F cores and two GC7000XS/VX GPUs
i.MX 8QuadPlus which integrates one ARM Cortex-A72 core, four Cortex-A53 cores, two Cortex-M4F cores and two GC7000LiteXS/VX GPUs
i.MX 8Quad which integrates four Cortex-A53 cores, two Cortex-M4F cores and two GC7000LiteXS/VX GPUs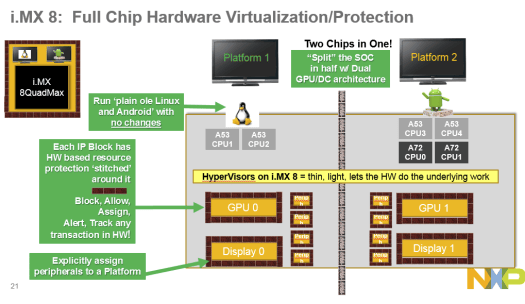 Hmm… SoCs with two identical GPUs? That's because automotive applications often require multiple operating systems running on a single processor, with maybe one part handling the "infotainment" screen, and another taking care of the dashboard, which has to be 100% stable. This is usually handled by a software hypervisor but i.MX 8 processors can do this mostly using hardware virtualization, and does not require safety critical and non-safety critical software to share the same part of the hardware.
The new processors currently support for Android, Linux, FreeRTOS, QNX, Green Hills, and Dornerworks XEN, multiple temperature grades including automotive AEC-Q100 grade 3 (-40° to 125° C Tj), industrial (-40° to 105° C Tj), and consumer (-20° to 105° C Tj), and are fully supported on NXP's 10 and 15-year Longevity Program. You'll find a few more details about NXP i.MX8 processors slated to go into mass production in Q1 2017 on the product page.
However, while searching for more details about i.MX 8, I've come across a PDF file dated July 15, 2016 (File has now been removed), revealing more i.MX8 processor families are on the way with i.MX 8M series for audio/video applications with 4K VP9/H.265 and HDR support, and i.MX 8X series based on  ARM Cortex A35 / M4 cores for low power applications.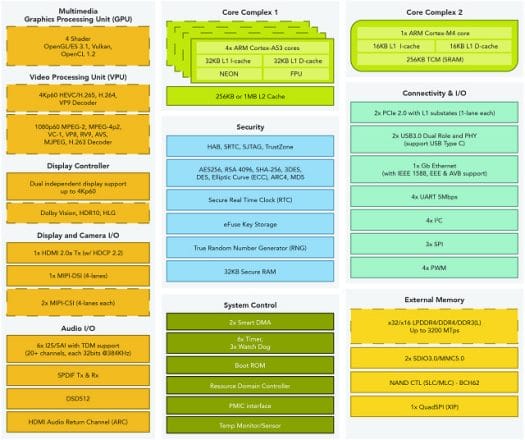 [Post updated on January 27, 2017 to remove 2 slides with i.MX 8X references upon NXP request, since the processor has not been released yet].
The document also informs us that two more i.MX 8 processors are planned with i.MX 8Dual and i.MX 8DualLite dual core Cortex A53 SoCs.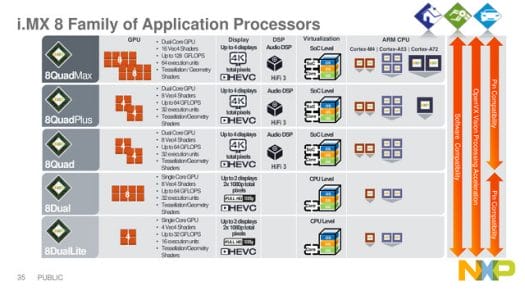 But let's go back to i.MX 8M series with four SKUs namely 8M Quad Video, 8M Dual Video, 8M Quad Audio, and 8M Solo Audio.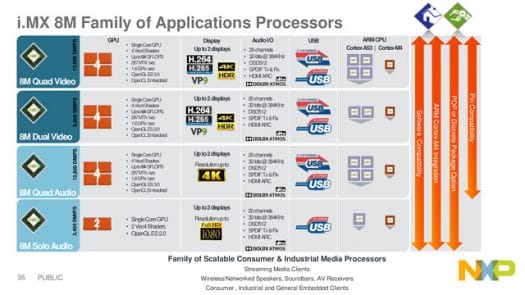 All features one, two or four Cortex A53 cores, a real-time Cortex M4 cores, 1080p to 4K video support, 20 channels audio, USB 2.0 or 3.0 interfaces, and DTS and Dolby Atmos support. The processors will be used in streaming media clients, networked speakers, soundbars or AV receivers, or some embedded clients in consumer or industrial sectors.
NXP i.MX 8X series should first include 3 SKUs: i.MX 8QuadXPlus, i.MX 8DualXPlus, and i.MX 8DualX all powered by one to four ARM Cortex A35 cores and supporting up to 3 displays. The processors will target display and audio applications, 3D graphic display clusters, telematics and V2X (Vehicle to everything) applications.
NXP i.MX 8X is not listed on NXP website yet, but I'd assume they'd go to mass production sometimes in 2017, when they may have become Qualcomm i.MX 8 processors… More details can now be found on NXP i.MX 8 series product page for both i.MX 8 and i.MX 8M processors.

Jean-Luc started CNX Software in 2010 as a part-time endeavor, before quitting his job as a software engineering manager, and starting to write daily news, and reviews full time later in 2011.