JeVois Neuromorphic Embedded Vision Toolkit – developed at iLab at the University of Southern California – is an open source software framework to capture and process images through a machine vision algorithm, primarily designed to run on embedded camera hardware, but also supporting Linux board such as the Raspberry Pi. A compact Allwinner A33 has now been design to run the software and use on robotics and other projects requiring a lightweight and/or battery powered camera with computer vision capabilities.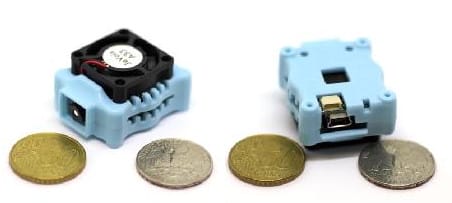 JeVois-A33 camera:
SoC – Allwinner A33  quad core ARM Cortex A7 processor @ 1.35GHz with  VFPv4 and NEON, and a dual core Mali-400 GPU supporting OpenGL-ES 2.0.
System Memory – 256MB DDR3 SDRAM
Storage – micro SD slot for firmware and data
1.3MP camera capable of video capture at

SXGA (1280 x 1024) up to 15 fps (frames/second)
VGA (640 x 480) up to 30 fps
CIF (352 x 288) up to 60 fps
QVGA (320 x 240) up to 60 fps
QCIF (176 x 144)  up to 120 fps
QQVGA (160 x 120) up to 60 fps
QQCIF (88 x 72) up to 120 fps

USB – 1x mini USB port for power and act as a UVC webcam
Serial – 5V or 3.3V (selected through VCC-IO pin) micro serial port connector to communicate with Arduino or other MCU boards.
Power – 5V (3.5 Watts) via USB port requires USB 3.0 port or Y-cable to two USB 2.0 ports
Misc

Integrated cooling fan
1x two-color LED: Green: power is good. Orange: power is good and camera is streaming video frames.

Dimensions –  28 cc or 1.7 cubic inches (plastic case included with 4 holes for secure mounting)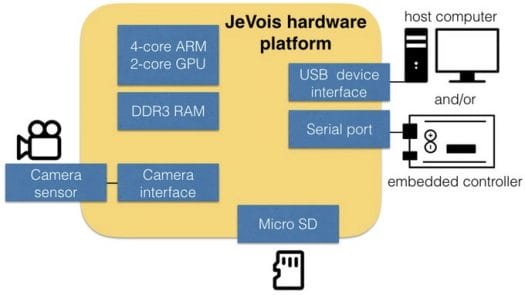 The camera runs Linux with the drivers for the camera, JeVois C++17 video capture, processing & streaming framework, OpenCV 3.1, and toolchains. You can either connect it to a host computer's USB port to check out the camera output (actual image + processed image), or to an MCU board such as Arduino via the serial interface to use machine vision to control robots, drones, or others. Currently three modes of operation are available:
Demo/development mode – the camera outputs a demo display over USB that shows the results of its analysis, potentially along with simple data over serial port.
Text-only mode – the camera provides no USB output, but only text strings, for example, commands for a pan/tilt controller.
Pre-processing mode – The smart camera outputs video that is intended for machine consumption, and potentially processed by a more powerful system.
The smart camera can detect motion, track faces and eyes, detect & decode ArUco makers & QR codes, detect & follow lines for autonomous cars, and more. Since the framework is open source, you'll also be able to add your own algorithms and modify the firmware. Some documentation has already been posted on the project's website. The best is to watch the demo video below to see the capacities of the camera and software.
The project launched in Kickstarter a few days ago with the goal of raising $50,000 for the project. A $45 "early backer" pledge should get you a JeVois camera with a micro serial connector with 15cm pigtail leads, while a $55 pledge will add an 8GB micro SD card pre-load with JeVois software, and a 24/28 AWG mini USB Y cable. Shipping is free to the US, but adds $10 to Canada, and $15 to the rest of the work. Delivery is planned for February and March 2017.

Jean-Luc started CNX Software in 2010 as a part-time endeavor, before quitting his job as a software engineering manager, and starting to write daily news, and reviews full time later in 2011.