Healthcare takes around 10% of worldwide GDP, and while in some cases an increase in the healthcare to GDP ratio means better care for people, in other cases it may lead to a decrease in the population's living standards. There are political, business, and legal issues involved in the costs, but overtime I'm confident that technology can both improve care and lower the costs, in some instances dramatically, especially if open source designs become more common, and there's some work in that respect with open source projects for prosthetics, opthalmoscope, and even surgical robots. Some commercial projects also aim(ed) to lower the costs of diagnosis tools such as Sia Lab's medical lab dongle or Scanadu medical tricorder. The latter project sadly did not manage to pass FDA approval, and the company will stop supporting it on May 15, 2017, but that does not mean others have given up on developing a Star Trek like tricorder project, and Qualcomm Tricorder XPRIZE – which aims at diagnosing 13 disease states – selected two winners for the competition: Final Frontier Medical Devices and Dynamical Biomarkers Group.
Final Frontier Medical Devices DxtER Tricorder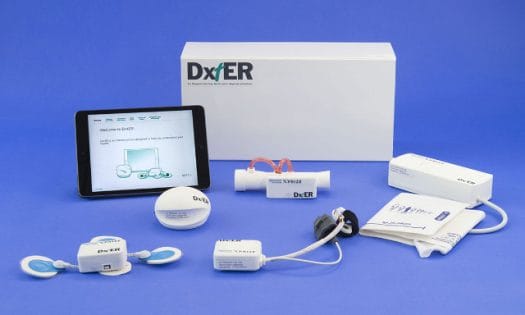 Final Frontier Medical Devices is a US based team of engineers and medical professionals that realized 90% of patients going to emergency services just wanted a diagnostics for their problem, and decided to work on a DxtER tricorder, which "includes a group of non-invasive sensors that are designed to collect data about vital signs, body chemistry and biological functions. This information is then synthesized in the device's diagnostic engine to make a quick and accurate assessment".
Final Frontier Mediacal Devices got $2.5 million for their achievements, not bad considering they worked part-time on the project. The video below explains a little more about the team, their work, and the problem they try to solve, but does not give much details about the actual product and different sensors used.
DxtER cannot identify all 13 conditions from the XPRIZE challenge, but their algorithms are said to be able to diagnose 34 health conditions including diabetes, atrial fibrillation, chronic obstructive pulmonary disease, urinary tract infection, sleep apnea, leukocytosis, pertussis, stroke, tuberculosis, and pneumonia.
That aren't much more details in DxtER's product page for now.
Dynamical Biomarkers Group Tricorder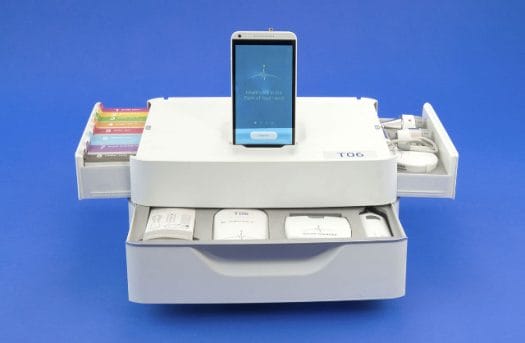 Dynamical Biomarkers Group is a 39 persons team based in Taiwan, supported by HTC Research, and led by Harvard Medical School Associate Professor Chung-Kang Peng. The team got the second prize, still a cool $1 million, for their tricorder prototype comprised of three modules:
Smart Vital-Sense Monitor – Temperature, heart rate, blood pressure, respiration, and oxygen saturation.
Smart Blood-Urine-Breath Test Kit – Analyze fluids or breath dynamics to diagnose conditions such as urinary tract infection, diabetes, and COPD
Smart Scope Module – Bluetooth enabled magnifying camera to obtain high-resolution images of the skin and tympanic (ear) membrane. Used for diseases such as melanoma or otitis media.
These modules allow "physiologic signal analysis, image processing, biomarker detection", and have been designed to be easy to use through a smartphone with an app that guide the patient through specific tests to generate a diagnosis.
The video below, again does not give much details about the product itself, but present the team, and explain the motivations such as controlling the cost of medical resources in Taiwan, and especially providing quality healthcare in rural areas of Greater China.
From the video, they seem to have greater resources for development than the US based team. Some more details about the tricoder can be found in the Center for Dynamical Biomarkers' (DBIOM) XPRIZE page.
Via Liliputing

Jean-Luc started CNX Software in 2010 as a part-time endeavor, before quitting his job as a software engineering manager, and starting to write daily news, and reviews full time later in 2011.