Most 64-bit ARM processors found in TV boxes and mini PC features ARM Cortex A53 cores which are good enough to watch most videos, since video decoding is usually handled by the video processing unit. But if you want some more performance for games and web browsing, SoCs based on Cortex A72 or similar high performance ARMv8 cores would deliver much a much better experience in Android. The problem is that there aren't many options with products such as NVIDIA Shield Android TV, and Xiaomi Mi Box 3 Enhanced. The former is potentially expensive depending where you live, and the later is targeted at the Chinese market and lacks an Ethernet port. Rockchip RK3399 SoC should fill the market void for people wanting to do more than just watching videos on their TV box, and since I've just received Yundoo Y8 TV box based on the processor, I've run some apps to check out system information, and benchmark the system.
Yundoo Y8 / Rockchip RK3399 System Info with CPU-Z
CPU-Z appears to have improved since it can now detect clusters, and could detect a processor with two clusters: 2x Cortex A72 @ up to 1.99 GHz and4x Cortex A53 @ up to 1.51 GHz, as well as a Mali-T860 (actually T860MP4).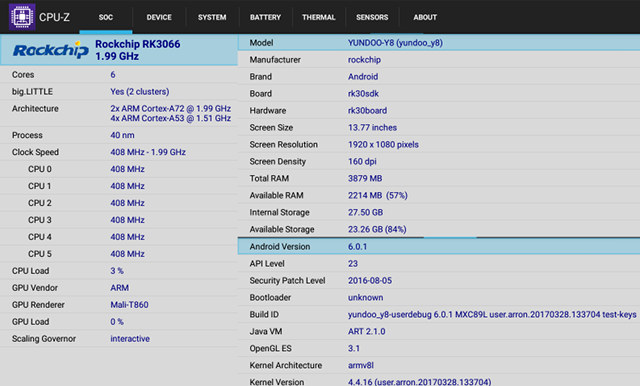 Yundoo Y8 runs Android 6.0.1 on top of Linux 4.4.16, but I've read that other upcoming models based on RK3399 will run Android 7.1 instead.
Yundoo Y8 / Rockchip RK3399 Benchmarks
Let's start with Antutu 6.x.

The 76,819 points achieved by the device is a big improvement compared to – for example – the 41,000 points in Amlogic S912 TV boxes. It also beats the ~71,000 points of Xiaomi Mi Box 3 Enhanced also based on a hexa-core Cortex A72/A53 processor (Mediatek MT8693), but at a lower 1.57 GHz maximal frequency, with a PowerVR GX6250 GPU,. and running Android 5.1 instead of Android 6.0.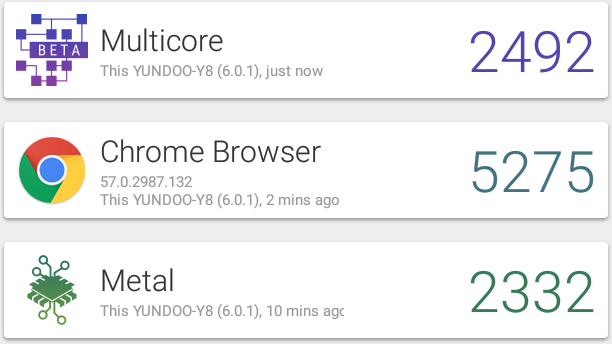 Vellamo 2.x confirms the good performance of Rockchip RK3399: 5,275 points for Chrome Browser test, 2,492 points for Multicore test, and 2,332 points the Metal test. Amlogic S912 TV boxes gets about half that, and it's also significantly better than Mi Box 3 Enhanced except for the metal test (2,392 points).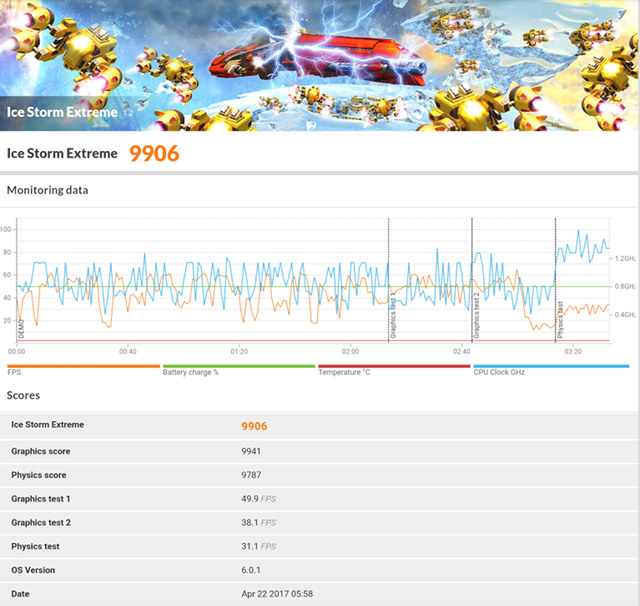 The most powerful mobile/embedded GPUs will easily max out in 3Dmark Ice Storm Extreme 1.2 test, but the Mali-T860MP4 in RK3399 cannot quite do it, although with 9,906 points it's a big improvement over the Mali-T820MP3 found in Amlogic S912 (~5,750 points), and slightly better than PowerVR GX6250 GPU in Mediatek MT8693 (9,260 points) using 1920×1080 output resolution.
Since low power processors are gone a long way in recent, I wanted to check out far it was from my main computer based on AMD FX8350 processor (125 Watt TDP) and running Ubuntu 16.04. One way to compare performance across different hardware and operating systems is to run GeekBench cross-platform benchmark.
GeekBench 4 Results for my PC: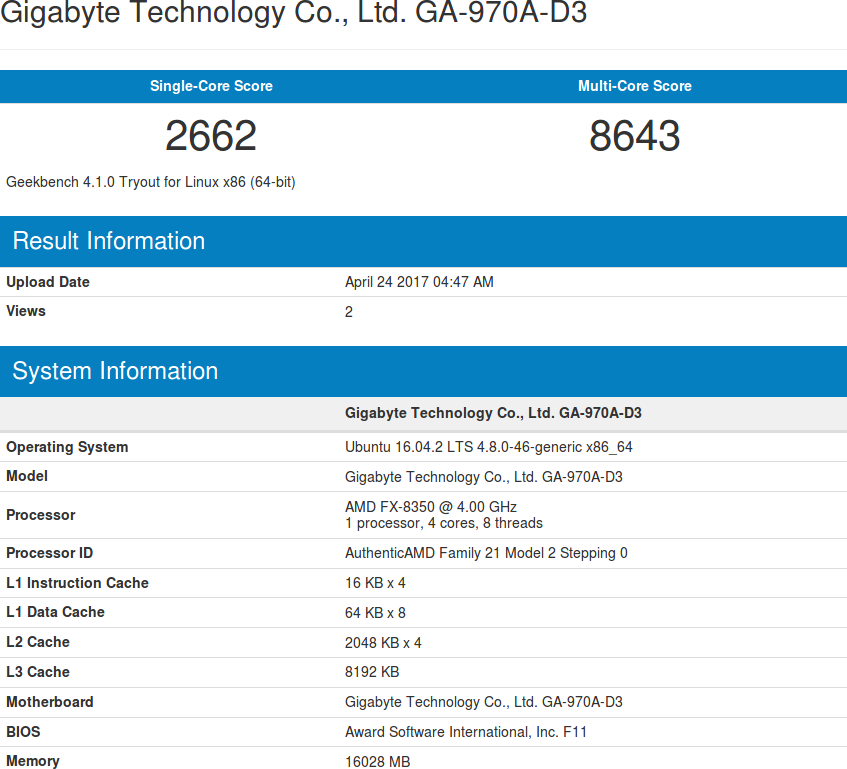 GeekBench 4 Android Results for Yundoo Y8: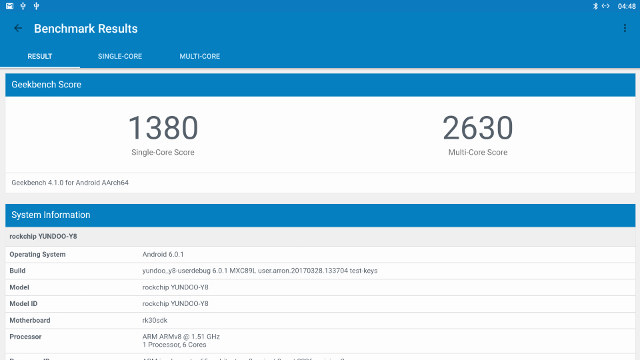 The single Cortex A72 core performance is about 50% of an FX8350 "Piledriver" core. Not too bad, even though the single core performance of this AMD CPU is not the best in the world. Multi-core performance is another story, as there are less cores/threads (6 vs 8), my computer throttles when all 8 cores are used (Normal score should be 10,000 to 12,000) , and it appears the Cortex A53 cores in RK3399 may not be used at all in GeekBench's multi-core test. For reference, the latest Samsung Exynos 9 (8850) gets respectively 1,978 and 6,375 points in the same benchmarks. I'm assuming than in 4 to 5 years, we should be able to get AMD FX8350 type of performance in a mobile device.
Ethernet performance should be about the same in all RK3399 devices, and I tested with iperf with the command used in the TV box shown in brackets:
Full duplex (iperf -t 60 -c 192.168.0.104 -d):
Client

connecting

to

192.168.0.113

,

TCP

port

5001

TCP

window

size

:

 

264

KByte

(

default

)

------------------------------------------------------------

[

 

6

]

local

192.168.0.104

port

34584

connected

with

192.168.0.113

port

5001

[

ID

]

Interval

      

Transfer

    

Bandwidth

[

 

6

]

 

0.0

-

60.0

sec

 

3.02

GBytes

  

432

Mbits

/

sec

[

 

4

]

 

0.0

-

60.0

sec

 

5.29

GBytes

  

758

Mbits

/

sec
Upload only (iperf -t 60 -c 192.168.104):
[

 

5

]

local

192.168.0.104

port

5001

connected

with

192.168.0.113

port

35318

[

 

5

]

 

0.0

-

60.0

sec

 

6.16

GBytes

  

881

Mbits

/

sec
Download only (iperf -s):
------------------------------------------------------------

Client

connecting

to

192.168.0.113

,

TCP

port

5001

TCP

window

size

:

85.0

KByte

(

default

)

------------------------------------------------------------

[

 

3

]

local

192.168.0.104

port

35196

connected

with

192.168.0.113

port

5001

[

ID

]

Interval

      

Transfer

    

Bandwidth

[

 

3

]

 

0.0

-

60.0

sec

 

6.56

GBytes

  

939

Mbits

/

sec

So it's working pretty well here.
Internal storage will different from box to box, and even Yundoo Y8 with 32GB storage should perform than the same box with 16GB storage, but USB 3.0 performance should remain pretty much the same across devices.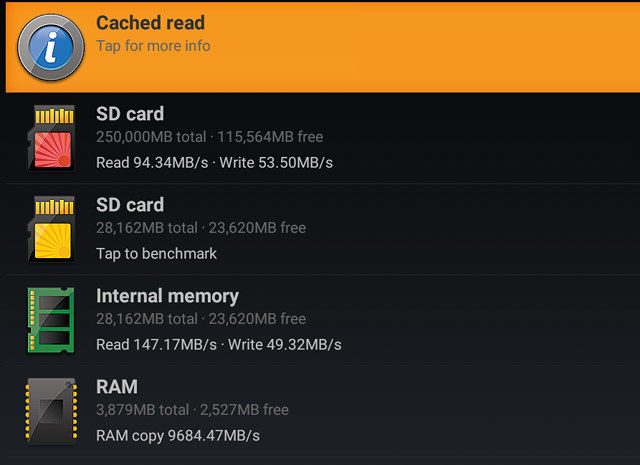 The cached read is for the internal memory (eMMC flash) which we'll ignore here due to reason explained above. The "SD card" is the NTFS partition of my Seagate USB 3.0 drive, and results are pretty good with 94.34 MB/s sequential read, and 53.50 MB/s sequential write considering I could achieve 107 MB/s and 45 MB/s with that hard drive in my main computer. The RAM test shows a 9684.47MB/s copy, which compared to the 3301.73 MB/s achieved by Mecool BB2 Pro Amlogic S912 TV box with DDR4 memory.
So overall the platform looks promising, and offers a significant performance boost compared to the Cortex A53 competition at an affordable price, more exactly $90 and up with 2GB RAM, 16GB storage. The downside is that since the SoC is rather new there may be a few firmware bugs at this stage, which I'll check/report in the full review, but I'm confident they will be ironed out over time, if not in Yundoo Y8, in other RK3399 devices.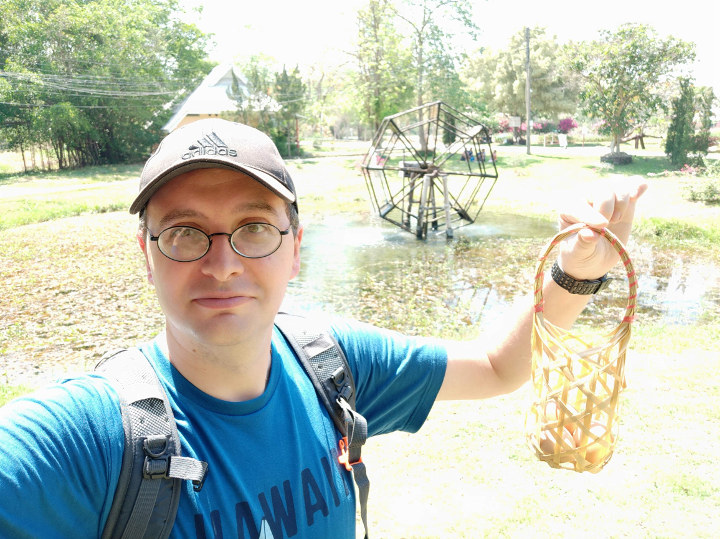 Jean-Luc started CNX Software in 2010 as a part-time endeavor, before quitting his job as a software engineering manager, and starting to write daily news, and reviews full time later in 2011.