Sen5 is one of the first Android TV boxes powered by Amlogic S905D processor, and comes with two tuners (DVB-C/T/T2 and DVB-T/T2) with two demodulators that should allow for recording on one tuner, while watching the other, or recording two channels at the same time. We've already check out the hardware in the first part of the review, and seen a glimpse of the neat user interface, so today I'll report about my experience with the device.
Sen5 Android Set-Top Box First Boot, Setup Wizard, & First Impressions
The STB comes with two USB ports so I used one for the hard drive, a necessity if you plan to use the PVR function, and connected a USB hub to the other with RF dongles for an air mouse and a gamepad, as well as a USB keyboard to take screenshots. I also connected Ethernet and HDMI cables, as well as my terrestrial antenna to the coaxial "DVB-T2" input, and my satellite dish to the DVB-S2 F-connector.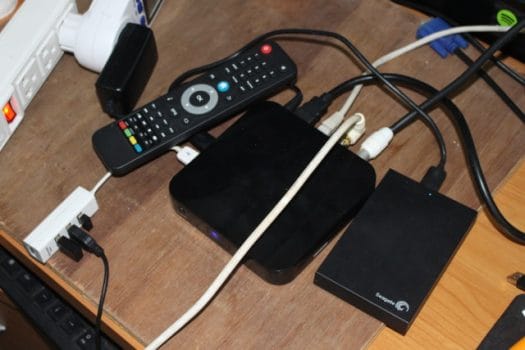 Finally I connected the power, after a several seconds after the "Amlogic S905D" and "MBOX" boot logo I go to  a setup wizard asking me to select the language…
The next step is the output resolution, and the system auto-detected 4K2K-60Hz maximum resolution from LG 42UB820T 4K UHD TV.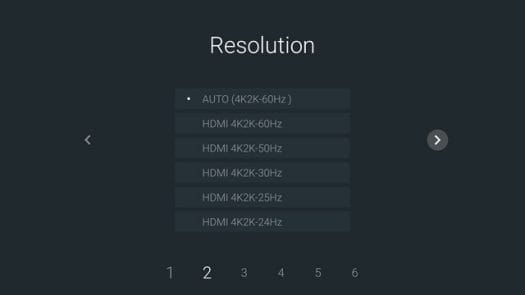 Screen adjust is used for overscan, but if you have a recent TV, you should not really need to use since you can always understand with settings like "just scan".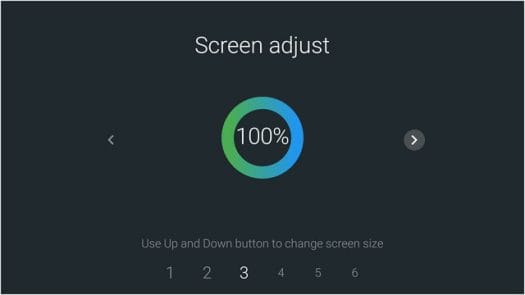 Step 4 is the selection between Ethernet and WiFi.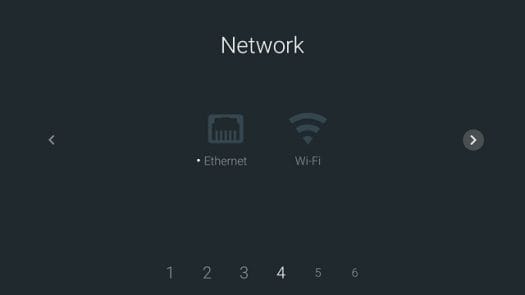 This is followed by Date & Time configuration.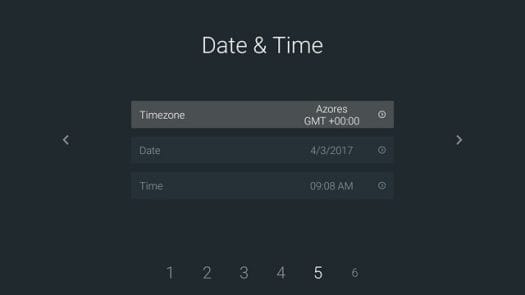 Finally, you'll be asked to select between "Scan TV channel", "Login to Google Play Store", and "Go to Home page".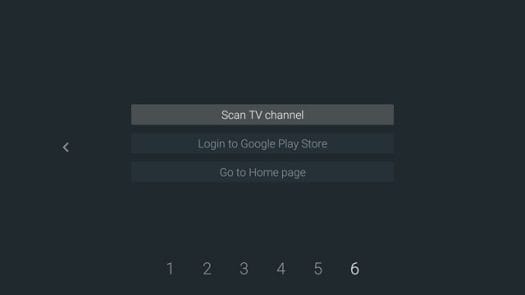 I selected the later at this stage, and the beautiful "NesTV" launcher appeared. A typical boot takes around 35 seconds with this box.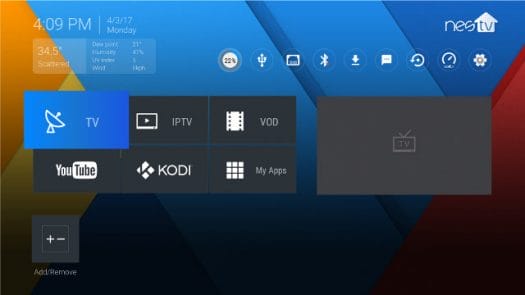 You'll get date, time, and weather on the top left, 6 main icons in the center for TV (DVB) app, IPTV & VOD (both required a login I did not have), YouTube, Kodi, and the list of app. The bottom include an "Add/Remove" button to organize favorites.
The top right row includes some convenient shortcuts showing (from left to right):
Free memory – Clicking on it will cleaned up memory
USB status – Redirects to File Browser
Network Status (Ethernet or WiFi) – Redirects to Network settings
Bluetooth Status – Redirects to Bluetooth settings
Download – Shortcut for easy access to Download direction
Notifications – Will display notifications on the left of the screen (See screenshot below)
Backup & Restore & Update button
Ookla – Measures your Internet connection performance
Settings – Redirect to Amlogic's Settings app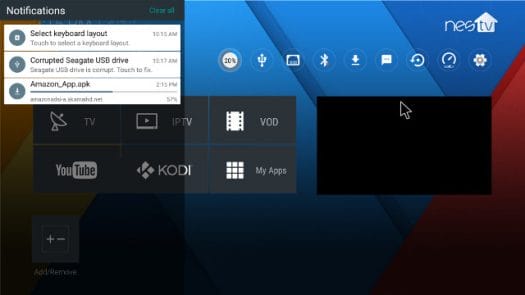 The preview zone is black until your scan channel after which it will show a preview of the last selected channel (with audio).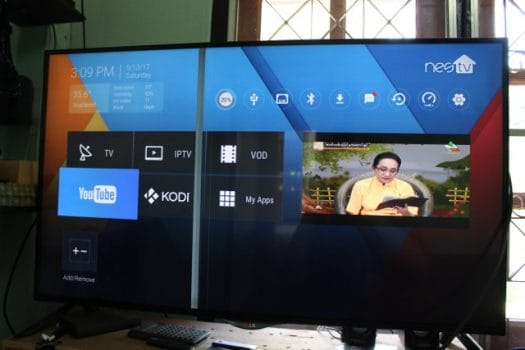 The pre-installed apps can be found below.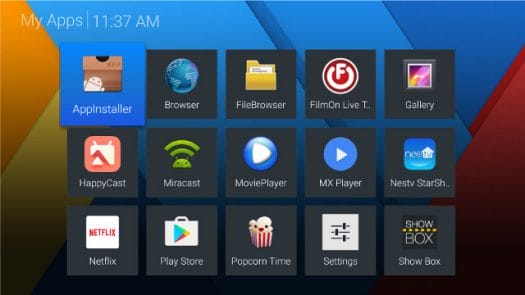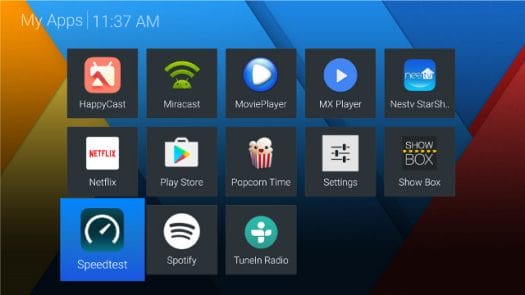 The Setting app is about the same as on other Amlogic Android 6.0 TV boxes, but it's still worth noting HDMI CEC, HDR and Playback settings (for HDMI self-adaptation) options are there. The only new menu is MediaScan which lets you decided whether to automatically scan USB drives in the background (disabled by default).
Going to Android settings, we can see 5.27 GB is already used out of 8 GB storage, and that is before I installed any app. The flash was almost full by the end of the review.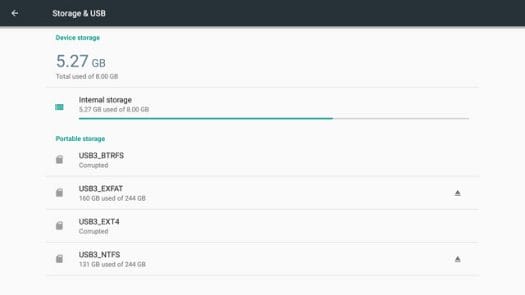 NTFS and exFAT file systems are supported, but not EXT-4, nor BTRFS.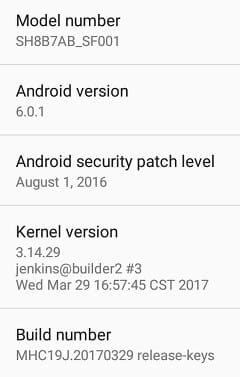 The About section indicates the model is called SH8B7AV_SF001 and runs Android 6.0.1 on top of Linux 3.14.29, the same as most other Amlogic S9xx boxes.. Android security patch is date August 1, 2016. The firmware is not rooted. OTA firmware update appears to be implemented, with the Update app communicating with the firmware update server, but I did not get any updates since March 29th.
The IR remote control works well up to 10 meters, and I also appreciate shortcuts key to app list, Play Store, YouTube, etc.. The remote control is also absolutely necessary to use with the TV app, which relies color button (red/green/yellow.blue) and special keys like EPG. Since an air mouse or wireless keyboard with touchpad is necessary in many Android apps, I ended switching between the remote control, and MINIX NEO A2 Lite air mouse depending on which app I used. I wishes such Android Set-top boxes would come with an optional air mouse that also support the TV app.
Google Play and Amazon Underground worked just fine, and I could install all apps I needed for the review.
The set-top box supports standby and power off mode. That's the theory, because in practice, the box will reboot maybe 95% of the time when I try to turn it off (long press on remote control power key). Standby is working fine. The power button on the unit itself does not work at all for me. Maybe it's just a problem with the sample.
I tested power consumption with or without the USB hard drive:
Standby – 0.3 Watt
Idle – 4.4 to 5.0 Watss
Standby + HDD – 0.3 to 0.4 Watt
Idle + HDD – 6.0 to 6.3 Watts
A reliably working power off would be nice though. I gave up on measuring power off, since it was so difficult to enter in this mode. At least power consumption is sufficiently low in standby mode, and there are reasons (scheduling) to prefer standby over power off, as we'll see below.
Sen5 does get a little hot over time.After playing a 2-hour H.264 1080p movie in Kodi, max. top and bottom temperatures were 51 and 61 °C respectively, and as I went to CPU-Z to check the CPU temperature, soc_thermal was 84 °C. The movie frame rate did not feel "optimal" at the end either. Riptide GP2 game frame rate also suffered over time, and temperature after playing 15 minutes were 48°C (top) , 56°C (bottom) and 79°C (CPU-Z).  The idle temperature reported in CPU-Z is also a not-so-cool 73 °C. Hopefully, the company will find a solution before selling the box retail.
An Amlogic S905D TV box is very much like other Amlogic S905(X) TV boxes with a fairly stable and responsive firmware. But Sen5 box stands out thanks to NesTV launcher which looks really nice, and comes with some useful features and shortcuts. The remote control is also well designed, although I'd like it to have air mouse and keyboard functions. The two main issues I encountered were overheating, and the inability to power off the box reliably.
Video & Audio Tests with TV Center (Kodi), and DRM Info
Sen5 comes with Kodi 17 pre-installed.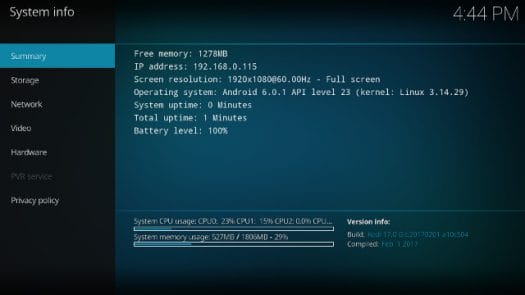 After enabling "Adjust display refresh rate" in Kodi settings, and  HDMI self-adaptation, I played 4K videos over Gigabit Ethernet /SAMBA:
HD.Club-4K-Chimei-inn-60mbps.mp4 –

Choppy at the end of the video



sintel-2010-4k.mkv – OK
Beauty_3840x2160_120fps_420_8bit_HEVC_MP4.mp4 (H.265) –  OK
Bosphorus_3840x2160_120fps_420_8bit_HEVC_MP4.mp4 (H.265) – OK
Jockey_3840x2160_120fps_420_8bit_HEVC_TS.ts (H.265) – OK
MHD_2013_2160p_ShowReel_R_9000f_24fps_RMN_QP23_10b.mkv (10-bit HEVC, 24 fps) – OK
phfx_4KHD_VP9TestFootage.webm (VP9) – OK

BT.2020.20140602.ts

(

Rec.2020

compliant video) – OK
big_buck_bunny_4k_H264_30fps.mp4 – OK
big_buck_bunny_4k_H264_60fps.mp4 – The video plays in slow motion and audio delays (As expected, as 4K H.264 @ 60 fps is not supported by S905D VPU)
Fifa_WorldCup2014_Uruguay-Colombia_4K-x265.mp4 (4K, H.265, 60 fps) – OK
Samsung_UHD_Dubai_10-bit_HEVC_51.4Mbps.ts (10-bit HEVC / MPEG-4 AAC) – OK
Astra-11479_V_22000-Canal+ UHD Demo 42.6 Mbps

bitrate.ts

(10-bit H.265 from DVB-S2 stream) – OK
暗流涌动-4K.mp4 (10-bit H.264; 120 Mbps) – Plays at around 1 to 2 fps (expected since it relies software decode)
Ducks Take Off [2160p a 243 Mbps].mkv (4K H.264 @ 29.97 fps; 243 Mbps; no audio) –

USB hard drive playback: Not smooth

tara-no9-vp9.webm (4K VP9 YouTube video @ 60 fps, Vorbis audio) – OK

The.Curvature.of.Earth.4K.60FPS-YT-UceRgEyfSsc.VP9.3840×2160.OPUS.160K.webm

(4K VP9 @ 60 fps + opus audio) – Plays,

but could be smoother
My experience with 4K video playback was inline with other Amlogic S912/S905X TV boxes, except possibly with HD.Club-4K-Chimei-inn-60mbps.mp4.Automatic Another common state of affair is that automatic frame rate switching is not working, and  MINIX NEO U9-H is the only exception to this rule for recent Amlogic TV boxes (that I tested).
I enabled HDMI Passthrough in Android settings…

and in Kodi. Some whatever reasons, there are no option to select AC3/ DTS, TrueHD, or DTS HD like in other devices. You can only enable or disable "Allow passthrough".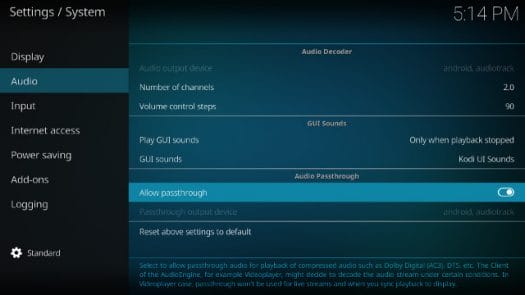 Those are the results with Onkyo TX-NR636 receiver. PCM 2.0 is without pass-through using my TV speakers, and I used both Kodi (which handle audio its own way), and MoviePlayer app.
Video
PCM 2.0 Output
(Kodi)
PCM 2.0 Output
(MoviePlayer)
HDMI Pass-through
(Kodi)
HDMI Pass-through
(MoviePlayer)
AC3 / Dolby Digital 5.1
Audio OK, video not smooth
No audio
Audio OK (Dolby D 5.1), Video not smooth
OK (Dolby D 5.1)
E-AC-3 / Dolby Digital+ 5.1
OK
No audio
OK (Dolby D 5.1)
OK (Dolby D 5.1)
Dolby Digital+ 7.1
OK
No audio
PCM 2.0
OK (DD+ 7.1)
TrueHD 5.1
OK
No audio
PCM 2.0
OK (TrueHD 5.1)
TrueHD 7.1
OK
No audio
PCM 2.0
OK (TrueHD 7.1)
Dolby Atmos 7.1
OK
No audio
PCM 2.0
Beep (AC3 audio track)
DTS HD Master
OK
No audio
PCM 2.0
DTS 5.1
DTS HD High Resolution
OK
No audio
PCM 2.0
DTS 5.1
DTS:X
OK
No audio
PCM 2.0
DTS 5.1
Kodi is not usable with your AV receiver, except for Dolby Digital 5.1 / AC3, while MoviePlayer requires you to own an AV receiver if you want to have any audio on videos with only Dolby or DTS audio track(s).
I could play a 2-hour movie over SAMBA, but as mentioned previously the frame rate seemed to drop slightly at the end due to over heating.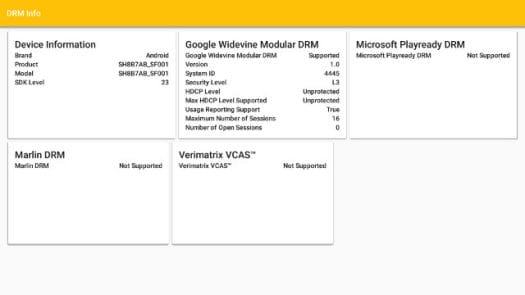 Sen5 supports Widevine Level 3 DRM, meaning no HD support on some premium apps like Netflix. YouTube worked well, even while recording live TV in the background.
DTV App for DVB-S/S2 and DVB-T/T2
Let's get started with the TV app. The first time you'll go through the "TV First Installation" wizard.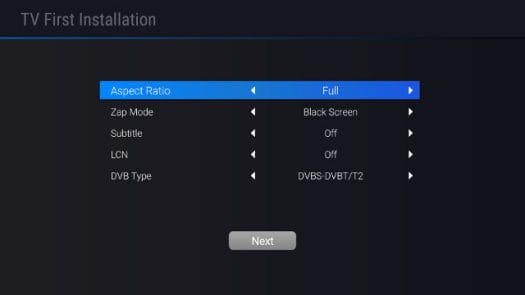 You can select aspect ratio, zap mode (black screen or freeze), subtitle, LCN, and DVB Type between DVBS-DVBT/T2 or DVBS-DVBC. I did not change any of the settings and kept going with DVBS-DVBT/T2.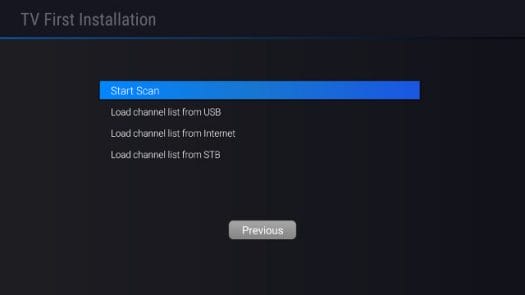 The next window will let you start scan, and load channels from USB, the Internet, and another STB. I just clicked on Start Scan which brought me to the TV menu.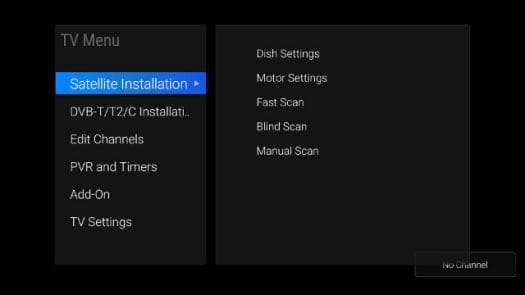 If you're going to change any "installation" setting for satellite or DVB-T/T2/C, you'll be asked for a password "0000".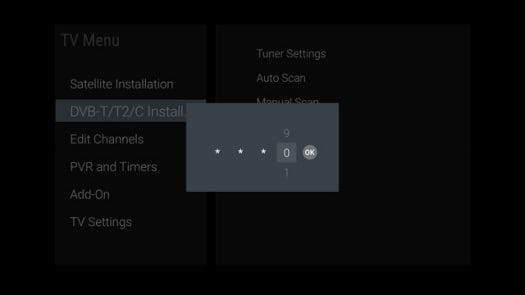 Going into Dish Settings, I could select Thaicom 5/6 satellite, as I normally do, but I was a little confused since I had to select between C-band and Ku-band. I eventually figured I had to select C-band, as I would not get any channels with Ku-band selection.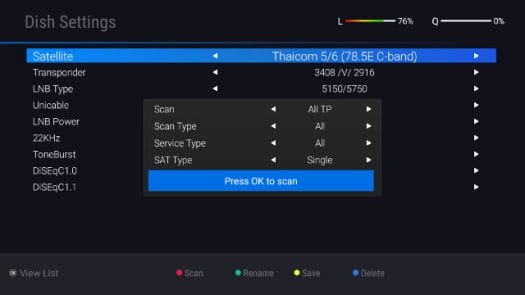 The first time I did a "standard scan" as shown above, and I got only 13 channels, far below what I would expect especially I select both free-to-air and paid channels. So I restarted a Blind Scan instead again on Thaicom 5/6 (78.5E C-band).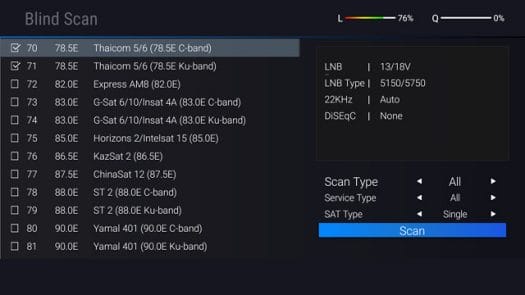 I ended up with 387 TV channels including premium (marked with $) and free channels.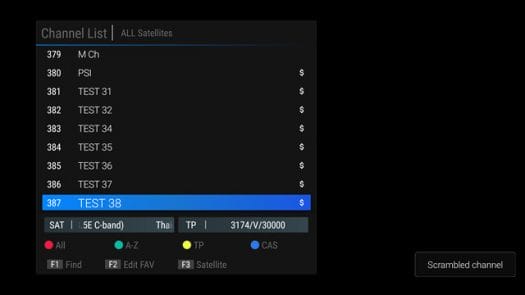 You can select channels by CAS type using the blue button on the remote control for example to select the Free channels. The paid channels should be accessible via the smart card reader provided you have the right card. But it's not something I could try.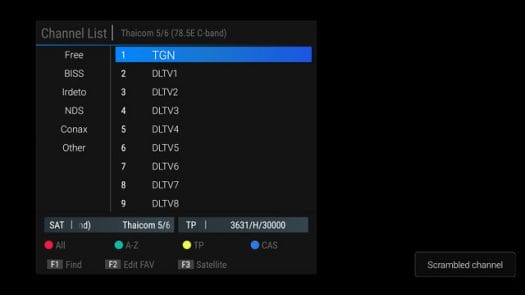 Next up I had to configure DVB-T2. It took me a couple of minutes to find out I had to use the drawer key (on the left side of the Blue HOME key) in order to bring the TV menu back up.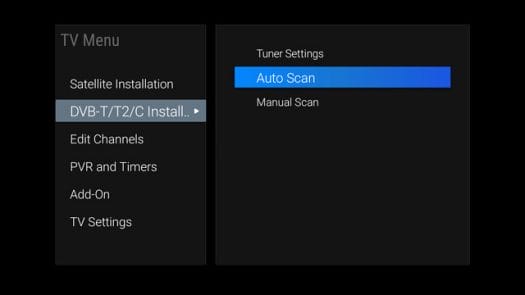 I selected auto scan, input the country, before running the scan.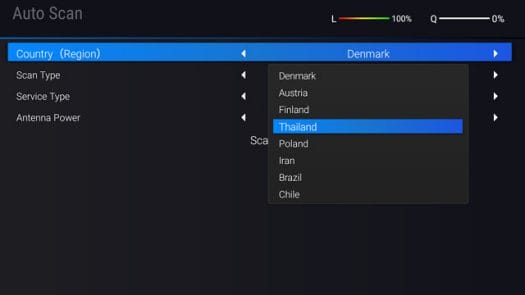 It found 25 channels, but no radio channels.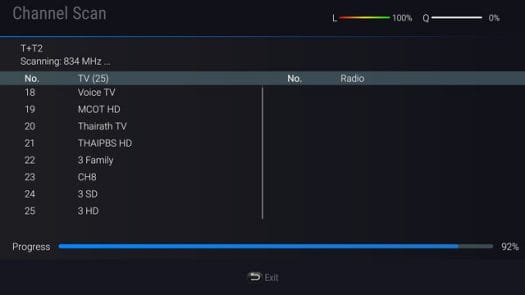 I could watch DVB-T2 channels. but some HD channels have low quality sometimes dropping below 25% and the channels freezing. I have not noticed the same issue with SD channels, and sometimes the same HD channels do not have any problem.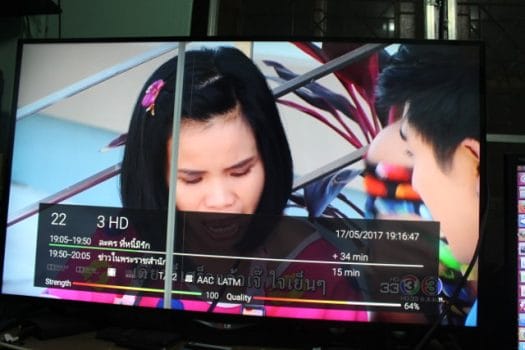 The "I" button on the remote shows some of the info about the current channel including channel number abd name, date and time, current and next program name and time, audio, S2/T2, and CAS information, as well as signal strength and quality.

I'll go through other options in TV menu before checking out the other features of the app. The Edit Channels section allows you to set favorites, and organize channels as you see fit.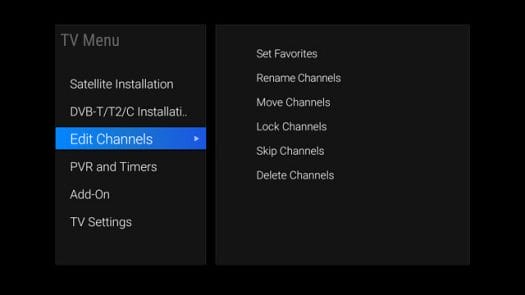 The PVR and Timers section will give you access to the list of already recorded program, and current timers / schedules (see further below for details).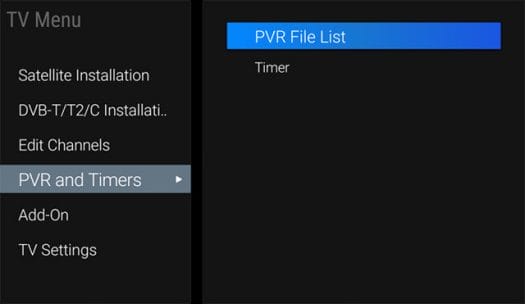 The Add-on menu allows you to add favorites, so you can quickly jump from the TV app to whatever other you may want. Not very useful IMHO, as you could do the same by pressing the Home key and selecting shortcuts in the main launcher.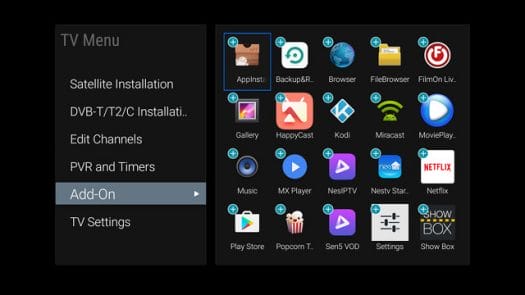 Finally there are various TV settings. The only problem is that none of the options would work for me, as each option would just go back to the main launcher.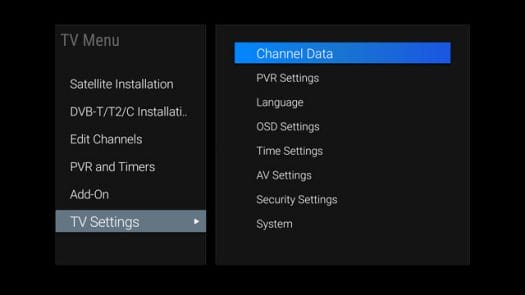 You can access the program guide by pressing the EPG button on the remote control. Encoding is handled properly with DVB-T2 channels, and there's a problem with Thai language with satellite channels, probably because the software does not use the right encoding.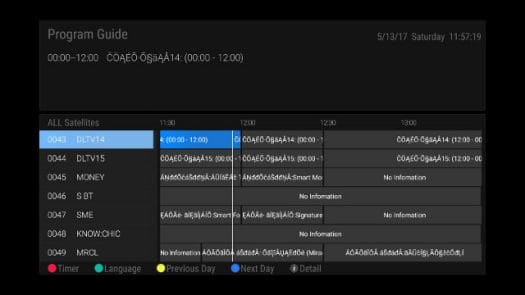 Burmese language is barely better.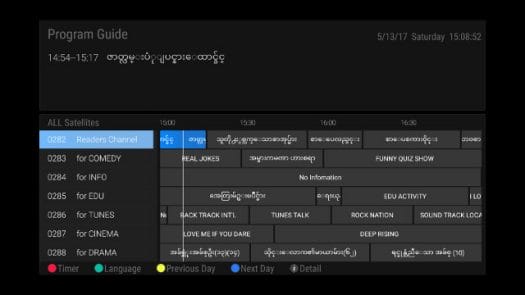 Anyway, you can still browser channels and the program guide, and add or remove "timers" to record or play videos at any given time.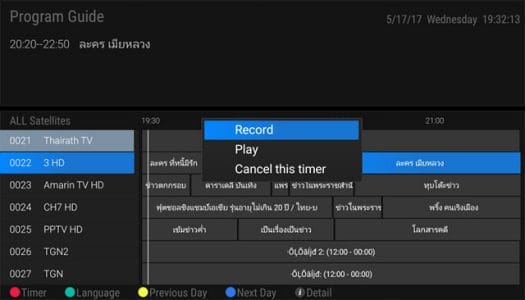 By default all timers are set to record once, but you can go to the list of timers (drawer button-> PVR and Timers-> Timer), and change the option.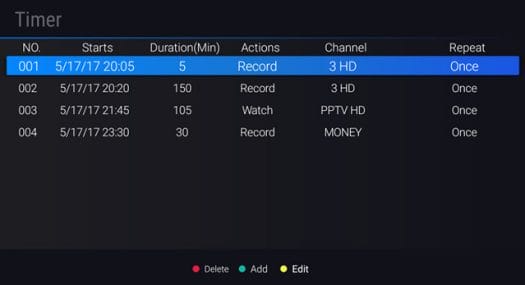 The repeat mode is quite versatile, as you can select daily, weekly, and even select the days to record during the week.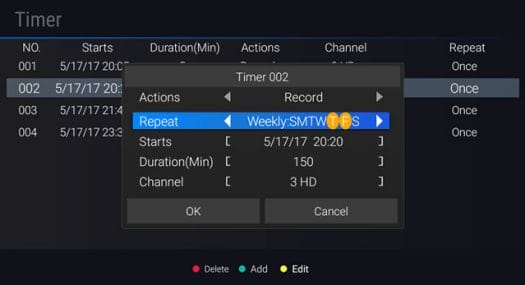 Timers and PVR are working quite well, and I had no troubles recording videos on either DVB-T2 or DVB-S2. Since the box has two demodulators, you can even record on DVB-T2 and watch DVB-S2 channels and vice-versa, as shown in the photo below (ONE HD is a DVB-T2 channel)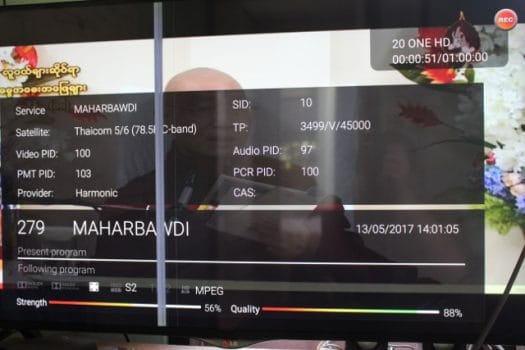 Later on, I also discovered that during recording the list of unavailable channels will be grayed out, and you can still watch channels both on DVB-T2 or DVB-S2, as long as the channel on the busy input is one the same stream.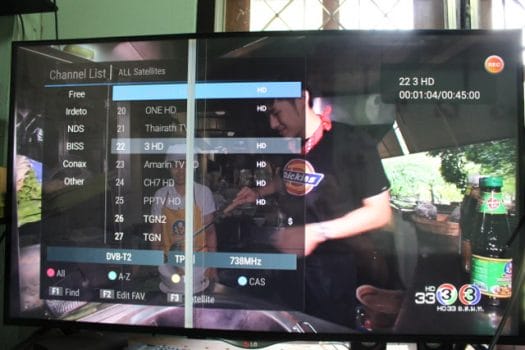 Another thing impossible on VideoStrong set-top boxes is background recording, so as I recorded a channel, I pressed the HOME key, went to browse the web, and then watch a YouTube video. I came back to the TV app and discovered the recording was still taking place, and later on I could verify the video was properly recorded, and I did not notice any stuttering or obvious artifacts. So that's a big plus compare to existing solutions. In theory, you should be able to record live TV on DVB-T2 and DVB-S2 at the same time, but the timer software detects a conflict if you do so.
I did one last test with schedules. I setup a recording at 16:30, and put the device into standby, waiting for the time… To my surprise, Sen5 STB started automatically at 16:30, but for whatever reason the recording only started 10 minutes later, at 16:40. So it looks like the capability is there, but it's still buggy.  Timeshifting is working using the play/pause key, and you can also record manually using the record button on the remote control.
You can play the recordings in the TV app, but if you prefer to use another player, you'll find the files in the DVBRecordFiles directory on your hard drive with a subdirectory for each recording.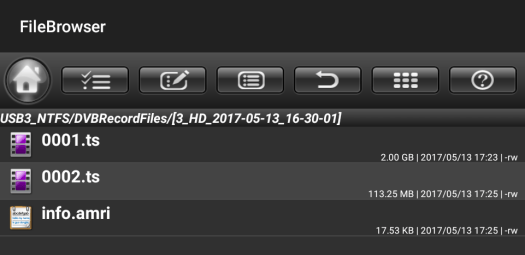 The TV app will split large files into 2GB files probably because of hard drives still using FAT32, and despite mine using NTFS file system. info.amri is a binary file with some details about the recording, but it also contains some visible strings like the program name and TV channel name.
You can find some SD and HD recordings from DVB-T2 or DVB-S2, as well as info.amri file in MEGA. I had no troubles playing the DVB-T2 recording in my computer, but I had neither Totem, nor VLC could play the DVB-S2 recording, and I had to use
You'll find a demo with the TV app in the video below.
Networking (WiFi & Ethernet)
WiFi performance was first tested by transferring a 278 MB file between a SAMBA share and the internal flash (and vice versa) using ES File Explorer. The box only support 2.4 GHz WiFi, and the transfer rate was 1.5 MB/s on average.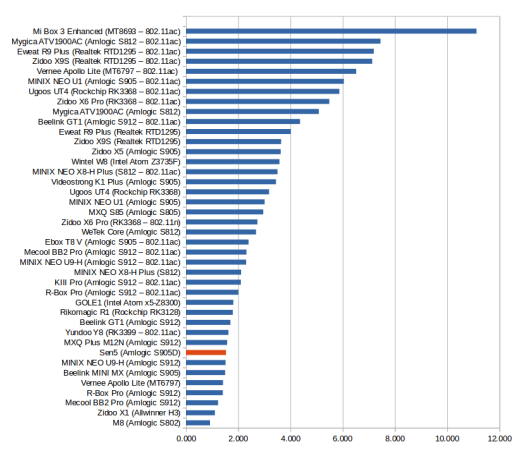 The performance is not very good, but similar to other Amlogic TV box due to the poor SAMBA performance. However, during testing I had other problems, with the first transfer failing after about 60%, which I could complete by clicking on Retry, and another transfer failing to start completely.
I also ran iperf for 60 seconds on both direction to get a raw benchmark value:
WiFi upload:

Server

listening

on

TCP

port

5001

TCP

window

size

:

85.3

KByte

(

default

)

--

--

--

--

--

--

--

--

--

--

--

--

--

--

--

--

--

--

--

--

--

--

--

--

--

--

--

--

--

--

[

 

4

]

local

192.168.0.104

port

5001

connected

with

192.168.0.113

port

38554

[

ID

]

Interval

      

Transfer

    

Bandwidth

[

 

4

]

 

0.0

-

60.1

sec

  

218

MBytes

 

30.5

Mbits

/

sec

WiFi download:

Client

connecting

to

192.168.0.113

,

TCP

port

5001

TCP

window

size

:

85.0

KByte

(

default

)

--

--

--

--

--

--

--

--

--

--

--

--

--

--

--

--

--

--

--

--

--

--

--

--

--

--

--

--

--

--

[

 

3

]

local

192.168.0.104

port

46020

connected

with

192.168.0.113

port

5001

[

ID

]

Interval

      

Transfer

    

Bandwidth

[

 

3

]

 

0.0

-

60.1

sec

  

212

MBytes

 

29.6

Mbits

/

sec

Gigabit Ethernet is however working pretty well as least with iperf.
Iperf upload:

Server

listening

on

TCP

port

5001

TCP

window

size

:

85.3

KByte

(

default

)

--

--

--

--

--

--

--

--

--

--

--

--

--

--

--

--

--

--

--

--

--

--

--

--

--

--

--

--

--

--

[

 

4

]

local

192.168.0.104

port

5001

connected

with

192.168.0.115

port

57191

[

ID

]

Interval

      

Transfer

    

Bandwidth

[

 

4

]

 

0.0

-

60.0

sec

 

6.32

GBytes

  

905

Mbits

/

sec

iperf download:

Client

connecting

to

192.168.0.115

,

TCP

port

5001

TCP

window

size

:

85.0

KByte

(

default

)

--

--

--

--

--

--

--

--

--

--

--

--

--

--

--

--

--

--

--

--

--

--

--

--

--

--

--

--

--

--

[

 

3

]

local

192.168.0.104

port

37300

connected

with

192.168.0.115

port

5001

[

ID

]

Interval

      

Transfer

    

Bandwidth

[

 

3

]

 

0.0

-

60.0

sec

 

6.57

GBytes

  

941

Mbits

/

sec

iperf full duplex:

Client

connecting

to

192.168.0.115

,

TCP

port

5001

TCP

window

size

:

 

450

KByte

(

default

)

--

--

--

--

--

--

--

--

--

--

--

--

--

--

--

--

--

--

--

--

--

--

--

--

--

--

--

--

--

--

[

 

7

]

local

192.168.0.104

port

37292

connected

with

192.168.0.115

port

5001

[

 

7

]

 

0.0

-

60.0

sec

 

3.71

GBytes

  

532

Mbits

/

sec

[

 

4

]

 

0.0

-

60.0

sec

 

5.13

GBytes

  

733

Mbits

/

sec

A SAMBA to flash copy was limited by the write speed of the flash, and occurred at about 9.8 MB/s. Flash to SAMBA performance was worse because of the poor SAMBA implementation in Amlogic Android 6.0 SDK @ 5.9 MB/s.
Storage
FAT32, NTFS, and exFAT file systems are support, but as is often the case not EXT-4 and BTRFS. As usual USB storage benchmarks show that exFAT should be avoided as slow write speed may impact recorded videos. NTFS performance is however OK, and the eMMC flash used in the box does not have the best performance on the market, but I have not noticed any specific slowdowns, it may just take a little longer to install some apps.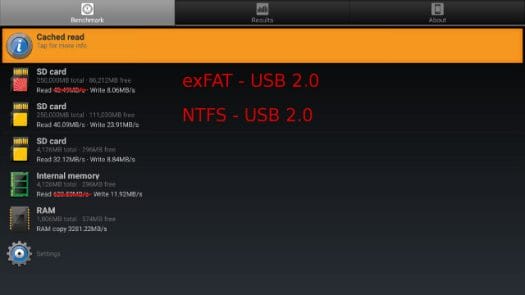 I've drawn a red line on exFAT – USB 2.0 and internal memory read results because they were cached read, and the internal memory can clearly NOT be read @ ~629 MB/s.
Bluetooth
I could pair Vernee Apollo Lite Android smartphone to the box and transfer several photos without any problem, but there was not a direct and easy way to click to see the files after the transfer, so I had to go to the FileBrowser app and into the bluetooth directory to check the files. I also watched a YouTube video after easily pairing X1T earbuds, and the box also detected the SimpleBLE demo I had running on a ESP32 board, so Bluetooth LE should also work.
Sen5 and Amlogic S905D Benchmarks
That's my first Amlogic S905D device, so let's run CPU-Z first. It's impossible to distinguish S905D to  S905/S905X as they are all shown to be quad core Cortex A53 processors @ up to 1.51 GHz with a Mali-450 MP GPU.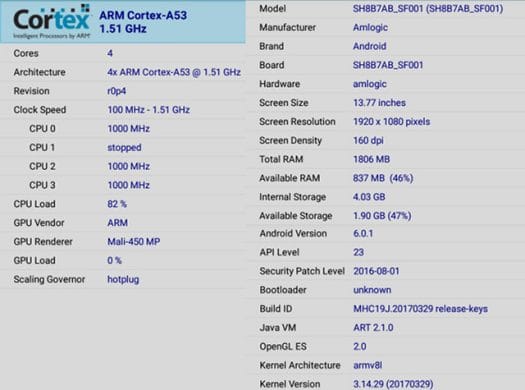 Antutu would just crash each time I start it, so I ran Vellamo instead to check the performance.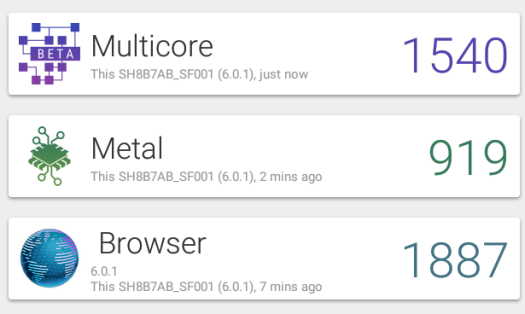 1,540 for Multicore, 919 for Metal, and 1,887 for Browser are comparable to the results I got on Amlogic S905X boxes (1,491 / 910 / 1,855).
Conclusion
Sen5 device is the first true dual tuner Android set-top box I have reviewed, as I was able to record one channel, and watch another at the same time. It also supports background recording, and wakeup from standby to start recording a video, both of which are impossible in all other Android STBs I have reviewed. NesTV launcher is also eye-pleasing, and includes really convenient shortcuts.  The box is not perfect however, as it still has some serious bugs like DVB-T2 channels freezing from time to time, WiFi failures (at least with SAMBA), and overheating issues. There are also various smaller bugs which hopefully will be fixed once the box is sold to end users.
PROS
Dual independent DVB-S/S2 and DVB-C/T/T2 tuner allowing for recording and watching live TV at the same time;
EPG, Timeshitfing, and PVR function working reasonably well
Exclusive Tuner Features (for an Android TV box) – Support for recording from standby mode (with caveat), and background recording (e.g. you can watch YouTube, browse the web, or play games while recording)
Beautiful & user-friendly NesTV launcher (I also found out after the review that there's a mobile app for it)
Good 4K video playback in Kodi 17 works well
Dolby Digital 5.1 works in all apps including Kodi, TrueHD and DTS HDMI audio pass-through works with MoviePlayer app (and likely most other apps including the TV app, but not Kodi)
Excellent Ethernet performance
Bluetooth is working well for file transfer, audio headset, and BLE
Support for smartcards (not tested)
CONS
DTV app issues and shortcomings

DVB-T2 channels may freeze from time to time
Encoding problems with data from satellite channel, at least for Burmese and Thai languages
It's not possible to record two videos (one in DVB-S2 / one in DVB-T2) at the same time as the app reports a scheduling conflict
When the box is in standby and a program is schedule, the box will wake up, but recording will only start a few minutes later (10 minutes in my case)

The box may overheat potentially leading to video become choppy over time, and games less smooth
Power off mode does not work reliably (will reboot most of the time), and the unit power did not work for me at all
SAMBA + WiFi performance is poor, and connection can be unreliable
Kodi issues: automatic frame rate switching does not work, pass-through is limited to AC3/ Dolby Digital 5.1
DTS/Dolby audio down-mixing does not work in Android apps like MoviePlayer or Video Player; DTS-HD pass-through does not work (DTS 5.1 only) in such apps.
I'd like to thanks Shenzhen Sen5 for providing a sample for review. AS previously mentioned, the product is not available for retail yet, but interested resellers and distributors may contact the company via their website.

Jean-Luc started CNX Software in 2010 as a part-time endeavor, before quitting his job as a software engineering manager, and starting to write daily news, and reviews full time later in 2011.