Parts of the article have been updated after Steven Zhao update at the end.
Since Steven Zhao is the only one contact person at Shenzhen Xunlong Software, the maker of Orange Pi boards, and the company appears to be focusing on hardware development more than on software and documentation, so at one point in time, people were speculating that it could be one person operation 🙂 Last year, Steven told us there were over 10 persons working in the office. But hey, photos, or it's fake! We now have a definite proof as Renaud Coustellier visited Steven Zhao in his Shenzhen Offices, and published a report on Minimachines (in French). I'll provide a summary below, but visit Minimachines website, if you want the full story and more pictures.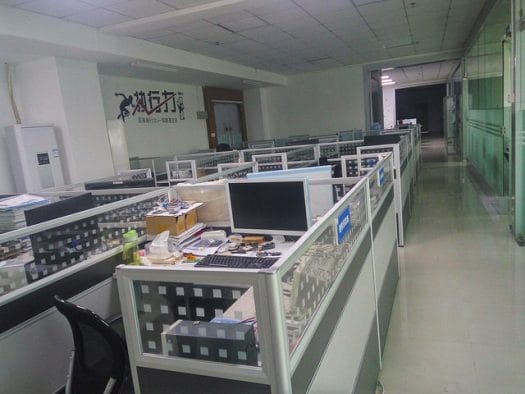 First, Shenzhen Xunlong rented a floor, or part of it, in one of the many Shenzhen office buildings, and engineers are working in the typical cubicles, you'll find in most other companies in China. The 200 m² office is now occupied by 50 employees doing hardware design, testing, and some customer support, and another part of the office is used for shipping parcels to customer. Manufacturing takes place in another factory in a cheaper place in inner China.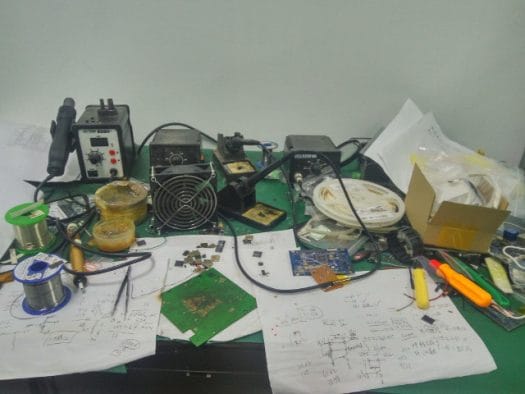 The company is not only doing development boards, but also working on projects for their customers such as point-of-sales and game consoles. Those are not Xunlong products, and Renaud was not allowed to take pictures.
Xunlong was apparently initially involved in the development of the first Banana Pi board, and then went on to create their own Orange Pi boards. We also learned the typical development cycle for a new board: two months for the first design, and one month extra for testing, before mass production, so it takes around three monthsin total. Each card has to go through hardware and software tests to pass QA.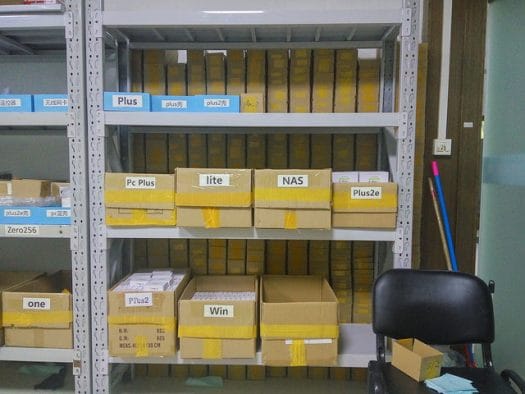 Xunlong sells around 40,000 boards per month, but the company is ambitious with a target of around 100,000 units per month by the end of 2017, and a new 5000 m² factory is now being built in Dongguan. Another positive point is that the company plans to hire (more) software engineers in 2017, instead relying only/mostly on external projects such as Armbian. According to the report, beside Orange Pi board samples, the company also gave $24,000 to Armbian community to help them out. Xunlong also launched an initiative to provide free development kit if you have a specific project for it that would be beneficial to both parties (but I could not find a link).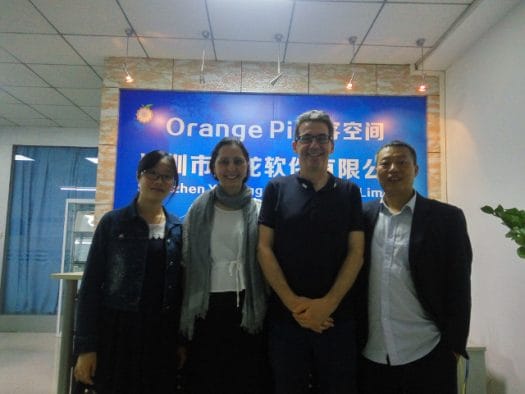 Then we also learn a bit more how the company can make boards at such a low price, and this get interesting. This was their conversion:
Steven: Orange Pi can purchase a good WiFi component for $1, with which boards will have a good WiFi connection
Renaud: Hmmm, if the price of the components is $1, then the price will be higher to the end user, and if you tell me the price, then I know your margin…
Steven: No, because today, all Orange Pi boards are sold to the BoM price.
Renaud – Does that mean the cost of engineers, office rental, equipment for development and design, and so on, is not reflected int othe price of the board?
Steven: Correct.
Renaud: But how how is that possible?
Steven: We receive subsidies from the government.
There you have it. That explains everything. We all pay about 50% of what we ought to be paying thanks to the Chinese taxpayers.
Beside the new factory, Xunlong has other bigs plans, as while they now sell though Taobao in China, and Aliexpress to the rest of the world, they plan to setup their own shop, where we should be able to buy the board directly from them. They intend to expand to IoT boards with 2G to 5G boards, ARM servers, and so on, and over the next 3 years, the plan is to recruit around 500 engineers, and sell ten times more boards than Raspberry Pi foundation. Maybe subsidies will have long been gone if that happens…
[Update from Steven:
Yes, there are some mistake, maybe it is because our translator wrong expressing.
1. About time arrangement for designing a new board: yes, we need 2 month for first design which also include samples production, but usually we take only 40-45days(30working days). Then after tested at customer side, we need around one month (20working days) for mass production. Which mean for a new product we need 3 months if do not take customer's time calculating in testing.
2. The new factory size is only 5000㎡ in Dongguan, and yes, we will donate Armbian $24,000 by the end of this year, for now we have only donated them part of the total amount.
3. About our cost and subsidies from government, yes, we sell most of our product at BOM cost, but we also have some models that still have margin profits, like PC Plus, Plus 2. If we keep running behind our expenses, how could government could support us? Government would not support you, if you have no income, they could only support you parts of the cost, like engineering cost, or part or office renting cost. So most of the cost should cover by ourself, we need to figure out how to how to sell more with margin profit. As you see, we do it now.
Finally, yes, we know what our weakness is, we will try to improve it in the following days.]
Thanks to Nobe for the tip.

Jean-Luc started CNX Software in 2010 as a part-time endeavor, before quitting his job as a software engineering manager, and starting to write daily news, and reviews full time later in 2011.