Purism is computer manufacturer founded in 2014 whose mission is to "provide the highest quality hardware available, ensuring the rights of security, privacy, and freedom for all users", and so far, they've delivered several Intel Core i5/i7 laptops running their PureOS Linux distribution based on Debian with an emphasis on privacy protection. The company has now launched a crowdfunding campaign on their own website to develop and manufacture Librem 5 Linux smartphone with the same philosophy.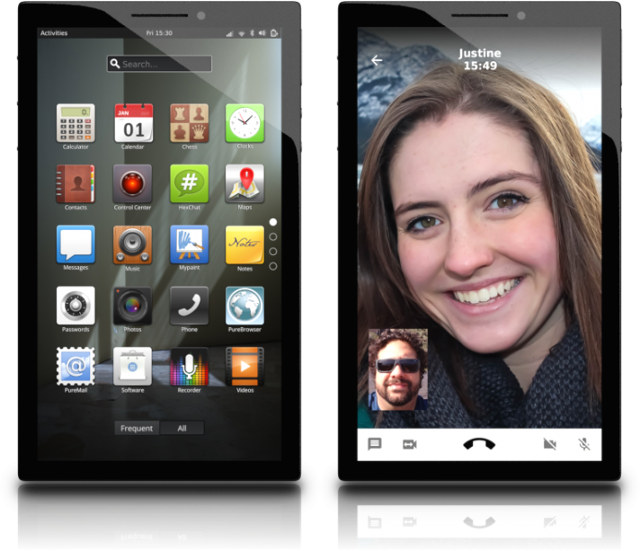 The phone will use open source software even for the GPU, so the company currently selected i.MX6 for the project since they can use etnaviv open source driver for the Vivante GPU, but they hope to switch to the more powerful i.MX8 processor for the final design, which explains why the hardware specifications are not set in stones yet:
SoC- NXP i.MX6/i.MX8 CPU with Vivante GPU
System Memory – 3GB LPDDR3
Storage – 32GB eMMC flash, micro SD slot
Display – 5″ touchscreen display
Audio – 3.5mm headphone and microphone jack, microphone, speaker
Cellular Connectivity – Separate mobile baseband 2G/3G/4G, GSM, UMTS, and LTE networks, SIM card slot
Connectivity – 802.11 WiFi, Bluetooth 4, GPS
Camera – Front and back
USB – USB Host, USB Type-C
Sensors – Accelerometer, gyroscope, compass, ambient light, proximity
Debugging – Internal debugging interface
Misc

Power Button, volume controls
Hardware kill switches for: camera, microphone, baseband, WiFi/Bluetooth

Battery – Capacity TBD
Dimensions & Weight – TBD
While the phone will ship with PureOS by default, it will also be compatible with other distributions including Debian GNU/Linux, Ubuntu, Fedora, SuSE, Arch Linux ARM, and SubgraphOS. At launch, PureOS will offer basic communication services: phone, email, messaging, voice, camera, browsing, but more features will come after launch.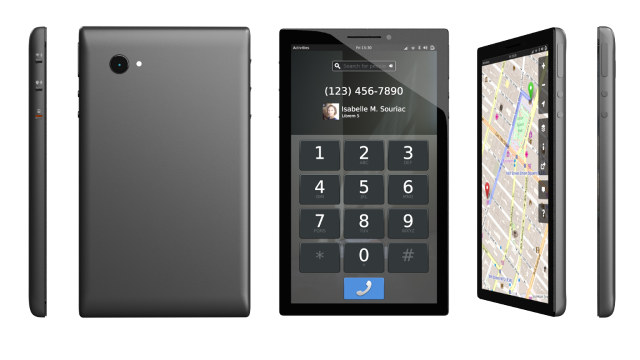 The phone will run native HTML5 apps such as YouTube, Twitter, and Instagram, but it might also be possible to run Android apps via Shashlik for a more extensive choice of apps, although the company's long-term goal is to utilize native applications that adhere to their philosophy. The company selected Matrix as the chat solution, instead of other encrypted chat services because those are proprietary solutions. The final goal is to have all software and hardware open sources (up to the schematics level), and Purism aims to get FSF RYF endorsement, but it might not be possible for such device because of the non-free kernel firmware needed for RF chips.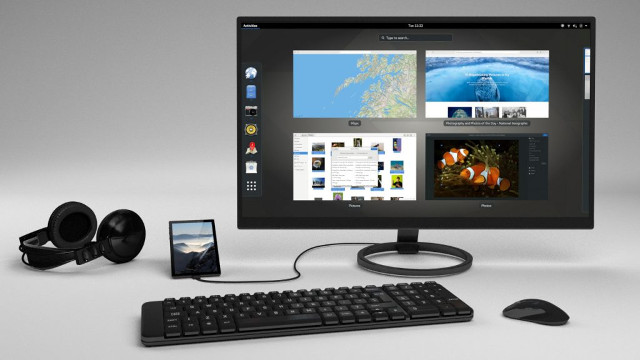 The phone will support mobile desktop convergence with an option for a compatible keyboard, mouse, and monitor in order to use your phone as a desktop computer. While many crowdfunding projects have a prototype of not so far from manufacturing, with Librem 5 smartphone, your pledge will also cover the huge software development undertaking needed to bring the project to life. There are risk on the hardware side too, as if you end up with an i.MX 6 quad core Cortex A9 processor, you'll have a rather slow and power inefficient phone for… 2019, when the product is expected to ship. NXP i.MX 8 with Cortex A72 and Cortex A53 cores would be a better technical option, but it's unclear whether the company will be able to procure it since it's not exactly designed for smartphones, and it features a new Vivante GC7000 plus GPU that would need to be supported by etnaviv [Update October 30, 2017: Good progress is taking place for Etnaviv port to GC7000]
But if you'd like to go ahead and help the project reach its 1.5 million dollars funding goal, you can pledge $599 for Librem 5 Phone with charger, $1,399 with the addition of a 24″ display, keyboard and mouse, and $1,699 with a 30″ display kit instead. All those rewards are expected to ship in January 2019, but if you want to help with software development, you can also get a $299 development kit with board, display and accessories that will be ship in June 2018. Shipping is free to the US, but adds a whopping $80 to the rest of the world…
Via Liliputing