Karl here with a review of Vobot sent By Cafago. I had to Google it when I was asked to review it. Turned out it was an Echo type device with a pixel display and a battery. It started as an Indiegogo campaign. I had been wanting to try to do some sort of voice control with my home automation so I agreed to review it.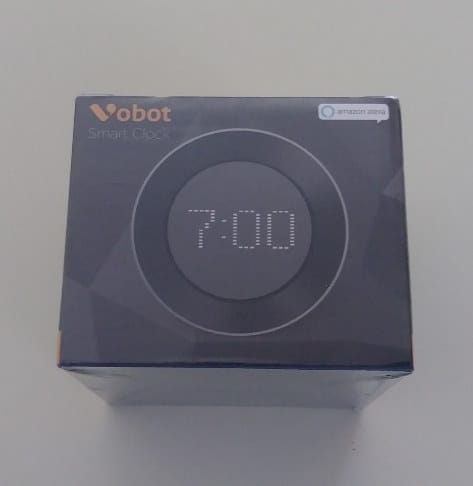 Vobot Clock C1 Specifications
These are pulled from Vobot's website. No power supply is included but a long USB cable is.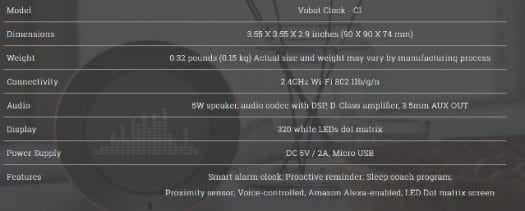 Vobot Setup
I let my wife do the initial setup as I figured that she would use it the most. She followed the instructions, and it seemed straightforward from what she told me. She said she had to reboot it once during a step but it continued the setup with no problems. She tied to our Amazon Prime account, and she quickly was playing some music. During research, I did find out that it was not an always listening device.
Firmware Update
I logged into myvobot.com today to see if anything had changed, and there was an update. It suggested that I rebooted the device so I did before updating. Without logging in I wouldn't have known there was an update. Maybe I missed something but I don't remember seeing or hearing some sort of notification. I received a verbal notification that it could take up to 10 minutes, but only took a few minutes. The thing is I have no idea what has changed or improved. There is no changelog.
Vobot Display
Display settings allow you to set Brightness, and the time to display Time, Date, Day of Week, Battery Status, and Date + Time.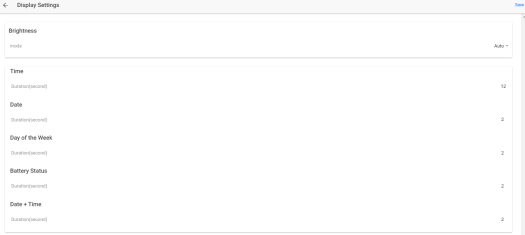 That's what the time display looks like.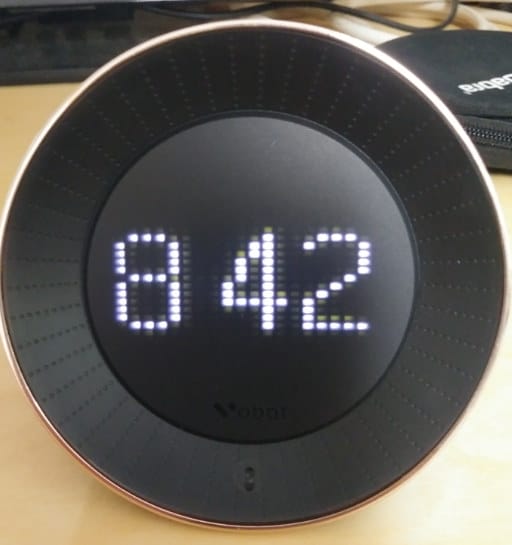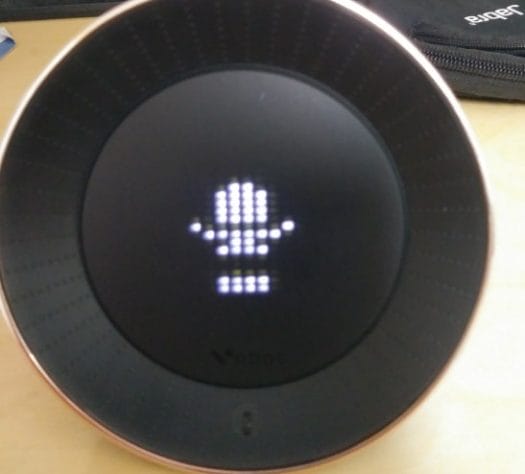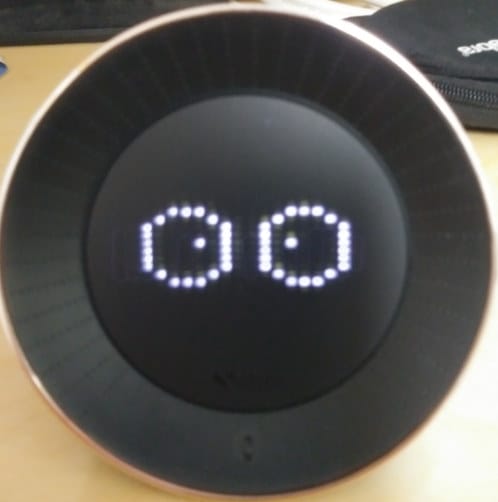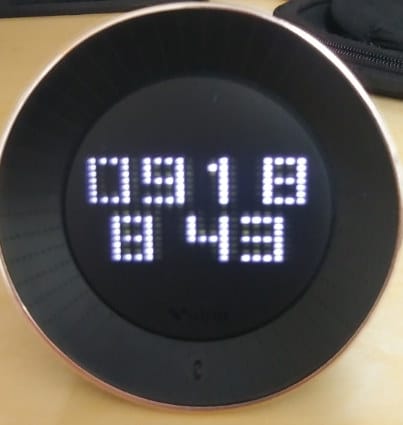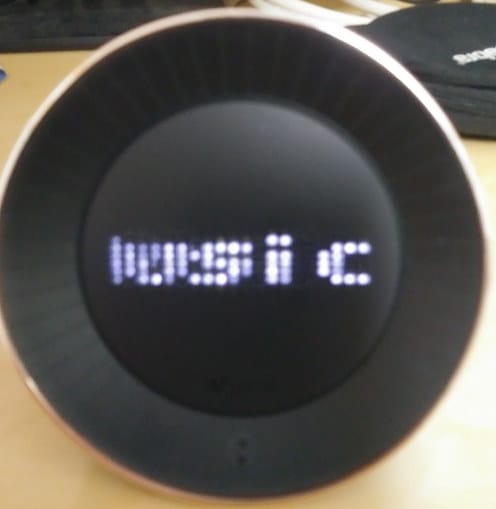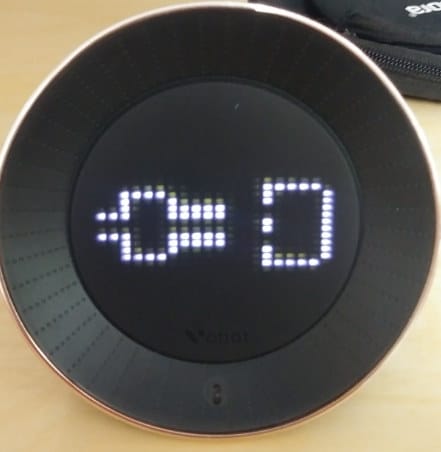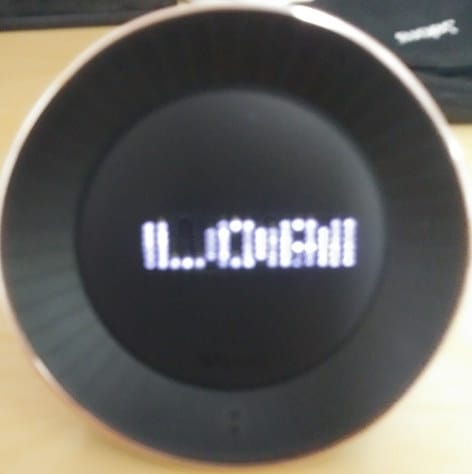 Teardown
I wanted to do a teardown when I first received the speaker, but I was afraid to break it. Now here at the end, I finally put some force behind it and finally got it apart. Only a few minor scratches and it seems to be fine. The teardown reveals that it is running on a Mediatek MT7688AN, and confirms battery's capacity. 512MB NANYA storage NT5TU32M16FG-AC completes the list of the main chips. Maybe some enterprising soul will hack this and bring some imaginative new usage.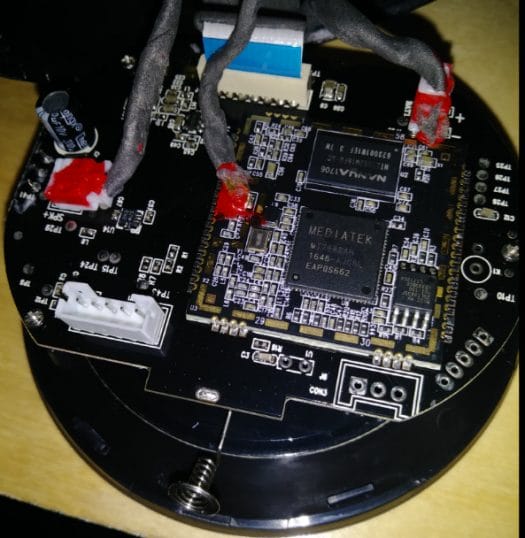 One big issue
Everything that I tried worked the way I expected for the most part . Home assistant can emulate a Hue bridge, but after reading in the forums, it only works with an Amazon Echo or Google Home speaker. Bummer, that is not the real issue I wanted to bring up. I really wish that it had an always listening microphone. You have to press the button to put it in listening mode. I understand that it has a battery, and would drain the battery but why not have it always listening when plugged in and use the button when roaming about.
Random final thoughts
OK now that I have a device that will take voice commands now what. I like the scrolling display. It is pretty cool and a little retro. I used this about 95% of the time just to play music. Don't expect much from the speaker, but you can send audio to a home system through the 3.5mm jack on the back.
I know that there are 1000's of skills but few attracted me. I did like the idea of calling another Alexa device but not supported. Arggh, OK maybe another issue. I did use the weather feature asking about the weather for the next day on occasion.
My 5 year old son was easily able to start music, and it could understand his voice which surprised me. The display is nice, and battery powered is a plus, but I don't understand one thing. For just about the same price, I can get an Echo Dot which gets me always listening, and 100% works with all the features but no battery or display. I bet that the limitations with the exception of the always listening is inherent to all non Echo devices.
If you are looking for a portable Alexa powered device with a display then the Vobot might be for you. Seems sturdy. Descent battery life. I listened for about 2 hours and it still had a charge on the battery. To get an official Echo Tap it sets you back $120. It is the only official Echo that has a battery.
I would like to thank Cafago for sending the device for review. They provided a coupon code "V3127SA" for the Vobot which is good until 9/30/17, and brings the price down to $ 41.99/€36.1. You'll also find it for $45 and up on other sites such as DX.com or Amazon.

Karl is a technology enthusiast that contributes reviews of TV boxes, 3D printers, and other gadgets for makers.