Most technological advances usually improve life of people, and with the costs coming down dramatically over the years, available to more people. But technology can be used for bad, for example by governments and some hackers. Today, I've come across two cheap hardware devices that could be considered evil. The first one is actually pretty harmless and can be use for education, but disconnects you from your WiFi, which may bring severe physiological trauma to some people, but should not be life threatening, while the other is downright scary with cheap targeted killing machines.
WiFi Deauther V2.0 board
Specifications for this naughty little board:
Wireless Module based on ESP8266 WiSoC
USB – 1x Micro USB type changed, more stable.
Expansion – 17-pin header with 1x ADC, 10x GPIOs, power pins
Misc – 1x power switch,  battery status LEDs
Power Supply

5 to 12V via micro USB port
Support for 18650 battery with charging circuit (Over-charge protection, over-discharge protection)

Dimensions – 10×3 cm
The board is pre-flashed with the open source ESP8266 deauther firmware, which allows you to perform a deauth attack with an ESP8266 against selected networks. You can select target IP address, and the board will then disconnect that node constantly, either blocking the connection or slowing it down. You don't need to be connect to the access point or know the password for it to work. You'll find more details on how it works on the aforelinked Github page. Note: The project is a proof of concept for testing and educational purposes.
WiFi Deauther V2.0 board can be purchased on Tindie or Aliexpress for $10.80 plus shipping.
A.I. Powered Mini Killer Drones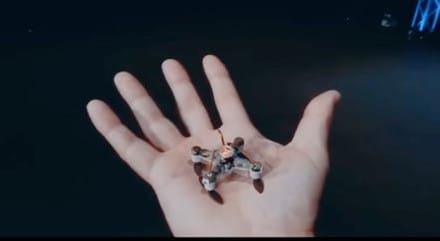 The good news is that those do not exist yet (at least not for civilians), but the video shows what could happen once people, companies, or governments weaponize face recognition, and drone technology to design mini drones capable of targeted killings. You could fit the palm-sized drones with a few grams of explosives (or lethal poison), tell them who to target, and once they'd find it, land on the skull of the victim, and trigger the explosive for an instant kill. Organizations or governments could also have army of those drones for killing based on metadata obtained from phone records, social media posts, etc… The fictional video shows how those drones could work, and what may happen to society as a consequence.
Technology is already here for such devices. Currently you could probably get $400+ DJI Spark drone to handle face recognition, but considering inexpensive $20+ miniature drones and $50 smart cameras are available (but not quite good enough right now), sub $100 drones with face recognition should be up for sale in a couple of years. The explosive and triggering mechanism would still need to be added, but I'm not privy to the costs… Nevertheless, it should be technically possible to manufacture such machine, even for individuals, for a few hundreds dollars. Link to fictitious StratoEnergetics company.
The Future of Life Institute has published an open letter against autonomous weapons that has been signed by various A.I. and robotics researchers, and other notable endorsers, stating that "starting a military AI arms race is a bad idea, and should be prevented by a ban on offensive autonomous weapons beyond meaningful human control", but it will likely be tough to keep the genie in the bottle.

Jean-Luc started CNX Software in 2010 as a part-time endeavor, before quitting his job as a software engineering manager, and starting to write daily news, and reviews full time later in 2011.