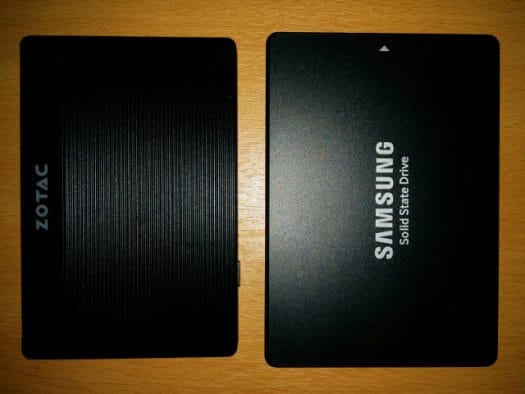 What makes the
Zotac ZBOX PI225
so interesting is that this is the first true 'card' form-factor mini PC. It is a mini PC that looks like a SSD. Whilst Intel replaced the 'stick' form-factor with a similar 'card' form-factor for their next generation mini PCs they also required a 'dock' in order to use them. The difference with the PI225 however is that it actually is a standalone mini PC and includes all the necessary input/output ports.
Intrigued by this new form-factor I decided to purchase one and the following is my review of its performance and capabilities.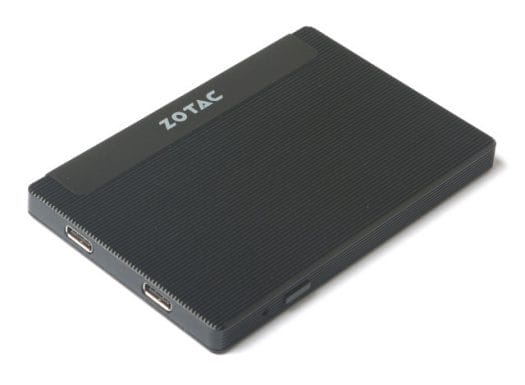 The Zotac ZBOX PI225 is a fanless device which features an Apollo Lake N3350 SoC with 32GB of storage pre-installed with Windows 10 Home, 4GB RAM, 802.11ac WiFi, Bluetooth 4.2, two USB Type-C ports, a micro SD card reader and a power connector.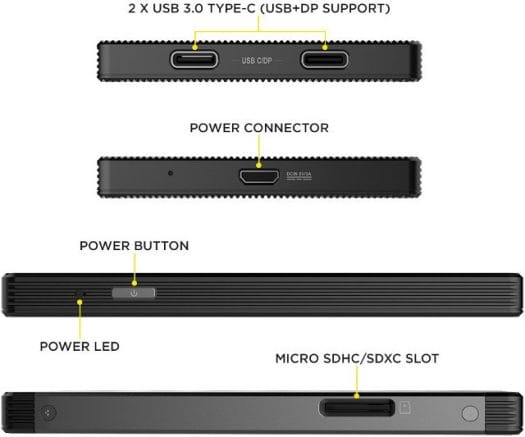 Importantly it comes with all the accessories you need to get up and running:
including a Windows OS recovery disk although perhaps this could have been better provided on an SD card for ease of access. The twin USB/HDMI adapter means the device's built-in Type-C USBs make the PI225 future-proof whilst removing the need to purchase new cables from the outset. Adding a VESA mount is a nice touch and emphasizes the size or lack thereof given the device is marginally smaller than a regular SSD.
The device once booted starts Windows which becomes fully activated after connecting to the Internet:
The basic hardware matches the specification:
with just under half the storage used after Windows updates: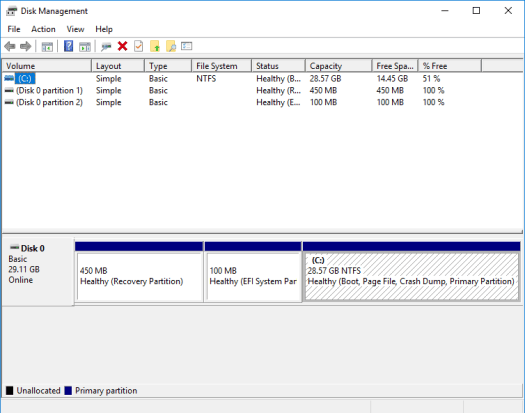 Running my standard set of benchmarking tools to look at performance under Windows:
reveals the performance is much lower than expected for a N3350 SoC device. Checking the BIOS reveals that 'Turbo Mode' is disabled resulting in the clock speed being restricted to its based frequency of 1100 MHz and preventing it bursting to its top frequency of 2400 MHz.
This was obviously set to limit the heat produced by the CPU and assist in the thermal design which makes use of the device's outer metal case to dissipate heat in its role of passive cooling.
After enabling 'Turbo Mode' and 'Active Processor Cores'
Interestingly the results for CrystalDiskMark noticeably improved after enabling 'Turbo Mode' and 'Active Processor Cores' as well:
which is reflected in all the benchmarks including on Linux (see later) and highlights the need to 'interpret' the results as indicative comparisons rather than definitive and accurate measurements.
Next I installed Ubuntu to the eMMC as dual-boot. The BIOS includes the 'Intel Linux' as an 'OS Selection' under Chipset/South Bridge/OS Selection:
Similar to Windows there is a significant performance gain when enabling 'Turbo Mode' and 'Active Processor Cores':
Octane without 'Turbo Mode':
recorded a result of nearly half that of Octane with 'Turbo Mode':
With 'Turbo Mode' enabled the performance is as expected when compared to other devices with the N3350 SoC:
and can be compared with other Intel Apollo Lake devices:
Revisiting the hardware using Linux commands additionally shows that the memory is faster at 1866 MHz and configured as quad-channel and that the micro SD card is running the faster HS400 interface:
The device doesn't have a headphone jack so audio is only available over HDMI:
However with 'Turbo Mode' enabled (note the CPU speed below the graph on the right):
the power limit (see 'Maximum' column on left) is exceeded.
When the device with 'Turbo Mode' enabled was put under continuous load, for example playing a 4K video, this causes the temperature to continually rise and then thermal protection cuts in and the device effectively crashes. The following screenshot was taken shortly before this occurred during testing and shows that the CPU speed had already been throttled although the core CPU temperatures are still rising:
So the findings are that with both Windows and Ubuntu it is impossible to watch a 4K video of any length without the device crashing when 'Turbo Mode' was enabled.
The good news is that 4K videos play as good as any similar device without 'Turbo Mode'. Starting with Windows the first test was watching a 4K video using Microsoft Edge which worked perfectly:
The same video when watched using Google Chrome resulted in the very occasional dropped frame:
and changing the video quality to high definition (1080p resolution) results in fewer dropped frames:
Running on Ubuntu the same video at 4K in Google Chrome was unwatchable with excessive dropped frames and a stalled network connection after a short while:
At 1080p the video is watchable but does suffer from dropped frames:
Running Kodi on Windows with a VP9 codec encoded video used software for decoding resulting in high CPU usage:
compared with a H.264 codec encoded video which uses hardware to decode:
and similar for videos encoded with H.265 or HEVC:
with no issues playing the videos.
On Ubuntu hardware is used to decode all three codecs:
however some H.265 videos resulted in a blank (black) screen just with audio whereas others played without issue:
During testing without 'Turbo Mode' the device heats up playing videos but reaches a point where the passive cooling prevents the device from overheating:
But when the inside warms up so does the outside. Included within the packaging is a single slip of paper warning how the outside temperature can reach up to 57°C during continuous video playback:
Even allowing for a margin of error this temperature was reached during testing:
and with 'Turbo Mode' enabled the surface temperature can get very hot:
so that is a very good reason why this settings should not be enabled by default. For comparison a single walled paper cup of freshly poured coffee will be a similar temperature and for most people this is too hot to hold.
For WiFi connectivity, the 2.4 GHz throughput measured using 'iperf' shows 42.2 Mbits/sec for download but only 22.3 Mbits/sec for upload. However 5.0 GHz throughput is consistent with download measuring 152 Mbits/sec and upload of 142 Mbits/sec.
I also purchased a small hub that connects through a Type-C connection and provides an HDMI port for video, a USB port for keyboard/mouse and a Gigabit Ethernet port for networking ('iperf' confirms 940 Mbits/sec for both upload and download). Using this hub means I still have the second Type-C port on the device for using a USB etc.
Power consumption for the device was measured as:
Power off – 1.0 Watts
Standby – 0.8 Watts
Boot menu – 5.0 Watts
Idle – 3.8 Watts (Ubuntu) and 4.3 Watts (Windows)
CPU stressed – 4.1 Watts (Ubuntu)
4K video – 6.6 Watts (Ubuntu) and 6.4 Watts (Windows)
Finally the BIOS is very flexible with all the key settings available:

It may seem that this device is overly restricted by its thermal design. However, I've not found that to be the case once the limitations are known. The 4GB of memory is sufficient to run Windows or Linux OS and having a BIOS that supports Linux means that you are not restricted in what OS you can install. Storage can be expanded by using an SD card and the Type-C ports provide flexibility in how the device is connected. The ability to select 'Turbo Mode' means you can use this device as a mini PC although it should be disabled if using as an HTPC.  Zotac could have removed the setting from the BIOS, but kudos to them in leaving it and letting the user use the device and be responsible for how it is used. As shown the setting is not required for watching 4K videos, and this makes the device perfect for digital signage. Including the dual USB/HDMI adapter, VESA mount and the Windows recovery disk with detailed documentation is particularly noteworthy. Overall it is a very commendable effort given the new form-factor and challenges it presents.
---
Zotac ZBOX PI225 mini PC can be purchased for a little over $200 on websites such as Amazon or eBay.

Ian is interested in mini PCs and helps with reviews of mini PCs running Windows, Ubuntu and other Linux operating systems. You can follow him on Facebook or Twitter.