After checking out Vorke V1 mini PC hardware in the first part of the review, it's now time to publish the review starting with system information, benchmarks, and user testing. The device competes with similarly priced devices based on Intel Atom x7 processor such as Voyo V3 and Beelink BT7, so I'll also include some comparisons to those in the review.
Setup and System Information
I connected USB keyboard and mouse, an Ethernet cable, HDMI and VGA cables to check dual display support, as well as the power supply. I did not connect my USB 3.0 hard drive since, I've already fitted the mini PC with an internal 1TB hard drive.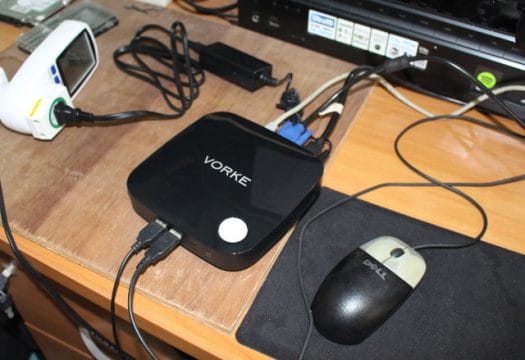 Pressing on the large power button on the top of the device will boot it, and after a few seconds, you'll get to go through Windows 10 setup by first accepting the EULA.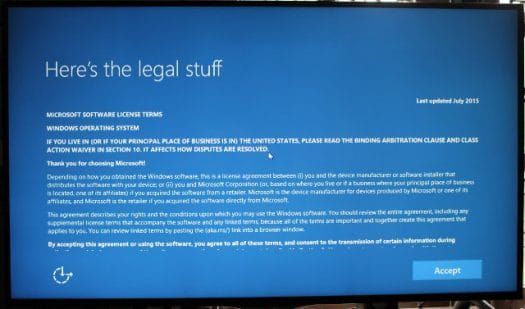 The next steps are Custom or Express settings selection, and user account creation. I have not been asked to select the language, nor configure the network, as with some other Windows 10 mini PCs. That's something you can do later, and with Ethernet, you should have Internet connectivity without doing anything provided your router is using DHCP.
Apart from that there's nothing else to configure really. In my case, my hard drive was formatted to EXT-4, so I had to reformat it with NTFS in order to access it in Windows. The C: drive (included FORESEE SSD) had 47.2GB free out of 59.1GB in total, the 1TB hard drive (my own) had 931 GB capacity after I formatted it.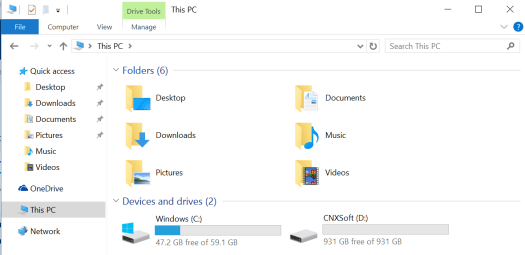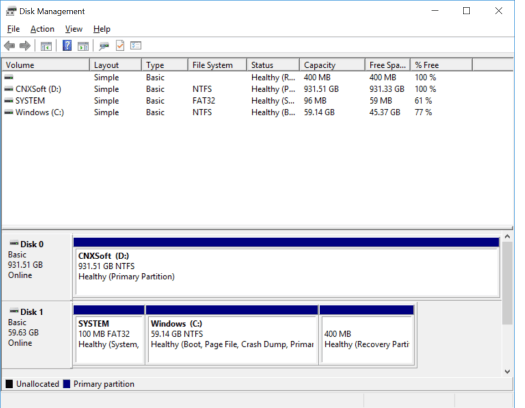 Then I went to the Control Panel to check the Windows 10 license was indeed activated, and some basic hardware information.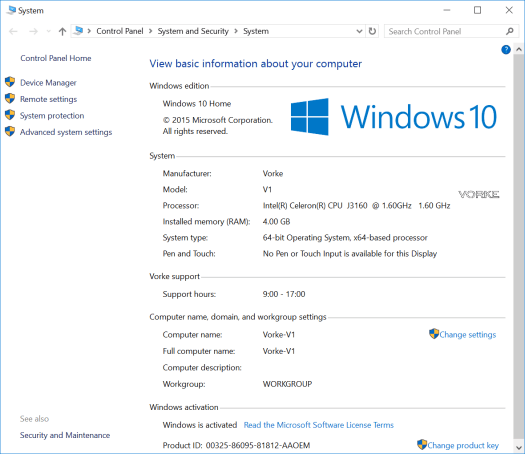 Vorke V1 comes with an Intel Celeron J3160 quad core processor @ 1.60 GHz, 4GB RAM, and runs a legit Windows 10 Home 64-bit as advertised. The Device Manager list some of the peripherals and chips used by the system.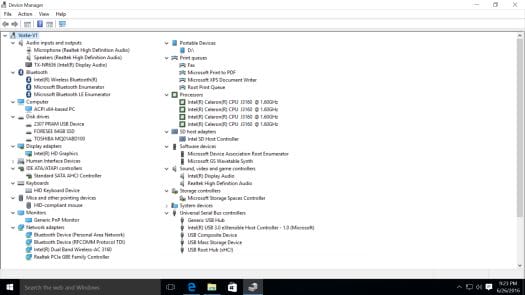 HWiNFO64 provides more details about the Intel Celeron J3160 SoC, memory (single channel only), and some information about the motherboard (THD RX2) and UEFI version.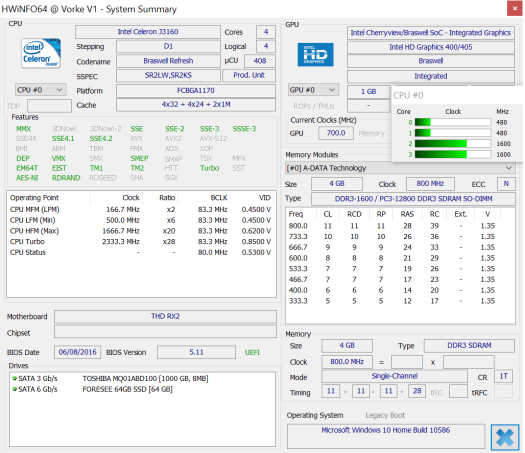 Celeron J3160 has exactly the same "CPU Features" as Intel Atom x7-Z8700.
One thing I liked about Beelink BT7 is that it shipped with a CD ROM driver, but Vorke V1 does not, and I could not find them online. I've asked, and wait for an answer.
Finally, I tried dual display support, and the VGA cable was connected to a Full HD Sharp TV, and I could setup extended display very easily.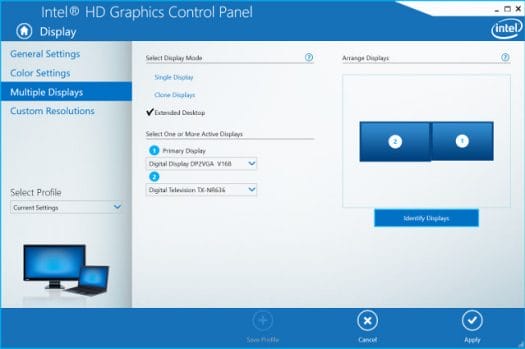 However the maximum resolution I could set was 1680×1050, and the text was rather blurry, even more so than usual on VGA monitors.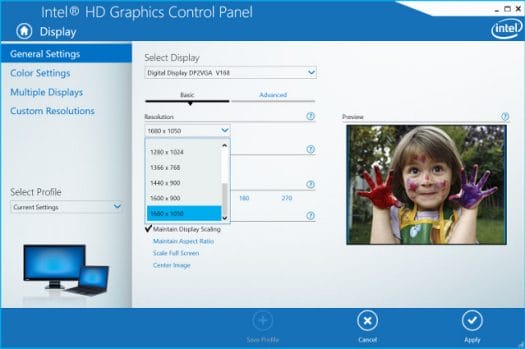 Vorke V1 Benchmarks
The first benchmark I ran was PCMARK 8 Conventional and Accelerated (with OpenCL).


The scores are only slightly better than the ones I got on Beelink BT7 with 1,545 and 1,315 against 1,509 and 1,211 points on the Cherry Trail mini PC. So I would not expect the end user to notice much difference here.
You can consult the results for Conventional and Accelerated benchmarks for the complete details.
Normally, I'd run 3DMark next, but after downloading and installing it several times, I was never able to run any of the tests, with all ending quickly with zero score and an undefined error. AndroidPC.es did run 3DMark's Ice Storm and Cloud Gate on their own sample however, and respectively achieved 20,984 and 2,451 points. Again the results are quite close to Beelink BT7 scores: 23,999 and 2,185 points.
Passmark 8 results show around 9% improvement over BT7 with 921 points.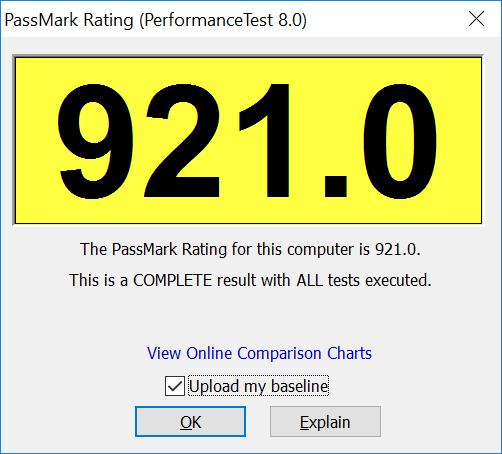 Next up is storage performance, which should not be neglected while buying a mini PC, as everything will feel snappier when storage is fast, and the random write and read performance is especially important for the drive used by the operating systems. As usual, I ran CrystalDiskMark on the C: drive (SSD with Windows 10), as well as on the D: drive with my own 1TB SATA drive connected inside the mini PC.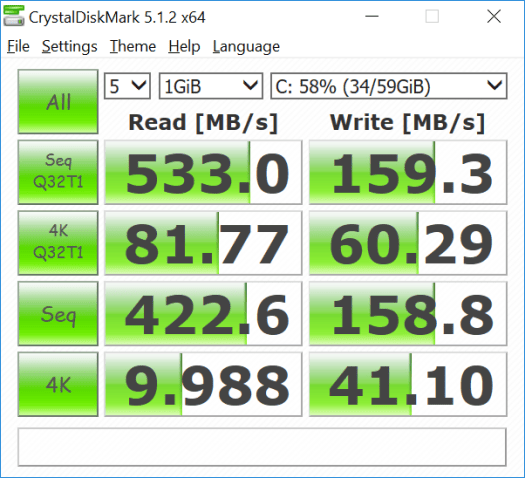 FORESEE is not exactly known for their ultra eMMC or NAND flash, but here the results are not too bad, and even a little better than the M.2 SSD used in Beelink BT7.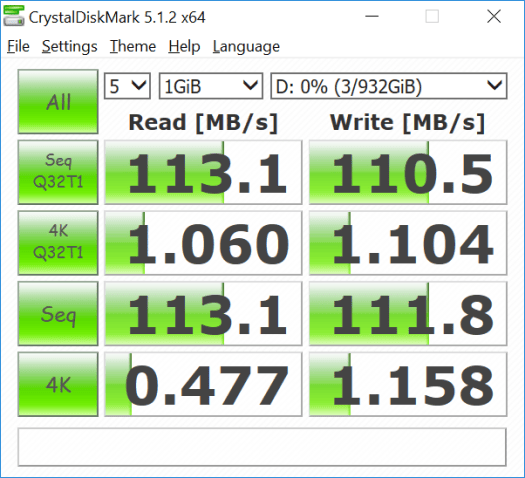 The hard drive performance is more or less as expected for a mechanical drive, with slow random I/Os, and around 110 MB/s for read and write sequential speeds.
At first  I was disappointed with Ethernet, as while Vorke V1 specifications clearly mention a Gigabit Ethernet port, it only connected at Fast Ethernet speeds to my Gigabit switch (FE: Orange LED; GbE: Green LED), but later it began working at Gigabit speeds, and a full duplex transfer test using "iperf.exe -t 60 -c server_ip -d"  showed excellent performance:

Client

connecting

to

192.168.0.111

,

TCP

port

5001

TCP

window

size

:

 

144

KByte

(

default

)

--

--

--

--

--

--

--

--

--

--

--

--

--

--

--

--

--

--

--

--

--

--

--

--

--

--

--

--

--

--

[

 

6

]

local

192.168.0.104

port

60816

connected

with

192.168.0.111

port

5001

[

 

6

]

 

0.0

-

60.0

sec

 

5.97

GBytes

  

855

Mbits

/

sec

[

 

5

]

 

0.0

-

60.0

sec

 

6.29

GBytes

  

900

Mbits

/

sec

WiFi supports 2.4 and 5.0 GHz and I could connect to all my access points, including at 802.11ac speed.
I ran iperf in one direction (download), and the results were rather good @ 55.6 Mbps, much better than on either Voyo V3 or Beelink BT7 which averaged around 30 Mbps.

[

 

4

]

local

192.168.0.104

port

5001

connected

with

192.168.0.109

port

51723

[

 

4

]

 

0.0

-

60.1

sec

  

398

MBytes

 

55.6

Mbits

/

sec

Finally, I draw a chart between various low power Intel platforms, and that shows the Cherry Trail and Braswell are in the same ball bark, and if you really want a boost in performance you have to go with the much more expensive Core M platforms.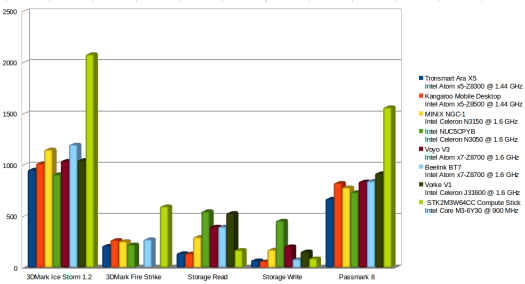 3DMark Ice Storm results are divided by 20 in order to generate a readable chart. The storage part of chart also shows the FORESEE SSD used in Vorke V1 is not bad at all compared to other competitors, even against the more expensive MINIX NGC-1.
Vorke V1 User Experience
The benchmarks showed the mini PC has decent performance, with the only hiccup being that I was no able to run 3DMark at all, but others did.
I used to select Microsoft Edge during review due to better YouTute performance, but since I've now found out that disabling VP9 on Chrome and Firefox fixes video stuttering in YouTube, I decided to replace Edge with Chrome in Vorke V1 video review.
So the tests will be as follows:
Multi-tasking – Using Chrome, Thunderbird, LibreOffice, and Gimp at the same time
Web Browsing with Chrome

Loading multiple tab with CNX Software
Playing a 1080p YouTube Videos
Playing a flash game  (Candy Crush Saga)

Gaming with Asphalt 8
Kodi 16.1 @ 4K resolution with 4K videos using H.265 or H.264 codecs, and HDMI audio pass-through
The performance and capabilities of Vorke V1 Braswell mini PC in those tests match exactly the ones in Cherry Trail Atom x7 mini PCs with 4GB RAM, with all tasks performing smoothly, and Asphalt 8 game that would benefit from higher frame rates. Kodi 16.1 can handle XVDA2 hardware decoding for 8-bit H.265 and H.264 videos up to 4K @ 30 fps, but 10-bit and VP9 videos fall back to software decoding, and the processor is not quite powerful enough to handle 4K that way. HDMI audio pass-through works for Dolby Digital and DTS,  but 7.1 audio formats such as TrueHD and DTS HD are not supported. You can still get audio using Kodi's audio transcoding feature, or accepting down-mixing to PCM 2.0 audio.
I usually only check for thermal throttling during benchmarks and the tests done above, but I've now decided to push the devices a bit more by running OCCT stress tool, although I may switch to other stress testing tools in the future. The tool runs heavy load on four cores, and I can check CPU temperature and frequency, as well as throttling status using HWiNFO64 utility.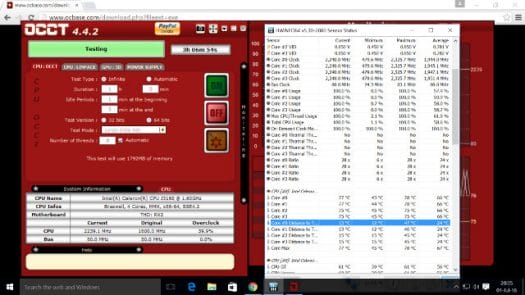 I ran that test for a little over 3 hours, and Vorke V1 had no problems at all with the maximum temperature reached being 78 C,  well below the 90 C junction temperature. The frequency chart generated by the utility also shows the system was running at the turbo frequency (~2.24 GHz) for the whole time, except for a small dip.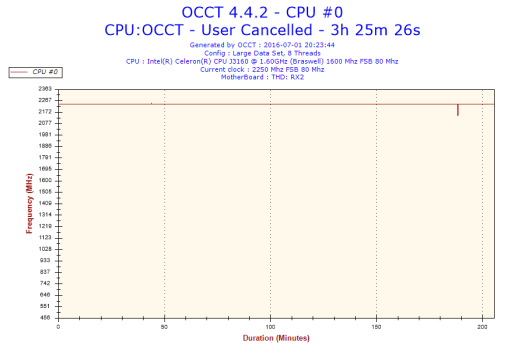 So you can expect a constant performance over time under any kind of loads.
Conclusion
I'm pleased with my experience with Vorke V1 mini PC, performance is good without throttling at any time, Windows 10 is activated, storage performance is very good, and both Gigabit Ethernet and 802.11ac WiFi deliver excellent networking performance.  The only downsides I can think of are that it's not fanless – the fan is always on but relatively quiet -, and the case design is much larger than the ones of competitors, and IMHO not quite as good looking. Another minor issue is that while 7mm 2.5″ SATA hard drives will fit without issues into the internal SATA, 9.5mm hard drives will slightly bend the bottom cover, and leave a tiny gap as explained in the unboxing and teardown post. But if you don't care about the fan, and the design, and want something that works, I can highly recommend Vorke V1. I'm not a big fan of installing Ubuntu on devices where you have paid a Windows license, but Ubuntu 16.04 can be installed using the standard ISO, something you cannot do with Cherry Trail mini PCs without losing some features. I told GeekBuying they should provide a model without Windows, but they did not seem interested at all.
Vorke V1 price is also rather attractive, as while the standard price is $199.99 on GeekBuying, you can bring that down to $159.99 with VORKE40OFF coupon.  The only other seller that showed in a Google search was Banggood ($199.00).

Jean-Luc started CNX Software in 2010 as a part-time endeavor, before quitting his job as a software engineering manager, and starting to write daily news, and reviews full time later in 2011.