Commell has announced its 3.5" LE-37N SBC run by the 8th generation Whiskey Lake-U quad-core processor. The board has support for triple displays, 4x USB 3.1 Gen 2, 2x SATA III 2x GbE, M2 and Mini-PCIe. Previously we reported on the ASRock IMB-1216 mini-ITX board powered by a choice of Whiskey Lake-U SoCs, as well as the crowdfunded UP Xtreme Whiskey Lake-U SBC.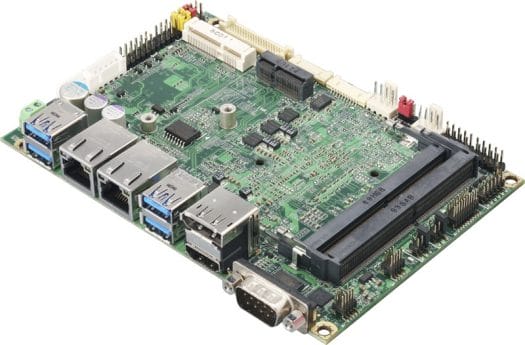 LE-37N Whiskey Lake-U SBC
The LE-37N miniboard platform is specifically designed for the Whiskey Lake-U Intel processors with the FCBGA1528 sockets. But it was built with the quad-core, 8-thread, 1.7 GHz Core i7-8665UE with an 8MB cache, 15W TDP and 24 EU Intel Generation 9.5 HD Graphics. It supports DDR4 memory in two SO-DIMM 2400 MHz slots for up to a total of 32GB. The 8th Generation Whiskey Lake-U i7 processor is more power-efficient and supports Linux and Windows OSes.
Extra Features and Display Options
There is support for triple displays through 4K HDMI, DVI and an 18/24-bit single/dual channel LVDS connection. There is even a fourth display option based on your SBC configuration type; one SKU comes with a 4K Ready DisplayPort. While another option is VGA and a second LVDS. There are 1x R232 COM port, 1x RS232 internal connector and 2x RS232/485/422 interfaces, as well as internal I/Os including 4x USB 2.0, PS/2, 8-bit GPIO, and an SMBus.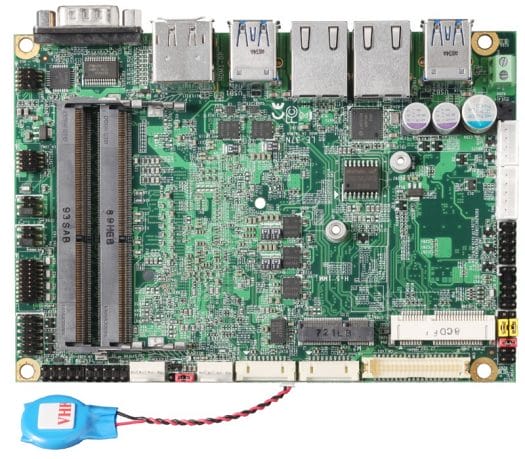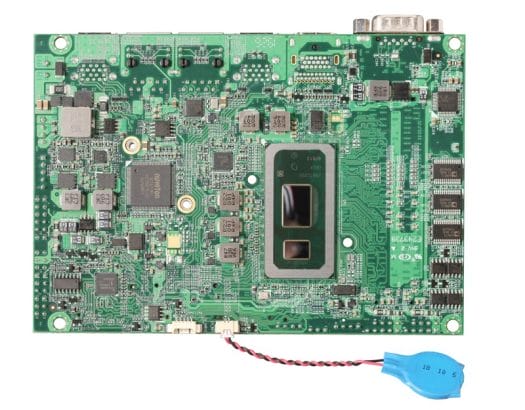 Important Features
CPU: Intel Whiskey Lake-U Processor in FCBGA1528 socket
Memory: Two DDR4 2400 MHz SO-DIMM up to 32 GB, support Non-ECC, unbuffered memory.
Integrated Graphics: Intel Gen 9.5 integrated HD
LVDS interface: Onboard 18/24-bit single/dual channel LVDS connector with +3.3V/+5V/+12V supply
Optional Display port interface: Onboard Display port connector.(Only LE-37N7)
HDMI interface: Onboard HDMI
Optional VGA interface: Onboard 11-pin connector (Only LE-37NT7)
LAN Interface:1x Intel i219-LM Gigabit PHY LAN (Support iAMT 12.0), 1 x Intel i210-AT Gigabit LAN.
Serial ATA: Support 2x SATA3.
Audio: Integrated Realtek ALC262 High Definition Audio.
Internal I/O: 2x SATA3, 1x RS232, 2 x RS232/422/485, 4 x USB2.0, 1 x VGA (Only LE-37NT7), 1 x LVDS, 1 x LCD inverter, 1 x GPIO, 1 x Audio, 1 x PS/2, 1 x SMBus.
Rear I/O:1x DisplayPort (Only LE-37N7), 1 x HDMI, 4 x USB3.1 Gen2, 2 x LAN, 1x RS232.
Extended interface: One PCIE mini card (Support mSATA), one M.2 (Key E).
GPIO interface: Onboard programmable 8-bit Digital I/O interface.
Power requirement: DC input 9~35
Information in this article was provided in part by an article at LinuxGizmos.com. The pricing and shipping information has not yet been announced. More information can be found on the product page and the press release.

Stephen started writing about technology after publishing sci-fi short stories. His first White-Paper, written in 2008, was well received and inspired him to continue writing about technology. Today he writes in the technology space full time, covering a multitude of topics. During the time he wrote part-time he edited hundreds of titles for large publishers, in science and technology. He lives in Staten Island, with his wife and children.