MINIX demonstrated their latest fanless NEO G41V-4 mini PC at IFA 2019 together with a MINIX NEO J50C-4 mini PC that I thought was last year's model since I reviewed it last September with Windows 10 Pro and the company's MINIX NEO W2 air mouse for computers.
So when I received another MINIX NEO J50C-4 sample for review I was confused but noticed the eMMC flash capacity was increased from 32GB to 64GB. So I asked, and it's a relaunch due to the shortage of Intel Gemini Lake processors:
The increased storage capacity, from 32GB to 64GB eMMC, is the only difference from the sample you received last year.

While we announced NEO J50C-4 last year, due to the Intel CPU shortage we never actually officially released.

The Intel CPU shortage meant we only sold a couple of hundred units that we managed to produce before the CPU stock ran dry.

Now the CPU shortage is over, we're doing an official (re)release and it'll be available world-wide from all our distributors and resellers.
Unboxing
Let's still go ahead to see of other smaller parts have changed. Starting with the package that has been redesigned.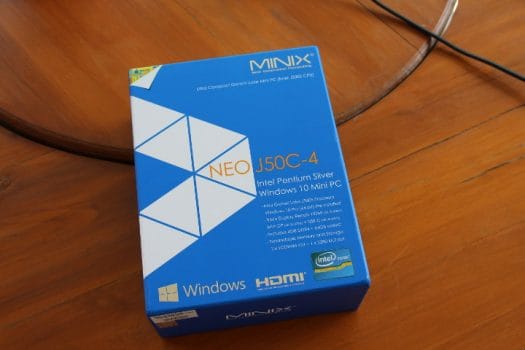 The specifications are nearly identical with an Intel Pentium Silver J5005 Gemini Lake processor 4GB DDR4 with 2x SODIMM slots, but indeed the storage capacity has increased to 64GB still using an eMMC 5.1 flash.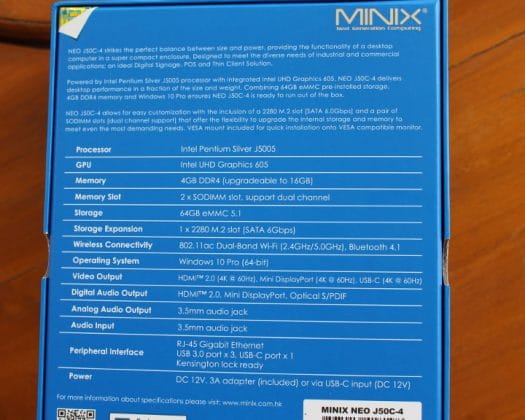 The design of the mini PC is the usual black box with MINIX engraving.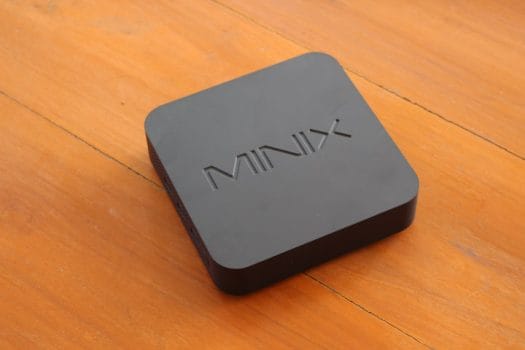 The external is exactly the same, with ventilation holes on the side with a Kensington lock hole and reset button…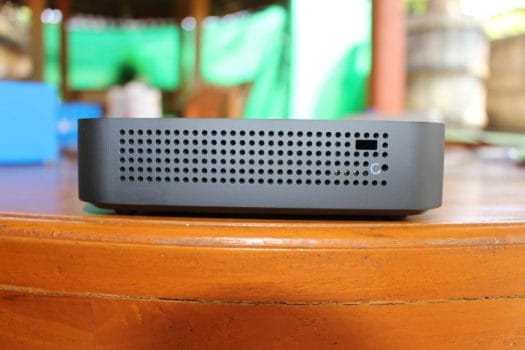 and again plenty of ventilation holes on the other side with three USB 3.0 ports and the power button.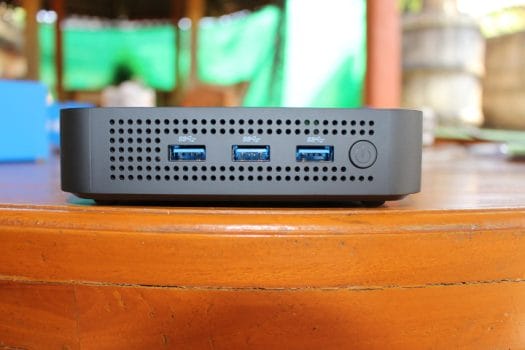 No change for the rear panel either with a 12V DC jack, Gigabit Ethernet, DisplayPort and HDMI 2.0 outputs, a USB Type-C port, and an audio jack that can also be used as optical S/PDIF via an adapter.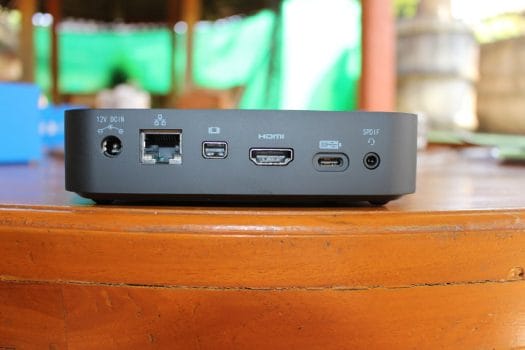 Talking about accessories the mini PC comes with an HDMI cable, a VESA mounting kit, a 12V/3A power supply and country adapter, the 3.5mm audio jack to S/PDIF adapter, spare screws for the mini PC enclosure and M.2 SSD, rubbed pads, as well as a multi-lingual user manual and 2016/2017 product brochure…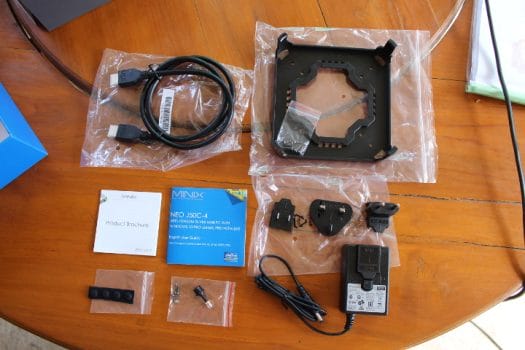 MINIX NEO J50C-4 (64GB) Teardown
Let's open the thing to check out potential modifications to the hardware itself.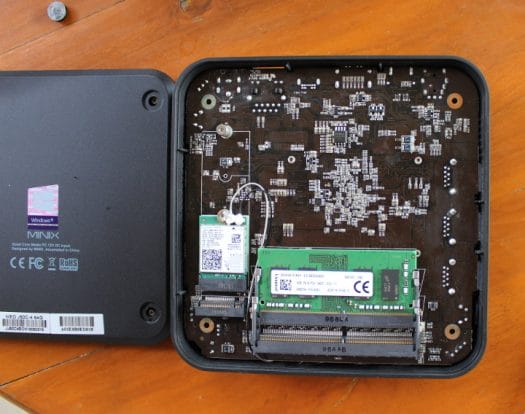 The 802.11ac WiFi 5 and Bluetooth 4.1 module (3168NGW) has not changed, but the memory stick brand is now Kingston instead of Tigo, but both use DDR4-2400 RAM. I assume they'll probably change parts depending on availability at the factory. There's also just one memory stick and you'd benefit from adding another one to enable dual-channel memory which should improve performance for tasks such as 3D graphics.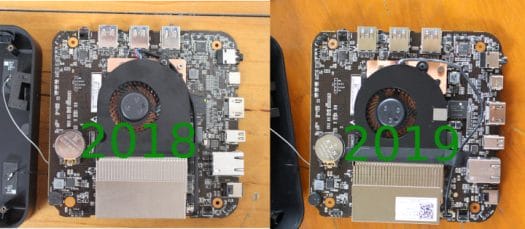 The board design has not changed, and the only noticeable changes are the QR code sticker, and different brands for the RTC battery and some connectors. So it looks the same until we get a closer look at the eMMC flash.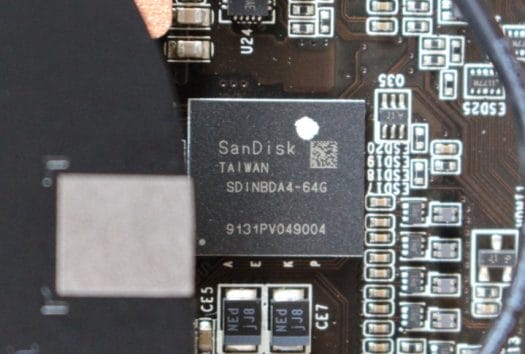 The mini PC now comes with SanDisk SDINBDA4-64G eMMC 5.1 flash / iNAND flash which according to the product brief, may deliver up to 260MB/s sequential write performance and faster random read performance using e.MMC Command Queue mechanism (CMDQ), up to 135% faster than the previous generation, and faster random write performance up to 275% improvement over the prior generation.
So basically, it's the same mini PC as last year, except with a larger and likely faster eMMC flash, which should deliver better performance, and potentially negate the need for an extra M.2 SSD depending on your requirements. So I'll focus the review on the benefit of the eMMC flash, and features I could not test last year as I was on the road including triple display support.
But I expect the overall experience to be very similar, with slightly higher performance. For reference this was my conclusion last year:
I expected Gemini Lake based MINIX NEO J50C-4 mini PC to offer a similar experience as Apollo Lake powered NEO N42C-4 model, but with a bit more performance, and that's mostly what the company delivered: A Windows 10 Pro mini PC that capable of basic desktop use like browsing, casual gaming, watching videos and so on. The optional SSD pre-loaded with Windows 10 Pro does help with improved performance, and 128GB is much easier to manage than 32GB storage when running Windows.

One major difference is that while N42C-4 would never throttle under heavy load, my testing found out that J504-C does to a limited extend when ambient temperature is around 25°C, and it become more of a problem when room temperature rises around 30°C or above.

I also noticed some benchmarks, especially 3D graphics, yielded quite lower scores than an Intel NUC based on the same Intel Pentium Silver J5005 processor, and I suspect the reason may be the use of single channel memory by default instead of dual channel memory as in the case of the NUC. This would have to be further tested for confirmation, since MINIX NEO J50C-4 comes with two SO-DIMM sockets but only one is fitted with memory.
MINIX NEO J50C-4 (64GB) mini PC is sold for the same $299.99 price tag despite the extra storage. It's currently for sale on Amazon US and Aliexpress, but you'll find it on more websites once it officially launches later this week.
Continue reading MINIX NEO J50C-4 (2019) Mini PC Review – Part 2: Windows 10 Pro



Jean-Luc started CNX Software in 2010 as a part-time endeavor, before quitting his job as a software engineering manager, and starting to write daily news, and reviews full time later in 2011.