MINIX NEO W2 is sold as a Windows 10 remote control with one side acting as an actual remote with shortcuts to useful Windows functions and programs, another side as a keyboard, as well as a motion sensors to use it as an air mouse. I received it with MINIX NEO J50C-4 Windows 10 Pro mini PC, so I tested it today both with Windows 10, and Ubuntu 18.04.
Batteries and Backlight
I've already looked at the package and remote hardware in the NEO post linked above, so let's get to it by first installing two AAA battery on either side of the keyboard side.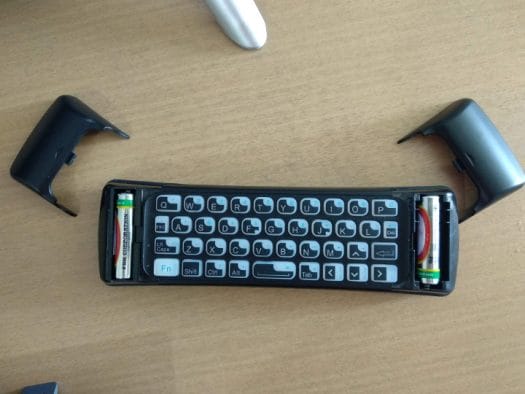 A cool feature you'll immediately noticed is that both sides of the remote control are actually backlight, with Fn and CapsLock key also changing color to red when they are enabled.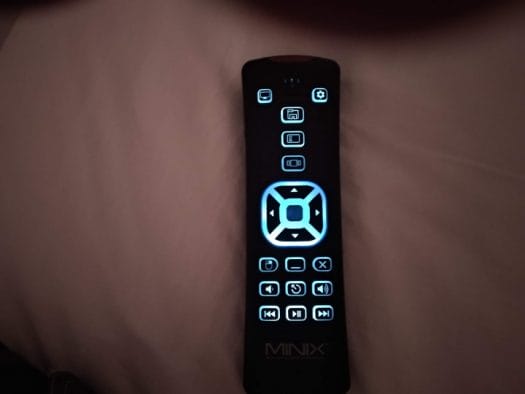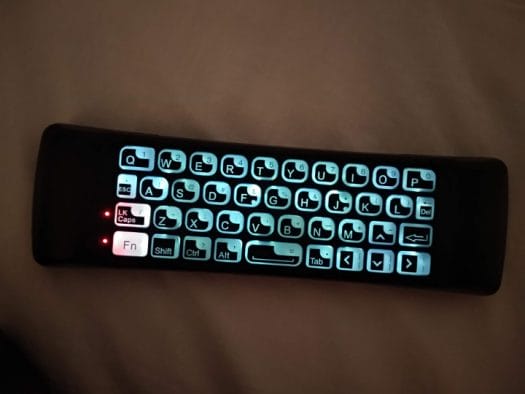 The backlight is automatically turn off after 4 seconds, but as you can see below the Caplocks and Fn keys status remains visible in the dark, and in a bright room thanks to red LEDs on the side.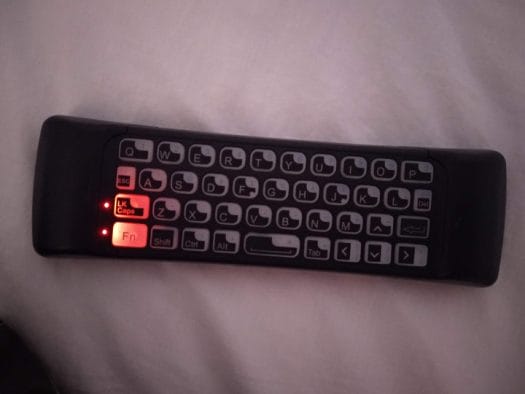 MINIX NEO W2 in Windows 10
I've then connected the RF dongle with MINIX NEO J40C-4 Windows 10 mini PC to play a bit more with the remote control.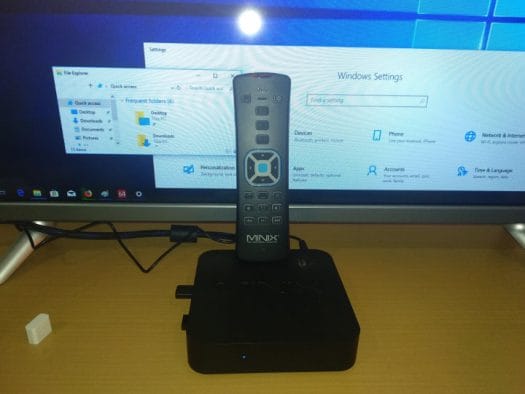 Since the remote control was designed specifically for Windows 10, everything works out the box with this OS. The remote side allow you to quickly access the desktop, Windows settings, the File Manager, the Start Menu, and the list of running apps. There are also keys emulating a right-click, quick access to the windows menu, as well as a button to close the window, as well as media buttons like volume control, play/pause, and Next/Prev. The button in the bottom center between the volume button enables/disables air mouse mode.
The QWERTY side is a bit more traditional, but most keys you may need in a PC are there, including Tab, CAPSLOCK, Fn, Shift, Ctrl, Alt, and so on. Most keys have two functions, except the Enter key. That's a plus in terms of number of available keys, but you may have to switch between Fn on/off mode pretty often while typing. This is not a keyboard and mouse replacement, but if you need to type text from time to time, and quickly access Windows features, the remote is great. You can also press multiple keys at the same time, and for example, Ctrl+Alt+Del worked fine from the remote control when I tried.
Finally, I played with the remote using Kodi 17.6 from the comfort of my bed, and the D-Pad, volume keys, play/pause, and right-click key – acting as a back key – all worked as expected. You can also easily use the remote control with dimmed lights too, thanks to the backlight.
MINIX NEO W2 in Ubuntu 18.04
I then moved the RF dongle to my Acer Aspire 3 Ubuntu 18.04 laptop, and most of the keys worked just like in Windows.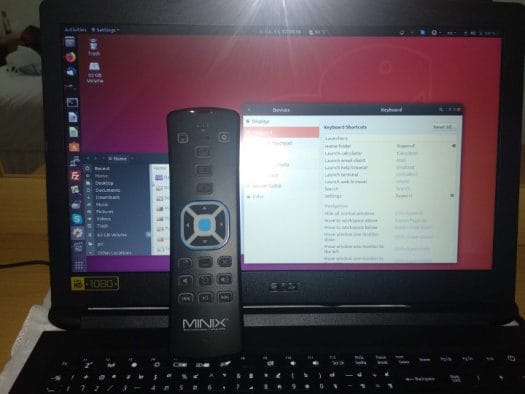 For example, the keyboard side looks to be fully compatible with Ubuntu 18.04. But the remote control side was another story since some of the shortcuts are different between Windows 10 and Ubuntu 18.04. So for instance, the "File Manager" and "Windows Settings" keys did not work at all.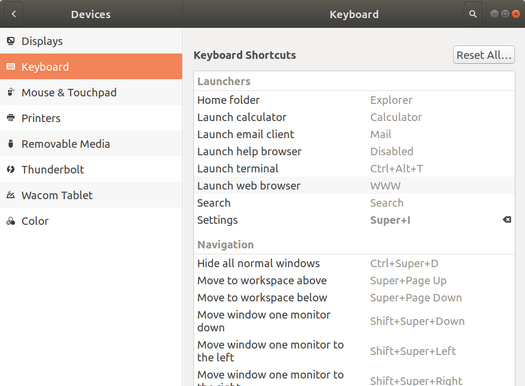 But luckily adjusting shortcuts is pretty easy in Ubuntu. So a quick web search revealed the File Manager shortcut was Windows key + E, while the settings are accessed with Windows key + I in Windows. So I mapped those two in the Keyboard settings in Ubuntu to respectively my Home Folder and Settings. FYR, the Windows key is called "Super" in Ubuntu. Other shortcuts like Desktop and Start Menu already, so I could get a fully working MINIX W2 NEO remote control in Ubuntu 18.04 in almost no time. I also tried the play/pause, and next/prev keys in Rhythmbox with some audio files, and everything worked as expected.
MINIX NEO W2 PC remote control is sold for $34.90 on Amazon US. However, if you plan on purchasing a MINIX mini PC too, you may want to consider one of the upcoming bundle instead, as the remote control will only add $24.95 to the total in that case.



Jean-Luc started CNX Software in 2010 as a part-time endeavor, before quitting his job as a software engineering manager, and starting to write daily news, and reviews full time later in 2011.