Congatec Announces Ultra-Low-Power SMARC 2.0 CoM
Congatec has come out with a new CoM, the Conga-SMX8-Nano that carries up to 4x ARM Cortex-A53 and 1x Cortex-M7 cores with a full spectrum of options. The SMARC 2.0 module can meet ultra-low-power requirements, offers low cost, as well as high-level performance.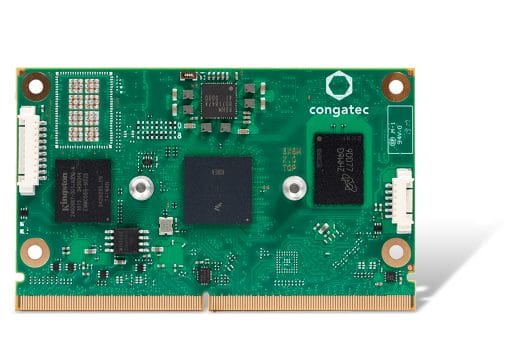 Background Information
Background on NXP i.MX 8M Nano processors and modules have been reported in our report about iWave's iW-RainboW-G34M-SM SoM and the introduction of the i.MX 8M Nano ARM Cortex-A53 and M7 processor to the market.
A Board for the Industry
The intention here is to develop a board that has high performance, ultra-low power requirements and can reach high volumes at low cost. The modules are scalable to the conga-SMX-8-Mini CoM, with options for a multitude of setups across types.
Example Uses for conga-SMX8-Nano
The company offers the example of a complex medical user interface that engineers might want to transform from a button-based interface into a GUI, which is a more intuitive touch-based interface. An industrial standard can be developed with a display interface, which before had been out of reach on a power and cost level.
System Readiness and Applicability
The module is built to be an application-ready subsystem with built-in boot loader implementation and support for Linux, Yocto, and Android BSPs. There are full-featured evaluation carrier boards and services provided by Congatec, for use with the new 14-nm Arm-based NXP processor.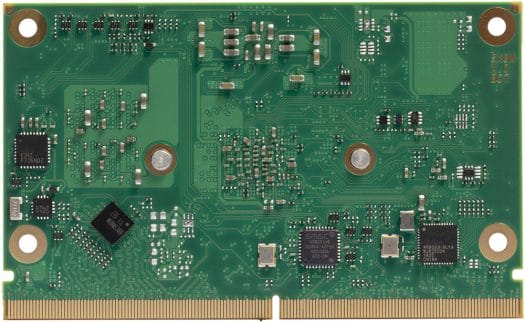 Specifications
Form factor – SMARC 2.0
CPU – NXP i.MX 8M Nano Quad (4x 1.5GHz ARM Cortex-A53, 1x 750MHz ARM Cortex-M7)
DRAM – Up to 2 GByte onboard LPDDR4 memory | 3200 MT/s
Ethernet – 1x Gigabit Ethernet with IEEE 1588 support
I/O Interfaces

1x USB 2.0 or 1x USB OTG client
1x SDIO 3.0
I²C bus
SPI up to 3x UART (1x with handshake)
GPIOs optional M.2 1216 WiFi/BT module

Graphics Integrated in NXP i.MX 8M Nano Series – GC 7000UL 3D GPU | Single Display 3D Graphics GPU with 2 shader cores | up to 9.6 GFlops | OpenGL ES 3.1 | OpenCL 1.2 | Vulkan
Security – High Assurance Boot support | SRTC | SJTAG | TrustZone | AES-256, RSA-4096, SHA-256, 3DES, DES, ARC4, MD-5 Secure Real Time Clock (RTC) | eFuse Key Storage | True Random Number Generator (RNG) | 32 KB Secure RAM
Operating Systems – Linux, Android, Yocto
Temperature Range

Extended Commercial : Operating: 0 to +60°C Storage: -20 to +70°C
Industrial: Operating: -40 to +85°C Storage: -40 to +85°C

Humidity – Operating: 10 to 90% r. H. non-cond. / Storage 5 to 95% r. H. non-cond.
Video Interfaces – 1x dual-channel 24bit LVDS through bridge (default) | opt. eDP 1.4 or MIPI-DSI 4-lanes (shared with LVDS)
Size – 82 x 50 mm (3,23" x 1,97")
Evaluation Carrier Board – SMARC 2.0 – Conga-SEVAL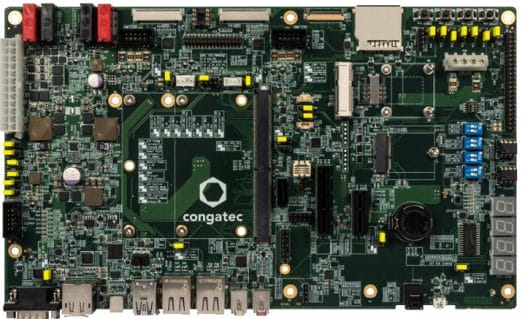 Further information from Congatec
The conga-SMX8-Nano Computer on Module is described in detail on the product page and the press release.

Stephen started writing about technology after publishing sci-fi short stories. His first White-Paper, written in 2008, was well received and inspired him to continue writing about technology. Today he writes in the technology space full time, covering a multitude of topics. During the time he wrote part-time he edited hundreds of titles for large publishers, in science and technology. He lives in Staten Island, with his wife and children.