Adaprox Fingerbot Smart Home Automation
Fingerbot is the place where IoT meets analog and creates a solution for smart home automation that works with Alexa, Google Home, Siri, and many smart home apps.
What is Fingerbot?
Adaprox, a team of engineers, programmers, and designers, designed the finger-sized device that can handle on/off for devices, repetitive motion tasks, toggles or switches.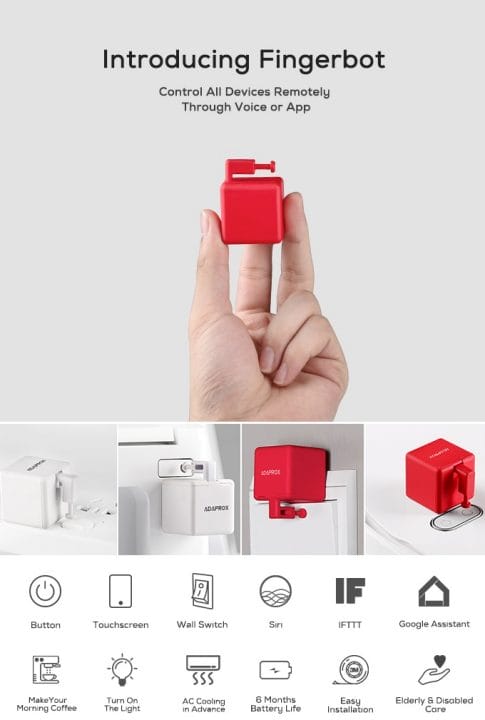 Fingerbot Does What?
The little robot can work through voice or app, and can handle all activation and deactivation of traditional appliances, lighting and can even use its soft "finger" on a touchscreen for repetitive tasks in the home, all done mechanically.

How Does It Work
Fingerbot is designed to be attached to the device it is controlling with double-sided tape or velcro. This creates a firm grip on the surface so that its finger can control the device properly. The velcro option allows for switching Fingerbot between appliances, and also makes sure there isn't any loss of grip over time.

Expand To Control All Fingerbots
The Adaprox Bridge allows for voice control, IoT of all devices and IFTT, which allows Fingerbot the opportunity to control devices based on how devices are interacting rather than just by user control. Routines for control of devices can be set to almost any type of interaction.
Two Major Features of the Bridge
The Adaprox Bridge also increases the range of the BT 5.0 allows for more control of more Fingerbot devices. The company states that all Fingerbots can be controlled through the Adaprox Bridge.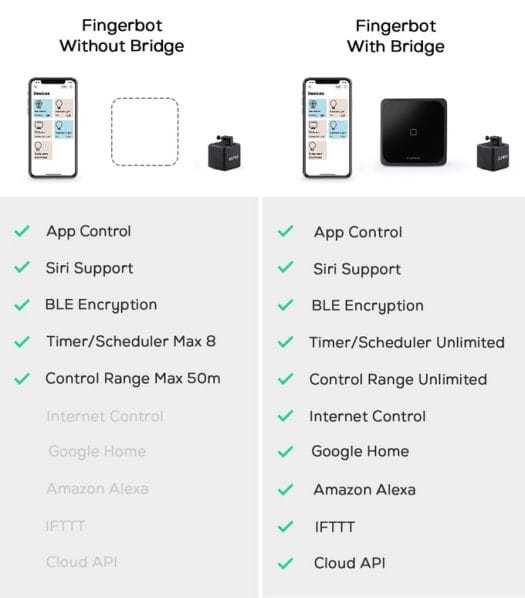 Battery Life and Charging Method
The company has also stated that the battery in the Fingerbots only needs to be recharged biannually. There is a Type C USB port on the Fingerbot that allows for a full charge, usually within an hour.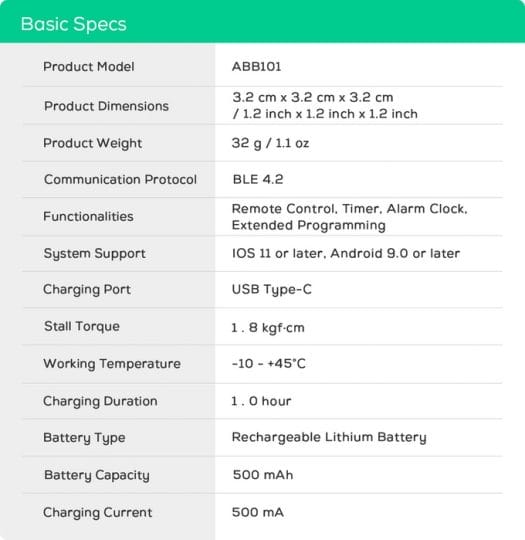 Cost Comparison
The cost reduction, between a smart device or appliance and a Fingerbot, controlled traditional appliance or device is significant, as reported by the company.
Pricing
The Fingerbot costs $25.00, for the base robot, with specials and discounts for the early bird backer. Arm Tool Kit is $10.00 and the Adaprox Bridge is approximately $44.00. There are a number of packages available and discounts also seem to be plentiful.
Shipping
The robot is due for shipping in May 2020 and is well beyond its original funding target on Kickstarter.com.
Adaprox SDK
The Adaprox SDK is found on GitHub once the source material is published for use by anyone. At the announcement of the Kickstarter campaign, the SDK was due soon. An option designed for the makers who are usually looking for inexpensive ways to automate their homes through IoT.
Further Information
The Kickstarter Campaign has more information. Including timeline and featured listings.

Stephen started writing about technology after publishing sci-fi short stories. His first White-Paper, written in 2008, was well received and inspired him to continue writing about technology. Today he writes in the technology space full time, covering a multitude of topics. During the time he wrote part-time he edited hundreds of titles for large publishers, in science and technology. He lives in Staten Island, with his wife and children.