GOLE F7 is a waterproof, shock resistant, rugged tablet running Windows 10 Pro 64-bit.  The company sent us a sample together with a charging dock, and you can check out "GOLE F7 Rugged Tablet Review – Part 1: Unboxing and Charging Dock" to find out more about the hardware interface and other physical features of the tablet.
I've now spent more time with the tablet and tested some of the features such as Barcode scanner and NFC reader. I've only done minimal testing of the usual Windows 10 benchmarks since the Intel Atom x5-Z8350 processor powering the tablet has been around for many years, and we have previous mini PC's reviews showing the performance of the platform in Windows 10 with MINIX NEO Z83-4 Pro or even the previous GOLE F10 model. Instead, I've focused on the differentiating features including the ruggedness of the device.
GOLE F7 System Info
Windows System info shows the Atom x5-Z8350 is coupled with 4GB RAM, and run the 64-bit version of Windows 10 Pro. After setting up the network, Windows 10 will activate itself.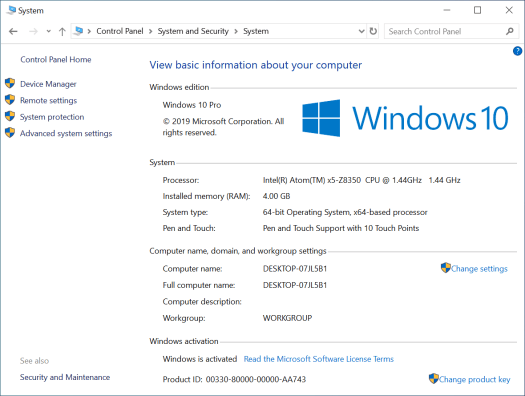 There's a 64GB eMMC flash drive as advertised.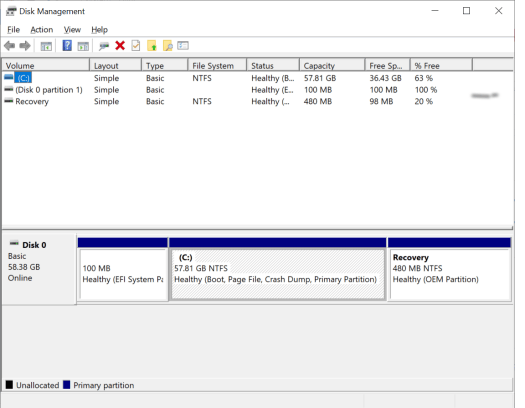 Here's a screenshot of Device Manager for people interested in details. Note that since there are many optional modules your GOLE F7 may show a slightly different list of peripherals.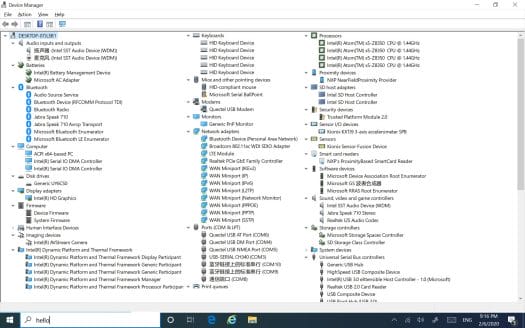 PCMark10 Benchmarks
I've still run one benchmark to make sure there were no big issues with performance.

806 points in PCMark 10 compares to around 896 points in MINIX NEO Z83-4 Pro mini PC. Roughly ten percent lower, but it's difficult to compare since PCMark 10 (2017) shows a different break down of results . Anyway, that's no catastrophic, and the users of the tablet are likely to run a single application (e.g. point-of-sales program) on the field.
QR Code and Bar code scanner
I was told the tablet was fitted with all modules include barcode/QR code scanner, fingerprint scanner, NFC module, and 4G modem, so beside the latter, that was my plan to test them all.
The barcode and QR code scanner is super easy to use. It will start automatically with the red LED blinking, but you can disable it with the F1 button on the top of the tablet. Simply open notepad or set the cursor in a filed in any application, scan the bar code or QR code and it will automatically be "typed" into the program.
Fingerprint Scanner
I was initially told my tablet was fitted with a fingerprint scanner which can be used for logging into Windows for instance. First press the Windows key and type "hello" and tap on the "Sign-in option" to bring the following window.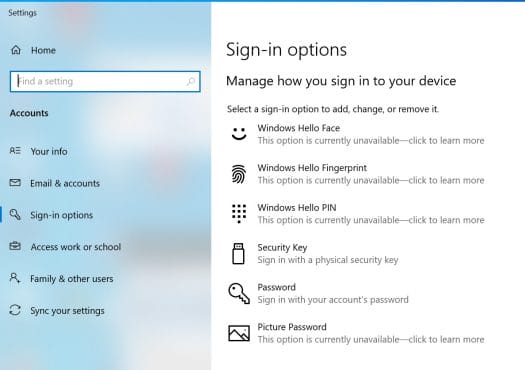 Tab or click on Windows Hello Fingerprint, to continue the setup.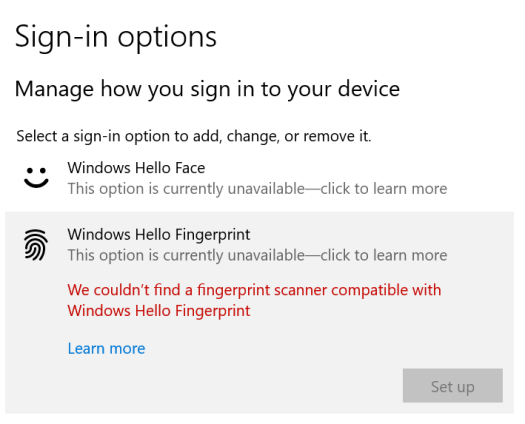 Oops! "We couldn't find a fingerprint scanner compatible with Windows Hello Fingerprint". I asked GOLE and finally, I was told they did not fit the fingerprint scanner after all. The scanning area can still be found on the back of the tablet however, as you'll know if you've read the first part of the review.
NFC
The NFC reader is located internally on the back of the tablet. I can't be seen from the outside, but there's a sticker showing the location. I have an Octopus card from Hong Kong that can be used for contactless payment in public transportation and many shops, so I decided to try it out. You'll need to turn on audio in the video below.
There's just a sound when the NFC card is detected and nothing else happens. I initially through I could use Octopus online services for Windows but it requires a specific Octopus card reader connected to a Windows host.
I asked the company about testing NFC further, and they told me hearing the sound means the reader works. You'd need to have specific software compatible with the NFC card used, so there's apparently no off-the-shelf program that can read NFC data…
Ruggedness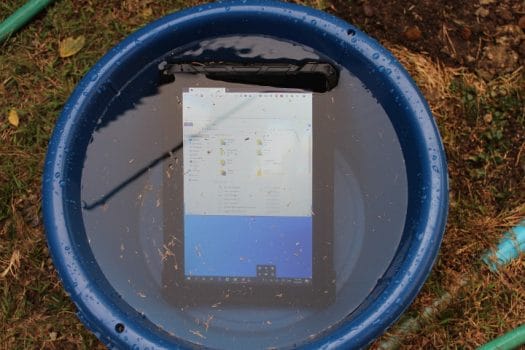 This was the fun part of the review. The tablet is shock-resistant up to one meter on soft surfaces like wood, dust and waterproof with an IP67 rating.
So I dropped it on the floor, threw some soil at it, and clean it up. Note you have to make sure all rubber pads are properly closed. Better double-check if there's a risk the tablet drops into the water, as otherwise, water will infiltrate.
I could still use the tablet after all the abuse I gave it, and in the video above I opened the File Manager afterward.
IP67 does not guarantee waterproofness against strong water jets, mine was not too strong, but I did notice some air bubbles coming out shortly after I put the tablet into a bucket of water.
And sure enough, some water got under the display. It's also possible that after dropping the tablet on the floor one of the rubber pad got very slightly loose, and what I did was a bit extreme.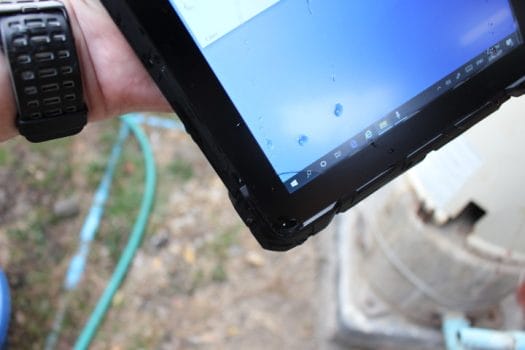 Before I also dropped it on a concrete floor (not recommended). It did not suffer from damage but Windows 10 rebooted automatically.
Conclusion
I hope this short review gave you an insight into what's possible with GOLE F7 rugged tablet. The Intel Atom X5-Z8350 processor makes it unsuitable for typical consumer use, but it's not target market, and but it may definitely be considered by professionals who need a rugged Windows 10 tablet with some levels of shock resistance, dust and waterproofness, and specific features like serial port, NFC, fingerprint scanner, barcode scanner, and so on.
There's no public pricing due to various options available, and niche markets. But if your company or business is interested in GOLE F7 you could contact the company via the product page.

Jean-Luc started CNX Software in 2010 as a part-time endeavor, before quitting his job as a software engineering manager, and starting to write daily news, and reviews full time later in 2011.