Semtech, a leader in LoRa and RF technology, is continuing its support for the LoRa ecosystem with the launch of a new portfolio of solutions called LoRa Edge to simplify and accelerate IoT applications for the Edge.
LoRa Edge is a new highly versatile and low power software-defined LoRa-based platform that will enable a wide portfolio of applications for indoor and outdoor asset management, targeting industrial, building, home, agriculture, transportation, and logistics markets.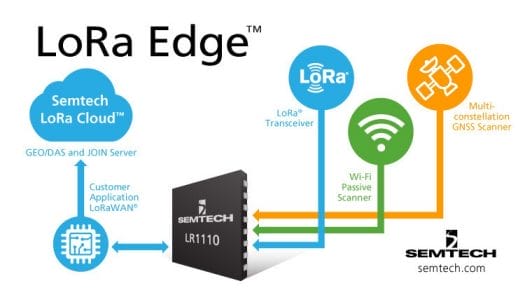 The LoRa Edge platform is launching with a geolocation solution targeted to IoT applications for asset management. It features an ultra-low power LoRa transceiver, GNSS sniffing capabilities, Wi-Fi scanning technologies all in one single package called Semtech LR1110.
"Semtech continually delivers Internet of Things (IoT) solutions that simplify and accelerate the development of LPWAN applications," said Pedro Pachuca, Director of IoT Wireless in Semtech's Wireless and Sensing Products Group. "LoRa Edge and LoRa Cloud geolocation services enable customers to develop ultra-low-power applications for a variety of industries and will expand the mass adoption of LoRa in the IoT ecosystem."

Semtech LR1110
The Semtech LR1110 is just like the normal LoRa transceiver with worldwide frequency bands support in the range 150 – 960MHz, but with the addition of Wi-Fi and GNSS geolocation capabilities. It features GNSS (GPS/ BeiDou) low-power scanning and 802.11b/g/n Wi-Fi ultra-low-power passive scanning. It supports LoRa® and (G)FSK modulations and is fully compatible with previous generations of LoRa radios. It can transmit either up to +22dBm on the High-Power PA, or up to +15dBm on the Low Power TX path, and supports a continuous low power operation in the 150MHz-960MHz ISM bands. The device comes in a QFN packaging measuring at 32 5×5 mm.
The Semtech LR1110 is capable of using existing LPWAN to transmit geolocation information acquired to a geolocation server. The position of the object is calculated by the geolocation server, which analyzes the transmitted information and correlates the position with data from a geolocation database, enabling a unique balance between low power and performance.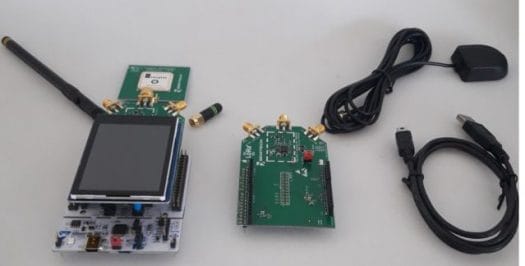 Semtech LR1110 is fully compatible with the SX1261/2/8 family and the LoRaWAN standard, defined by the LoRa Alliance. It also comes with an evaluation kit that is built on the STM32L476RG Nucleo board. The LR1110 Evaluation kit is composed of:
2x LR1110 shields.

PCB E516V02B, equipped with an integrated GNSS LNA for passive antenna applications.
PCB E592V01B, without GNSS LNA for active antenna usage.

1x STM32L476RG Nucleo board.
1x TFT touch screen.
1x GNSS active antenna with SMA connection.
1x GNSS passive antenna with SMA connection.
1x 2.4GHz antennas with SMA connection.
1x region-specific sub-GHz antenna with SMA connection (915 MHz, 868 MHz or 490 MHz frequency bands)
The LoRa Edge geolocation platform will enable solution providers to leverage the unique localization capabilities of LoRa as well as GNSS and Wi-Fi scanning capabilities from a single chip solution, allowing customers to choose the best localization tool for the application task they are addressing.
According to Semtech's announcement post, the LR1110 is now available for purchase, but no pricing has been disclosed for the chipset nor the evaluation kit. More products from the LoRa Edge portfolio are expected to be released in the first half of 2020.
Further information is available on the product page and the datasheet.

I enjoy writing about the latest news in the areas of embedded systems with a special focus on AI on edge, fog computing, and IoT. When not writing, I am working on some cool embedded projects or data science projects. Got a tip, freebies, launch, idea, gig, bear, hackathon (I love those), or leak? Contact me.