COVID-19 has disrupted most people lives well beyond the health crisis, with an economic fallout on-going that may lead to a 24% GDP contraction in the US and up to 12% worldwide in Q2 2020, and I assume the consequences may span over several years, so we should do everything to mitigate any effects from the disease.
Right now, the urgent part is to handle the health crisis, and there's a shortage – or soon will be – of medical supplies such as ventilators for people in critical conditions, and if hospitals become full they'll start refusing admissions of some people even in critical conditions, as it happened in Wuhan, letting people die at home.
So there are various initiatives and projects to develop open-source ventilators. First, Innovation Management reports Ennomotive has launched a non-profit online competition for the ideation of low-cost, easy-to-build solutions with the goal of speeding up the availability of ventilators in hospitals everywhere to help patients with coronavirus.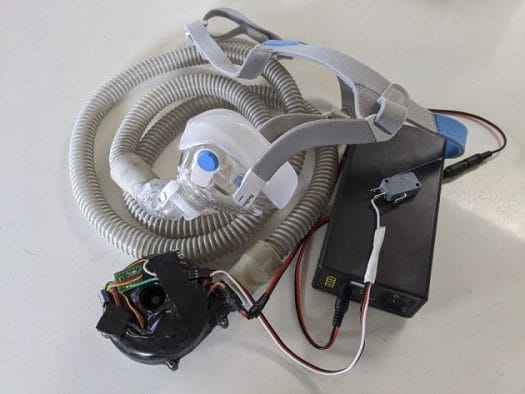 The second project is more practical, as instructions to build an Arduino-based open-source ventilator or PAPR (Personal Protective Equipment) are provided on Github.
Big Fat Warning: there are significant risks in using this ventilator without medical supervision, and you may end up damaging the lungs of the person you may be trying to help if you don't know what you are doing.
That's why the developer recommends following the instructions to make an air-purifying PAPR as it's much safer to use and may help caretakers avoiding infection. Here are the components used in the design:
Continuous Positive Airway Pressure (CPAP) device available on eBay and Alibaba for as low as $20 in volume. The blower is usually a simple BLDC motor that can be driven with an Electronics Speed Controller (ESC) used by quadrotors and RC cars.
Arduino Nano or compatible clone to control the motor speed, breathing cycles, and handle user input.
Brushless DC Motor Electronic Speed Controller capable of at least 10A.
Button or switch for input control. The code cycles through 5 levels of pressure, and double click to switch between CPAP and BiPAP/Fixed PEEP mode. Such as this one.
12V/5A+ DC power supply
Tubing and face mask. A full CPAP face mask covers both the mouth and nose and enables pressure buildup in the lungs. They can be found on eBay or other places.
Optional 12V battery backup.
The Arduino sketch to control everything is pretty simple with 174 lines of code. There are also some optional 3D printed parts available [Update: not recommended see below]. People from Apnea board have take interest and there's a long general discussion about the topic.
Stay safe and good luck!
[Update: Prusa explains why it may not be a good idea to print your own parts for respirators at this time, but they have printed many protective shields instead and donated 10,000 to the Czech Ministry of Health with more coming]
Via Open Electronics

Jean-Luc started CNX Software in 2010 as a part-time endeavor, before quitting his job as a software engineering manager, and starting to write daily news, and reviews full time later in 2011.